Harley-Davidson taps into its very own deep historical roots, embedded in the soil of the custom culture of yesteryear, to bring us the FXFBS Fat Bob 114. As the devilishly clever name implies, the sheet metal is heavily chopped like the gassers of old. In much the same spirit, the powerful V-Twin engine delivers the goods for your stoplight-burnin' adventures, and with much the same look as its forebears.
The current Fat Bob platform first rolled in late 2017 around the time when The MoCo retired its aging Dyna platform in favor of the second-generation Softail chassis. The Fat Bob is one of the few bikes that made the cut as the factory looked to consolidate around its most popular designs while giving the axe to the rest.
RELATED: 10 Reasons To Love The Harley-Davidson Fat Bob
Key Features
Race-Style Fork Technology
Upright Riding Posture
Forward Controls
Muscular Styling
Milwaukee-Eight 114 Engine
Specifications
Model: Fat Bob 114
Engine:: 114 cu in
Power Output: 95
Torque: 118 LB-FT
Transmission: 6-Speed
Driveline: Chain
MSRP: $18,899
Pros
Powerful Engine
Modern Frame
Low Center-Of-Gravity
Cons
A Bit Pricy
Could Have More Higher Electronics
Less-Than-Comfortable Pillion Pad
2023 Harley-Davidson Fat Bob 114 Performance And Capability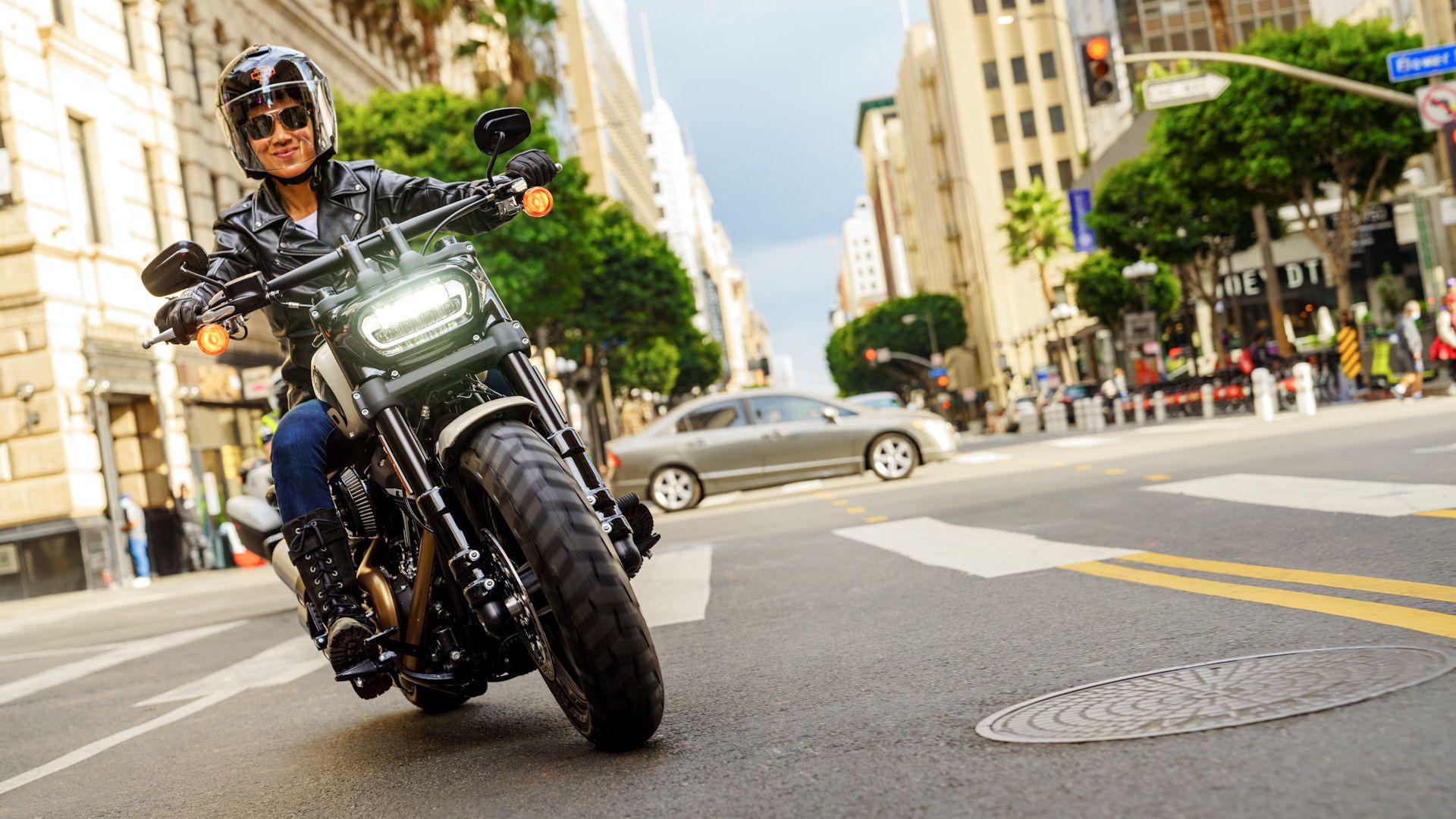 White Sand Pearl 2022 Harley-Davidson Fat Bob 114 cruising through town
The Harley-Davidson Fat Bob 114 produces 100.5 horsepower and 118 pound-feet of torque. Best of all, the grunt tops out at a low, 3,000 rpm, so you can count on plenty of tractable power as soon as you rev up past idle speed, which will help secure the holeshots as you come off the light.
The Milwaukee-Eight 114 powers this newest generation of H-D's latest Big Twin lump that has a smaller sibling. Gassers were all about performance, so the larger engine size was the right move here. The Mil-8 engine itself marks a return to the norm after years of Twin-Cam nonsense as it has only a single cam to time the pushrods for both heads. This means the old nosecone cam cover design once again graces the right side of the engine. The pushrod geometry also returns to the old arrangement as well, which makes this a very good-looking machine indeed.
Power flows through a slip-and-assist clutch that delivers a light lever pull and provides some anti-backtorque protection. A six-speed tranny does its thing with a carbon-reinforced belt drive and a Fat Bob top speed around 110 mph.
Engine & Drivetrain

Engine

Milwaukee-Eight® 114, Pushrod-operated, overhead valves

Displacement

1,868 cc (114 cu in)

Bore x Stroke

4.016 in x 4.5 in

Compression

10.5:1

Power

95 HP (71 kW) @ 4,750 RPM

Torque (J1349)

118 LB-FT (160 Nm) @ 3,500 RPM

Fuel System

Electronic Sequential Port Fuel Injection (ESPFI)

Exhaust

2-into-2 shorty dual; catalyst in muffler

Final Drive

Belt, 32/66 ratio

Clutch

Mechanical, 10 plate wet, assist & conventional

Gearbox

6-Speed Cruise Drive®
RELATED: This Harley-Davidson Fat Bob With An Under-seat Exhaust Will Blow Your Mind
Design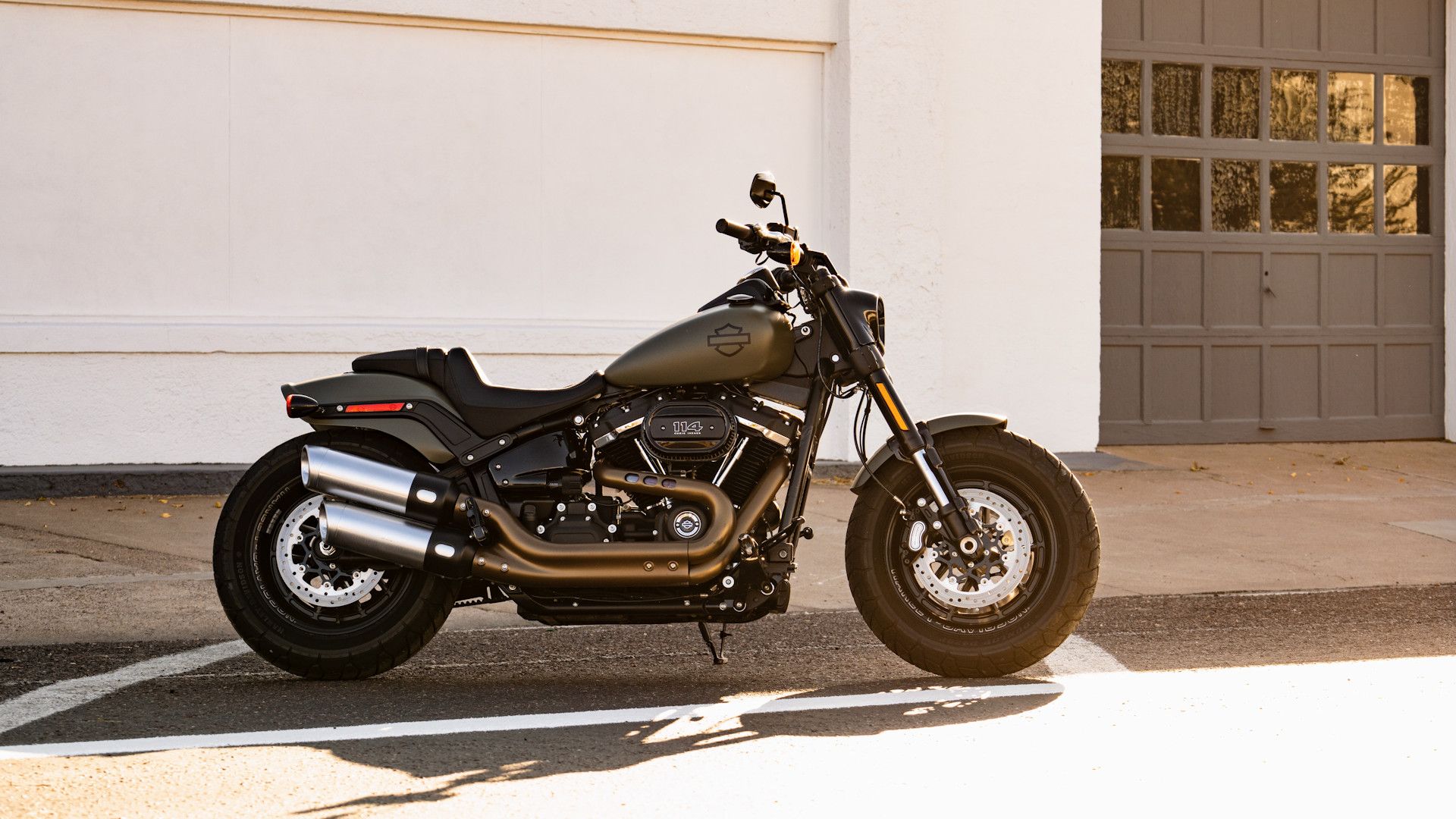 Deadwood Green Denim 2021 Harley-Davidson Fat Bob 114 parked in front of a garage
Back in the day, gasser bike builders tried to maximize performance by chopping off anything that doesn't directly contribute to performance. This is borne out here in the teeny-tiny front fender, lightning holes in the exhaust shield, and a heavily whacked rear fender that barely reaches the end of its struts. The fat hoops are yet another old-school-custom item that pairs nicely with the copious blackout treatment found throughout. Inverted forks lend it a sporty air with blackout coverage of its own to go with the monochromatic headlight housing and tripletree.
The cockpit is similarly dark with black risers, handlebar, mirrors, and bullet turn-signal housings. Even the tank-mount instrument console and filler cap come shot in black, which is a great place for it. Nothing more annoying than chrome trying to put your eyes out when under harsh lighting, be it natural light or otherwise. The 3.5-gallon fuel tank carries a classic teardrop profile with contrasting paint panels on the side. It really makes it pop against the backdrop of the trio of sheet-metal colorways for this year.
A deep-scoop seat cradles the pilot's bum at 27.7 inches off the deck, providing you weigh at least 180 pounds to get the suspension properly compressed. The seat is a Mustang-style unit with a built-in pillion pad that tapers off sharply. The focus is on looks, not passenger comfort. An LED lightbar joins with blackout bullet housings on the fender and struts. The tag mounted off to the left side doesn't clutter up that clean rear end.
Harley-Davidson Fat Bob Specs

Length

92.1 in

Width

37.8 in

Height

43.7 in

Seat Height, Laden/Unladen

27.7 in/28 in

Wheelbase

63.6 in

Ground Clearance

4.7 in

Fuel Capacity

3.5 gal w/ 1 gal reserve

Curb Weight

675 lbs

Dry Weight

653 lbs
RELATED: Custom Harley-Davidson Street Bob Pays Homage To The P-51 Mustang In Striking Fashion
Chassis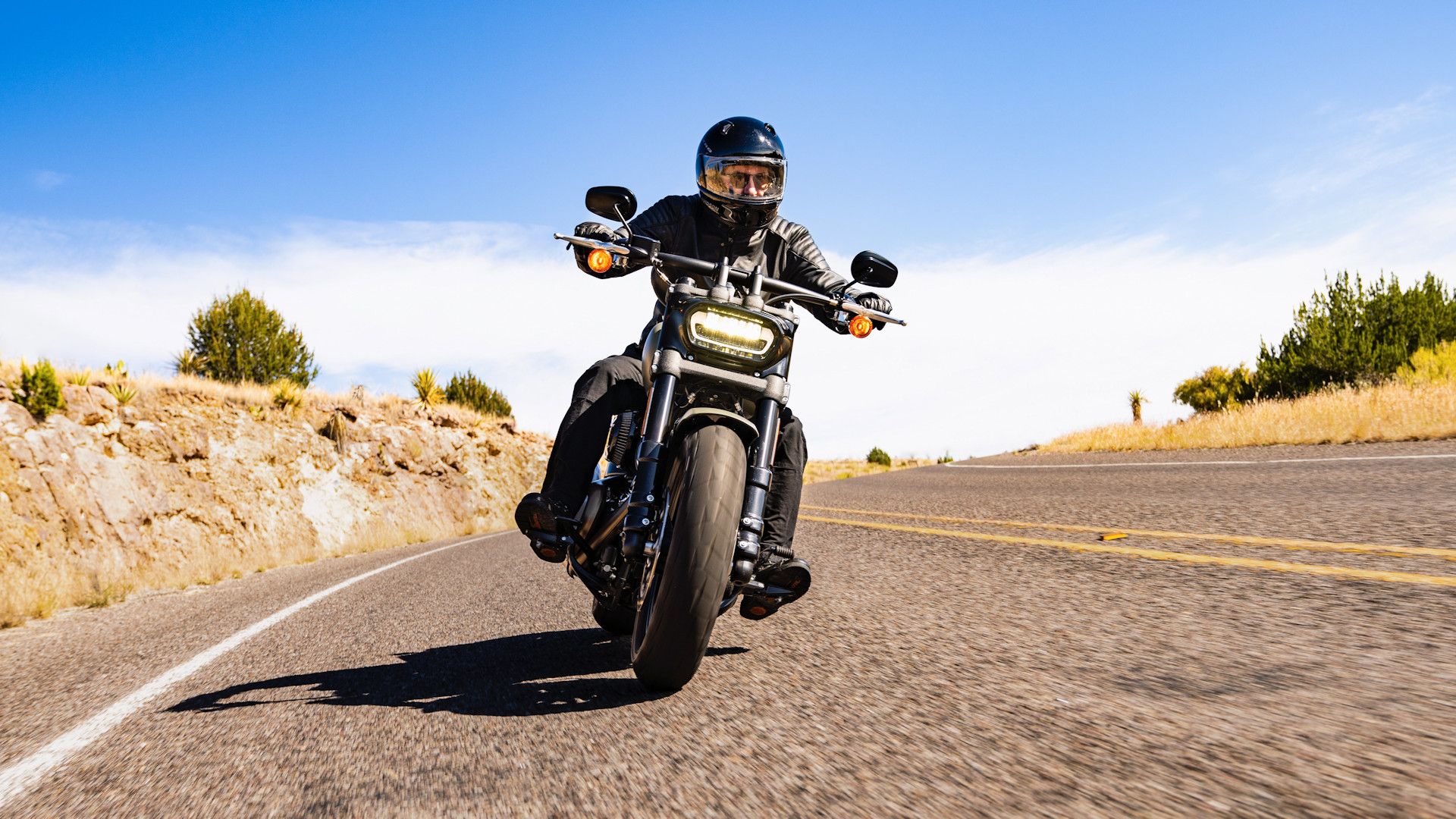 2021 Harley-Davidson Fat Bob 114 head-on shot
The chassis on the Fat Bob contributes quite a lot to the looks. Because it's a Softail, the frame geometry is similar to the ones in early forties when rigid rear ends and hydraulic front ends overlapped. It's a lie of course. The triangular swing-cage style swingarm mimics the rigid-bike geometry, but comes hinged with modern suspension for a modern ride. This is especially true now as this second-generation frame addresses the problems with the original, namely poor handling and comfort issues, for a smooth, sporty ride.
High-tensile steel makes up the skeleton and has a full dual-downtube / double-cradle section that supports the engine as a non-stressed member with a rectangular cross-section steel backbone for strength. Rake and trail measure 28 degrees and 5.2 inches respectively for more custom looks and stable handling, even in blustery crosswinds. Inverted 43 mm forks float the front end on fixed damping values. Out back, a single hidden shock makes the magic happen with a hand-adjustable preload feature for quick tweaks in response to cargo/passenger weight changes.
Cast-aluminum, 16-inch wheels round out the rolling chassis. They come shod in Dunlop H-D Series blackwalls in a 150/80 ahead of a 180/70 for oodles of visual weight down low. Curb weight is up there in cruiser territory at 675 pounds wet. It's no surprise that the factory opted for dual front brakes with 300 mm front discs and four-bore calipers, opposite a 292 mm disc and twin-pot binder out back. ABS is an available option.
Chassis & Suspension

Frame

Mild steel, tubular frame; rectangular section backbone; stamped, cast, and forged junctions; MIG welded; aluminum forged fender supports

Swingarm

Mild steel, tubular sections, stamped x-member, forged axle junctions; MIG welded; removable belt spacer

Front Suspension/ Travel

Single cartridge 43 mm inverted with aluminum fork triple clamps; triple rate spring/ 5 in

Rear Suspension/ Travel

Hidden, free piston, coil-over monoshock; 56mm stroke; toolless hydraulic preload adjustment/ 4.4 in

Rake

28°

Fork Angle

28°

Trail

5.2 in

Lean Angle (J1168), Right/Left

31°/32°

Front Wheel

Denim black, Structure cast aluminum with laser etched graphics, 3 in x 16 in

Rear Wheel

Denim black, Structure cast aluminum with laser etched graphics, 5 in x 16 in

Front Tire

Dunlop® bias blackwall, 150/80-16,71H,BW D429F

Rear Tire

Dunlop® bias blackwall, 180/70B16,77H,BW D429

Front Brake

Dual 300 mm black, Split 7-spoke floating rotors, 4-piston fixed calipers, Optional ABS

Rear Brake

292 mm black, Split 7-spoke floating rotor, 2-piston floating caliper, Optional ABS
RELATED: 10 Reasons You Should Get a Harley-Davidson Fat Bob
2023 Harley-Davidson Fat Bob 114 Price And Availability
The 2023 Harley-Davidson Fat Bob 114 costs $18,899. Naturally, that's for the glossy Vivid Black colorway. For the color choices, Redline Red or Gray Haze, you can add another $525 to the tally. If you want ABS, add $950. Cruise control and the security system come standard.
Pricing & Features

Model ID

FXFBS

Features

Cruise Control, Security System

Warranty

24-Month Unlimited Mileage

Colors

└ 2018

Vivid Black, Black Denim, Red Iron Denim, Bonneville Salt Denim, (114 also: Industrial Gray Denim)

└ 2019

Vivid Black, Black Denim, Wicked Red Denim, Bonneville Salt Denim, (114 also: Rawhide Denim, Scorched Orange/Black Denim)

└ 2020

Vivid Black, Black Denim, Barracuda Silver Denim, River Rock Gray Denim, Performance Orange, Stiletto Red

└ 2021

Vivid Black, Billiard Red, Deadwood Green Denim

└ 2023

Vivid Black, Redline Red, Gray Haze

Price

└ 2018

$16,999 (114: $18,699), Color: $17,399 (114: $19,099)

└ 2019

Vivid Black: $17,049 (114: $18,849), Color: $17,449 (114: $19,249)

└ 2020

Vivid Black: $18,799, Color: $19,199, Custom Color: $19,749

└ 2021

Vivid Black: $18,799, Color: $19,199

└ 2022

Vivid Black: $18,330, Color: $18,780

└ 2023

Vivid Black: $18,899, Color: $19,424
RELATED: Five Reasons Why The Harley-Davidson Fat Bob 114 Is Awesome (And, Five Why It Isn't!)
Competitors
H-D ain't the only game in town for the faux-rigid frame design anymore. Chief among the newcomers is Triumph's Bonneville Speedmaster.
Triumph Bonneville Speedmaster
We'll start with looks as it's the front-burner topic with these builds. Triumph draws on its own deep historical roots for design cues when it set up this new take on the classic Bonneville platform. Blackout treatment abounds on both sides of the aisle with similar connections to their respective custom culture. Triumph runs with slightly larger fenders and bellow gaiters on the forks to set a slightly different tone. The tank is straight-up Bonneville with its teardrop profile and deep knee pockets on each side.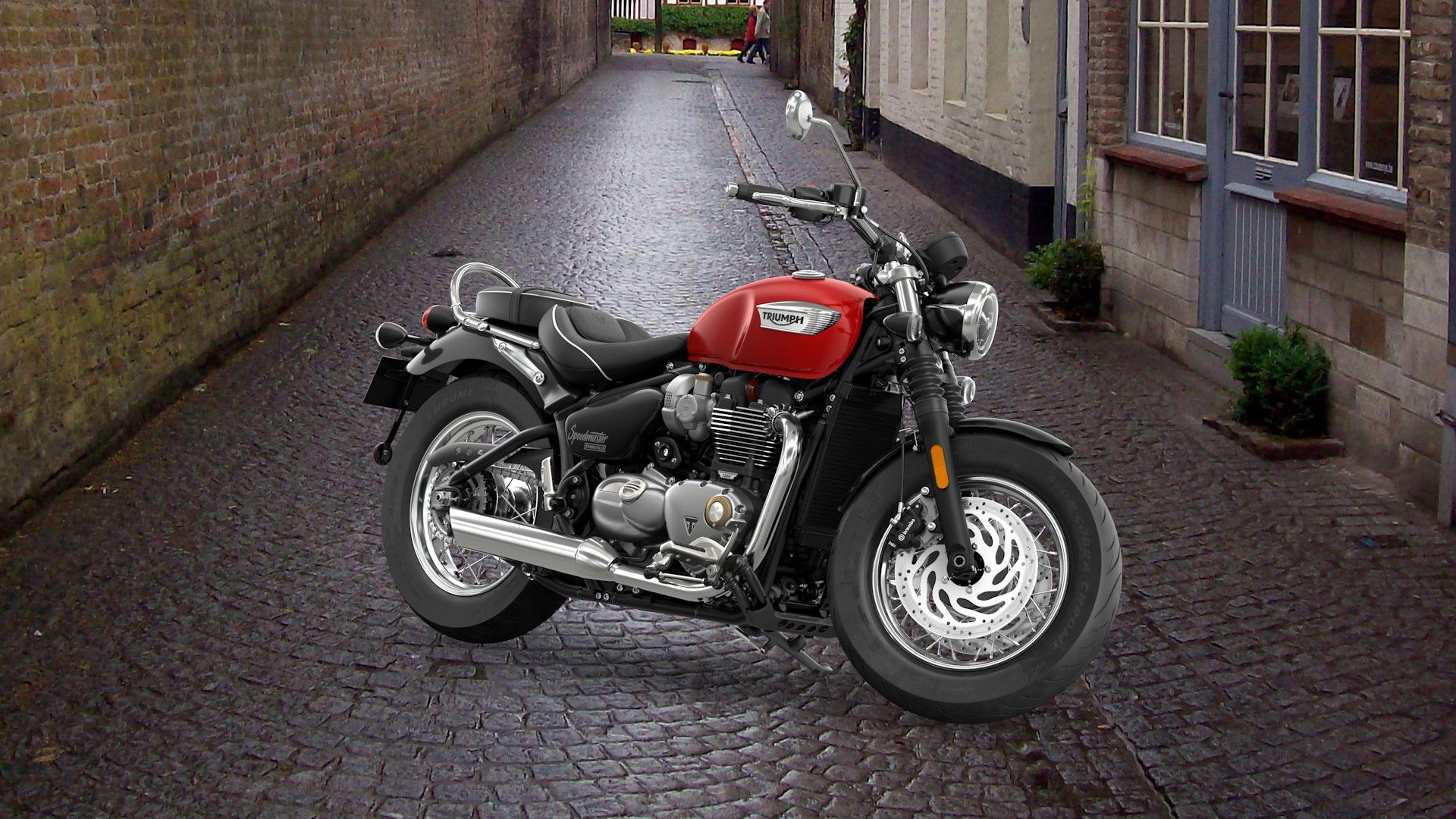 Red 2021 Triumph Bonneville Speedmaster parked in an alley
Naturally, it's the Speedmaster's frames that match most closely with old-school geometry and false rear ends, which adds volumes to its curb appeal. Credit where it's due, Triumph even chucked on its throttle bodies disguised as the old mechanical-slide soup cans from back in the day. Triumph's stock pillion equipment is also bound to be more comfortable for your riding partner with its beefier pad and even a small butt-stop for comfort and security.
Triumph follows H-D's lead with a price scale that's linked to color choice. The Jet Black rolls for $13,795, but the Cordovan Red fetches $14,095 and the two-tone Sapphire Black / Fusion White has a $14,295 sticker to leave them with a significant price difference.
He Said
"The H-D Fat Bob 114 aims to bring sporty handling and engine performance to the same table in a bid to compete with the growing list of viable options to The MoCo's Softail cruiser family. Both the engine and underpinnings run with fresh updates to deliver modern performance. This ain't your granddad's old Softail."
She Said
My wife and fellow motorcycle writer, Allyn Hinton, says, "The Fat Bob is a performance-driven Softail, and while moving the forward controls back a bit makes the rider triangle more comfortable, the hard, sportbike-like saddle reminds you that this isn't a long-distance ride."
"The pillion pad exists, but from the factory, it isn't comfortable. If you plan to do two-up riding, do your passenger a favor and hit the accessory catalog for some padding and a backrest."
FAQ
Q: What's the difference between a Fat Boy and a Fat Bob?
Both models have the Milwaukee-Eight 114 engine. The differences are in styling and suspension. The Harley-Davidson Fat Boy is built around the "FL" platform that claims H-D's largest front end. It survived the cut when the new Softail-centric cruiser lineup came in 2018. The Fat Bob is built on the "FX" underpinnings which have a narrower, smaller-diameter set of forks. Starting out as a Dyna model, the Fat Bob moved to the Softail lineup when Harley dropped the Dyna line. As a bobber, it's what's left after stripping away all unnecessary weight.
Q: ​​​​​​​How many cc is a Fat Bob?
The Milwaukee-Eight 114 engine in the Harley-Davidson Fat Bob is 1,868 cc.
Q: ​​​​​​​How fast does a Harley Fat Bob go?
The Harley-Davidson Fat Bob has a top speed of 110 MPH from the factory.
Q: How much is a 2023 Fat Bob?
MSRP on the 2023 Harley-Davidson Fat Bob 114 is $18,899 for the Vivid Black model. The color models cost $19,424 and add $950 for ABS. Cruise control and the security feature are standard-equipped.