In 2023, the prices of new cars have reached record highs with Americans spending $47,000 on average for a new car. The rising prices are caused by factors such as inflation, increasingly stringent emissions regulation the global chip shortage, and other supply chain issue and has taken a toll on automakers who are riddled with delays and have to limit equipment levels and cap the production numbers on vehicles they produce. As the world shifts towards more sustainable modes of personal transport, things like the carbon coming out of the tailpipe are nearly as important as the running costs. Here's where PHEVs, with their dual powertrain, offer an economical and dependable solution for those who want the best of both worlds. But, PHEVs with all their complexities, often cost more than their conventional ICE counterparts. So, here's a list of the latest and most affordable PHEVs sold in 2023 that won't break the bank.
Related: 10 Best Plug-In Hybrid SUVs
1
2023 Toyota Prius Prime – $32,000 (est.)
A shot of a 2023 Toyota Prius plugged in and charging
As far as hybrids are concerned, the Prius is the one car that started it all and over the product's 25-year lifespan, it's been under a lot of heat for its unconventional styling made the Prius a meme. But the all-new 2023 Prius Prime PHEV is a big step up from the meme-worthy styling of its predecessors. The biggest appeal of this new Prius PHEV is the price which starts at around $32,000 while the range-topping XSE Premium guise will set you back around $38,000, making it one of the most affordable PHEVs on sale today. The 2023 Prius PHEV is also efficient and gets an all-new powertrain that combines a 2.0-liter engine with a pair of electric motors, sending power to the front wheels only.
As a result, the 2023 Prius Prime makes 220 horsepower which is 100 more than its predecessor. The battery pack is enough to deliver 40 miles of pure electric range on a full charge and in ideal conditions, the PHEV powertrain is capable of returning a manufacturer-claimed figure of 57 miles per gallon. Apart from the stylish and aggressive new exterior, Toyota has also uplifted the interior of the 2023 Prius Prime PHEV with some serious tech such as the 8.0-inch infotainment, adaptive cruise control, blind-spot monitoring, and more. So as a well-rounded, family-friendly PHEV, the 2023 Prius Prime PHEV's affordable price and impressive economy figures make it one of the best affordable PHEVs in 2023.
| | |
| --- | --- |
| Price | $32,000(est.) |
| Electric Range | 40 miles |
| Horsepower | 220 horses |
| Torque | N/A |
| Drivetrain | FWD |
2
2023 Hyundai Tucson PHEV – $37,300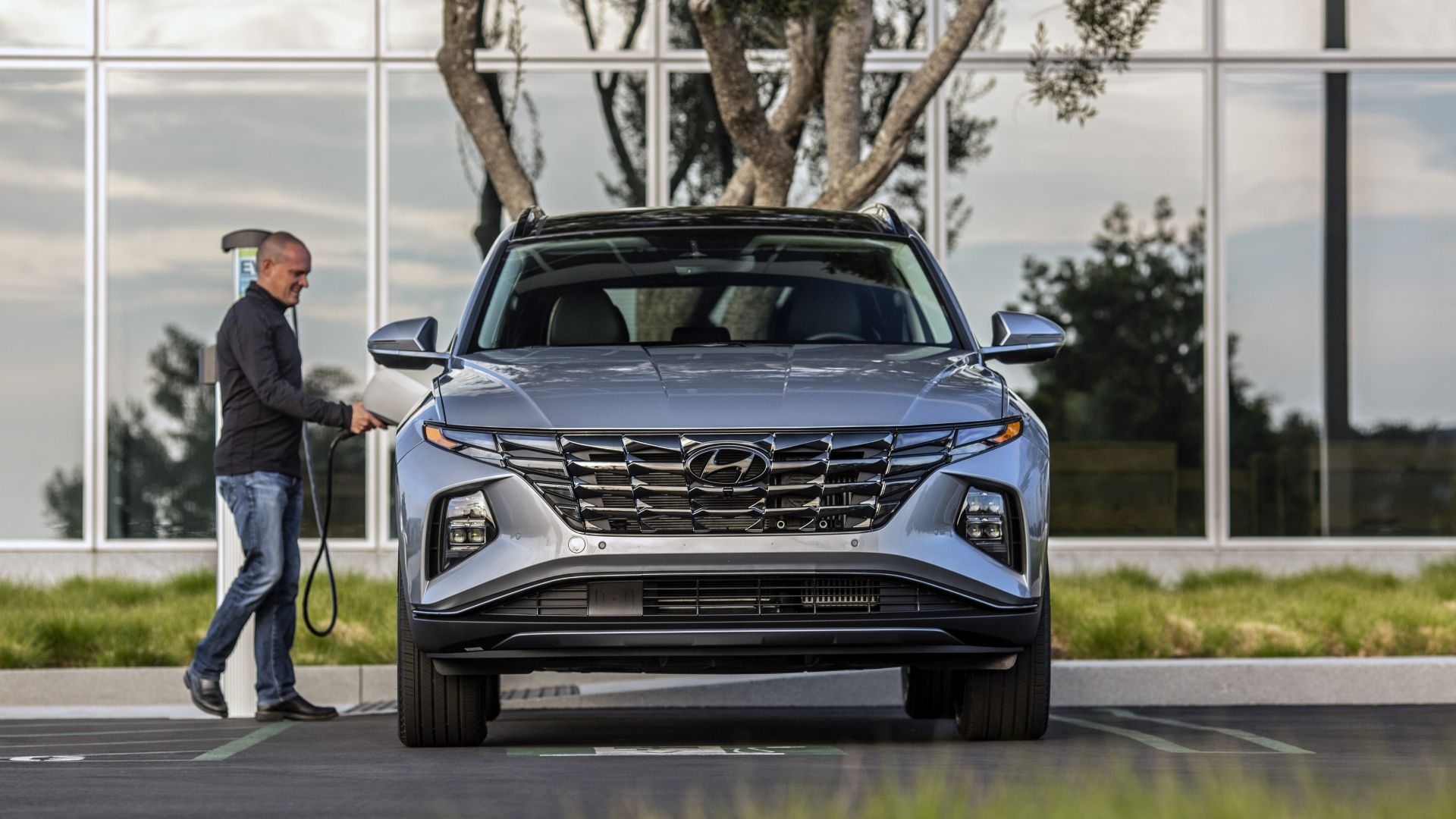 Head-on shot of a Hyundai Tucson being charged
The 2023 Hyundai Tucson is as well-rounded as SUVs come and granted the styling might appear polarizing to some thanks to a few too many creases on the shell. But there's simply no denying the fact that the 2023 Tucson in its PHEV guise is sensibility dialed up to eleven. For starters, the new powertrain makes 261 horsepower and 258 pound-feet of torque from a 1.6-liter turbo four and electric motor combo. The electric motor is fed by a 13.8 kWh battery pack that is good for 33 miles of pure electric driving and combined with the six-speed auto it can seamlessly transition from one power source to the next.
The battery takes just 2.5 hours for a full charge at a level 2 charger and the combined range should be around 400 miles. Hyundai claims a combined fuel efficiency figure of 35 MPG, but that figure can widely vary based on your battery charge and usage pattern. The 2023 Hyundai Tucson PHEV also comes with a well-designed and feature-loaded cabin that gets equipment like 10.25-inch infotainment with wireless Apple Car Play and Android Auto, along with one of the best active driver assistance systems in the business.
| | |
| --- | --- |
| Price | $37,300 |
| Electric Range | 33 miles |
| Horsepower | 261 horses |
| Torque | 258 pound-feet |
| Drivetrain | AWD |
Related: 10 Reasons Why The Hyundai Tucson Is The Best PHEV Under $40,000
3
2023 Ford Escape PHEV – $40,500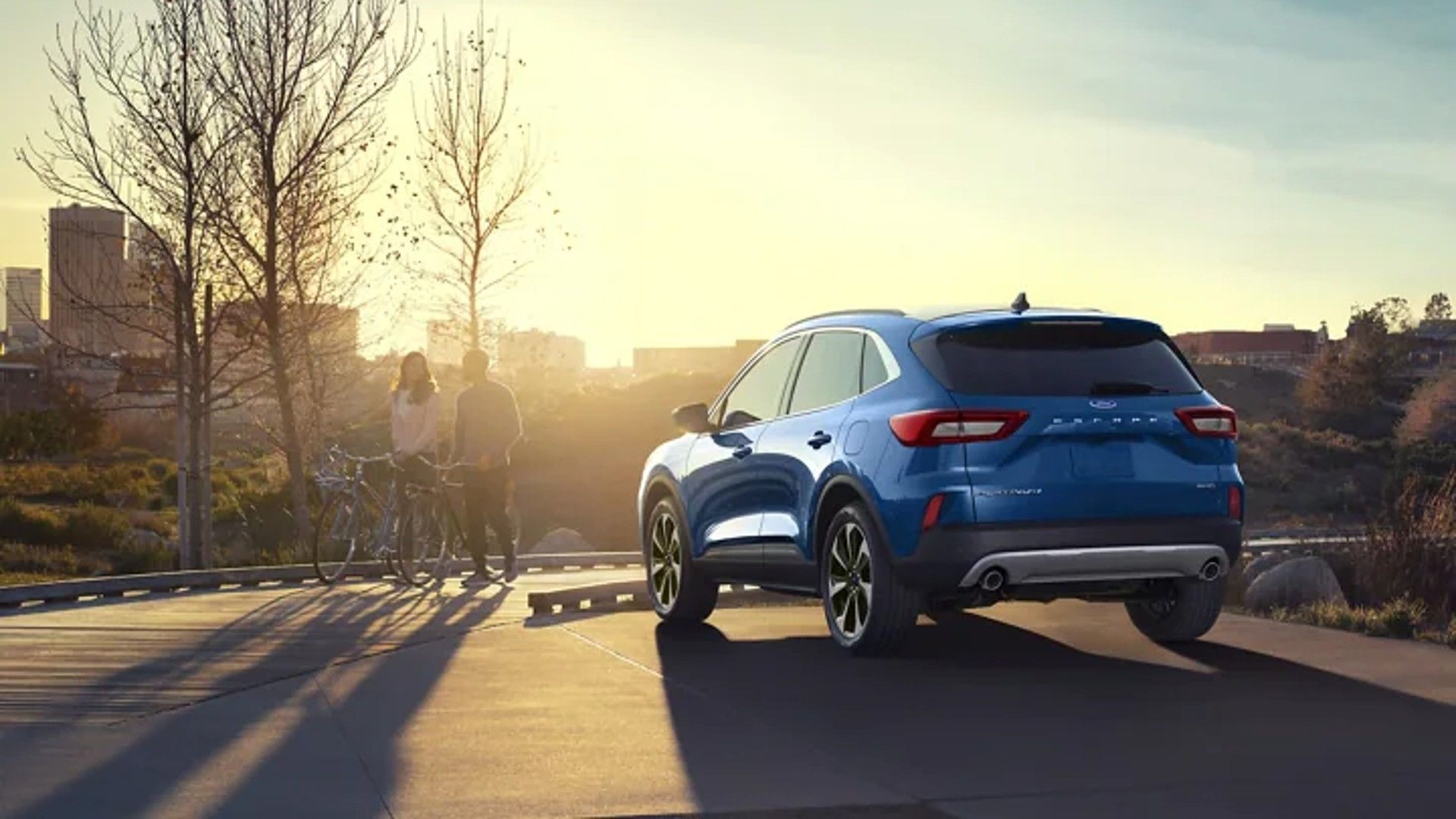 Back three quarters of Ford Escape PHEV dynamic on a road
Like it or not, the crossover SUV is here to stay and if sales charts are anything to go by, their numbers are only set to rise in the near future. Ford's Escape PHEV priced at $32,650 is yet another popular crossover in Ford's lineup that now gets a full-fat PHEV version in addition to the hybrid and gas versions. Powering the PHEV Escape is a 2.5-liter inline-four engine that combined with two electric motors delivers 210 horsepower, but the battery pack is fairly small at 11.2-kWh. As a result, the electric-only range which stands at an EPA-estimated 37 miles isn't all that impressive, but when used properly with a full battery, this PHEV crossover can manage up to 102 MPG which sounds impressive on paper however, the real-world figures are likely to be lower. Despite these minor flaws, the Ford Escape PHEV is a very appealing crossover SUV that combines enough space for five occupants and their luggage and gets plenty of equipment as standard including 8-inch infotainment and gauge cluster which can be upgraded to bigger units.
| | |
| --- | --- |
| Price | $40,500 |
| Electric Range | 37 miles |
| Horsepower | 210 horses |
| Torque | 155 pound-feet |
| Drivetrain | FWD |
4
2023 Dodge Hornet R/T – $41,590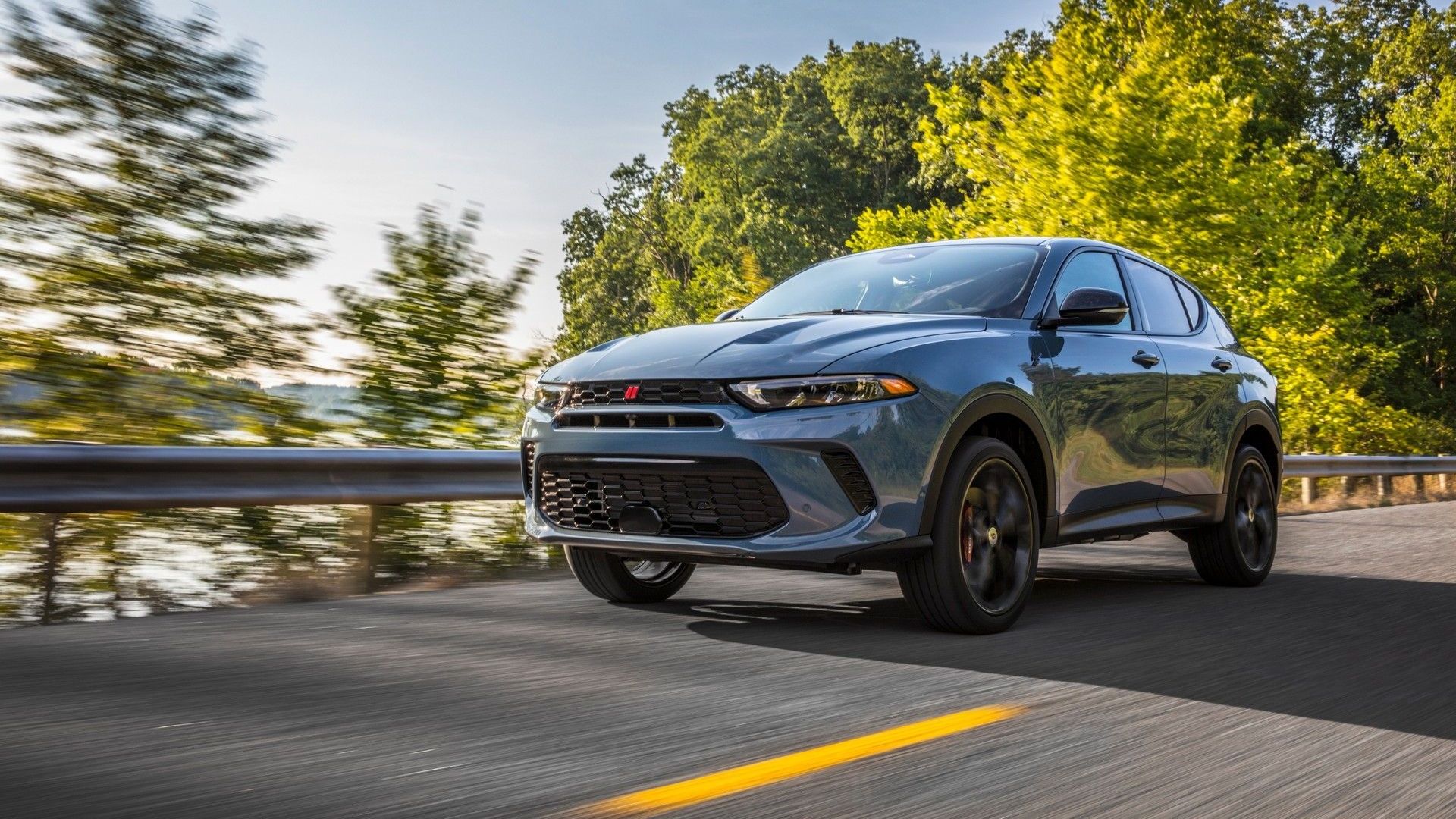 An action shot of a 2023 Dodge Hornet driving on a country road
Not too long ago, Dodge revealed its first electrified production vehicle in the form of the 2023 Hornet. This all-new compact crossover is based on a new layout that it shares with the recently-unveiled 2023 Alfa Romeo Tonale but the Dodge version is said to be the more performance-focused of the two. The 2023 Hornet range includes the Dodge Hornet GT 2.0-liter gas model, the Dodge Hornet R/T plug-in hybrid, and Dodge Hornet GT GLH Concept which offers Dodge's new Direct Connection performance parts upgrades.
The one we are interested in, of course, is the Hornet R/T, priced from $41,590 which combines an all-new 1.3-liter turbocharged engine that sends power to the front wheels while the 90-kW electric motor sends power to the rear wheels via a six-speed transmission. The battery pack is a 15.5-kWh unit that sends power to the electric motor as well as a starter generator that fills in the engine's torque gaps and the electric-only range of the system is 30 miles. In terms of looks, Dodge has done just enough to make the Hornet R/T stand out with elements like the illuminated Dodge Rhombi logo, which is a first for a production Dodge model. The Hornet also features a well-equipped interior featuring a 12.3-inch digital cockpit cluster screen and 10.25-inch UConnect 5 infotainment system which are standard across the trim range.
| | |
| --- | --- |
| Price | $41,590 |
| Electric Range | 30 miles |
| Horsepower | 288 horses |
| Torque | 283 pound-feet |
| Drivetrain | AWD |
Related: Why The Volvo S60 Recharge Is The Most Underrated Plug-in Hybrid Currently On Sale
5
2023 Hyundai Santa Fe PHEV – $42,110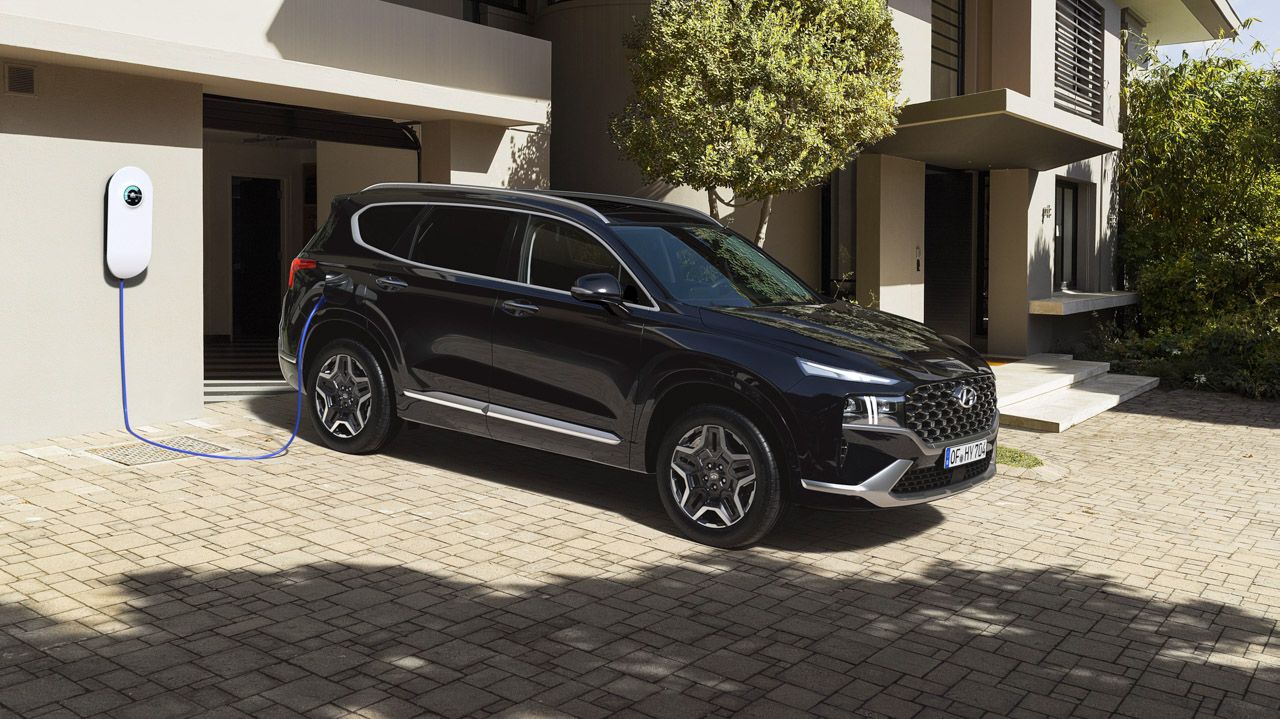 Hyundai Santa Fe PHEV charging
The Koreans of late have been responsible for some of the most cutting-edge and well-rounded cars on sale today and the 2023 Hyundai Santa Fe PHEV is a fine example of Hyundai's prowess. With a starting price of just over $42,000, it is one of the most compelling seven-seaters in this price range. For 2023, the Santa Fe PHEV comes powered by a 1.6-liter inline-four turbo engine that is assisted by an electric motor for a total system output of 260 horsepower and 258 pound-feet. Power is sent to all four wheels via a six-speed automatic gearbox and the electric motor-battery pack combo can deliver up to 30 miles of range in pure EV mode.
In ideal conditions and with a fully charged battery pack, the claimed fuel economy figure is an impressive 70 MPG. In addition to the ability to carry full-sized adults in the third row, the 2023 Santa Fe PHEV packs a feature-loaded cabin and one of the best lane-keep and autopilot tech in the business. All these factors combined make the 2023 Hyundai Santa Fe PHEV of the best affordable plug-in hybrid family SUVs in the business.
| | |
| --- | --- |
| Price | $42,110 |
| Electric Range | 30 miles |
| Horsepower | 260 horses |
| Torque | 258 pound-feet |
| Drivetrain | AWD |
6
2023 Toyota RAV4 Prime – $42,340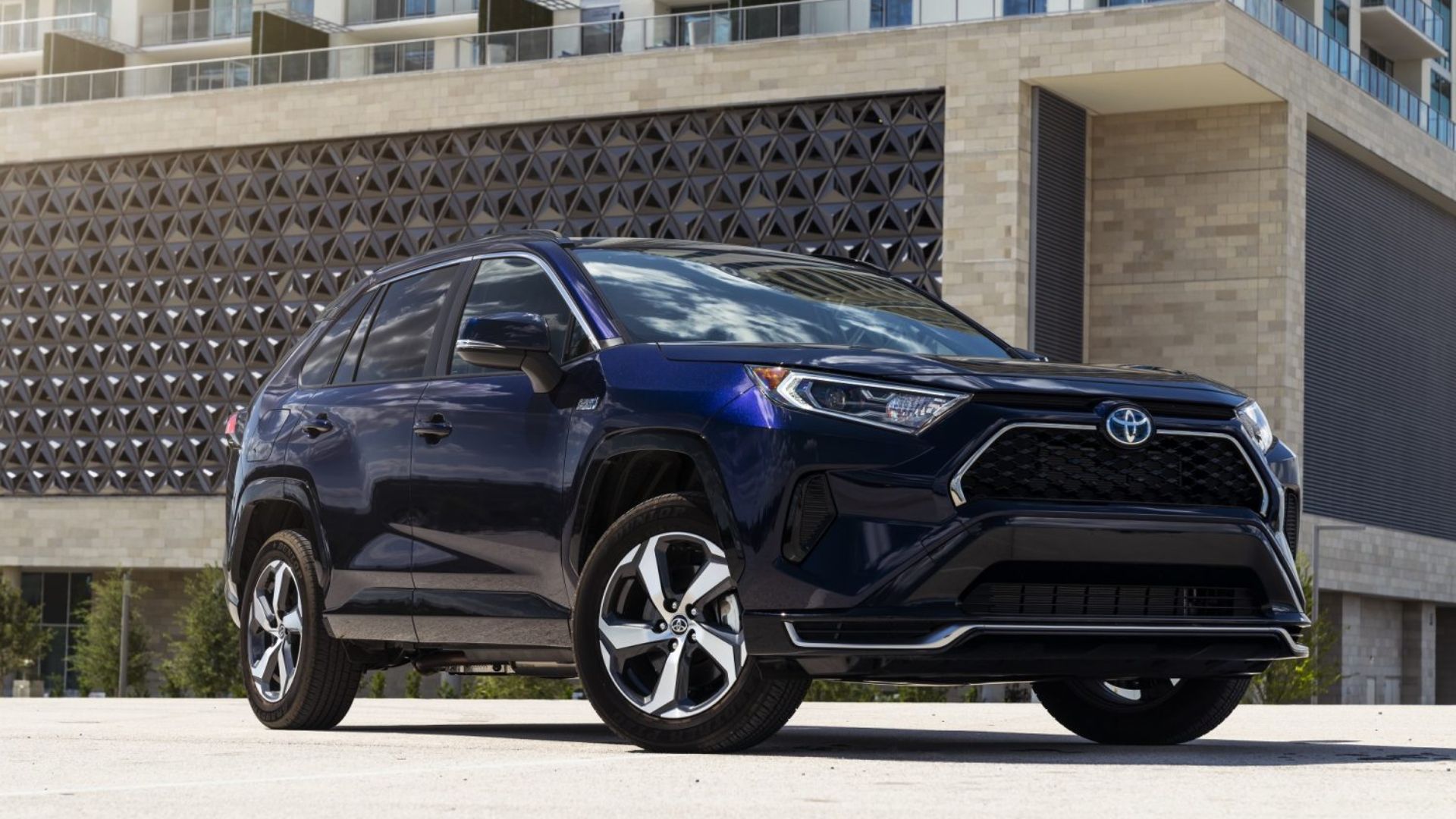 Front And Side Angle Shot Of Blue Toyota RAV4 Prime 
The 2023 Toyota RAV4 Prime is the latest plug-in hybrid offering from the tried and trusted RAV4 range. When it comes to affordable family crossovers, the RAV4 has been at the top of many recommendation lists thanks to Toyota's excellent reliability and low running costs. The 2023 Toyota RAV4 Prime starts at $42,340 and for that, you get a frugal PHEV powertrain that's comprised of a 2.5-liter Inline-four and an electric motor which is good for a combined power output of 302 horsepower. The electric motor is fed by an 18.1 kWh battery pack that lends the RAV4 Prime a pure electric range of 42 miles, a best-in-segment figure.
The clever design also means the RAV4 Prime does not lose any interior space, thanks to the cleverly designed battery pack that sits underneath the floor, so there's plenty of space for five occupants, and the interior, though not particularly luxurious, gets the basics right. There are plenty of cubby storage spaces, and it comes with a reasonable level of equipment. As for efficiency, the claimed figure for the 2023 RAV-4 Prime is 94 MPG but what's more impressive is the range which thanks to its 14.5-gallon fuel tank is an impressive 600 miles.
| | |
| --- | --- |
| Price | $42,340 |
| Electric Range | 42 miles |
| Horsepower | 302 horses |
| Torque | 165 pound-feet |
| Drivetrain | AWD |
Related: Why The Toyota RAV4 Prime Is The Must-Have Plug-In-Hybrid Crossover of 2023
7
2023 BMW 330e – $44,900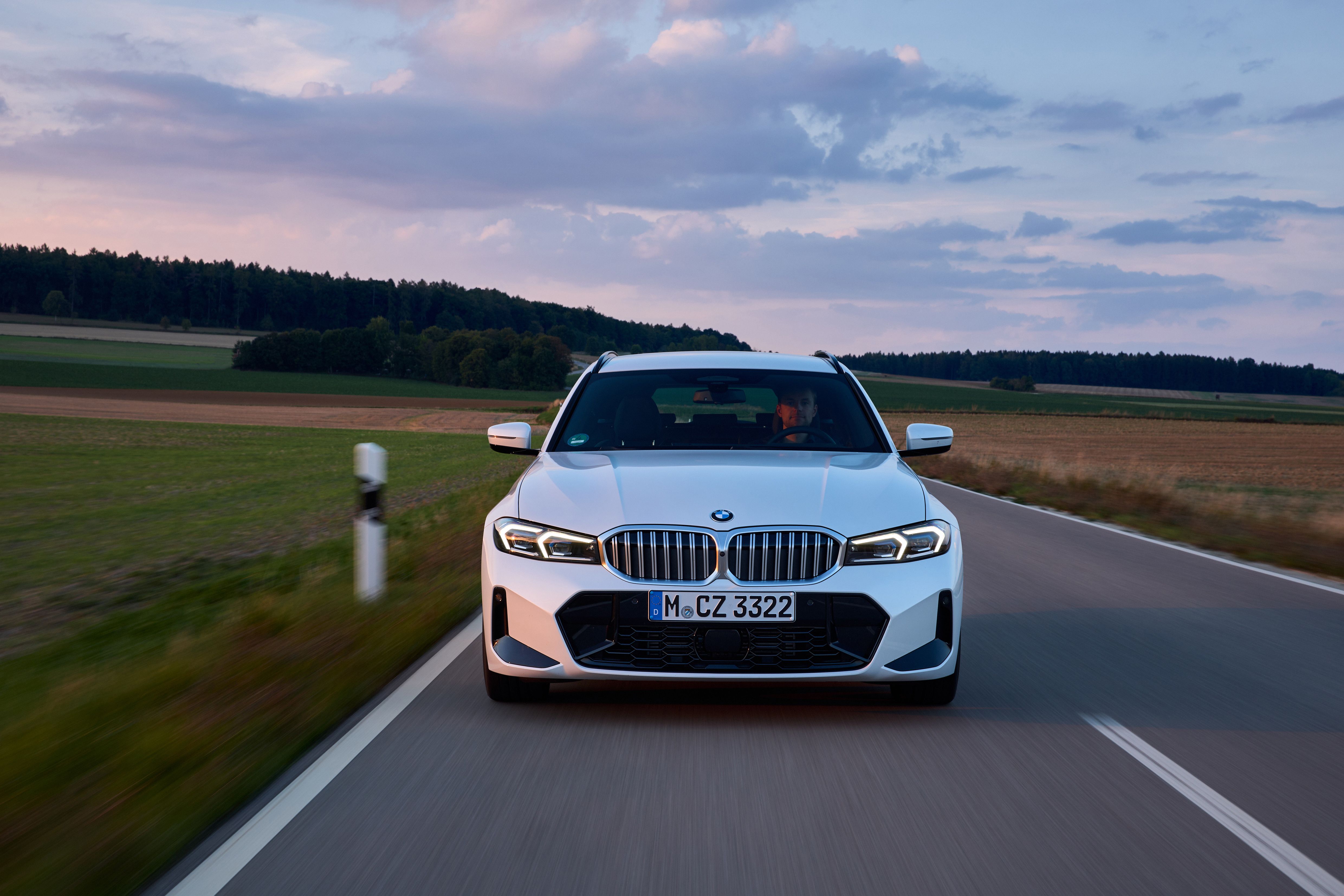 The 2023 BMW 330e showing off its updated front fascia while being out on the countryside
For all those on the lookout for an entry-level executive saloon, the 3 Series has been the default choice for experts and enthusiasts and in the age of plug-ins, the story isn't all that different. With a starting price of $44,900, the 2023 BMW 330e is the entry-level option from BMW's Plug-In Hybrid portfolio. Known for its fine blend of practicality, luxury, and sedate German styling, the 330e adds efficiency to this already impressive list of accolades. The drivetrain incorporates a 2.0-liter turbo Inline-four from the base 3 Series making 181 horsepower and 221 pound-feet of torque, in isolation to the single 111 horsepower electric motor for a combined output of 249 horsepower and 310 pound-feet of torque.
The electric range of the 2023 BMW 330e stands at 41 miles which is not remarkable but sufficient for most inter-city commutes. When the batteries are topped up, BMW claims a combined fuel economy figure of 138 MPG. BMW has also added a neat XtraBoost feature which adds an extra 40 horsepower of electric thrust for 10 seconds at the press of a button for those brisk overtakes.
| | |
| --- | --- |
| Price | $44,900 |
| Electric Range | 41 miles |
| Horsepower | 249 horses |
| Torque | 310 pound-feet |
| Drivetrain | RWD |
8
2024 Mazda CX-90 PHEV – $47,445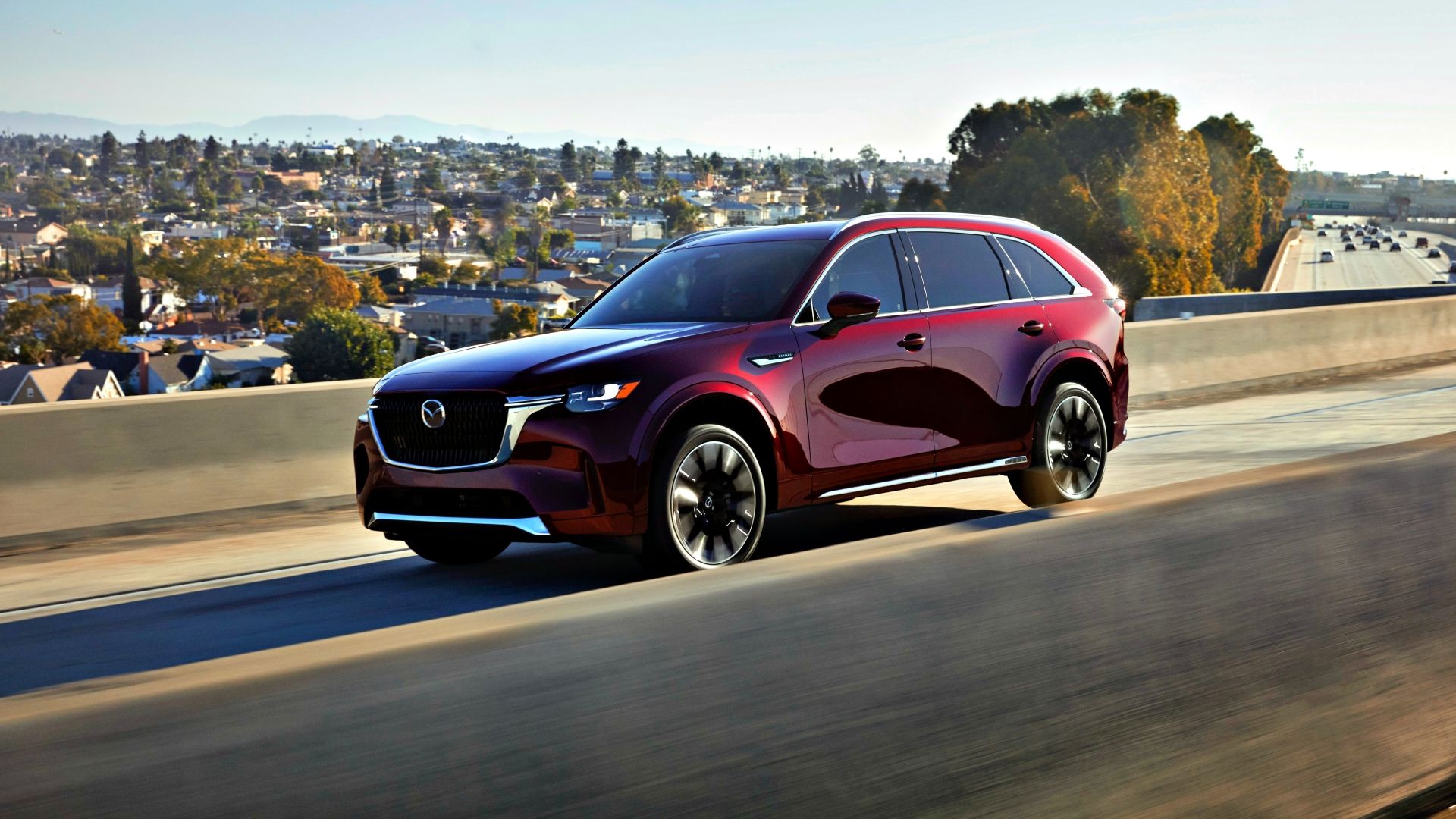 An action shot of a front 3/4 shot of a 2024 Mazda CX-90 driving on the highway
In recent times, Mazda has carved out a niche for itself as an affordable upmarket alternative to traditional German luxury automakers. Mazda recently revealed its all-new scalable architecture that will underpin most new Mazda big models from here on. The CX-90 is a big seven-seater that replaces the CX-9 as the flagship SUV in Mazda's lineup. With prices starting at $47,445 for the entry-level PHEV variant, the CX-90 also features an all-new set of powertrains including a 3.3-liter straight-six with 335 horsepower. However, the one we are interested in is the PHEV version that packs a 2.5-liter four-cylinder engine with Mazda's innovative Skyactive-G technology that combined with a 17.8 kWh battery pack and an electric motor manages to pony up a combined output of 319 horsepower.
Despite its massive size, the 8-speed transmission in conjunction with instant torque from the electric motor manages to mask the bulk of this SUV effortlessly and should be good for 30 miles of pure electric range. The interior too is well polished and feels very well put together for the price, so if it's a luxurious seven-seater you seek on a budget, then the Mazda CX-90 might be the right pick for you.
| | |
| --- | --- |
| Price | $47,445 |
| Electric Range | 30 miles |
| Horsepower | 319 horses |
| Torque | 369 pound-feet |
| Drivetrain | AWD |
Related: Top 10 Plug-in Hybrids To Watch Out For In 2023
9
2023 Chrysler Pacifica PHEV – $50,495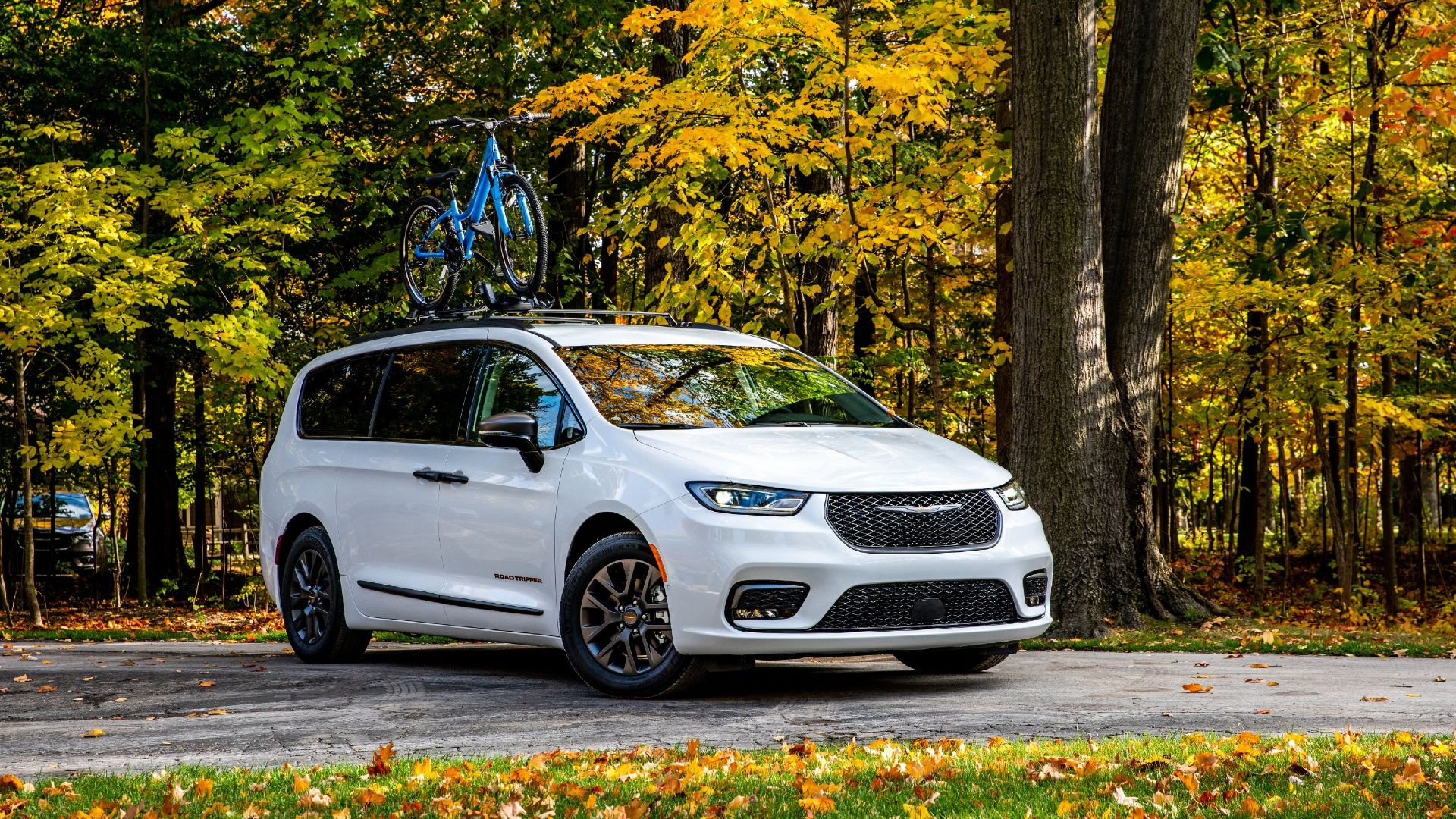 A white Chrysler Pacifica PHEV Minivan parked on the road
The 2023 Chrysler Pacifica PHEV is a truly unique offering as it's the only minivan to feature a proper plug-in variant. The Pacifica, in its PHEV guise, combines excellent fuel efficiency with the massive space and practicality of this minivan. But the major headline figures for the 2023 Pacifica PHEV include its 32 miles of pure electric range and a price of just over $50,000. The powertrain setup on this minivan incorporates a 3.6-liter V-6 that's combined with a pair of electric motors. The result is 260 horsepower and in spite of the CVT transmission, the drivetrain feels fairly refined and the handoff from electric to ICE power is also seamless. This powertrain is pretty frugal with an EPA estimated efficiency figure of 84 MPG and the 32 miles of pure electric range is sufficient for your average intercity commutes and soccer runs.
The interior is very well-designed and loaded to the brim with tech such as clever power sliding doors, and a 10.1-inch touchscreen infotainment system that supports Apple CarPlay and Android Auto connectivity. The safety suite is well-equipped with a rearview camera, blind-spot monitoring, and rear cross-traffic alert. The cabin is generously sized, and it can seat up to 7 or 8 occupants depending on the second-row seating configuration. The 2023 Chrysler Pacifica PHEV is the only plug-in minivan on sale today and the $50,000 starting price is a stellar deal for the level of equipment and powertrain technology on offer.
| | |
| --- | --- |
| Price | $50,495 |
| Electric Range | 32 miles |
| Horsepower | 260 horses |
| Torque | 236 pound-feet |
| Drivetrain | FWD |
10
​​​​​2023 Lexus NX 450h+ – $58,655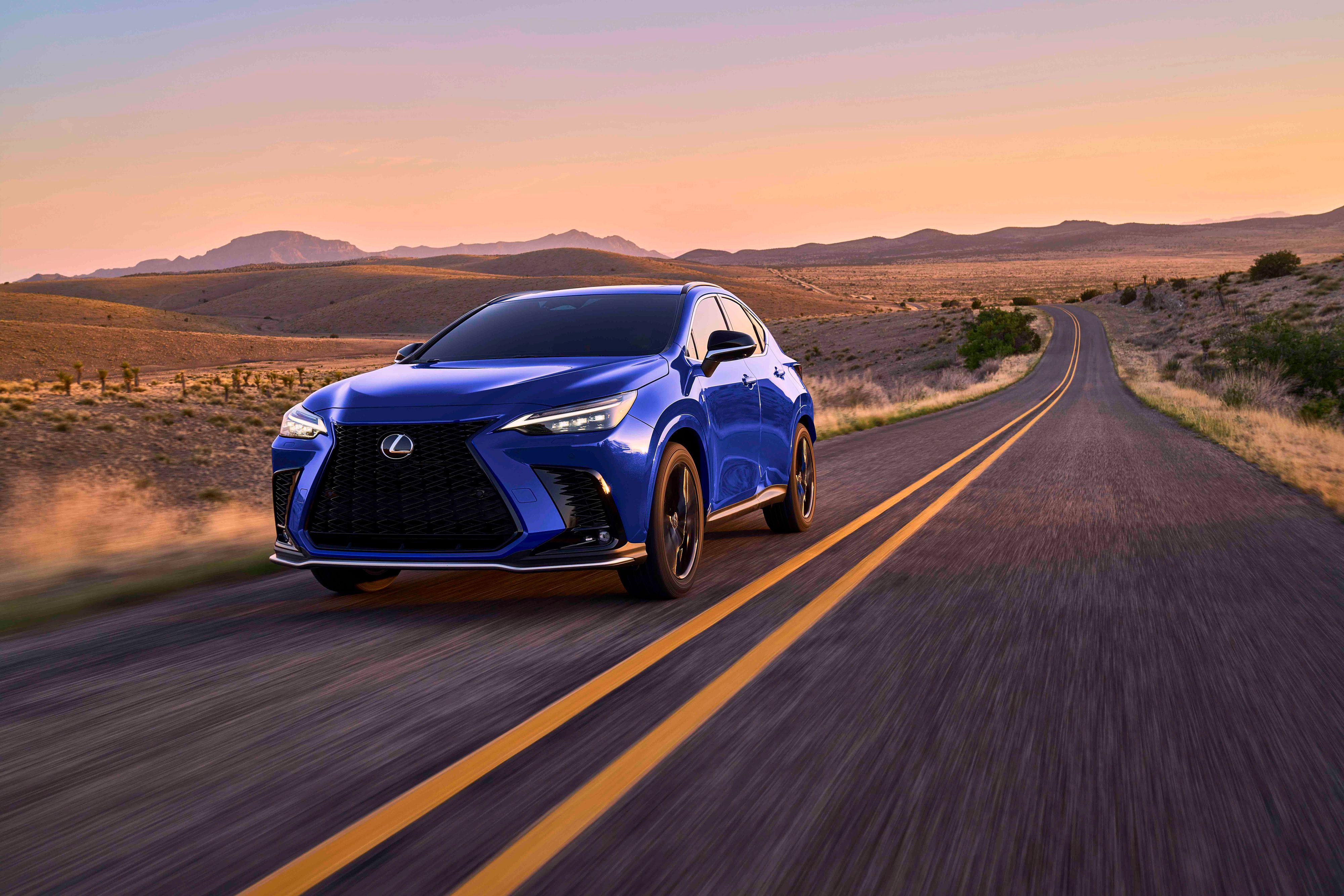 2023 Lexus NX 450h+ front three quarters driving shot
Lexus has been at the forefront of hybrid technology with offerings such as the LS450h and the LC500h, cars that combine the best of contemporary Japanese luxury with Toyota's proven reliability record. On the affordable end of the spectrum, Lexus has sensible offerings like the NX crossover and the 2023 Lexus NX 450h+ is their latest Plug-In hybrid version that's arguably the best entry-level PHEV crossover on sale today. For starters, this crossover delivers class-leading economy figures with an impressive electric-only range of 40 miles. The claimed combined range of between 257 and 314 MPG makes it the most efficient crossover in a segment that includes pricier contemporary German offerings like the BMW X3 xDrive30e and the Mercedes GLC 300e. Refinement is also right up there with the best in the business thanks to a well-appointed cabin that uses high-quality materials and feels well-insulated from the elements, that's even though Lexus makes use of an eCVT in this application.
Speaking of powertrain, the Lexus NX 450h+ packs a 2.5-liter Inline-four engine that works in conjunction with a pair of electric motors. The battery is an 18.1 kWh unit and the combined power output of this plug-in powertrain is 302 horsepower. The battery alone can propel the car on pure electric power for up to 40 miles. When the batteries deplete, the NX can recharge them like a typical hybrid using regenerative breaking but to get the best out of the NX450h+, you'll have to keep the batteries brimmed. With a starting price of $58,655, the 2023 Lexus NX 450h+ is quite hard to miss.
| | |
| --- | --- |
| Price | $58,655 |
| Electric Range | 40 miles |
| Horsepower | 302 horses |
| Torque | 332 pound-feet |
| Drivetrain | AWD |