For the longest time, Crunchyroll served as most people's main (or only) source of anime. As the likes of Netflix, HBO Max, and Hulu entered the market, anime properties started to spread across multiple platforms, especially when it comes to new series. Nowadays, someone has to subscribe to various services if they want to follow a sizable portion of the seasonal releases; however, when it comes to sheer size, Crunchyroll's library is second to none.
RELATED: All Crunchyroll Originals, Ranked
Funimation acquiring Crunchyroll not only did not hinder the latter's potential but served to amplify its catalog to greater heights than ever before. With thousands of series available on the platform, newcomers to Japanese animation might not know where to start. To make that process easier, here are the best anime on Crunchyroll across multiple genres.
The Japanese titles of the anime include links to their Crunchyroll pages.
Exciting New Spring 2023 Anime Coming To Crunchyroll
Spring 2023 is right around the corner, and plenty of the season's biggest names will be airing on Crunchyroll. While the service has yet to announce its full Spring lineup, new Demon Slayer, Dr. Stone, Birdie Wing, Tonikawa, and The Ancient Magus' Bride arcs should be airing on the platform. Crunchyroll has also confirmed some new anime that will be debuting in April, including a couple of high-profile releases.
RELATED: Spring 2023 Anime Lineup: Where To Watch Every Series
Hell's Paradise
| | |
| --- | --- |
| Japanese Title | Jigokuraku |
| Studio | MAPPA |
| Start Date | April 1, 2023 |
Like most seasons, Spring 2023 is stacked with shonen goodness, and that goes beyond just returning heavyweights. Based on Yuji Kaku's Shonen Jump+ manga, Hell's Paradise tells a darker tale than most of the demographic's releases. The story is predominantly set on a mysterious island that is rumored to hold a life elixir. In order to retrieve this item, criminals are sent to the island alongside their retainers; if they manage to survive and accomplish their task, freedom awaits.
RELATED: Shonen Manga To Keep An Eye On In 2023
Hell's Paradise lives up to its name. The manga can get fairly brutal at times, delivering action that is vicious and gory. The source material is not only highly regarded but also concluded its run in 2021, providing MAPPA with a full story to adapt.
My Home Hero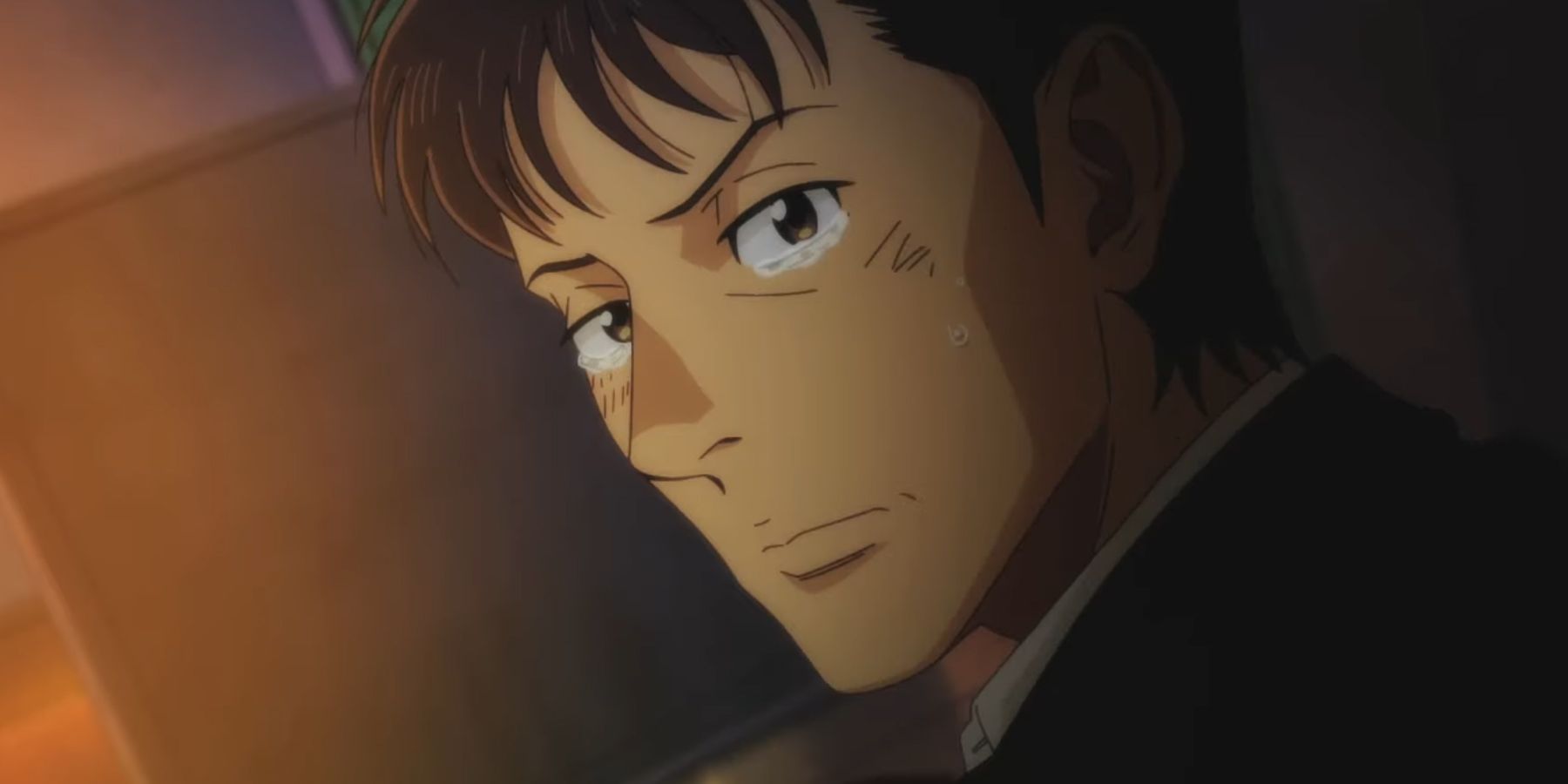 | | |
| --- | --- |
| Japanese Title | My Home Hero |
| Studio | Tezuka Productions |
| Start Date | April 2, 2023 |
A seinen anime, My Home Hero is based on a manga by Naoki Yamakawa. An average guy by most metrics, Tetsuo Tosu is pushed beyond his limits when he learns that his child has been victimized by her partner. This discovery sends Tetsuo into a spiral as he becomes completely driven by a relatable desire to protect his kin.
My Home Hero depicts Tetsuo's revenge and the aftermath that follows, which involves an investigation by the police along with the interference of a mafia. Set up to be one of the more mature Spring 2023 anime, My Home Hero should be an intense watch.
Dead Mount Death Play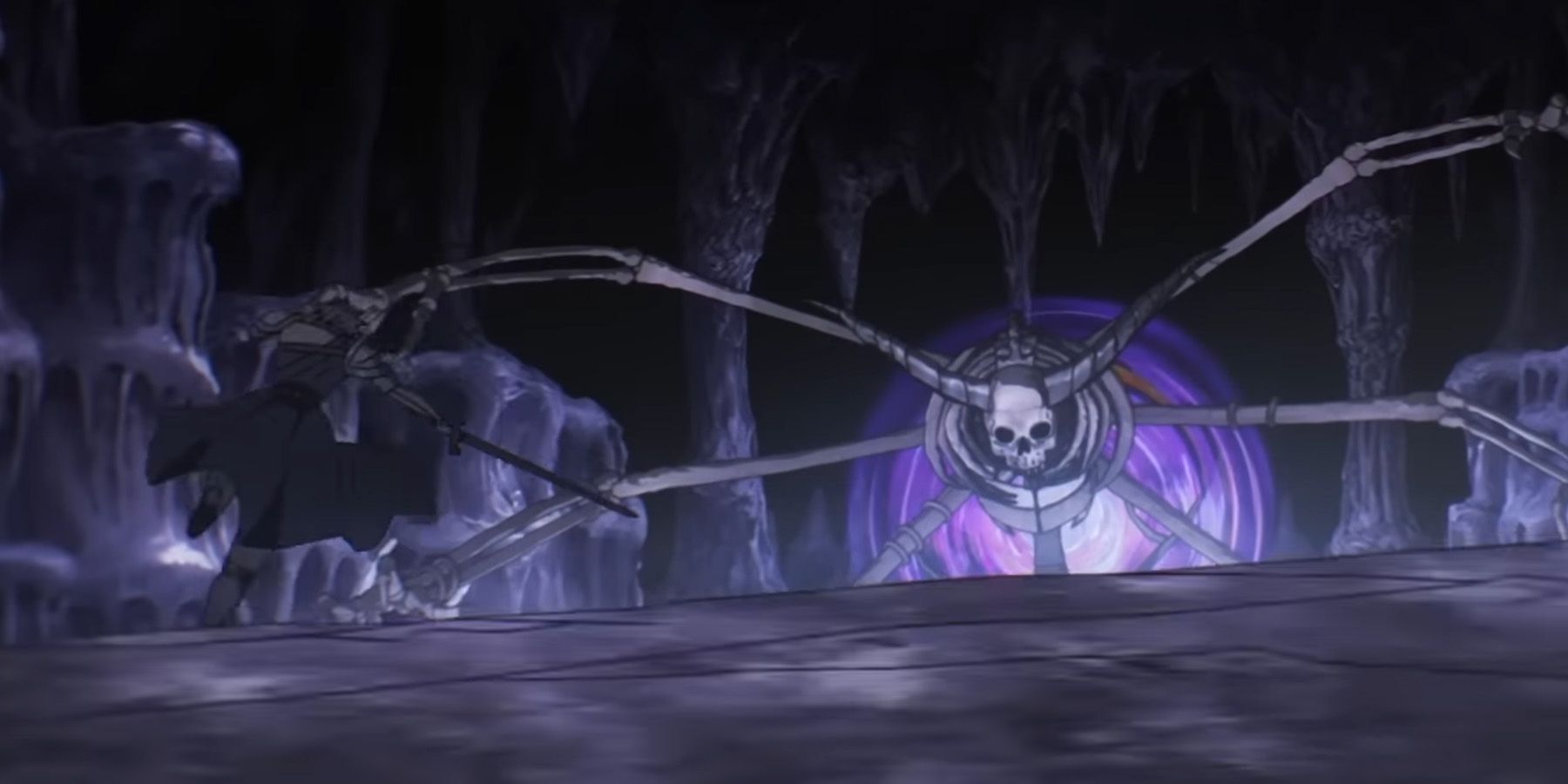 | | |
| --- | --- |
| Japanese Title | Dead Mount Death Play |
| Studio | Geek Toys |
| Start Date | April 11, 2023 |
Unsurprisingly, Spring 2023 will have its share of isekai stories. In Another World With My Smartphone 2, Kuma Kuma Kuma Bear Punch!, What God Does in a World Without Gods, The Aristocrat's Otherworldly Adventure: Serving Gods Who Go Too Far, I Got a Cheat Skill in Another World and Became Unrivaled in The Real World, Too, and My One-Hit Kill Sister will all launch in April 2023, so fans of the theme have a lot to look forward to.
RELATED: Great Isekai Anime With Weak Protagonists
With so many shows set to air, Dead Mount Death Play might have been in danger of getting lost in the shuffle, but the seinen anime sets itself apart by being a reverse isekai. A powerful necromancer reincarnates as a boy on Earth, with his powers intact to an extent. Ryohgo Narita's manga is quite gripping, and Geek Toys clearly has fate in the anime's potential since part 2 has already been announced for Fall 2023.
Skip And Loafer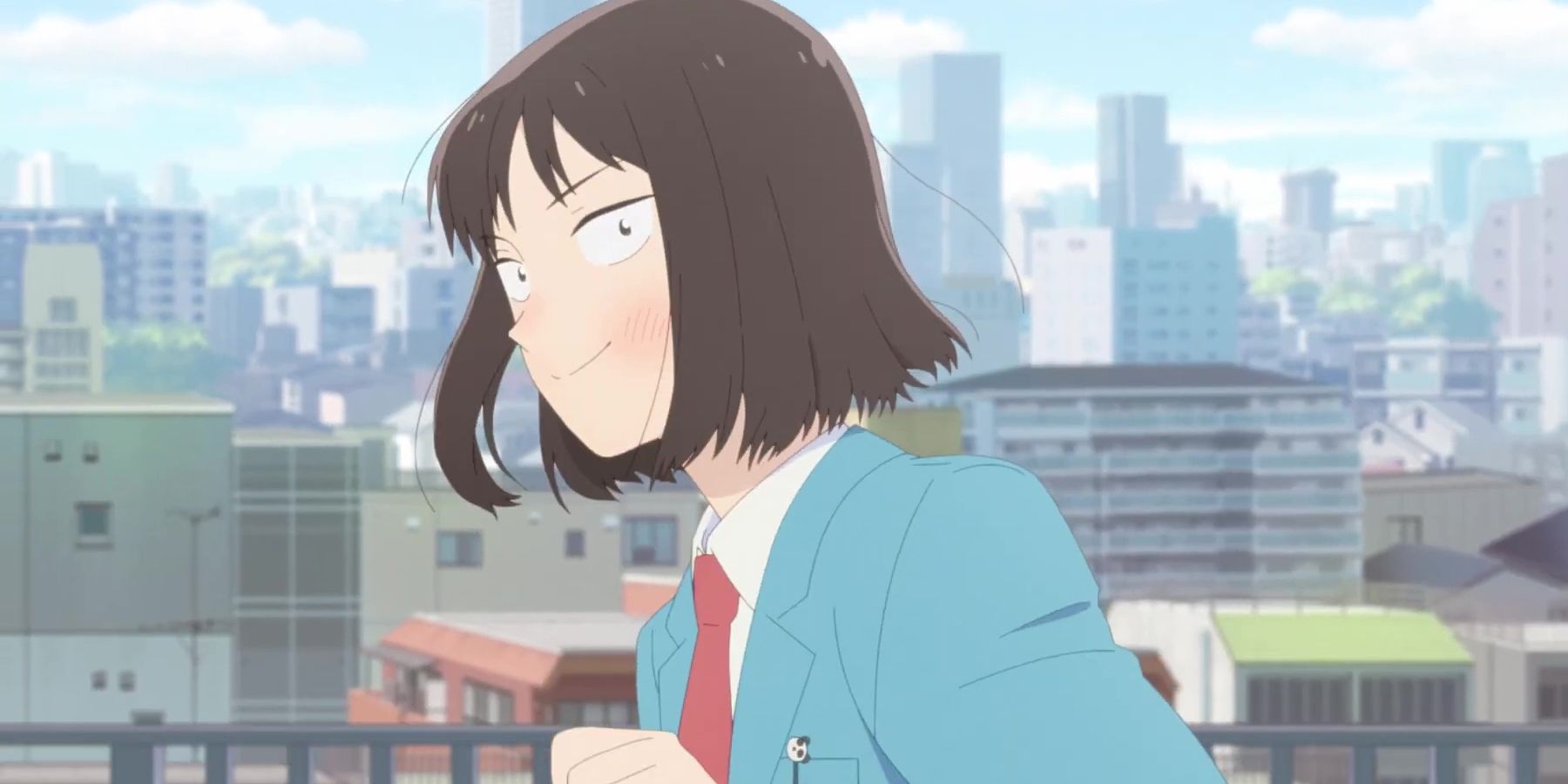 | | |
| --- | --- |
| Japanese Title | Skip to Loafer |
| Studio | Slice of Life, Drama, Romance |
| Start Date | April 4, 2023 |
Misaki Takamatsu's Skip and Loafer seinen manga is both really simple and difficult to describe. The show follows Mitsumi Iwakura, a girl from a small rural village who moves to Tokyo to attend high school. Naturally, she finds the transition way more challenging than initially expected, although things improve once she befriends Sousuke Shima. So far, so straightforward; however, the source material's genre is somewhat hard to pin down.
Skip and Loafer is a slice of life that is not afraid to challenge its characters' status quo, allowing them to grow and change. While having a few dramatic storylines, the manga is not a full-blown drama either. Romance is certainly a factor, but it is merely one part of an overall recipe. Basically, this is a coming-of-age story that covers all the trials, tribulations, joys, and mundanity of adolescent life.
Mashle: Magic And Muscles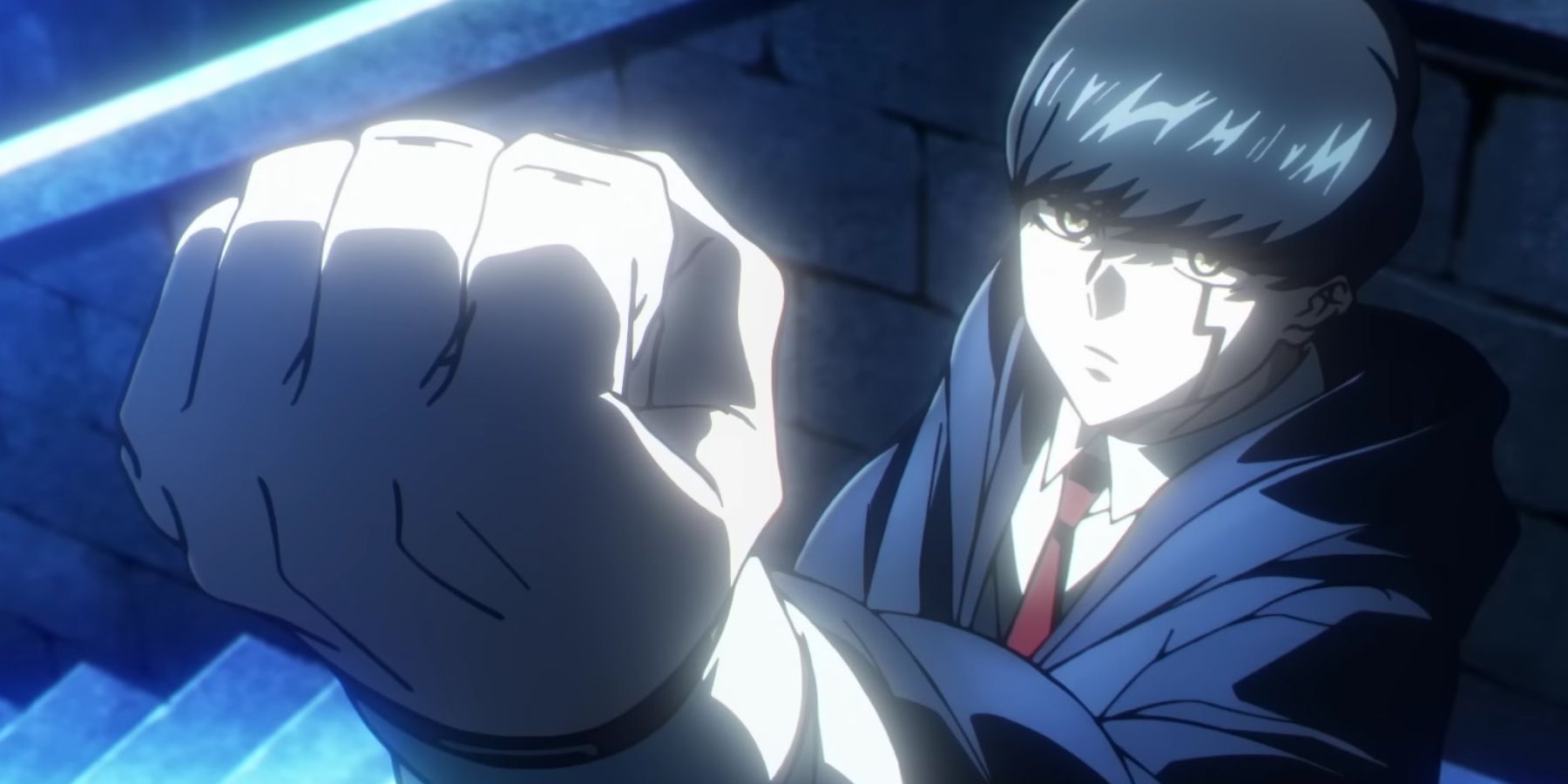 | | |
| --- | --- |
| Japanese Title | Mashle |
| Studio | A-1 Pictures |
| Start Date | April 8, 2023 |
Hajime Koumoto's Mashle: Magic and Muscles is a shonen manga that primarily sets out to inspire laughter, something the source material accomplishes relatively frequently. Set in a world where magic is king and anybody who lacks proficiency in this area is considered a blight on humanity who needs to be wiped out, the powerless Mash decides to focus on building his physical prowess in order to protect his peaceful life. When his existence is threatened, Mash joins a decorated magic school in order to (secretly) powerhouse his way to a coveted position in society that will protect him and his loved one from punishment.
As a concept, Mashle covers some rather well-worn ground, with Black Clover having a fairly similar premise; however, the manga's comedic tone and Mash's stoic personality set it apart from that popular franchise. As Spring 2023 is not lacking in big shonen anime, Mashle will almost certainly not rank among the demographic's most discussed series, but the anime could be among the season's funnier shows.
Best Winter 2023 Anime On Crunchyroll
Winter 2023 is almost over, but many of the season's shows can be watched on Crunchyroll. The service has fantasy, comedy, romance, shonen, and sci-fi, but which are the best simulcast anime?
Vinland Saga Season 2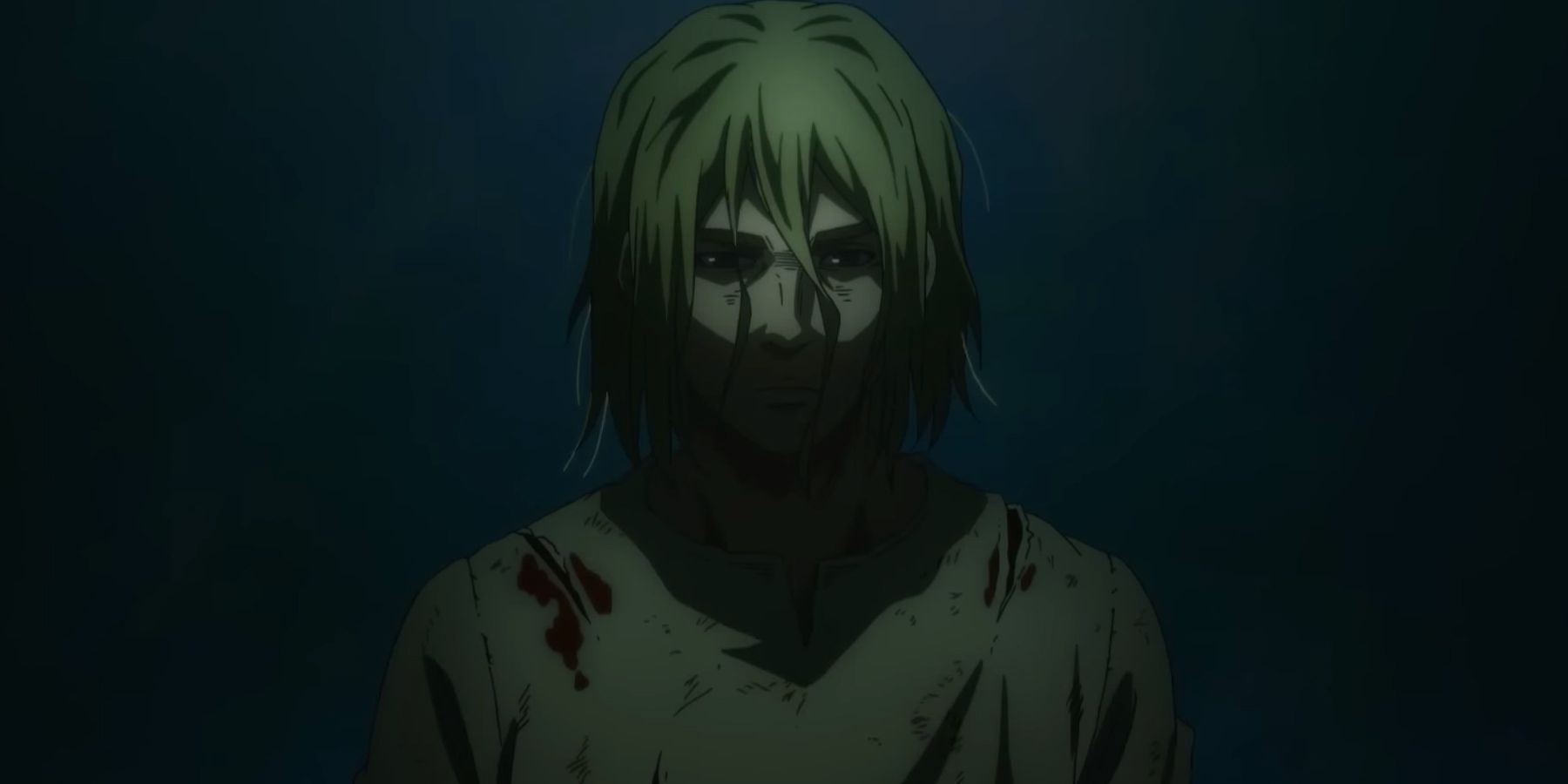 Vinland Saga's opening season was among the best anime of the 2010s, setting the stage for a highly anticipated sequel that needed to be amazing or risk being labeled a disappointment. So far, MAPPA has been up to the challenge, crafting a successor that is just as powerful and gripping as its predecessor. More importantly, season 2 is very much its own beast, telling a story that is about rehabilitation rather than revenge.
RELATED: Vinland Saga: Every Main Character's Age & Height
Set years after the events of the original season, Vinland Saga has shifted focus to Denmark where Thorfinn exists as a slave to a landowner. Alongside his only companion, a British man named Einar, Thorfinn leads a hollow life held together by the small hope of eventually earning freedom. During the first season, the protagonist was driven solely by his desire to kill Askeladd; the sequel strips that away from Thorfinn, challenging him to find another reason to live that does not rely solely on violence.
My Hero Academia Season 6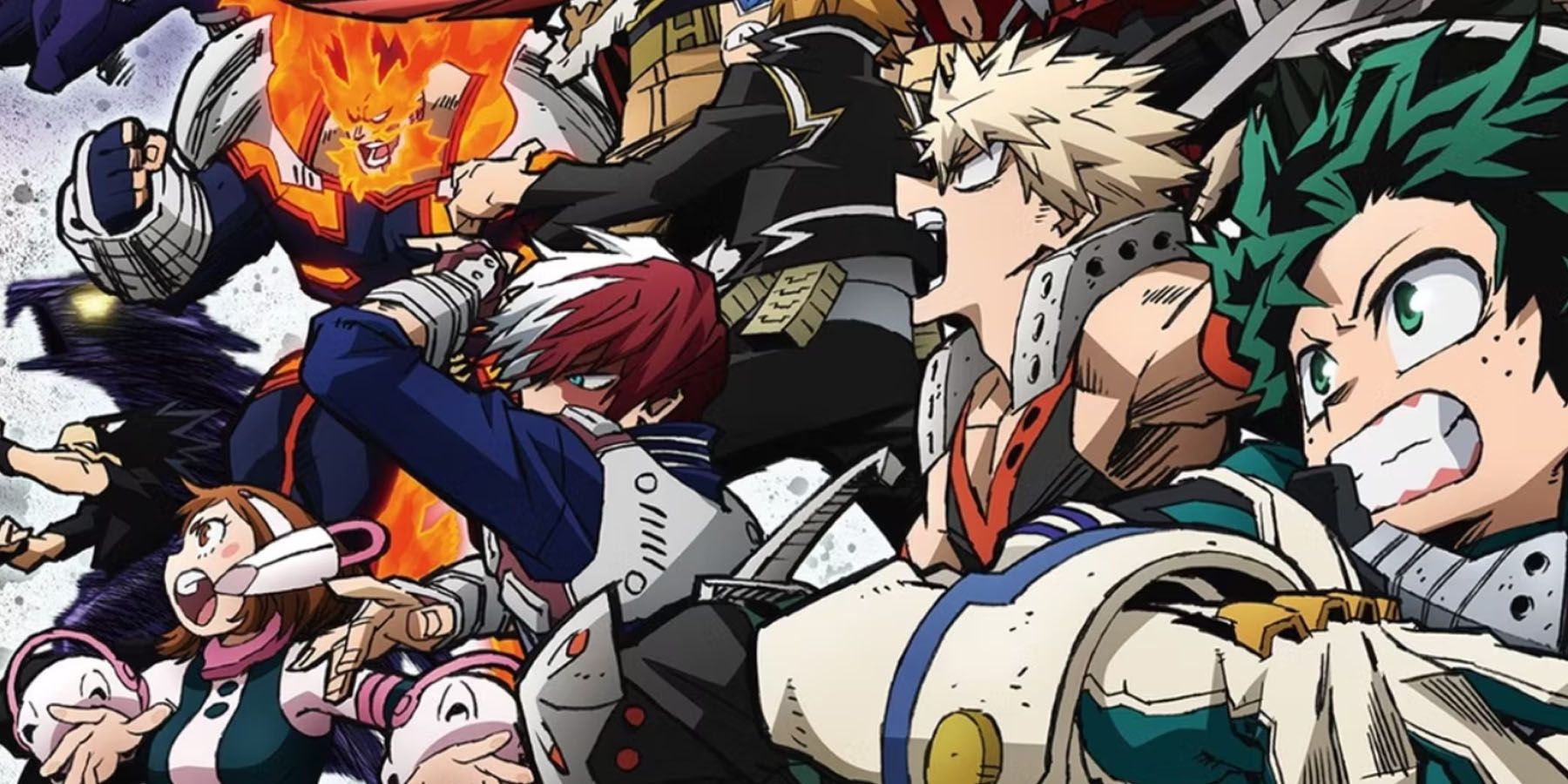 Starting in Fall 2022, My Hero Academia season 6 will continue to air throughout Winter 2023. Following two decent but underwhelming seasons, the superhero anime was starting to lose steam; however, the "Paranormal Liberation War Arc" revitalized the shonen property in a big way. The heroes mounted a direct attack on the villains' headquarters, an onslaught that proved to be devastating in more ways than one. Both sides suffered serious casualties, while many innocents caught in the middle had their lives destroyed.
MHA's Winter 2023 cour has primarily revolved around the aftermath of this conflict, which finds the public opinion of heroes at an all-time low. After 13 episodes of non-stop action, the story has slowed way down to allow both the characters and the audience to survey the operation's consequences. With tension higher than ever before, MHA's world has been irreversibly changed, and not for the better.
Bungo Stray Dogs 4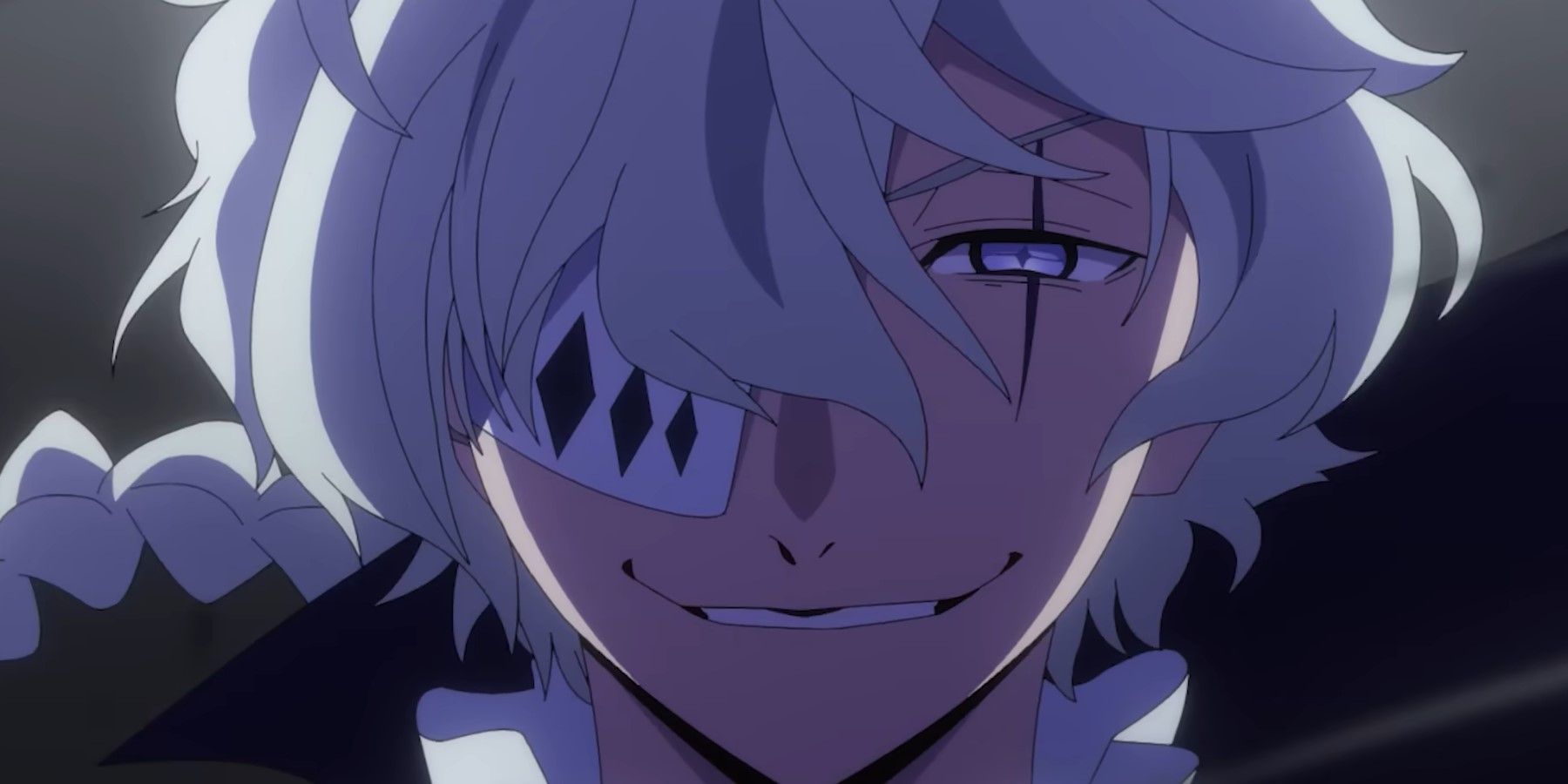 Set in a city called Yokohama, Bungo Stray Dogs follows an agency that investigates cases typically revolving around supernatural abilities, something a select few of this world's inhabitants possess. While enjoyable from the start, Bones' anime has gone from strength to strength with each new season, and the Winter 2023 cour does not buck that trend.
RELATED: Bungo Stray Dogs: Smartest Characters, Ranked
Season 4 pits the Armed Detective Agency against Decay of the Angel, a group of superpowered villains who seek to tear down the heroes in as public a manner as possible. Framed as murderers, the agency's members are labeled enemies of the state and find themselves targeted by the military's strongest squad. Packed with action, drama, and intrigue, Bungo Stray Dogs has it all.
Tomo-chan Is A Girl!
Winter 2023 loves its rom-coms, and Tomo-chan Is a Girl! is among the season's most enjoyable series. Simply put, Tomo has a crush on her close friend, Jun; however, since they have been buddies for so long, the latter struggles to see the former as a potential romantic partner. The anime chronicles Tomo's attempts to make Jun see her as a girl, all the while she comes to grips with her own feelings.
Tomo-chan Is a Girl! has a strong roster of core characters. Tomo and Jun take center stage, and they bounce well off each other. Their interactions reflect their long history, and both characters' actions make sense within the show's context. The side characters are also great, with the likes of Misuzu, Carol, and Kousuke being responsible for most of the anime's biggest laughs.
Buddy Daddies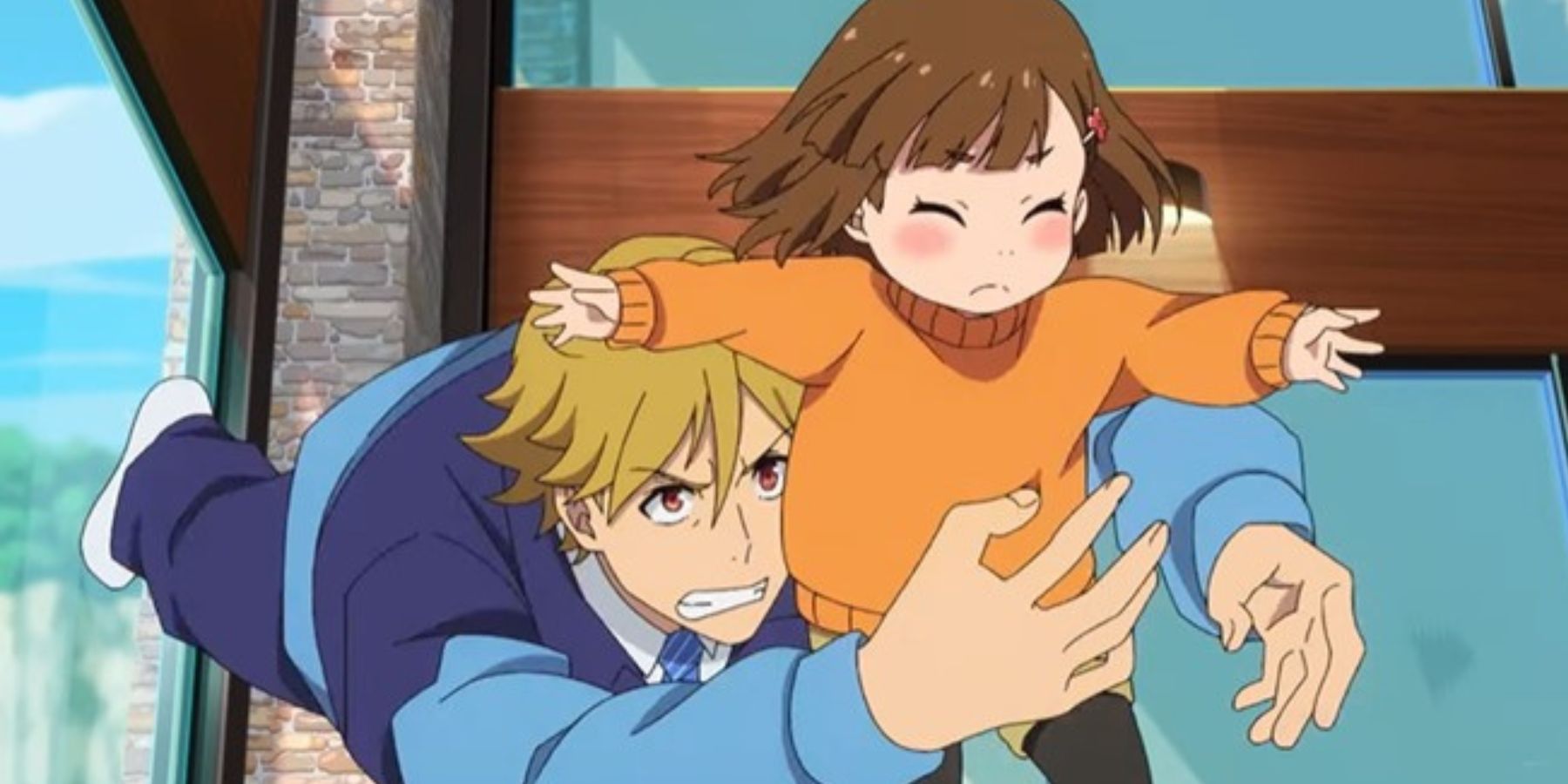 Buddy Daddies should serve as a nice alternative to Spy x Family, and that's not to say the former is a direct copy of the latter. Rei and Kazuki are hired guns, and they take on a job that lands a young girl on their lap. While searching for her father, Miri comes to believe and accept that Kazuki is that person; admittedly, this setup is a bit clunky, but it allows Buddy Daddies to get where it needs to be.
Once the girl is living with the two assassins, the story really comes alive, delivering an impressive blend of comedy, action, and drama. Except for being a touch too oblivious at times, Miri is a surprisingly realistic 4-year-old child, and she complements Rei and Kazuki's personalities.
The Angel Next Door Spoils Me Rotten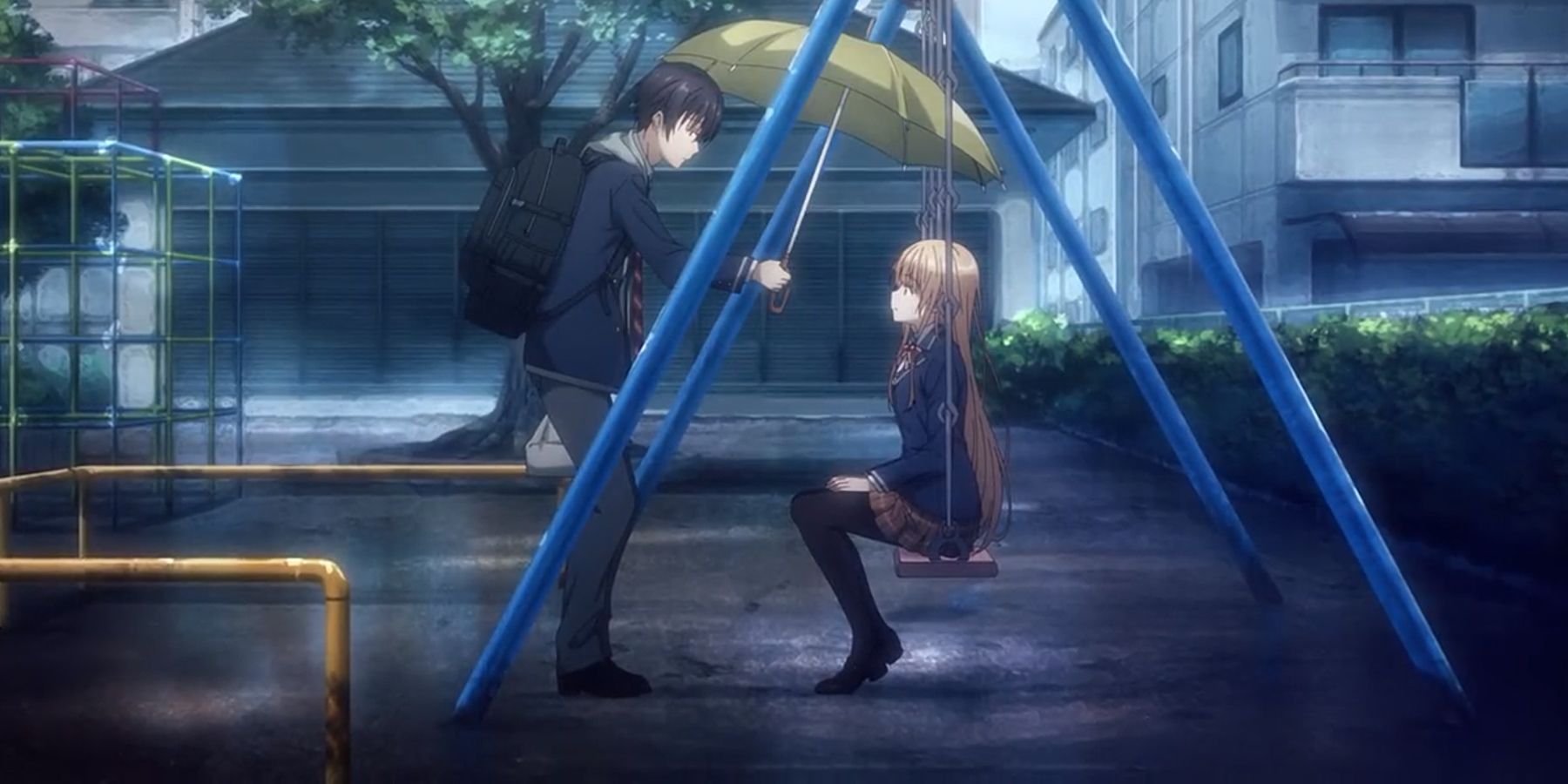 Based on an ongoing light novel by Saeki-san, The Angel Next Door Spoils Me Rotten centers around Mahiru and Amane, two students who happen to be neighbors. The former is essentially the school's idol, while the latter is something of a loner; while they move in different circles, they strike a friendship after Amane lends Mahiru an umbrella. Outside of school, the two begin to spend a lot of time together, and it quickly becomes apparent that this dynamic benefits both of them.
RELATED: Best Winter 2023 Anime & Where To Watch Every Series
The Angel Next Door Spoils Me Rotten could have easily been just another "idolized girl randomly falls in love with a lonely, boring guy" type anime, but Amane and Mahiru are nuanced enough to add layers to this sort of narrative. While not exactly popular, Amane is smart, confident, and charming; meanwhile, Mahiru is aware of her "angel" status at school and actively hates it.
The Magical Revolution Of The Reincarnated Princess And The Genius Young Lady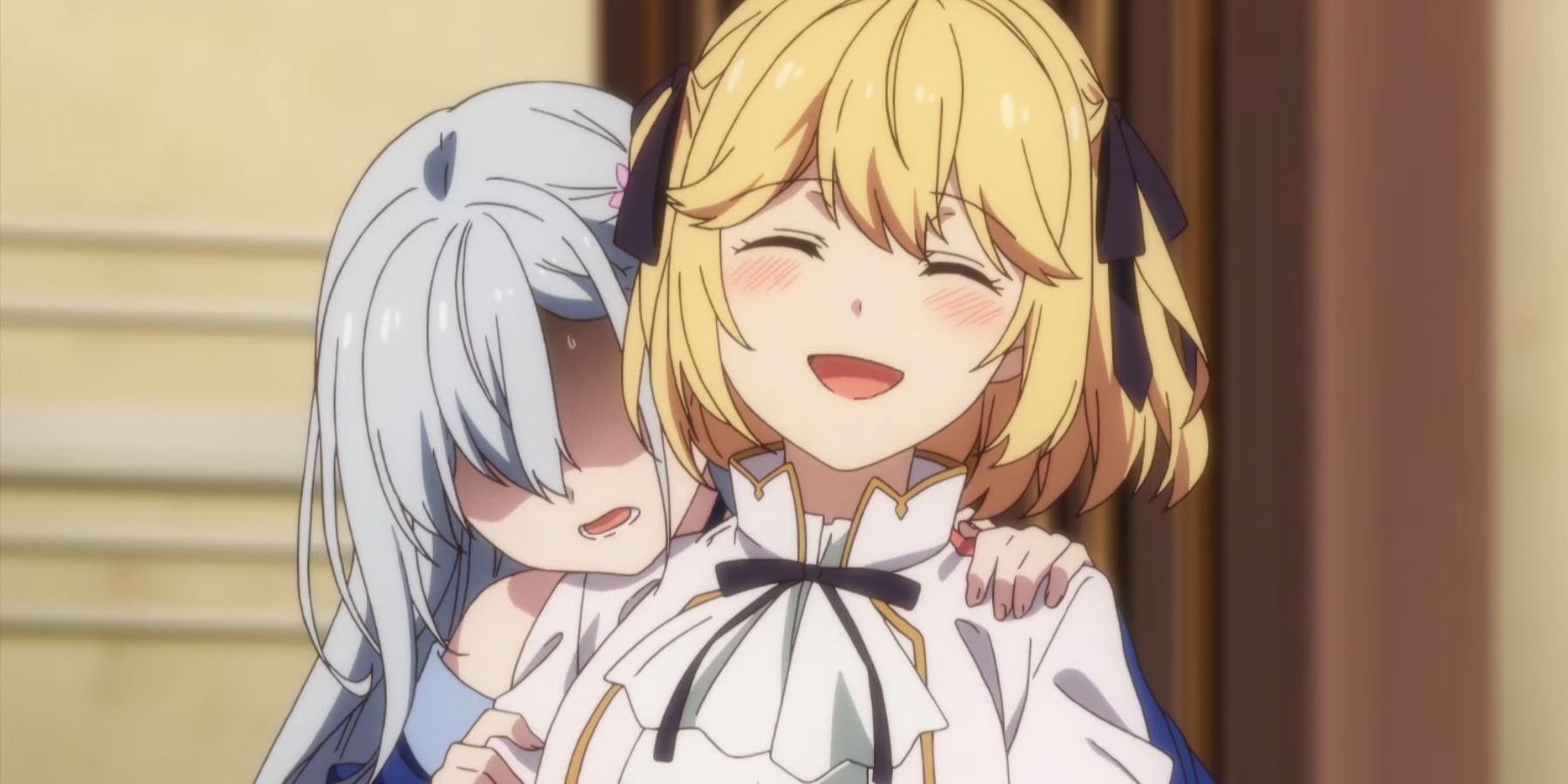 Winter 2023 is the season of fantasy, and quite a few of these shows are enjoyable and on Crunchyroll. Unsurprisingly, this selection includes isekai, with The Reincarnation of the Strongest Exorcist in Another World and Campfire Cooking in Another World with My Absurd Skill being particularly entertaining. However, the best isekai anime of Winter 2023 barely advertises the fact it falls within the subgenre.
The Magical Revolution of the Reincarnated Princess and the Genius Young Lady is named after Princess Anisphia and her brother's former fiancee, Euphyllia. Striving to master flight and to make magic accessible to all, the princess takes on Euphyllia as an assistant as she hopes to make use of the latter's exceptional proficiency in magic. While not emphatically stated, Anisphia's drive stems from memories of a past life featuring flying vehicles.
Best Battle Shonen Anime On Crunchyroll
Fullmetal Alchemist: Brotherhood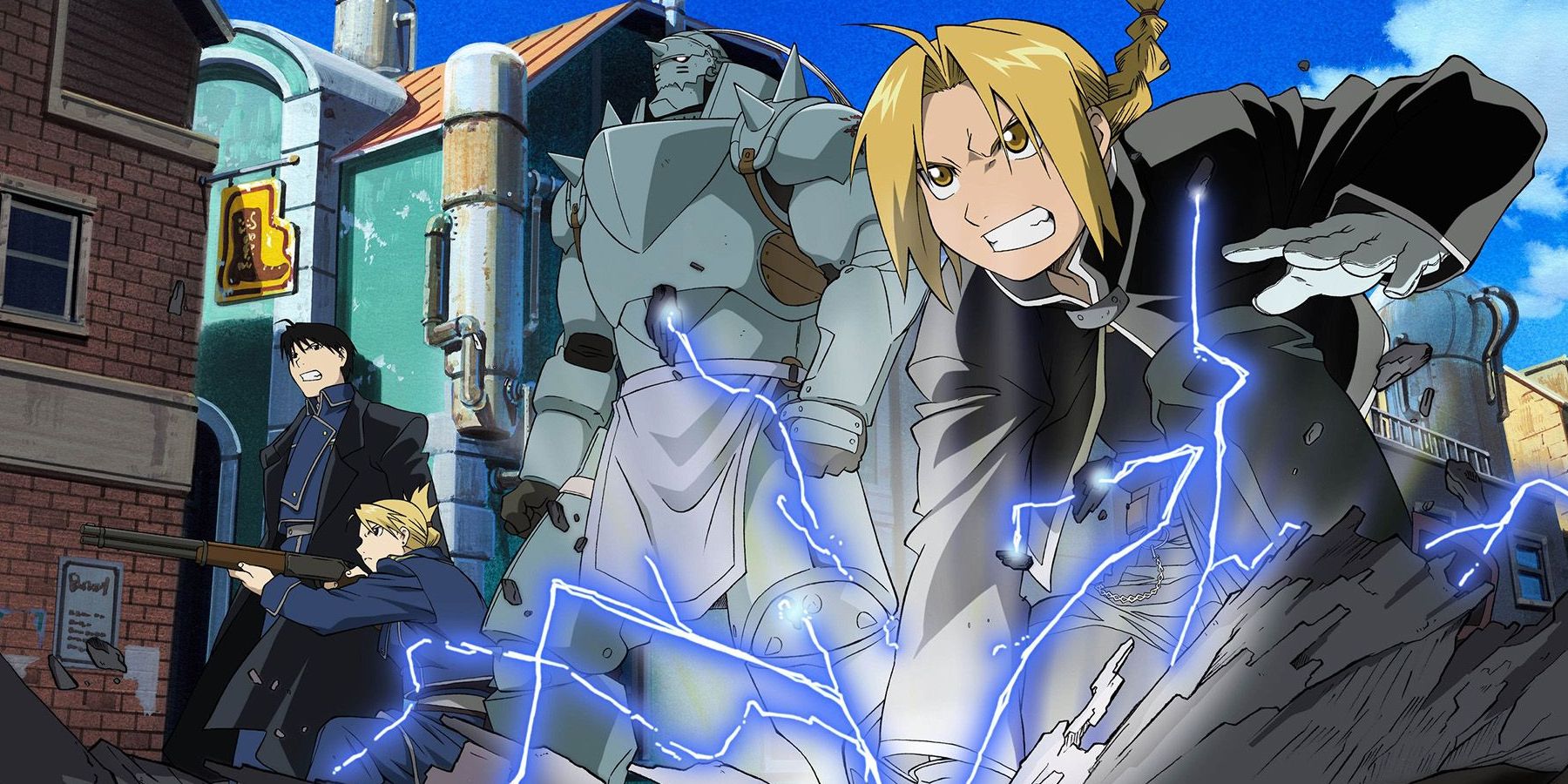 At some point during the 2010s, Fullmetal Alchemist: Brotherhood usurped the likes of Dragon Ball Z and Naruto as the ultimate gateway anime, particularly for people looking for action or battle shonen shows. Ambitious and epic, FMA:B takes place in a world where alchemy is possible, which is governed by the rule of equivalent exchange. When the Elric siblings break this rule, they pay a hefty price, one that requires them to find a Philosopher's Stone to reverse.
RELATED: Best Side Characters In Battle Shonen Anime
Although a bit rushed in its opening stages, FMA:B tells a fantastic story that delivers impeccable action, heartbreaking moments, and an overabundance of humor. Picking the best action anime on Crunchyroll ultimately comes down to personal preference, but FMA:B is the ideal place to start.
Chainsaw Man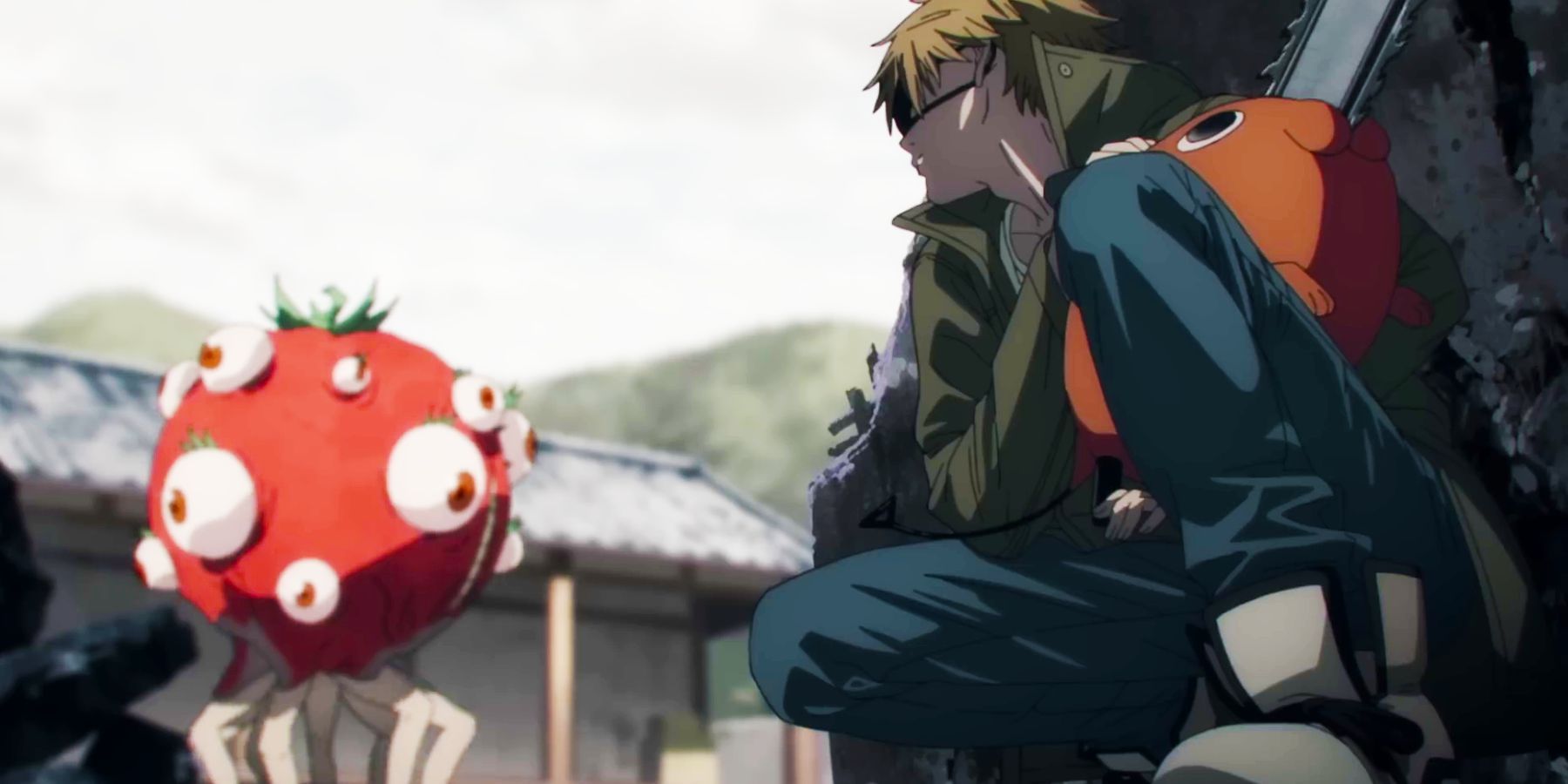 | | |
| --- | --- |
| Japanese Title | Chainsaw Man |
| Studio | MAPPA |
| Number of Episodes | 12 |
Most seasons typically have a few shows competing for the crown of "most anticipated" anime – Fall 2022 was not one of those seasons. Chainsaw Man was comfortably the most hyped show of the season, and Fall was by no means lacking in big names.
RELATED: Chainsaw Man: Things You May Not Know About Denji
Since debuting towards the end of 2018, Tatsuki Fujimoto's manga has bloomed into one of the most popular shonen stories of the last decade. Chainsaw Man is gory, well-written, and surprisingly complex. The anime's first season does justice to its source material, delivering (mostly) fantastic animation that guarantees every drop of blood is crystal clear.
Bolstered by a seasoned cast of voice actors, the characters have seemingly survived the transition into animation in one piece, and Denji's scenes with Makima, Aki, and Power have already produced memorable moments. Even this earlier in its adaptation process, Chainsaw Man is already shaping up to be one of the best anime on Crunchyroll.
Demon Slayer: Kimetsu No Yaiba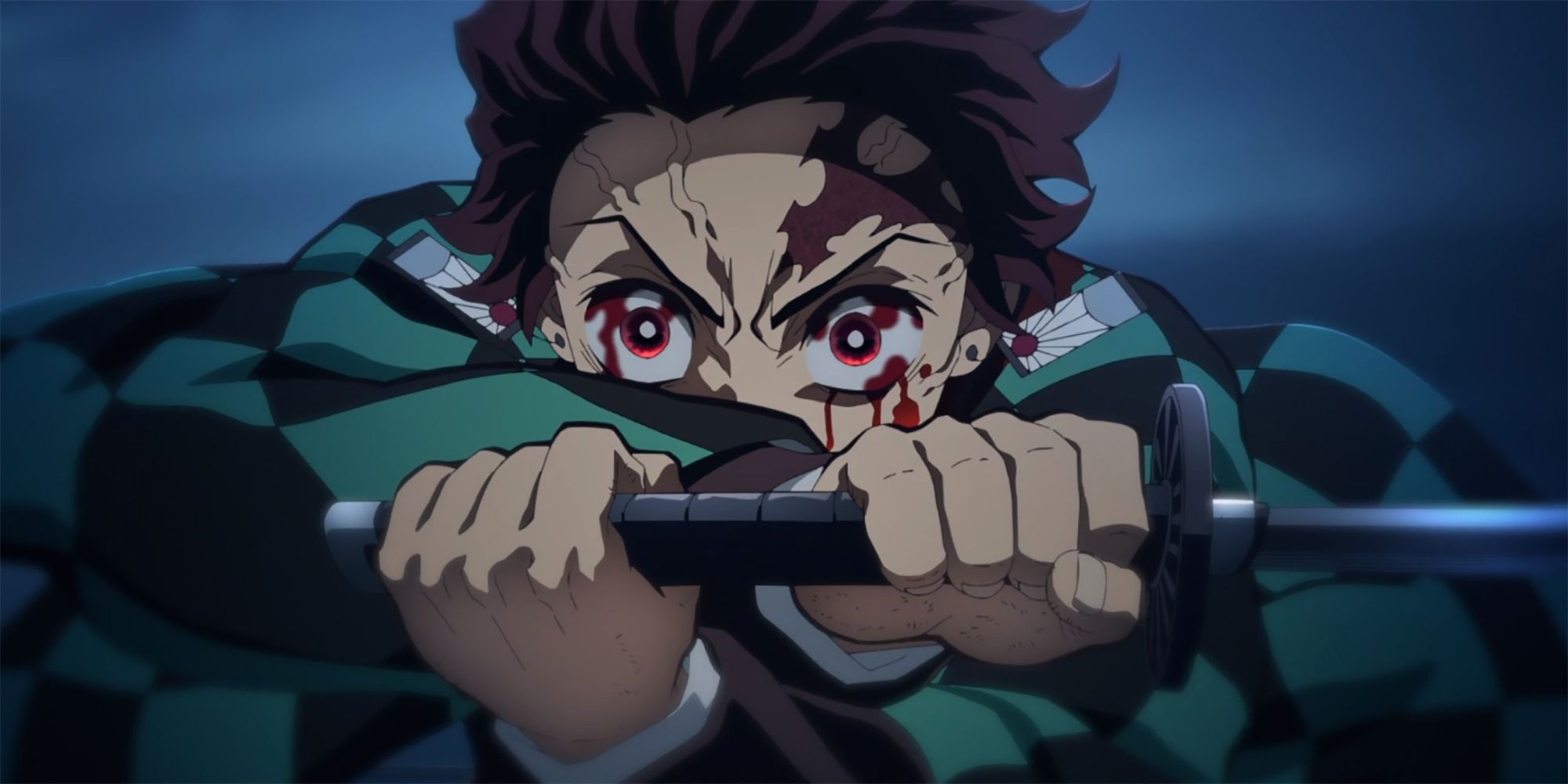 Demon Slayer has blown up in the last few years, growing into one of the biggest shonen anime on the planet. Set during the Taisho-era of Japan, this is a world ravaged by demons, a climate that eradicates Tanjiro's family and turns his sister into something other than human. Desperate to save Nezuko, Tanjiro sets out to join the Demon Slayer Corps, a journey that involves nothing but hardship.
Beloved for its stellar action sequences and top-notch animation, Demon Slayer has only gone from strength to strength since the anime's debut in 2019. The second season's Entertainment District Arc was a highlight of the early Winter 2022 season, and there is still a lot of Demon Slayer's story left to be told.
Attack On Titan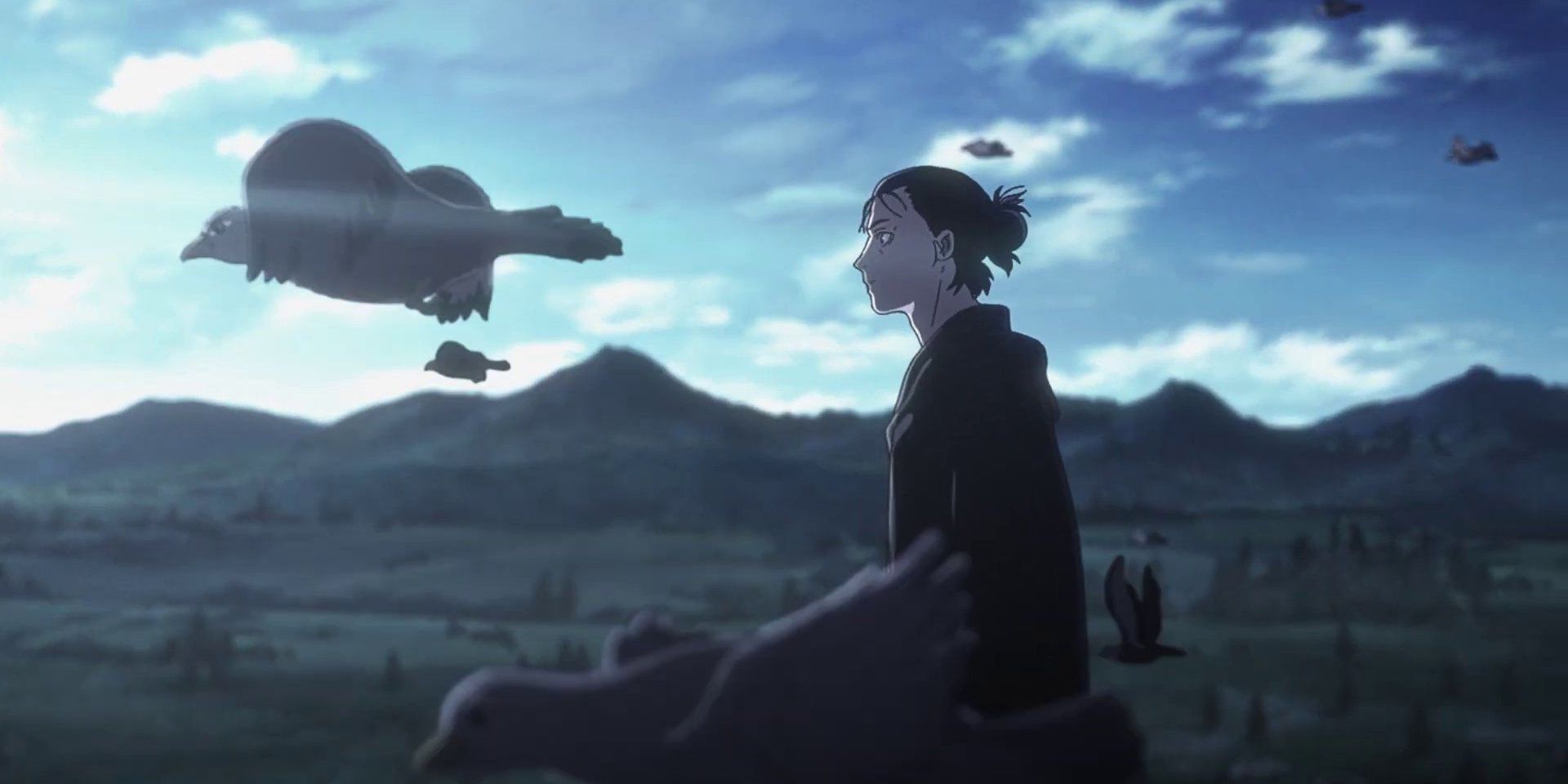 After almost a decade, Attack on Titan is slowly approaching its end, although the final season still has a third part to go. Set in a post-apocalyptic world where the last remnants of humanity live behind walls to "protect" them from massive man-eating beasts called Titans, this beloved anime is unpredictable, intense, well-animated, and complex.
Each season brings with it a substantial shift in the story's direction, often taking seemingly straightforward characters and subverting expectations. Attack on Titan set a high standard for not just shonen anime but the industry in general, and it will take something special to fill the hole left by this series when it ends.
Attack on Titan is not typically associated with battle shonen, but the anime is being included here since it is action-heavy and a shonen property.
Other Recommended Battle Shonen Anime On Crunchyroll:
Best Non-Shonen Action Anime On Crunchyroll
Kill La Kill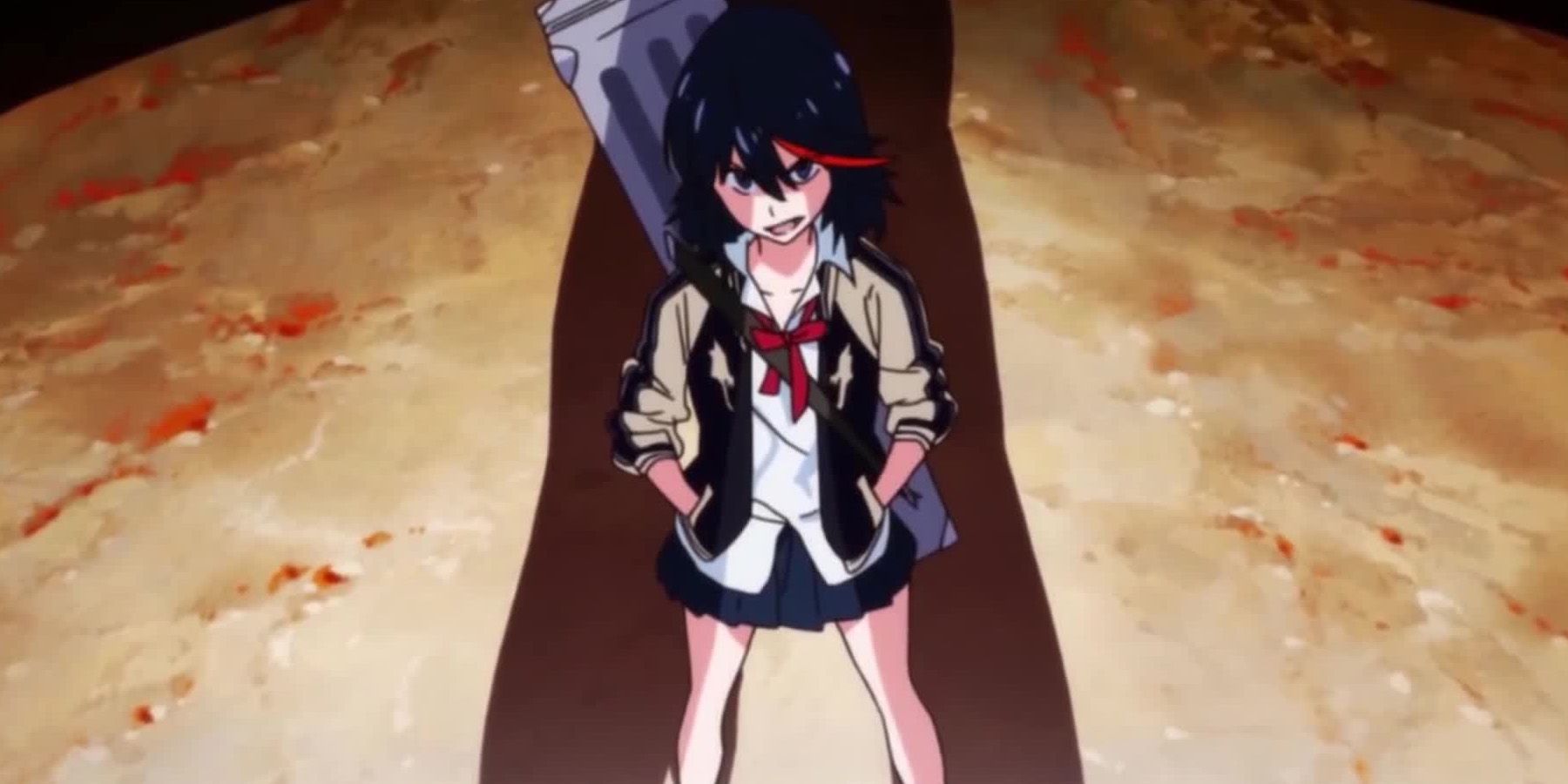 | | |
| --- | --- |
| Japanese Title | Kill La Kill |
| Studio | Trigger |
| Number of Episodes | 24 |
Trigger's Kill la Kill might be the most "anime" anime to ever anime, and that's definitely a compliment. From its smooth animation to its gloriously over-the-top presentation and tongue-in-cheek fanservice, Kill la Kill feels like a celebration of the medium, one that goes for broke and takes no prisoners.
Armed with a magical girl outfit and a scissor blade, Ryuuko Matoi arrives at Honnouji Academy in order to take down the student council and avenge her father. This simple premise goes to some incredible places.
Fate/Zero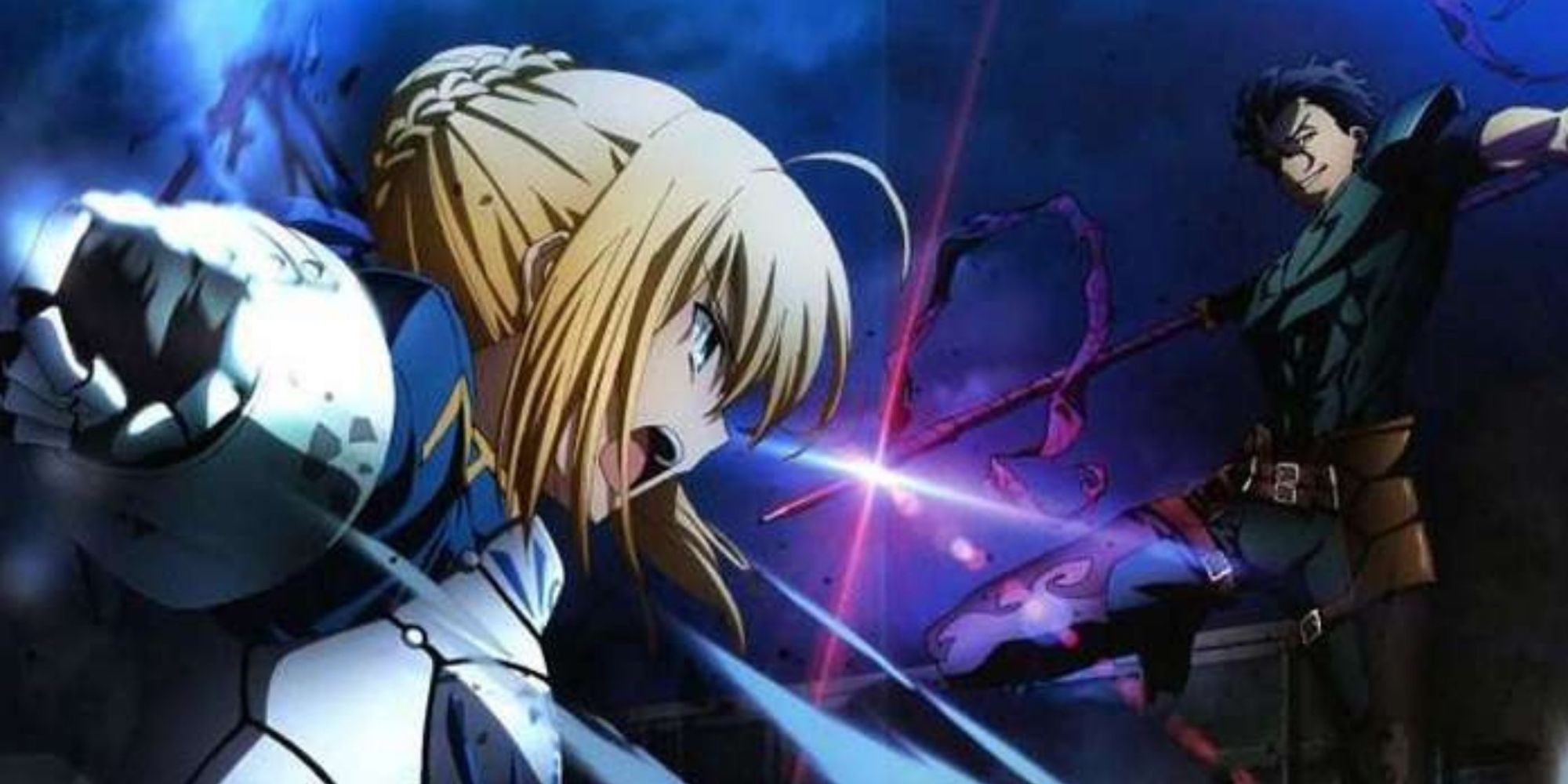 | | |
| --- | --- |
| Japanese Title | Fate/Zero |
| Studio | ufotable |
| Number of Episodes | 25 |
Based on Gen Urobuchi's light novel, Fate/Zero belongs to Type-Moon's larger Fate franchise. Focusing specifically on anime, the 2011 show is likely to be someone's first exposure to this universe, and Fate/Zero makes quite an initial impression. The story revolves around the Holy Grail war, which involves human Masters summoning warriors from history. The last competitor standing will be granted any wish they desire; naturally, people are willing to do nearly anything to achieve this goal.
RELATED: Fate: The Order You Should Watch All The Anime Shows And Movies
Featuring smooth animation that holds up beautifully despite the anime now being more than a decade old, Fate/Zero pits legendary heroes from history in epic and vicious battles for supremacy. Ufotable's anime is not just pleasing to the eyes, though, as the story dives into the philosophies and psyches of its characters. Almost nobody is portrayed as being purely good or evil, which enhances the fights since they often have an ideological component to them.
Golden Kamuy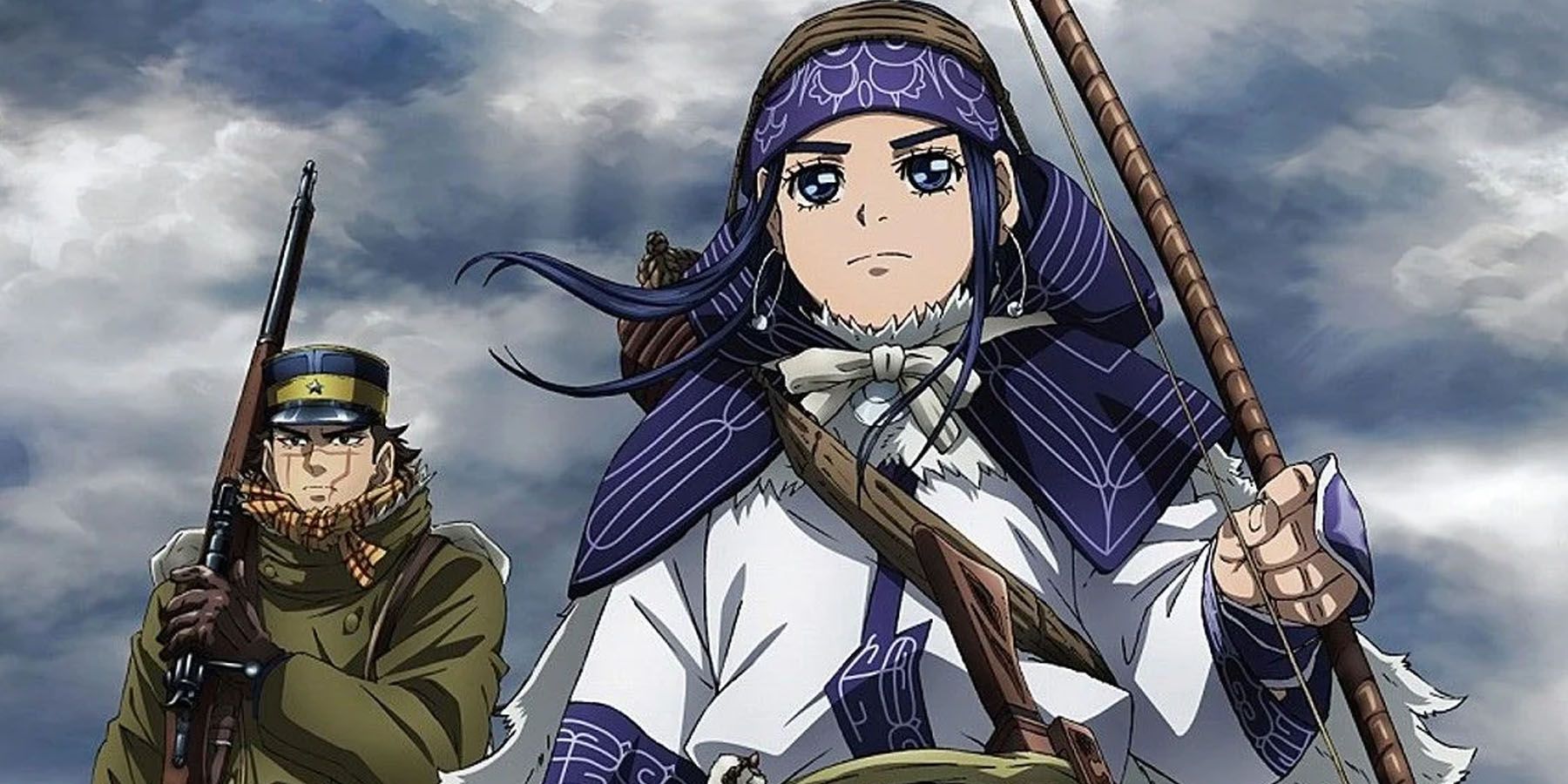 | | |
| --- | --- |
| Japanese Title | Golden Kamuy |
| Studio | Geno Studio, Brain's Base |
| Number of Episodes | 42 |
Based on a seinen manga by Satoru Noda, Golden Kamuy shines a light on an era of history rarely touched upon: the post-Russo-Japanese war. Furthermore, the story focuses on Ainu culture, including a main character who is from the region. Golden Kamuy follows various groups as they seek to find the Ainu people's hidden treasure, and the process requires piecing together fragments of a map painted on the skins of prisoners.
This goal serves to bring the anime's expansive roster of fascinating characters together, and the show goes out of its way to humanize most of its participants. On the one hand, this endears the heroes to the audience since they come across as three-dimensional figures; conversely, it makes the villains even more terrifying.
Golden Kamuy's action sequences are vicious, frantic, ugly, and intense. While quite a few incredible things happen, the anime is relatively grounded, and this extends to the fight sequences. The series also loves to throw out silly jokes, and these moments somehow complement the gory battles.
Other Recommended Action Anime On Crunchyroll:
Best Comedy Anime On Crunchyroll
GTO – The Animation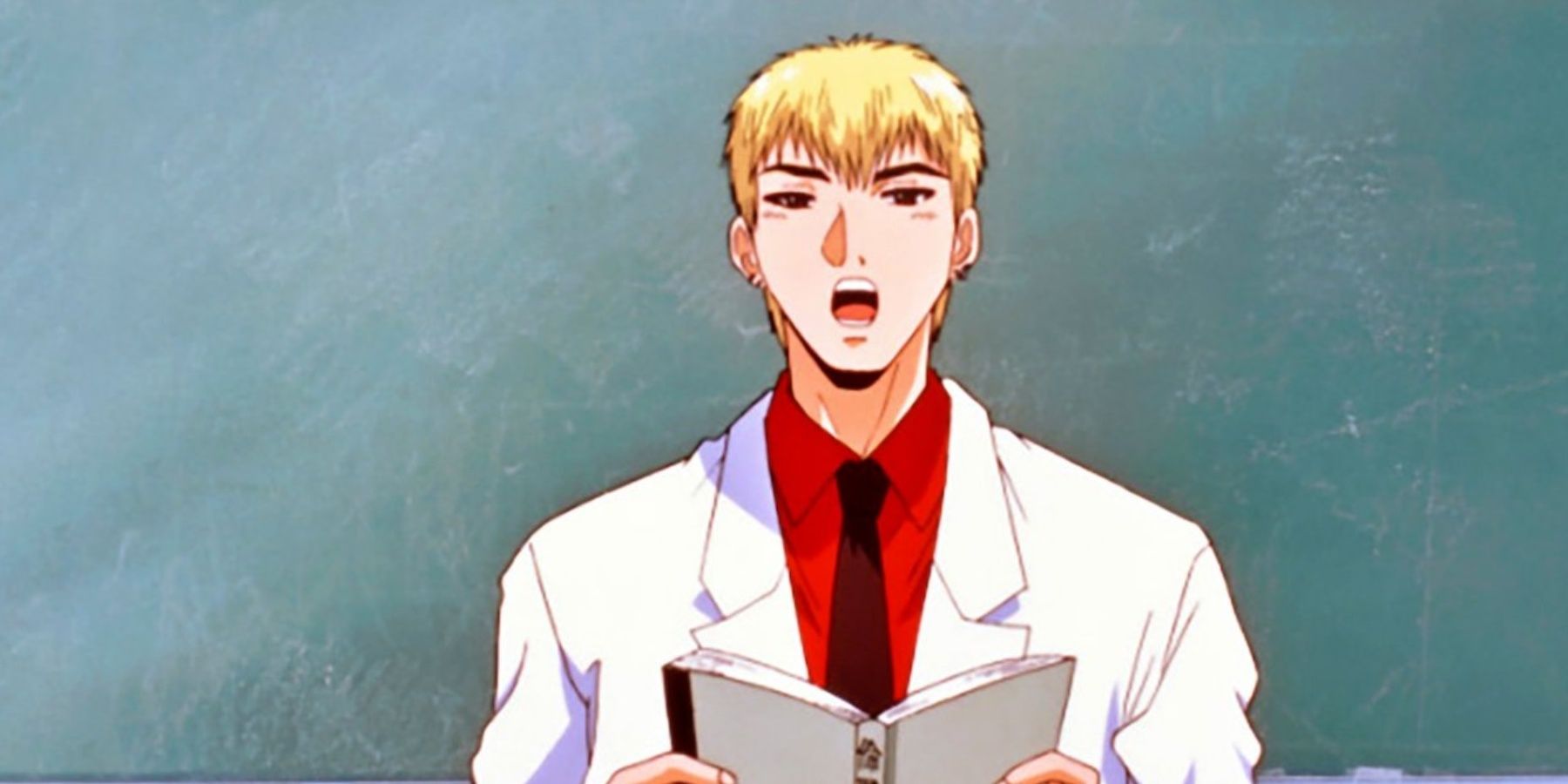 A classic comedy anime about a reformed gang leader who becomes a high school teacher, Great Teacher Onizuka follows its eponymous sensei as he tries to connect with students who have valid reasons to not be that willing to embrace him. GTO tackles a number of sobering subjects, including suicide and bullying, while maintaining a consistently humorous tone. However, it also takes these themes seriously.
RELATED: Best Comedy Anime Series On Funimation (February 2022)
Onizuka is an all-time great comedy protagonist. While perverted, the sensei has his heart generally in the right place; in the meantime, his face can be relied upon to deliver one hilarious reaction after another.
Gintama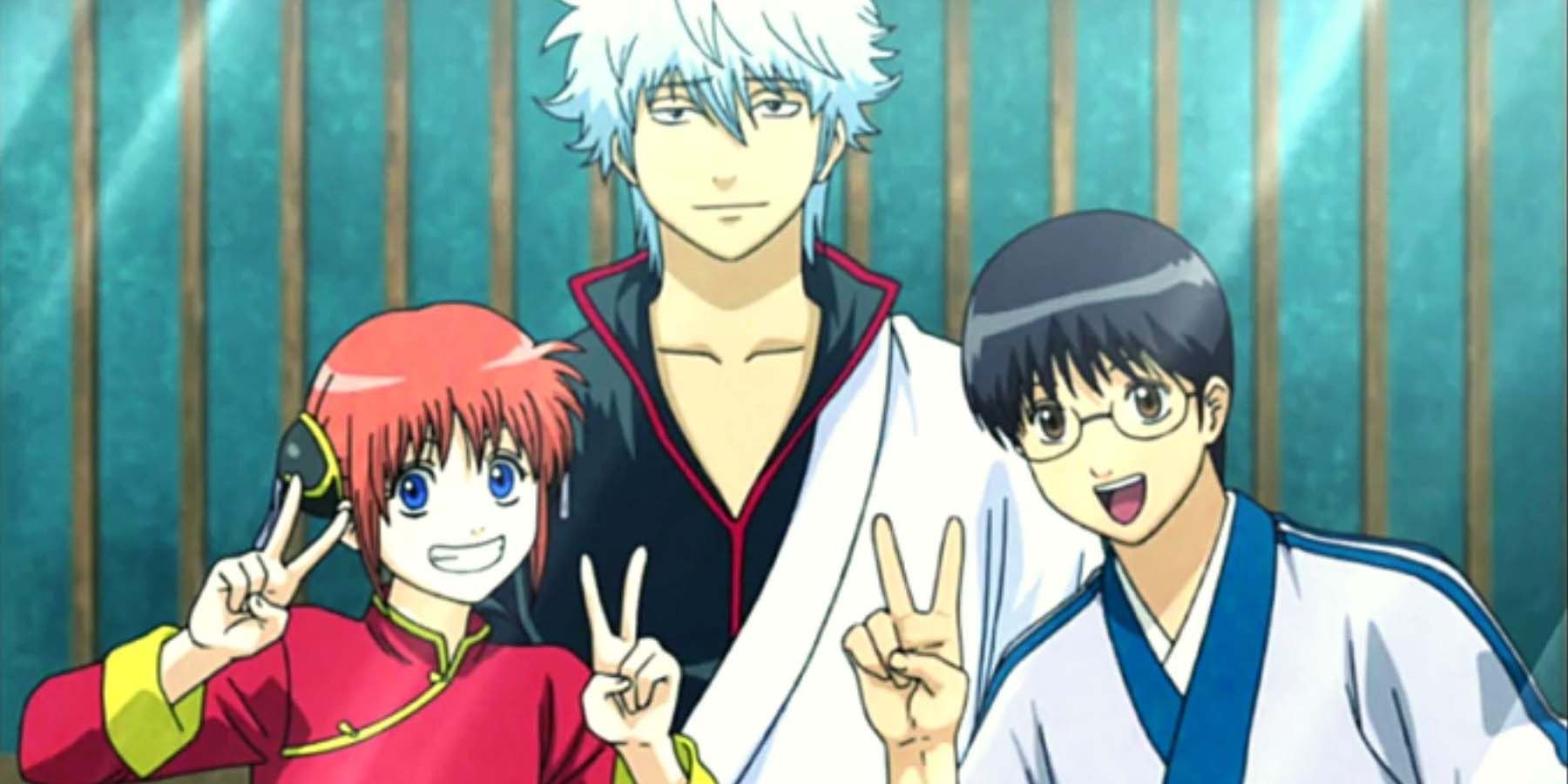 | | |
| --- | --- |
| Japanese Title | Gintama |
| Studios | Sunrise, Bandai Namco Pictures |
| Number of Episodes | 367 |
As a parody of shonen stories, Gintama should not be someone's introduction to anime; if nothing else, they should at least watch Rurouni Kenshin first, which is also on Crunchyroll. Once that masterpiece is out of the way, Gintama awaits, along with plenty of laughs.
In this alternate reality, Earth has fallen to aliens (Amanto), and samurai have been banned in Edo. With not much else to do, Gintoki has no choice but to accept any random job that happens to fall on his lap. More often than not, hilarity ensues.
As it progresses, Gintama introduces arcs that are pure battle shonen. These are also great, even if the anime shines the brightest as a comedy.
Nichijou – My Ordinary Life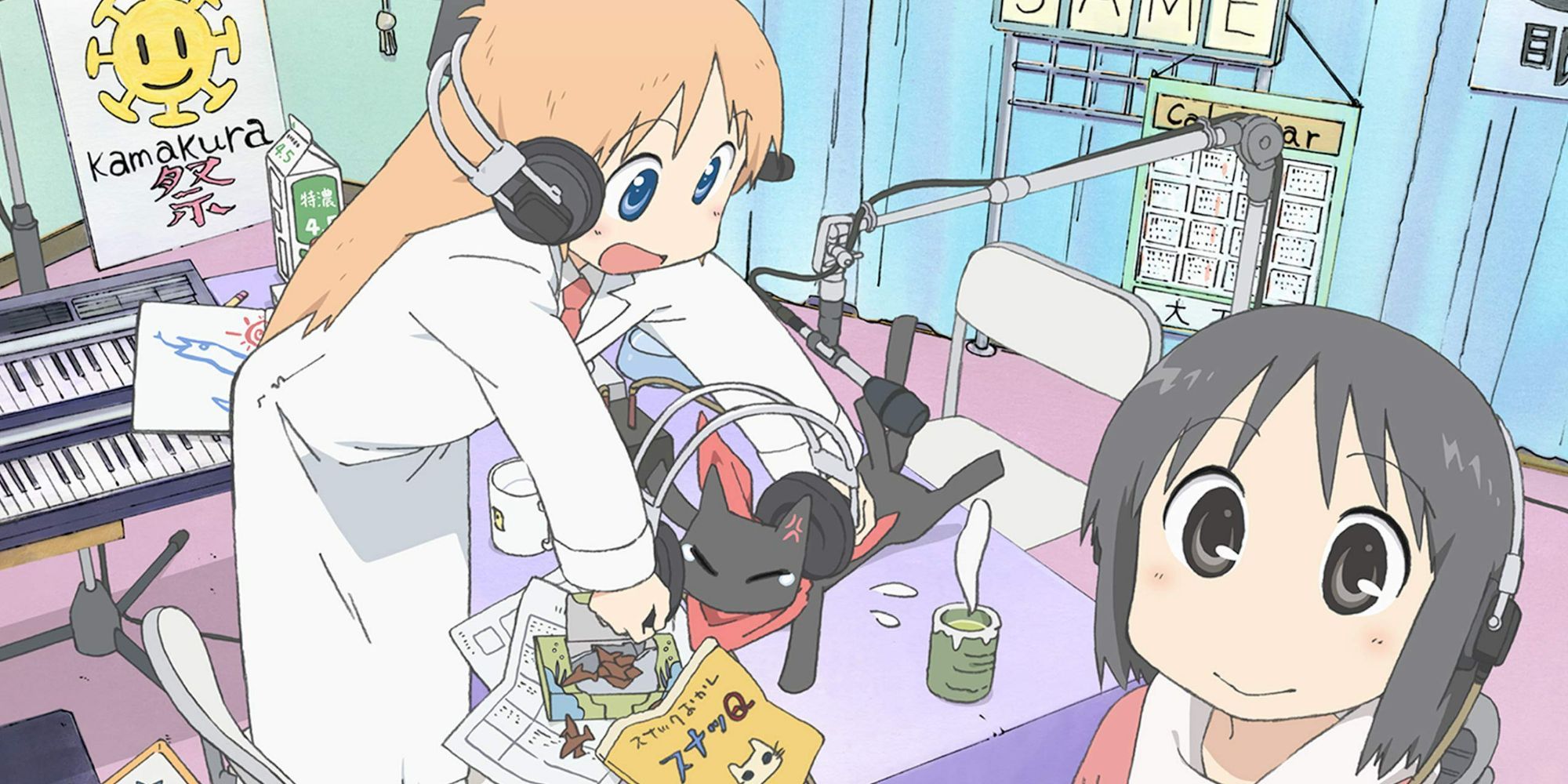 | | |
| --- | --- |
| Japanese Title | Nichijou |
| Studios | Kyoto Animation |
| Number of Episodes | 26 |
A thin line separates slice of life from full-blown comedy, and Nichijou is one of the best representatives of both genres. Orbiting around three friends, a professor, a robot, and a talking cat, this series blends the mundane with the surreal, with the latter becoming more pronounced as the season progresses. Just to provide an example of the strangeness on offer, at one point, a character witnesses a wrestling match between her school's principal and a deer. It is glorious.
Nichijou pushes "slice of life" into bizarre territory, but it is still ultimately a relaxing show without much in the way of conflict. The anime simply happens to follow "lives" that are not teetered to conventional reality.
Bocchi The Rock!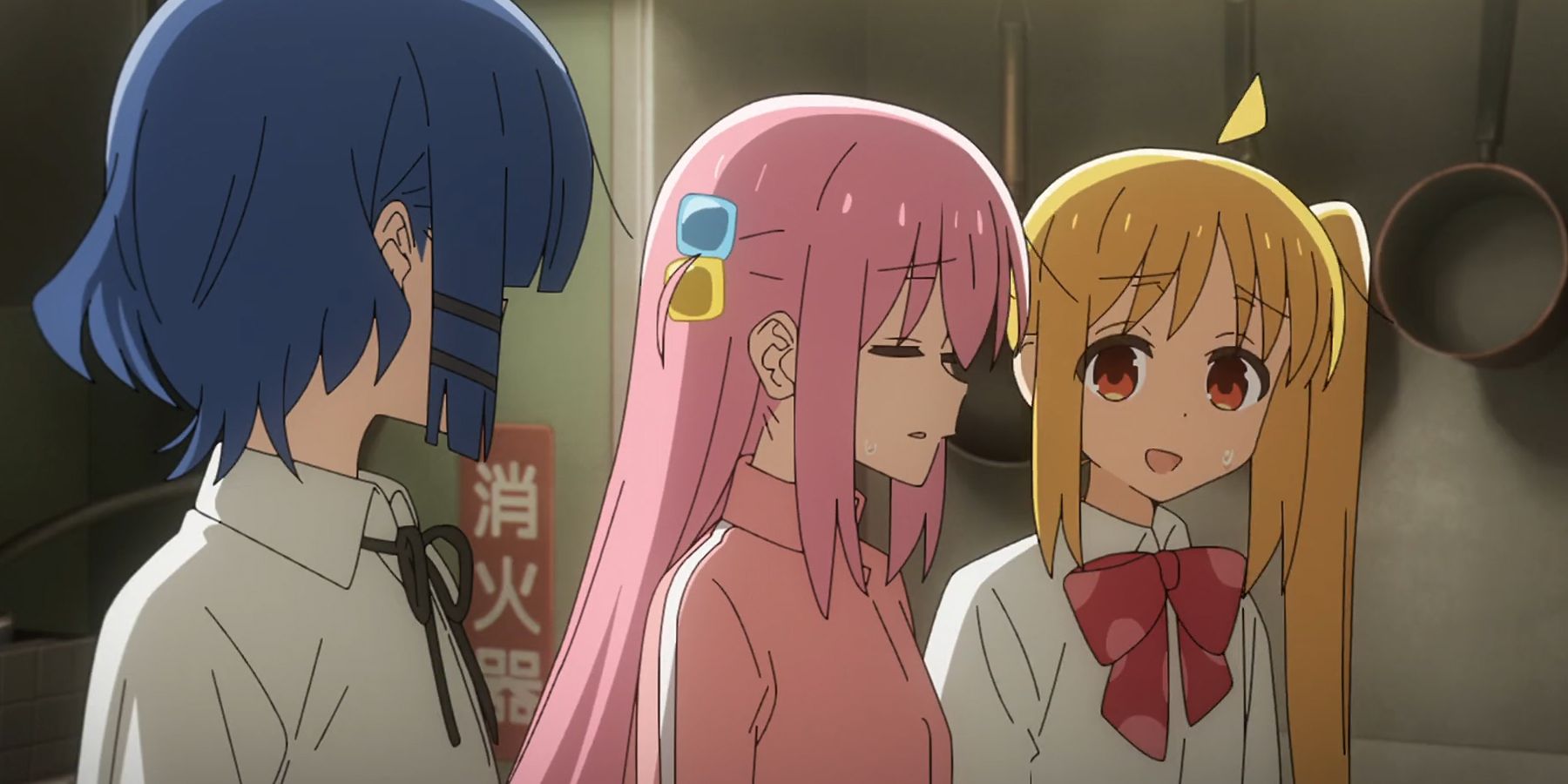 2022 had more than a few great anime, but none managed to surpass expectations quite like Bocchi the Rock!. Based on Aki Hamaji's manga, the show follows Hitori "Bocchi" Gotou, a talented guitarist who struggles with social anxiety. After spending middle school alone, Hitori wishes to turn things around by joining a band, but her insecurities constantly impede her dream. One day, she is randomly approached by a girl named Nijika Ijichi who asks her to join Kessoku Band as their guitarist has gone missing right before a show. Unable to decline, Hitori finds herself on stage (and in a box) alongside two new bandmates.
On the surface, Bocchi the Rock! might seem like a "cute girls doing cute things" story, but that is not the case. The anime focuses heavily on Bocchi's growth as she struggles to face the challenges that come with being in a band and just socializing in general. Surprisingly character-driven, the series blends imaginative and surreal comedy sequences with relatable moments driven by Hitori's fears.
Other Recommended Comedy Anime On Crunchyroll:
Best Slice Of Life Anime On Crunchyroll
Laid-Back Camp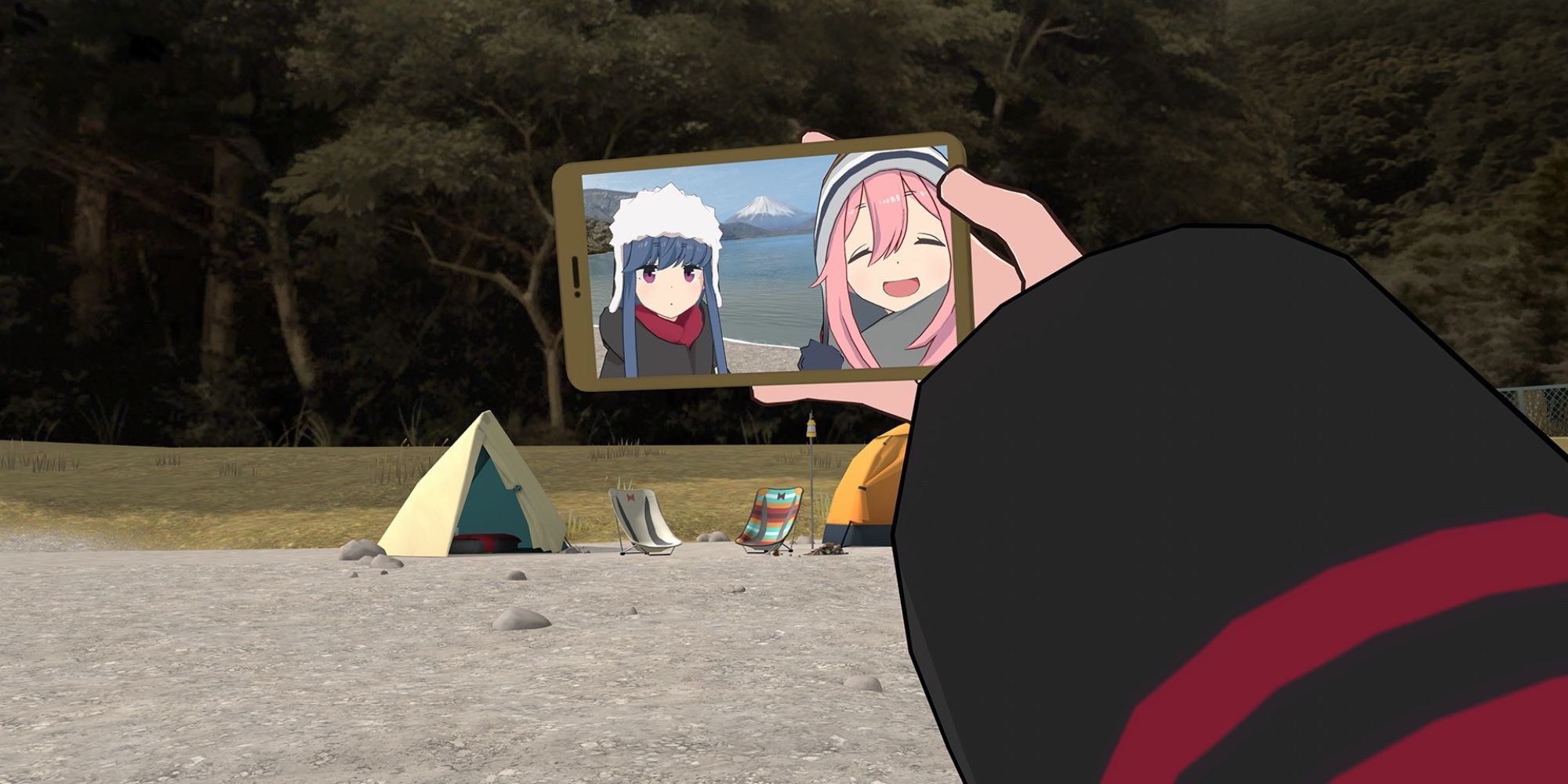 | | |
| --- | --- |
| Japanese Title | Yuru Camp |
| Studio | C-Station |
| Number of Episodes | 25 |
There tends to be quite a bit of overlap between comedy and slice of life, but the latter shows are more preoccupied with characterization than gags. Take Laid-Back Camp as an example; the anime has many funny moments, but these jokes are never the point of an episode. Instead, the focus is always on the experiences of the main girls as they travel to different camping locations in Japan.
RELATED: Greatest Iyashikei Anime Of All Time
Largely free of anything resembling tension, Laid-Back Camp is a soothing watch, one filled with breathtaking scenery, endearing characters, and (narrative) warmth.
A Place Further Than The Universe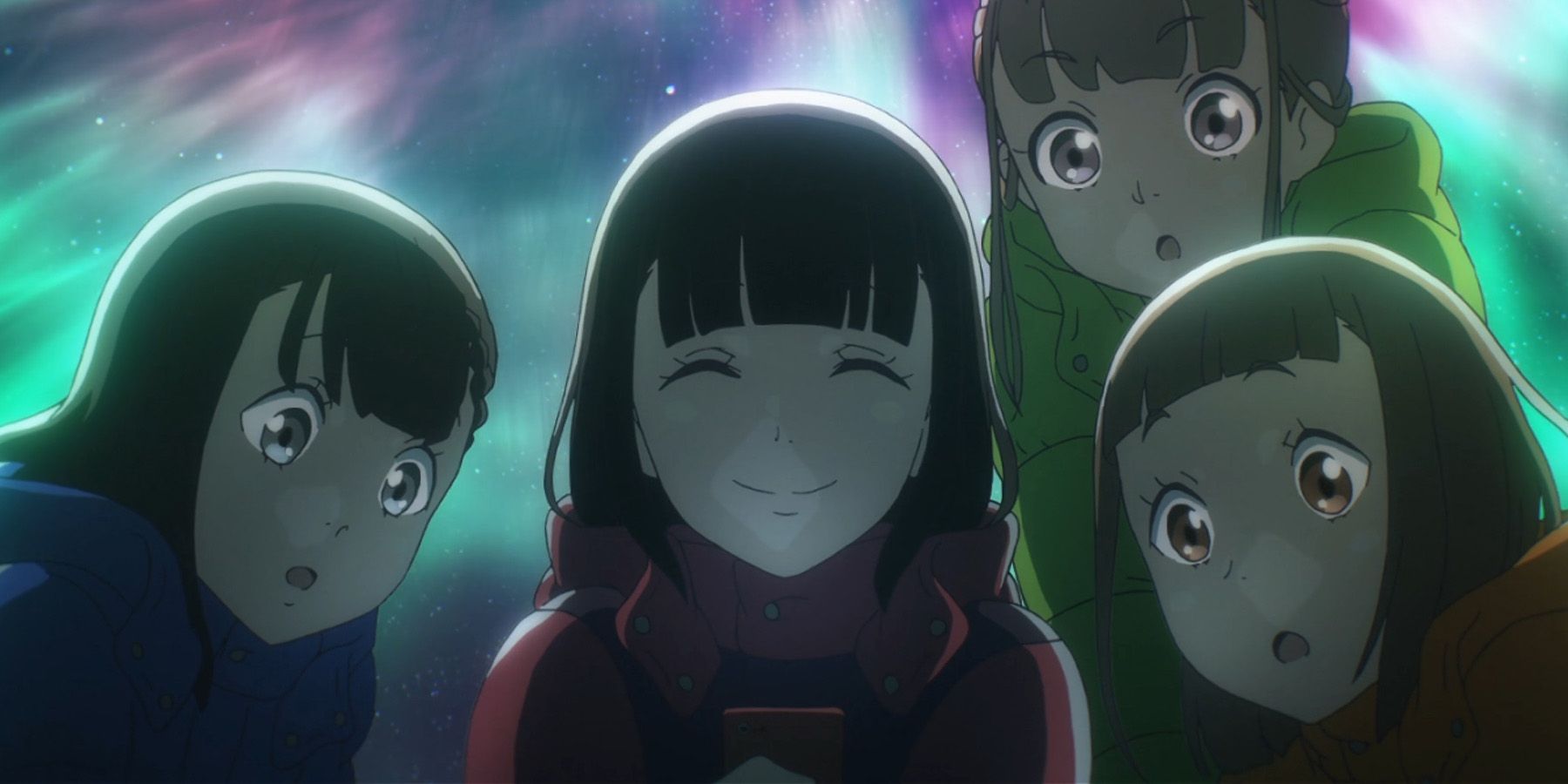 Classifying A Place Further Than The Universe as slice of life does not feel 100% accurate since the show's subject is far from ordinary. The anime follows four girls who wish to go to Antarctica, all of whom have their own reasons for pursuing this ambitious goal. Madhouse's series is powerful, heartbreaking, funny, and grounded (despite the somewhat outlandish premise).
Even though the girls are focused on their destination, A Place Further Than The Universe is just as much about the journey, and this is very much a coming-of-age story. Boasting gorgeous animation, an unbeatable story, and lovable characters, this show has very few peers in anime.
Bunny Drop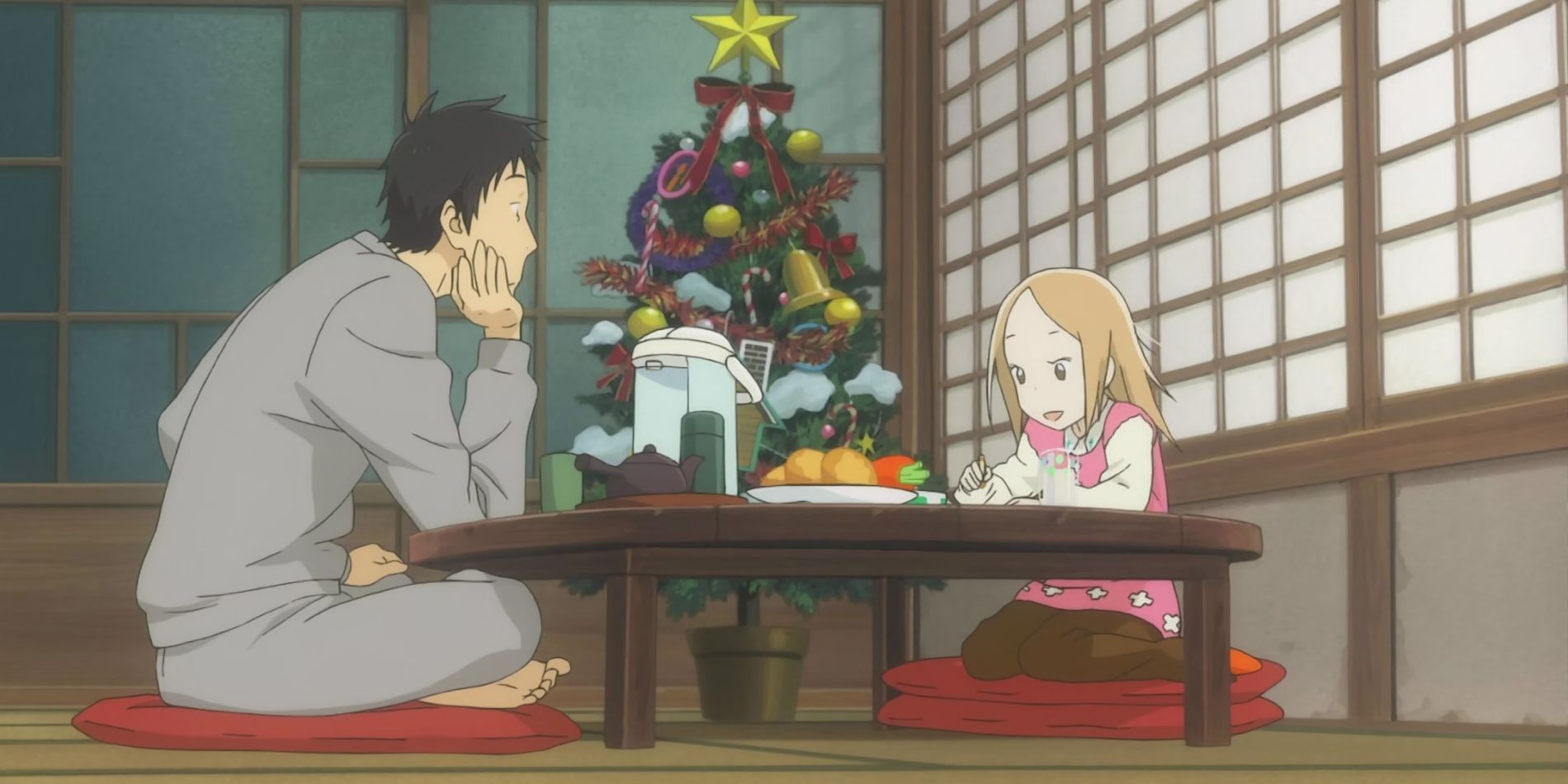 | | |
| --- | --- |
| Japanese Title | Usagi Drop |
| Studios | Production I.G |
| Number of Episodes | 11 |
Slice of life anime are associated with a carefree, light tone, a description that cannot be used to describe Bunny Drop's opening episode. At his grandfather's funeral, Daikichi Kawachi meets the young Rin, the deceased relative's illegitimate daughter. Angered by his family's dismissive attitude towards the girl, Daikichi decides to essentially adopt Rin, a commitment he is ill-prepared to handle. Bunny Drop chronicles the pair's unconventional relationship as they gradually establish a parent-child dynamic.
Although presenting a realistic portrayal of this sort of situation, Bunny Drop is overall wholesome and sweet. Rin and Daikichi are both fantastic characters, and their relationship grows organically in a way that complements their backstories and personalities. At just 11 episodes, the anime never overstays its welcome and also ends on a satisfying note.
Other Recommended Slice Of Life Anime On Crunchyroll:
Best Sports Anime On Crunchyroll
Run With The Wind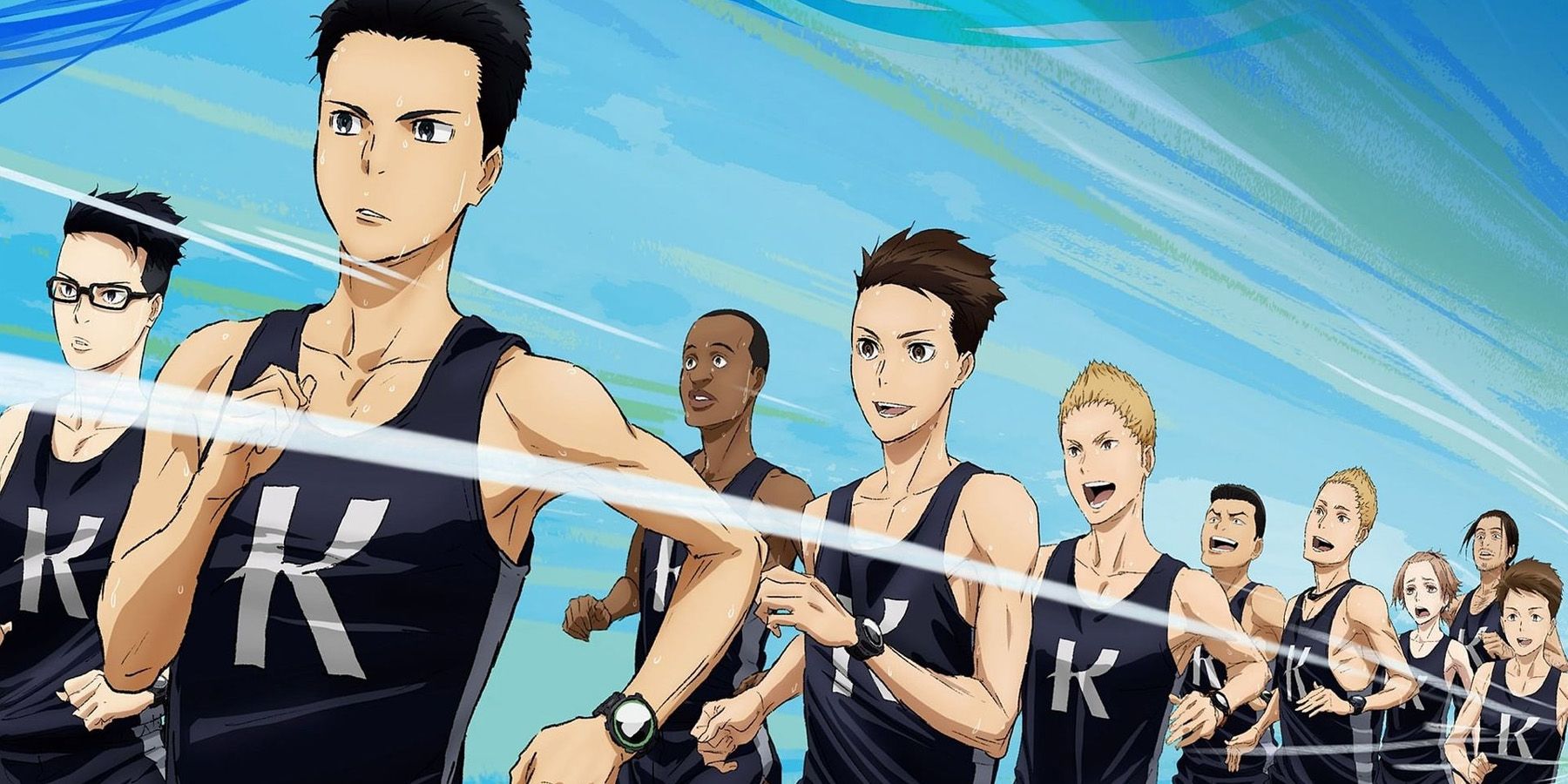 Sports anime might not seem all that attractive to the uninitiated, however, the genre is among the most accessible in anime. It does not matter whether a viewer has any knowledge or interest in the main sport since, for the most part, it is only used as a vehicle to supply character development, drama, and humor.
Running with the Wind is about healing, friendship, and finding satisfaction by establishing personal goals. Outside a few exceptions, Kansei University Track Club consists of novices, so they have a long journey ahead of them if they wish to attend the Hakone Ekiden.
Haikyu!!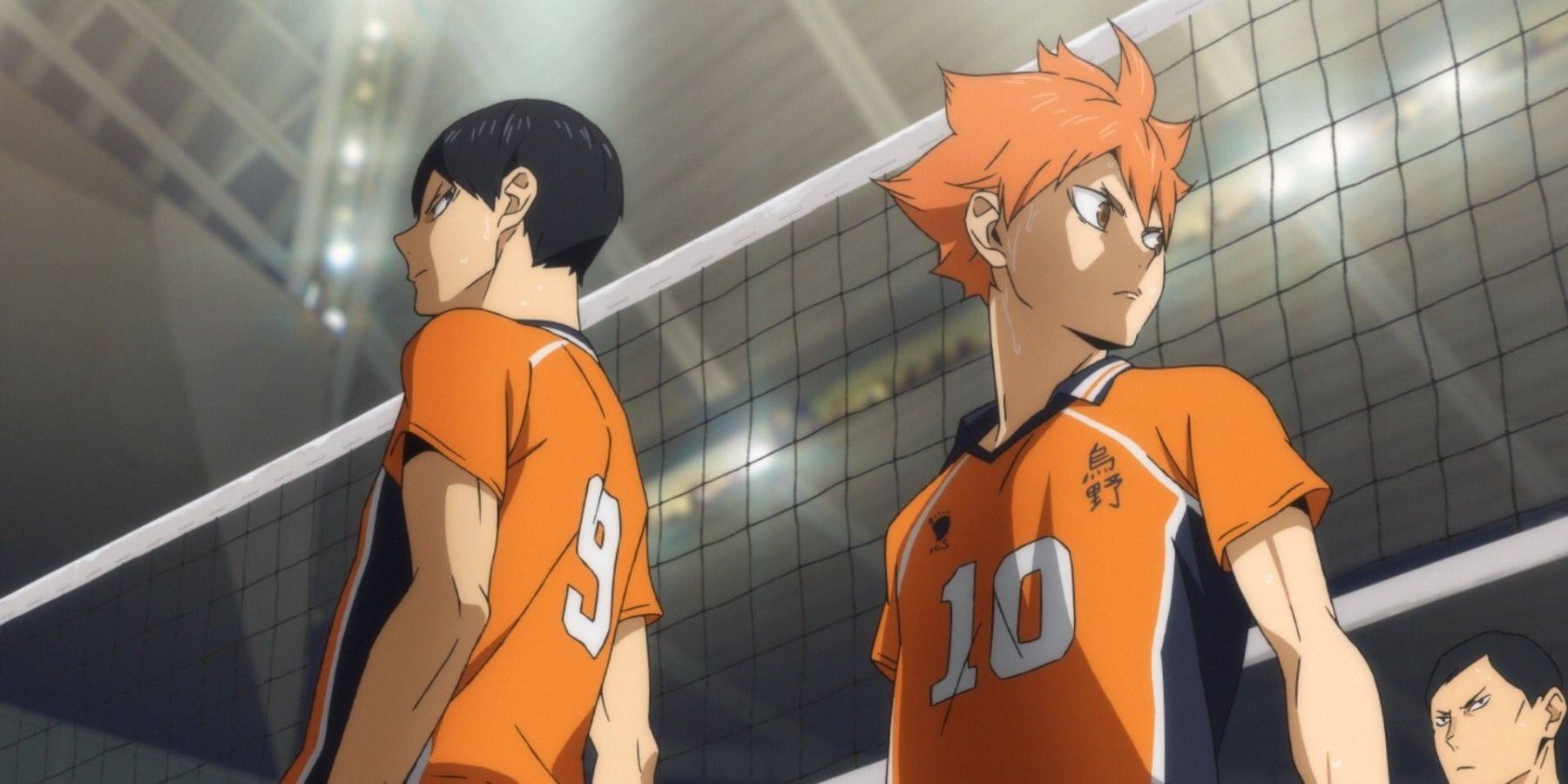 | | |
| --- | --- |
| Japanese Title | Haikyu!! |
| Studio | Production I.G |
| Number of Episodes | 85 |
Haikyu!! is about volleyball; to be exact, it is about passionate players who refuse to give up their desire to play the sport regardless of the obstacles in their way. It is about the partnership between the energetic Shoyo Hinata and the unapproachable Tobio Kageyama, two people who do not get along but also bring out the best in each other. It is about teamwork, hardship, success, and failure. Basically, Haikyu!! is about life.
More importantly, this anime is ridiculously entertaining, be it through its captivating matches, memorable characters, or on-point humor. Each season is awesome in its own right, and there is scarcely a bad episode to be found across the series.
Ace Of Diamond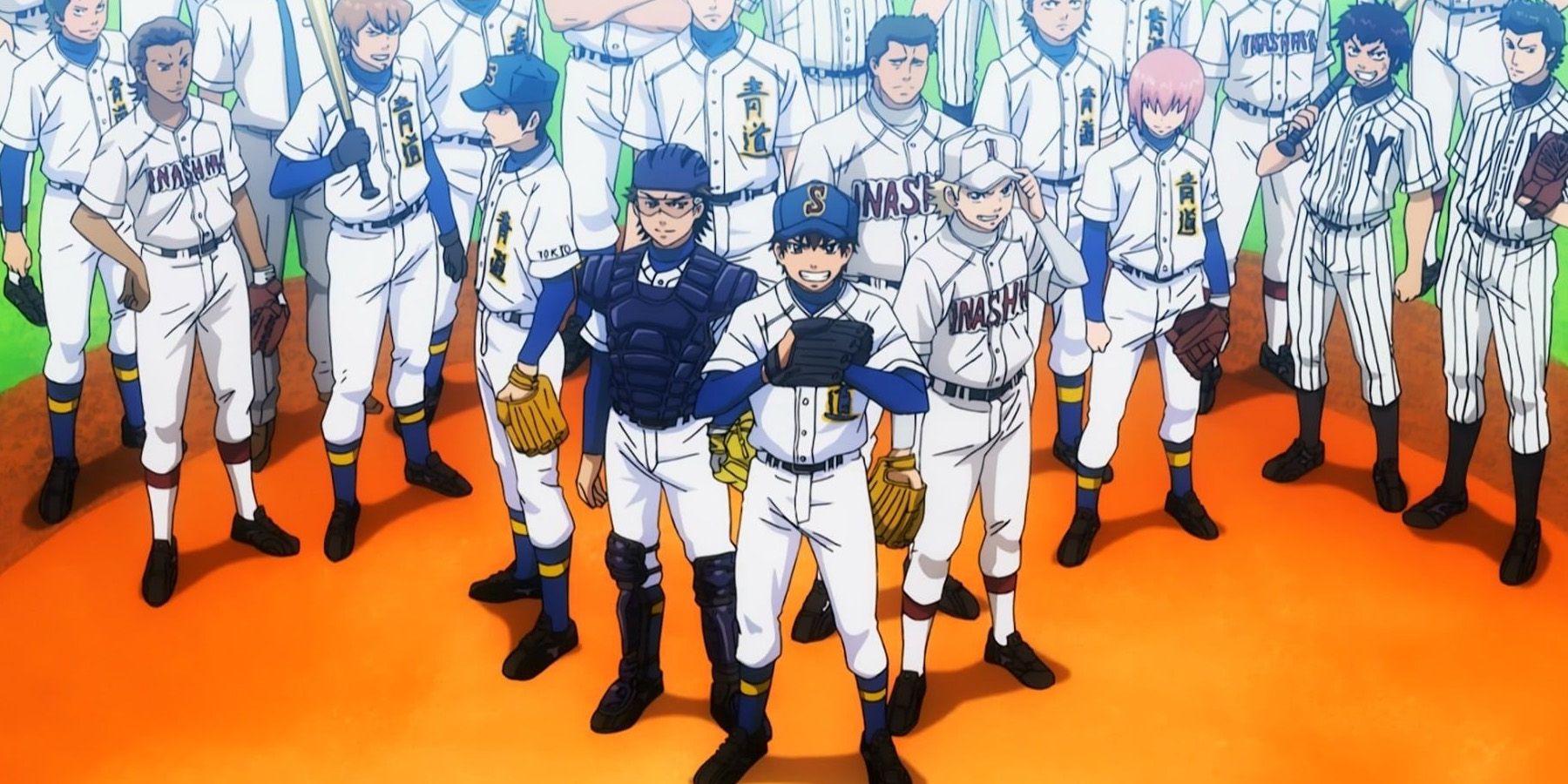 Based on Yuji Terajima's manga, Ace of Diamond dives headfirst into baseball, a sport that features in quite a few great anime. As its name suggests, this series pushes the pitcher role to the forefront as it revolves around the rivalry between two very different players who are striving to establish themselves as Seido High School's ace. On the one hand, there is Eijun Sawamura, a hot-head with a unique pitching style and a tendency to act like a lovable idiot; on the other side, there is the quiet Furuya Satoru, a pitcher who uses power to overwhelm batters.
RELATED: Best Anime Set In All-Boys Schools
Ace of Diamond chronicles the development of not only these two characters but also Seido's wider team, a group that undergoes quite a few changes over the course of the series. The anime opts for a realistic depiction of the sport and the training that goes into growing as a player and person. While these people are talented, they have plenty of flaws they need to overcome to achieve their potential.
Fighting Spirit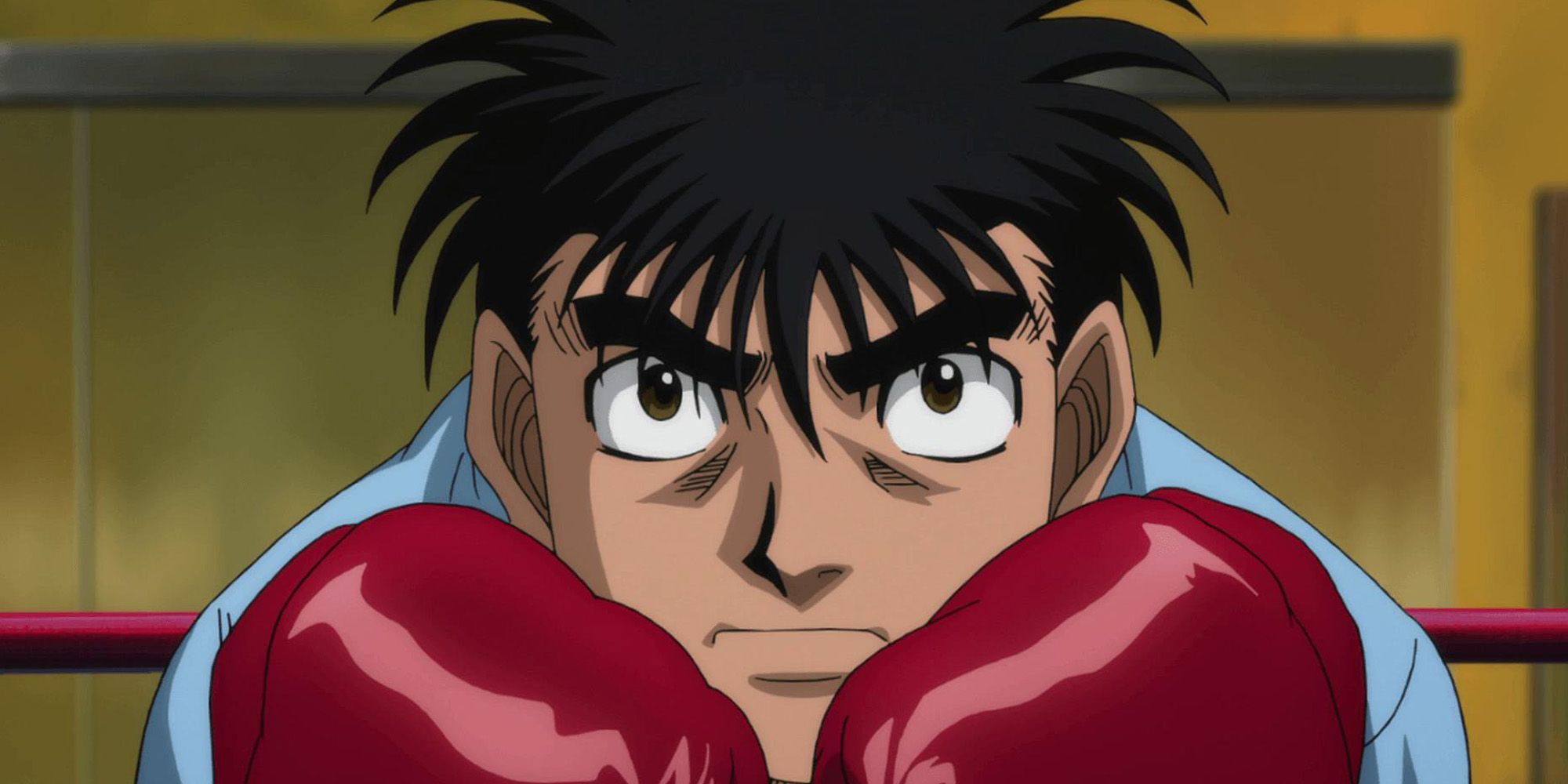 | | |
| --- | --- |
| Japanese Title | Hajime no Ippo |
| Studios | Madhouse, MAPPA |
| Number of Episodes | 100 |
Except for Tomorrow's Joe, Fighting Spirit is the most famous boxing anime of all time, and it ranks among the sports genre's greatest creations. The story follows Ippo, a timid and bullied teenager who is inspired to take up boxing after meeting the loudmouthed Takamura. Through hard work and dedication, Ippo sets out to climb to the top of the boxing scene, a process that involves plenty of intense battles for supremacy.
Fighting Spirit is one of Madhouse's best shows, which is saying a lot. Even though the original season is more than two decades old by this point, the animation still looks fantastic, particularly during matches. In-between bouts, Fighting Spirit falls back on a strong roster of characters, some of which are downright hilarious.
Weirdly, Crunchyroll does not have this show's second season, making for an incomplete and disjointed experience. Still, season one has 75 episodes, so there is a lot of content to go through before hitting that wall.
Other Recommended Sports Anime On Crunchyroll:
Best Sci-Fi Anime On Crunchyroll
Gurren Lagann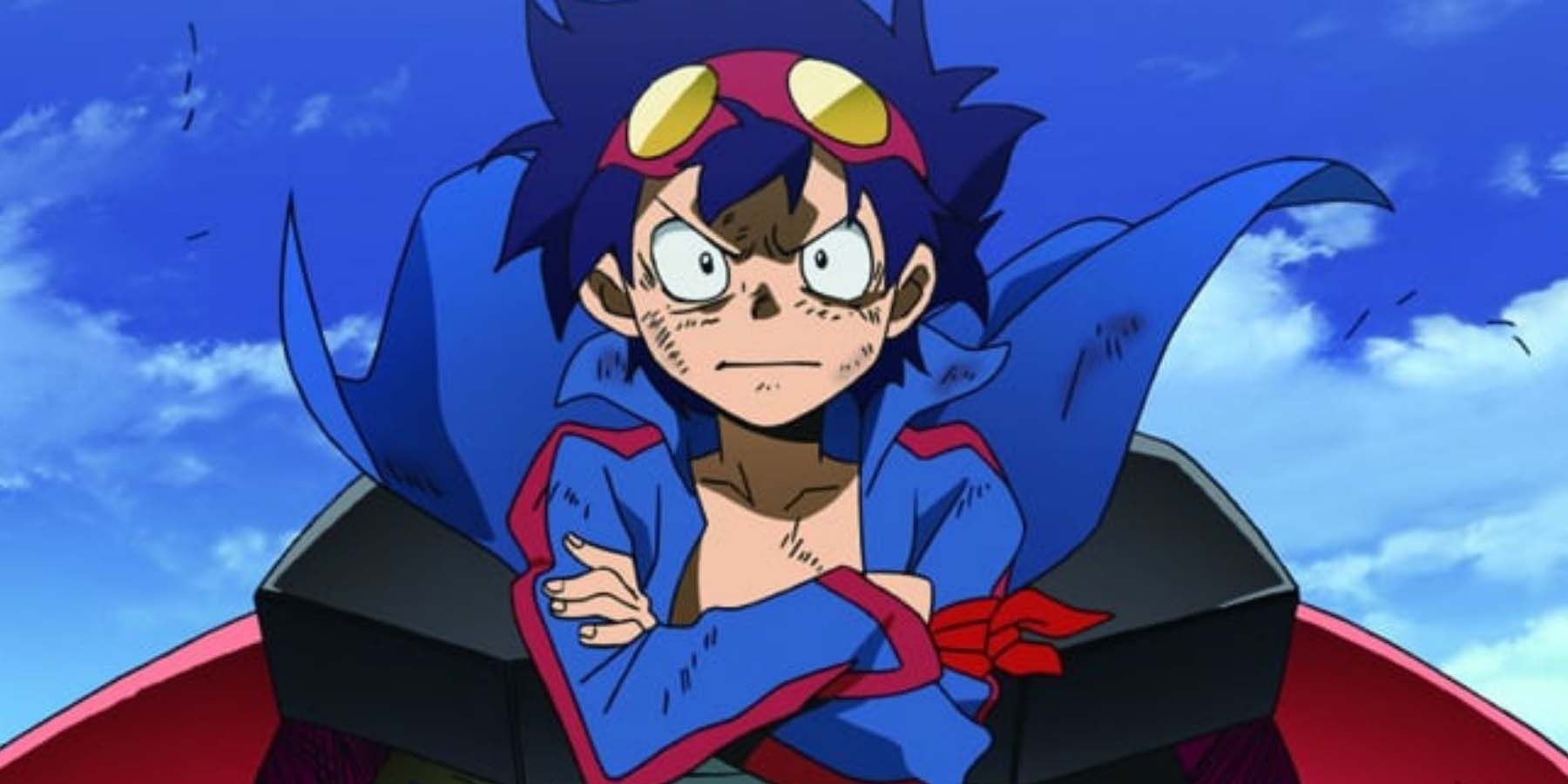 Gainax's Gurren Lagann is hype in anime form. No, that makes it seem like the show is nothing but glorious action, but this 2007 anime backs its universe-spanning conflicts with multifaceted characters, a consistent thematic identity, and ambitious storytelling. Gurren Lagann is all about pushing beyond your limits in search of freedom.
Toeing the line between sci-fi and pure fantasy, Gurren Lagann's greatest strength is that the anime never ignores its human element in favor of spectacle. Ultimately, this is a coming-of-age story that just happens to take place in an incredibly unconventional reality.
Steins;Gate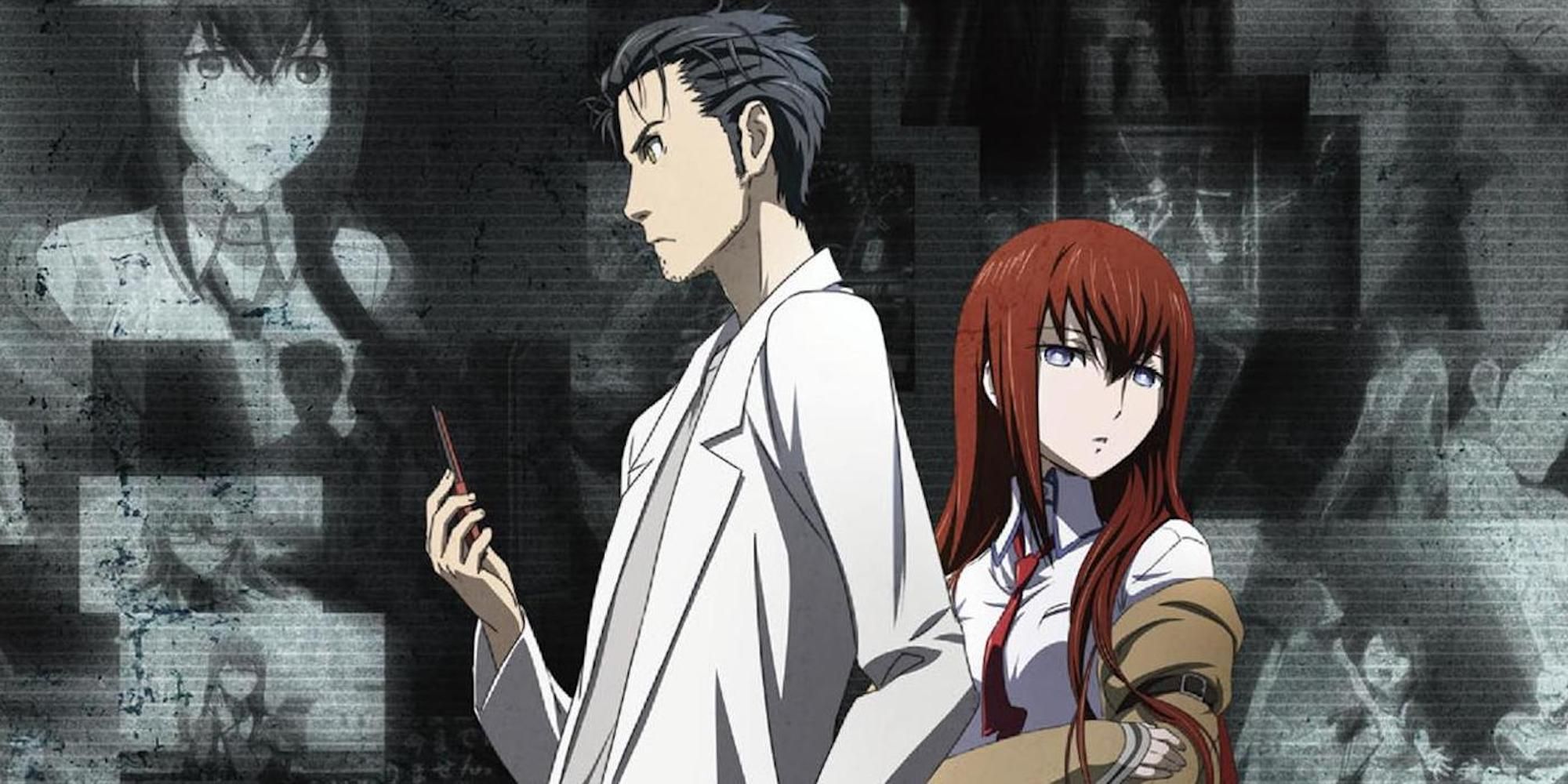 | | |
| --- | --- |
| Japanese Title | Steins;Gate |
| Studio | White Fox |
| Number of Episodes | 24 |
Adapted from a visual novel, Steins;Gate is split into two halves: the first twelve episodes have an almost slice of life tone as they follow the quirky lives of the Future Gadget Laboratory's members, led by the enigmatic Rintaro Okabe. The anime's second half is a sci-fi thrill ride centering around the consequences of time travel and the people willing to kill for it.
RELATED: Steins;Gate: Things The Anime Does Better Than The Visual Novel
Both halves are brilliant when viewed in isolation, and they are even better when taken as a whole. Steins;Gate meshes together an array of genres, and it executes all of them well. After completing the series, Crunchyroll subscribers can also check out Steins;Gate 0, an alternate reality spin-off that is pretty fabulous in its own right.
Space Brothers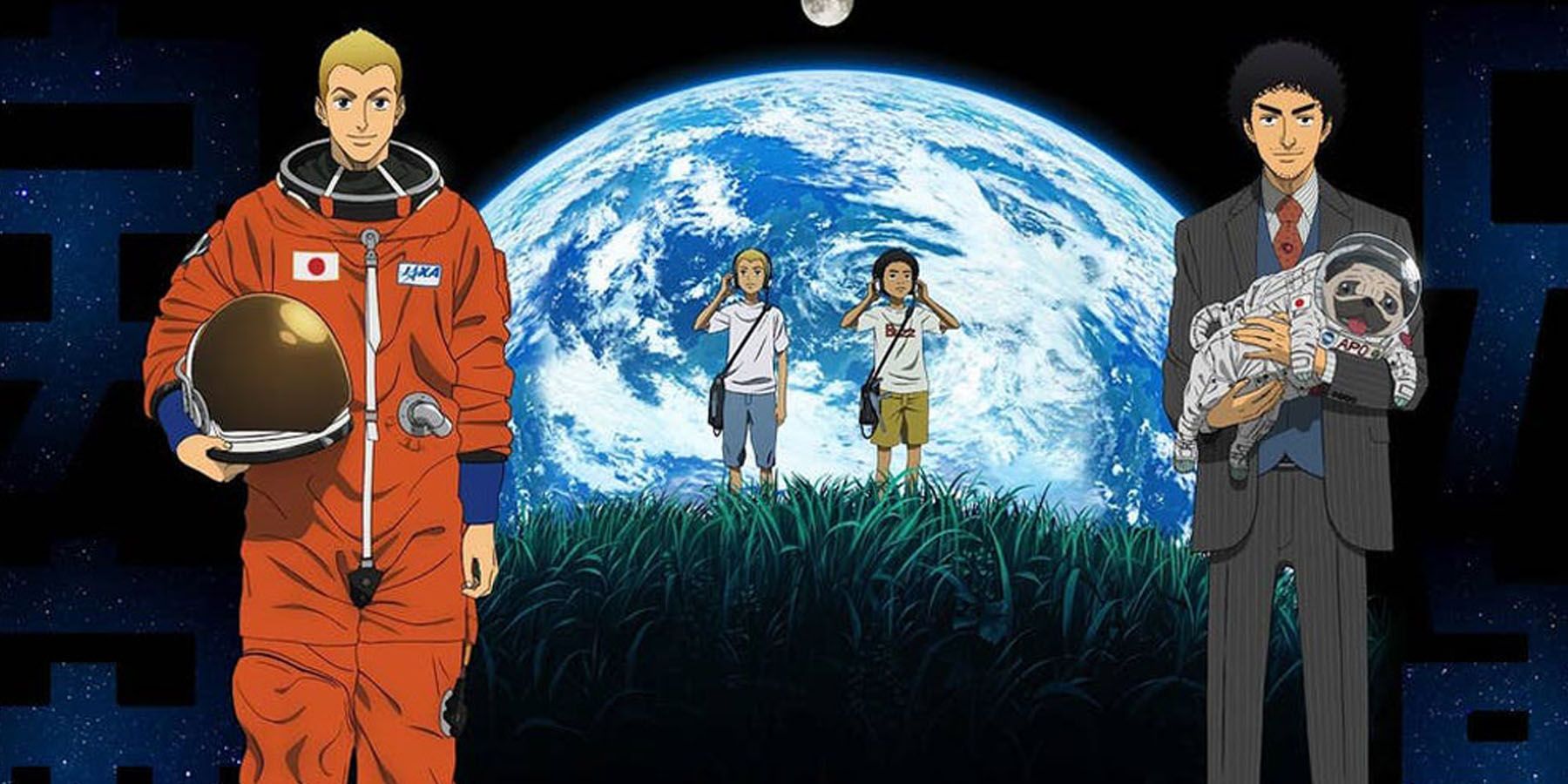 | | |
| --- | --- |
| Japanese Title | Uchuu Kyodai |
| Studio | A-1 Pictures |
| Number of Episodes | 99 |
Space Brothers is a different type of sci-fi anime, one grounded in reality. As its title suggests, the story follows two siblings who, as kids, wished to become astronauts. While one brother pursued this ambition, the other did not; however, the latter gets an opportunity to change that, and he decides to seize it.
Space Brothers focuses heavily on the hard work and dedication required to head out into space. Most of the narrative centers on Mutta Nanba's training, and while these stretches can last for quite a long time, they are generally intriguing and immersive. When it does venture out into the great unknown, the anime is impossible to put down.
Cowboy Bebop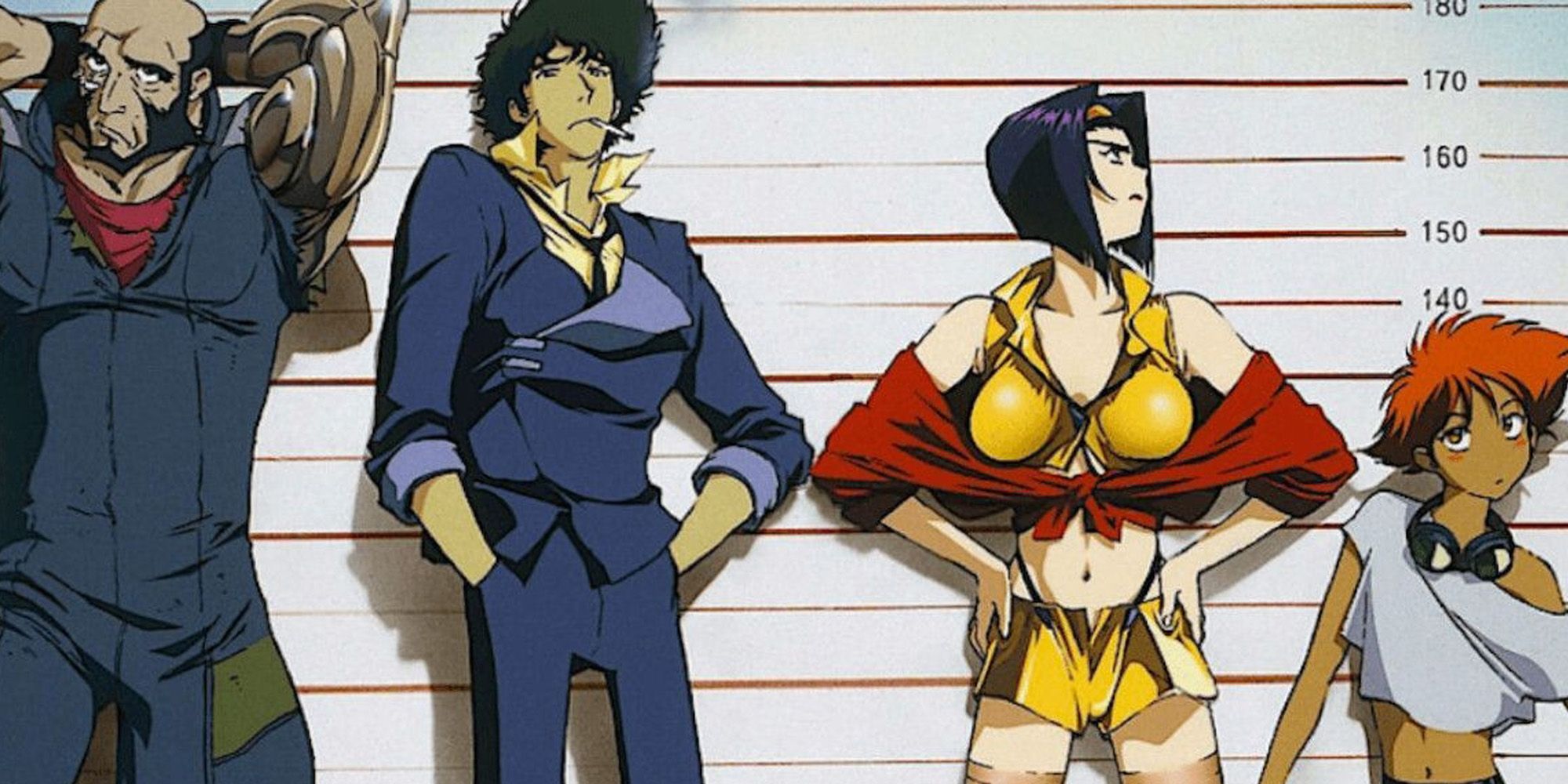 | | |
| --- | --- |
| Japanese Title | Cowboy Bebop |
| Studio | Sunrise |
| Number of Episodes | 26 |
Cowboy Bebop transcends anime, and that goes beyond Netflix's mediocre live-action adaptation. The 1998 series not only introduced plenty of people to the glorious world of anime, but also demonstrated that shows like Dragon Ball Z, Pokemon, and Sailor Moon are just a small slice of what the industry has to offer.
RELATED: Most Iconic Anime Spaceships, Ranked
Set in the (not too) distant future, humanity has set up roots across the galaxy. The eponymous ship belongs to two bounty hunters, Spike and Jet, who are willing to take on all sorts of odd jobs. Before long, their crew expands to include Faye, Ed, and an adorable dog. Cowboy Bebop offers a perfect mix of stand-alone episodes and serial storytelling; the former are highly entertaining, while the latter add depth to the characters. The anime's soundtrack is also phenomenal.
Other Recommended Sci-Fi Anime On Crunchyroll:
Best Thriller Anime On Crunchyroll
Kaiji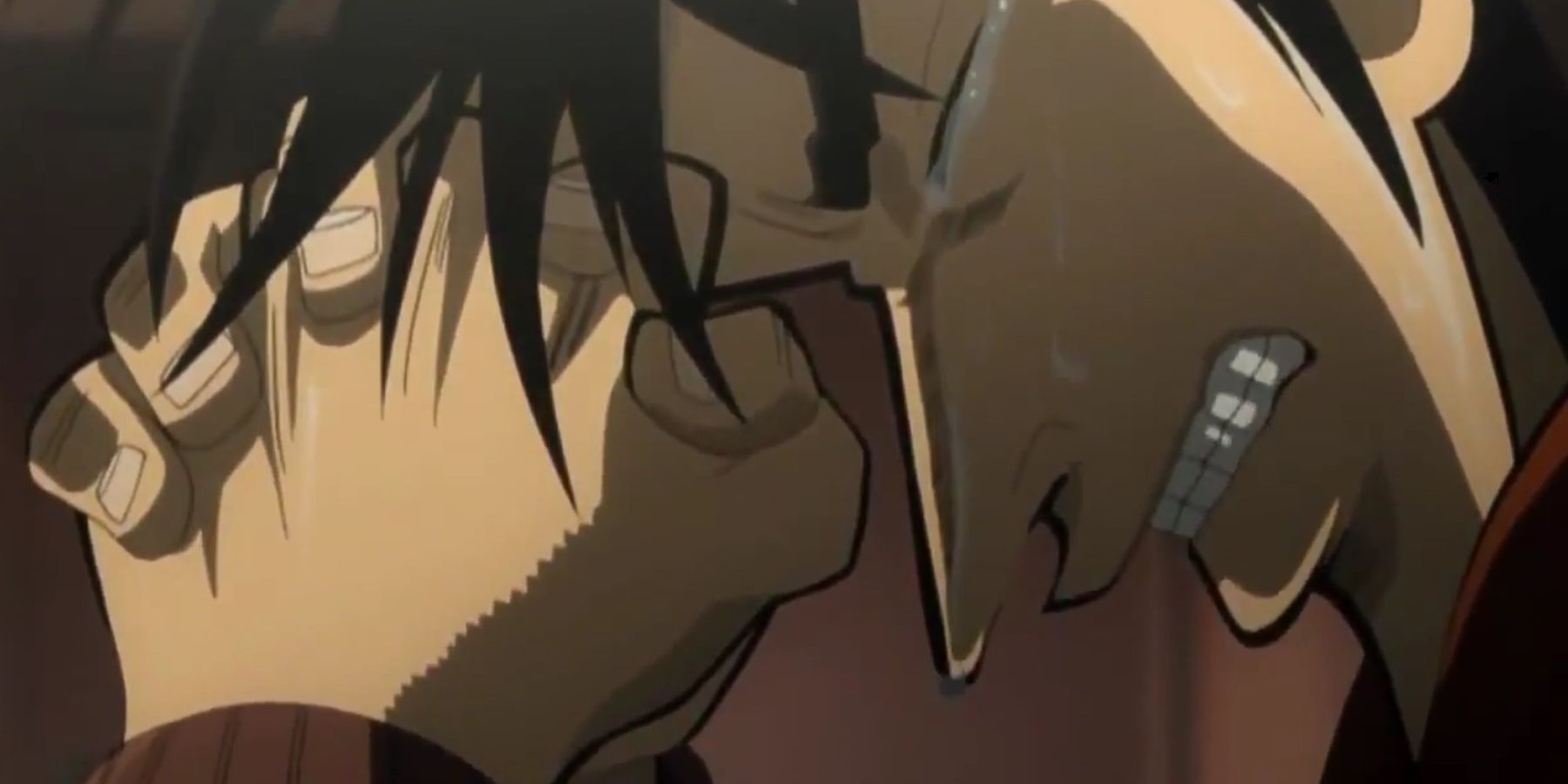 Gambling anime are rare, but the few that do exist are almost universally excellent. As great as shows like Akagi and One Outs are, they lack one thing that makes Kaiji so wonderful: unpredictability. Unlike the protagonists of the previous two shows, Kaiji is basically a normal human being who is constantly in over his head.
After being saddled with someone's else debt, Kaiji takes part in perilous games that will either make him rich or put him deeper in the hole. Regardless of how big the cost seems to be, there is never a guarantee that Kaiji will win. Sure, he can be smart or devious, but he is not a genius capable of outwitting everyone at any time. This point is emphasized by the fact that the audience almost always knows Kaiji's plan. This anime is nail-bitingly intense throughout its entire run.
Death Note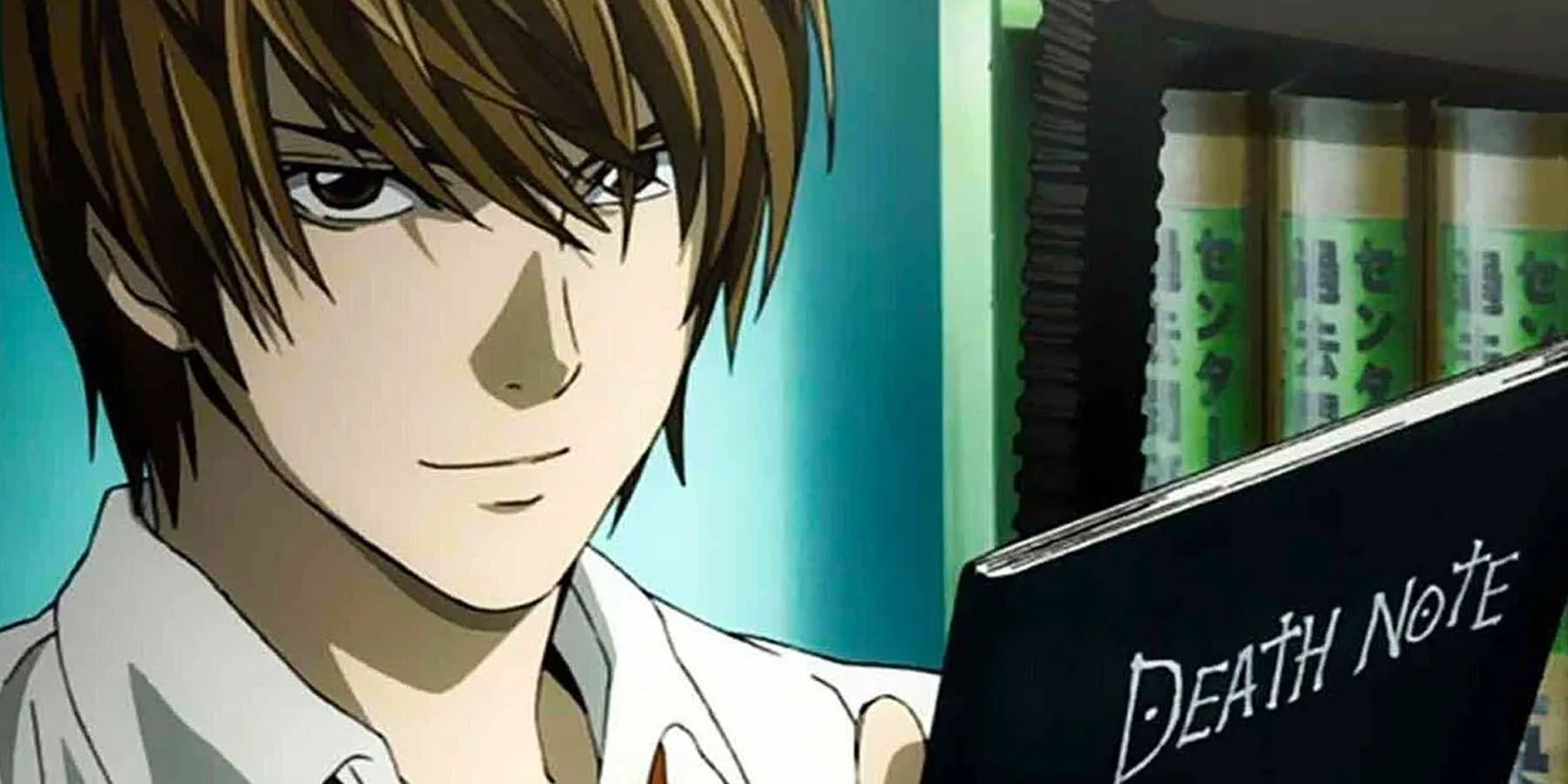 | | |
| --- | --- |
| Japanese Title | Death Note |
| Studio | Madhouse |
| Number of Episodes | 37 |
One of the quintessential gateway anime, Death Note's legacy is cemented as an all-time great. The story follows Light Yagami, an intelligent teenager who gains access to a god of death's book, the Death Note, that allows him to kill anyone by just writing that person's name in it. Empowered by a sense of righteousness, Light sets out to mold the world to fit his interpretation of justice, a plan that quickly attracts the attention of the police and, specifically, a master detective named L.
RELATED: Death Note: Every Version Of Light Yagami, Ranked
Death Note brings together two geniuses in a battle of wits, charisma, and drive. Packed with twists, surprises, and ethical themes, this anime is an addictive watch featuring perhaps the greatest cat-and-mouse battle in anime, except for perhaps Monster.
Erased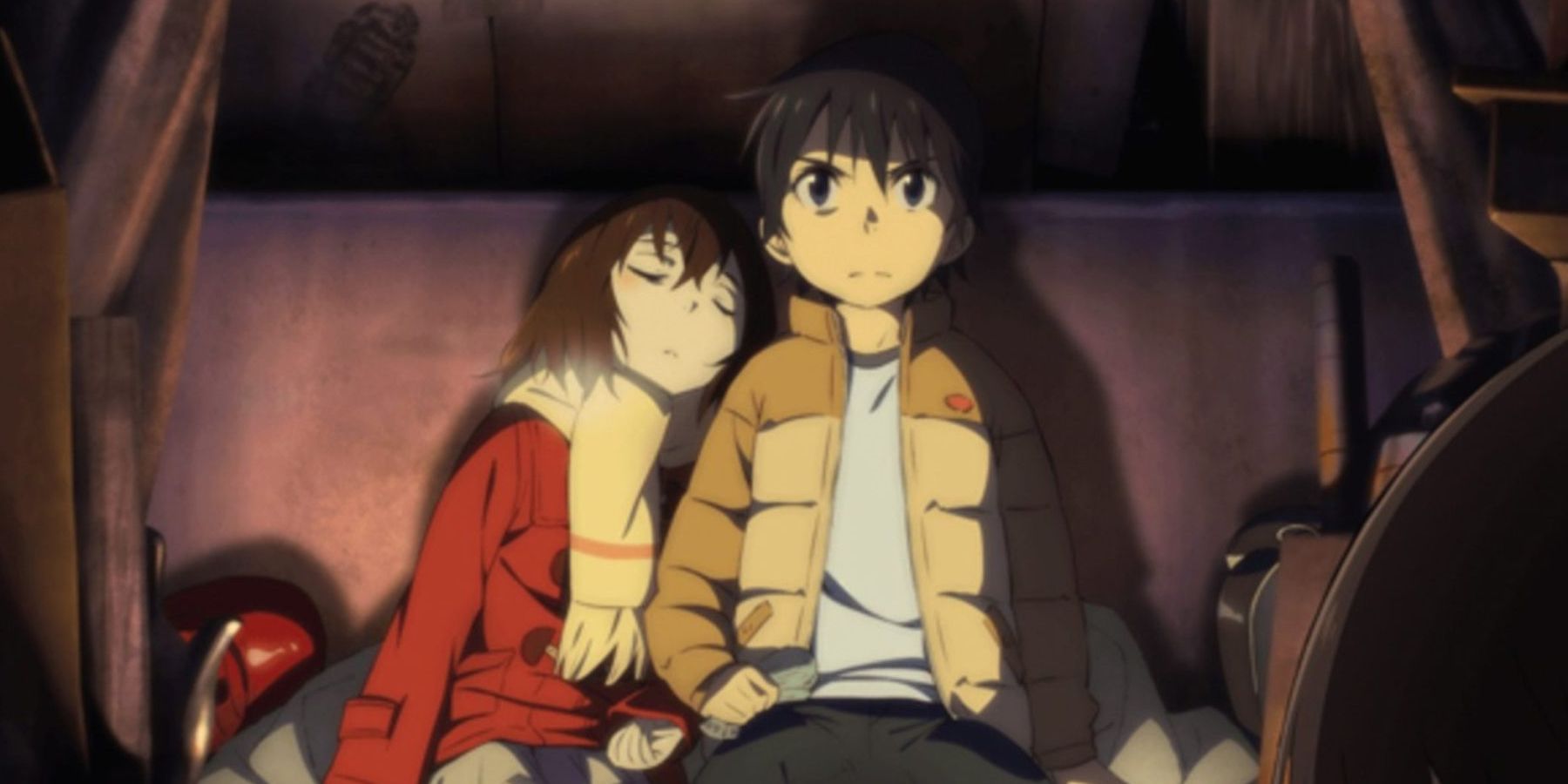 Satoru Fujinuma suddenly picks up the ability to travel back in time, initially a couple of minutes and eventually years. Triggered by a tragedy, this power sends Satoru back to his childhood where he sets out to investigate the disappearance of a young girl.
Erased is a phenomenal show with a gripping central narrative, two endearing main characters who go through quite a bit of development over the course of the series, and consistently stellar animation. As a thriller that relies heavily on a central mystery, Erased tends to be valued by the strength of its resolution, which is admittedly quite divisive; however, taken as a whole, this series is comfortably one of the best thriller anime of all time.
Psycho-Pass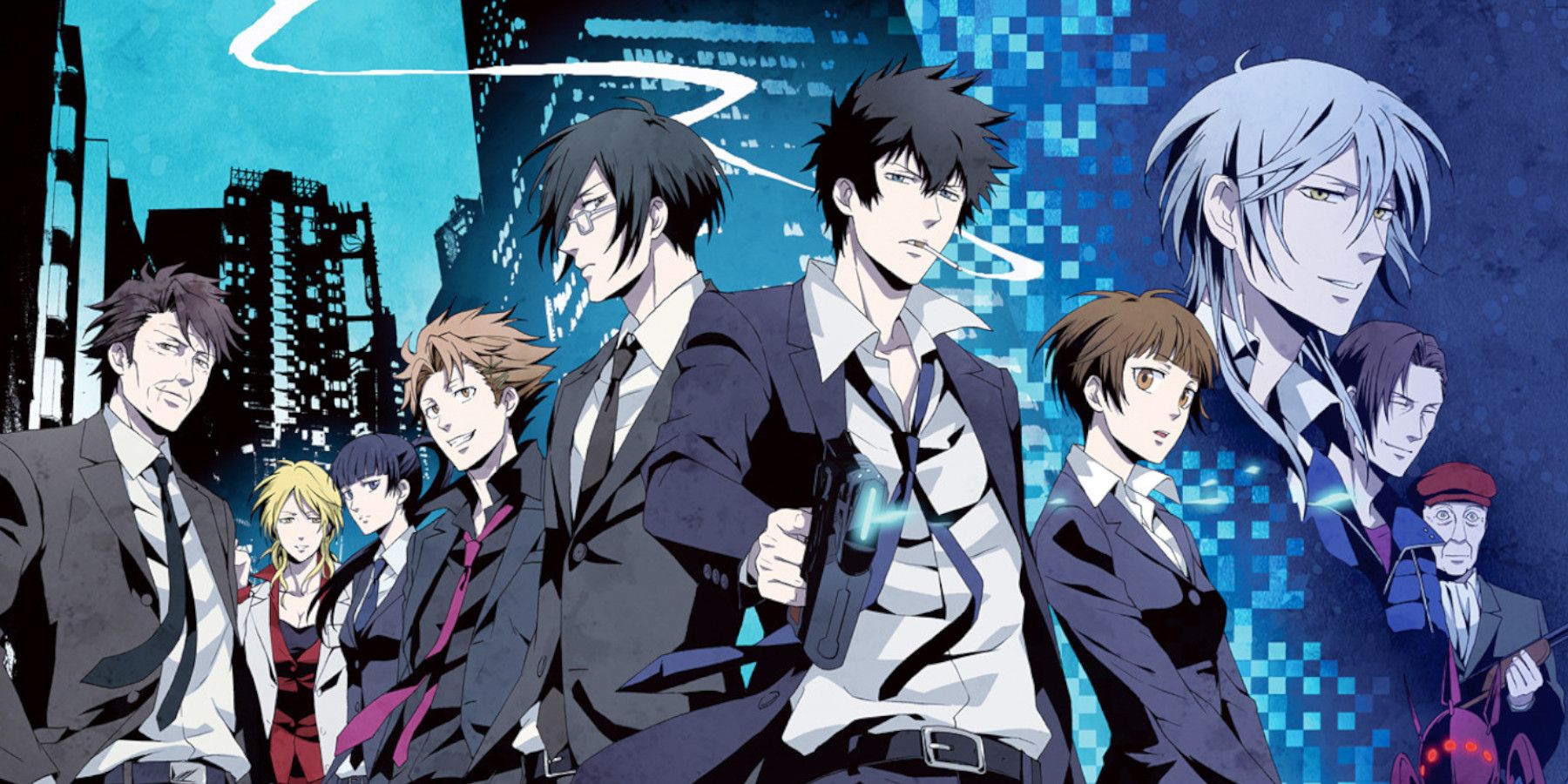 | | |
| --- | --- |
| Japanese Title | Psycho-Pass |
| Studio | Production I.G |
| Number of Episodes | 33 |
Added to Crunchyroll at the end of May 2022, Psycho-Pass immerses viewers in a dark, futuristic world where Japan is built upon a justice system that judges people on their potential to commit future crimes. Once a person's Psycho-Pass is stained, they are removed from society with precious little hope of staging a comeback. The law is maintained by Inspectors and Enforcers, the latter of which are people already tagged as latent criminals.
Psycho-Pass is an intense sci-fi thriller that explores themes dealing with accountability and whether the preservation of the many outweighs an individual's rights. Mature, violent, and thought-provoking, this anime is rarely an easy sit, but it is also never dull. Crunchyroll only has the show's first two seasons, but they each tell complete stories in their own right. Season one is particularly strong and features one of the most memorable villains in anime.
Other Recommended Thriller Anime On Crunchyroll:
Best Horror Anime On Crunchyroll
Yamishibai: Japanese Ghost Stories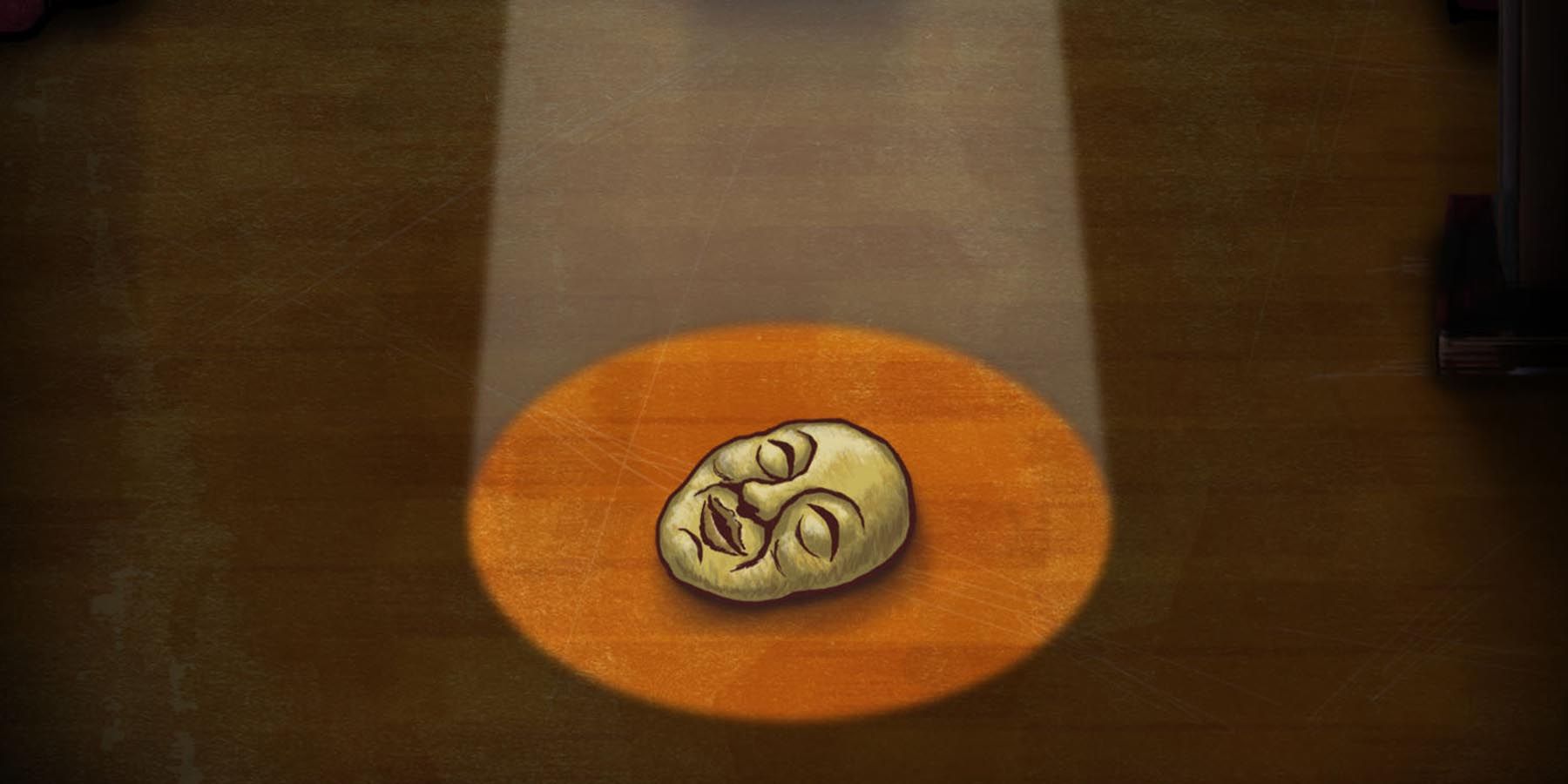 | | |
| --- | --- |
| Japanese Title | Yami Shibai |
| Studio | ILCA |
| Number of Episodes | 130 |
Horror aficionados might find Crunchyroll's selection of animated nightmares to be a touch lacking. Horror anime are just generally in short supply, and most of the genre's best series – Mononoke, Shiki, When They Cry, Hell Girl – are not on the streaming service. At the moment, no (legal) platform has an exhaustive selection of horror anime, and subscribers will have to make do with a small range of options. Thankfully, Crunchyroll does have some quality picks.
RELATED: Horror Anime With The Creepiest Monsters
Yamishibai: Japanese Ghost Stories is one of anime's more popular horror properties, and the series has produced 10 seasons so far. Consisting of short episodes, each segment is inspired by a Japanese urban legend or folk tale. The anime uses a minimalist animation style that can take a bit of getting used to, although it does often complement the stories being told. While every season has a handful of legitimately frightening shorts, Yamishibai becomes progressively more inconsistent as it goes along.
Ghost Hunt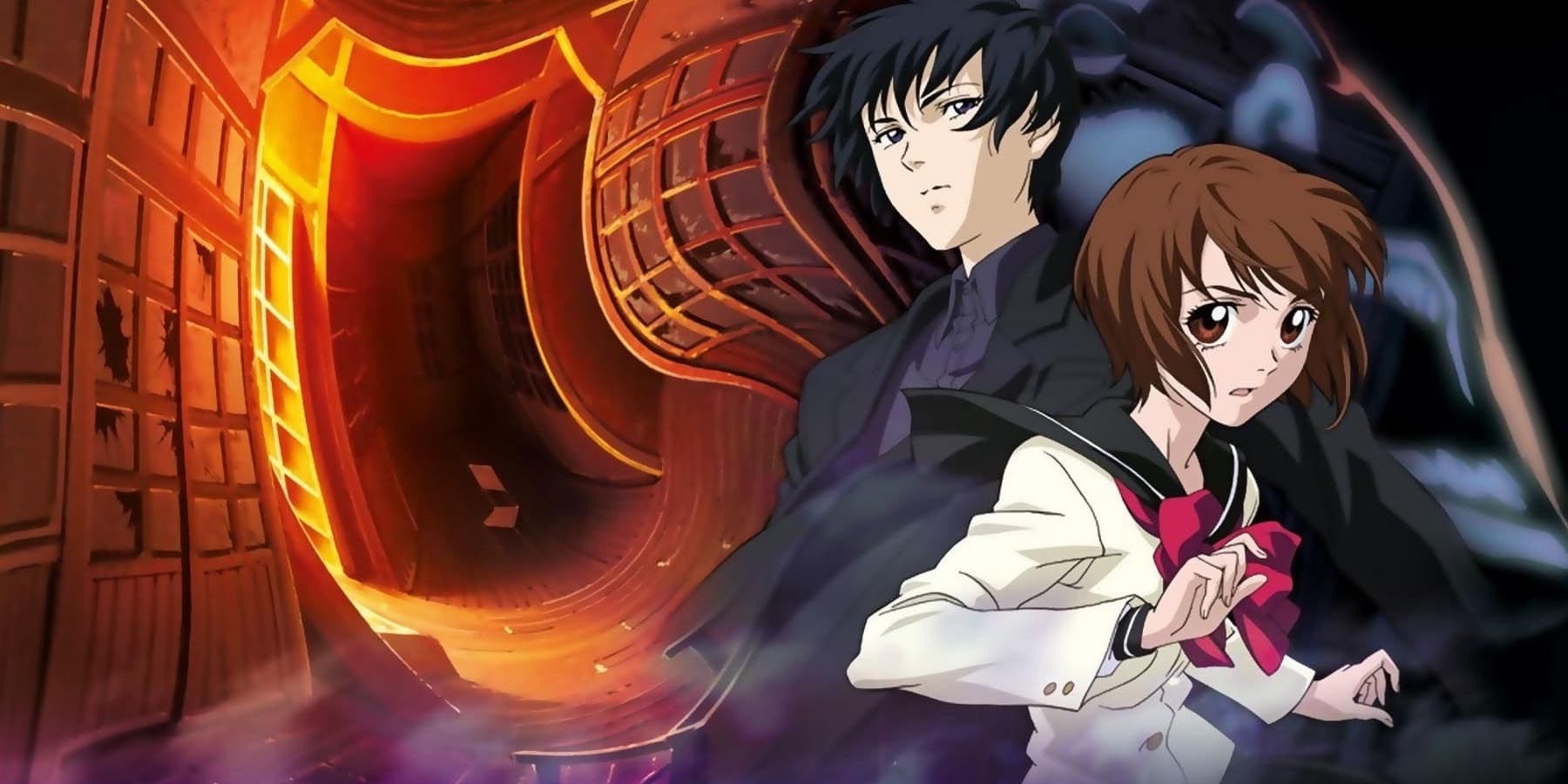 | | |
| --- | --- |
| Japanese Title | Ghost Hunt |
| Studio | J.C.Staff |
| Number of Episodes | 25 |
While Yamishibai's best segments are Crunchyroll's scariest horror content, Ghost Hunt is overall the genre's most consistent representative on the platform. A more conventional series, the show follows Kazuya Shibuya and Mia Taniyama as they investigate a string of supernatural cases. The anime is split into eight arcs, each of which introduces new monsters, settings, and minor characters.
Ghost Hunt's individual cases are well-written and engaging. While rarely terrifying, the anime has its share of creepy moments as well. The show's core characters are also likable enough to carry the weaker mysteries. Since it aired during the mid-2000s, Ghost Hunt uses an old-school animation style that lends itself well to the horror genre.
Other Recommended Horror Anime On Crunchyroll:
Best Isekai Anime On Crunchyroll
Re:ZERO -Starting Life in Another World-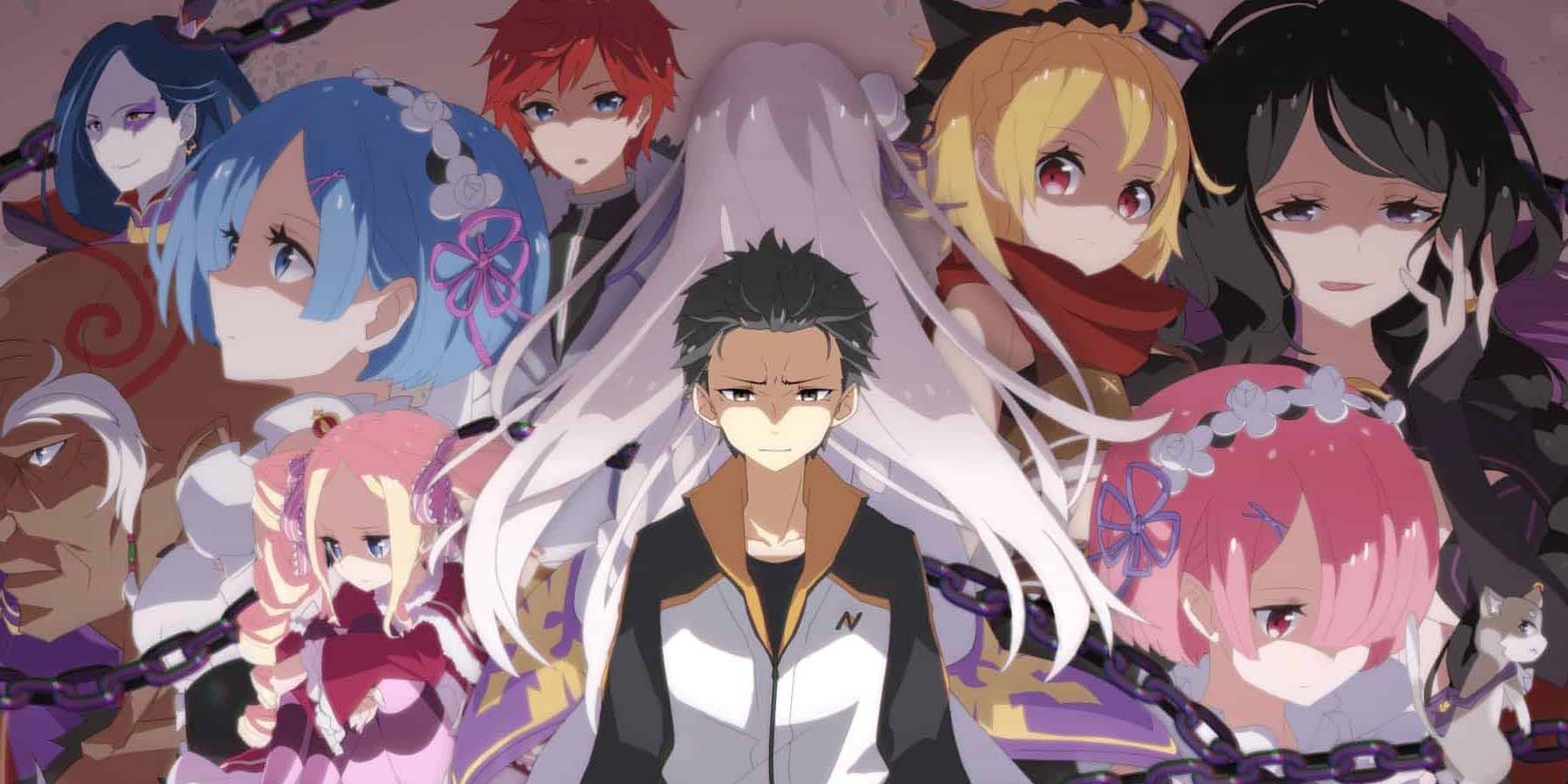 Crunchyroll is not lacking in isekai anime, so anyone looking to jump into another world will be set for a couple of months at the very least. The concept has produced plenty of great content, however, due to similarities in setting, tone, and protagonists, many of the subgenre's shows can start to blend together after a while. Although it shares imagery with other isekai series, Re:ZERO -Starting Life in Another World- is a unique beast.
As always, a normal human, Subaru, finds himself teleported to a fantasy world with magic, waifus, and talking mascots. Standard as this setup might be, Re:ZERO wastes little time in establishing that it has no interest in telling a power fantasy story. Subaru's journey is one filled with suffering, failure, and self-discovery. The side characters are also quite interesting, with season 2 doing a stellar job of expanding on Emilia's personality.
That Time I Got Reincarnated As A Slime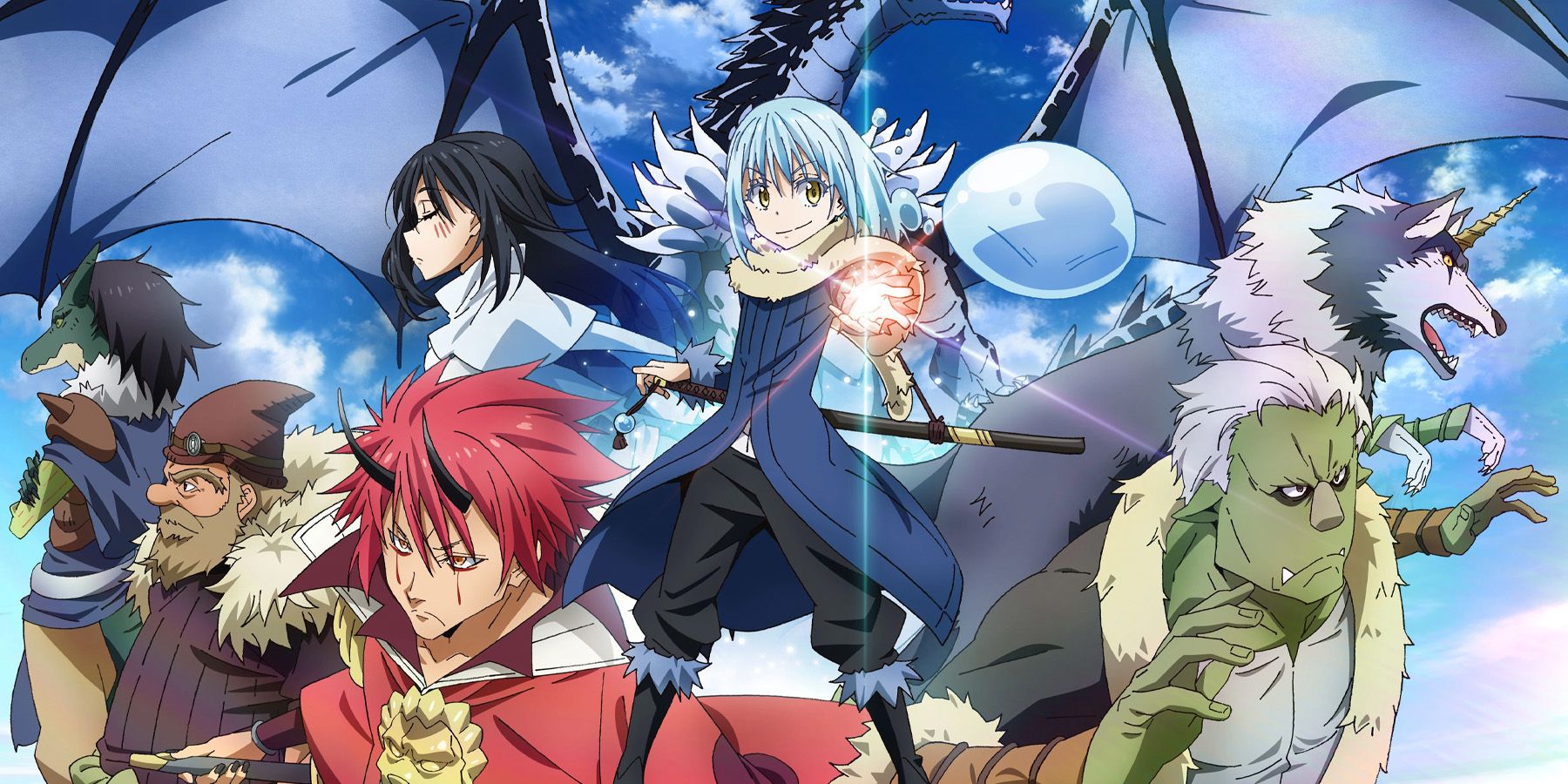 As fantastic as Re:ZERO is, it is not representative of isekai anime as a whole. If someone is looking to sample a more typical example of the subgenre, they should look no further than That Time I Got Reincarnated as a Slime, which is one of the best anime on Crunchyroll. After passing away, Satoru Mikami reincarnates as a slime in a fantasy world, albeit one with the power to learn the abilities of other creatures. Rebranding himself as Rimuru Tempest, the protagonist sets out to create a Utopia for monsters of all types.
RELATED: The Strongest Isekai Anime Protagonists
After the opening few episodes, Rimuru becomes incredibly overpowered to the point that most battles are a foregone conclusion; however, the anime's focus on diplomacy allows the story to maintain momentum even when battles lack much in the way of tension. The show's characters are also irresistibly lovable.
KonoSuba: God's Blessing On This Wonderful World!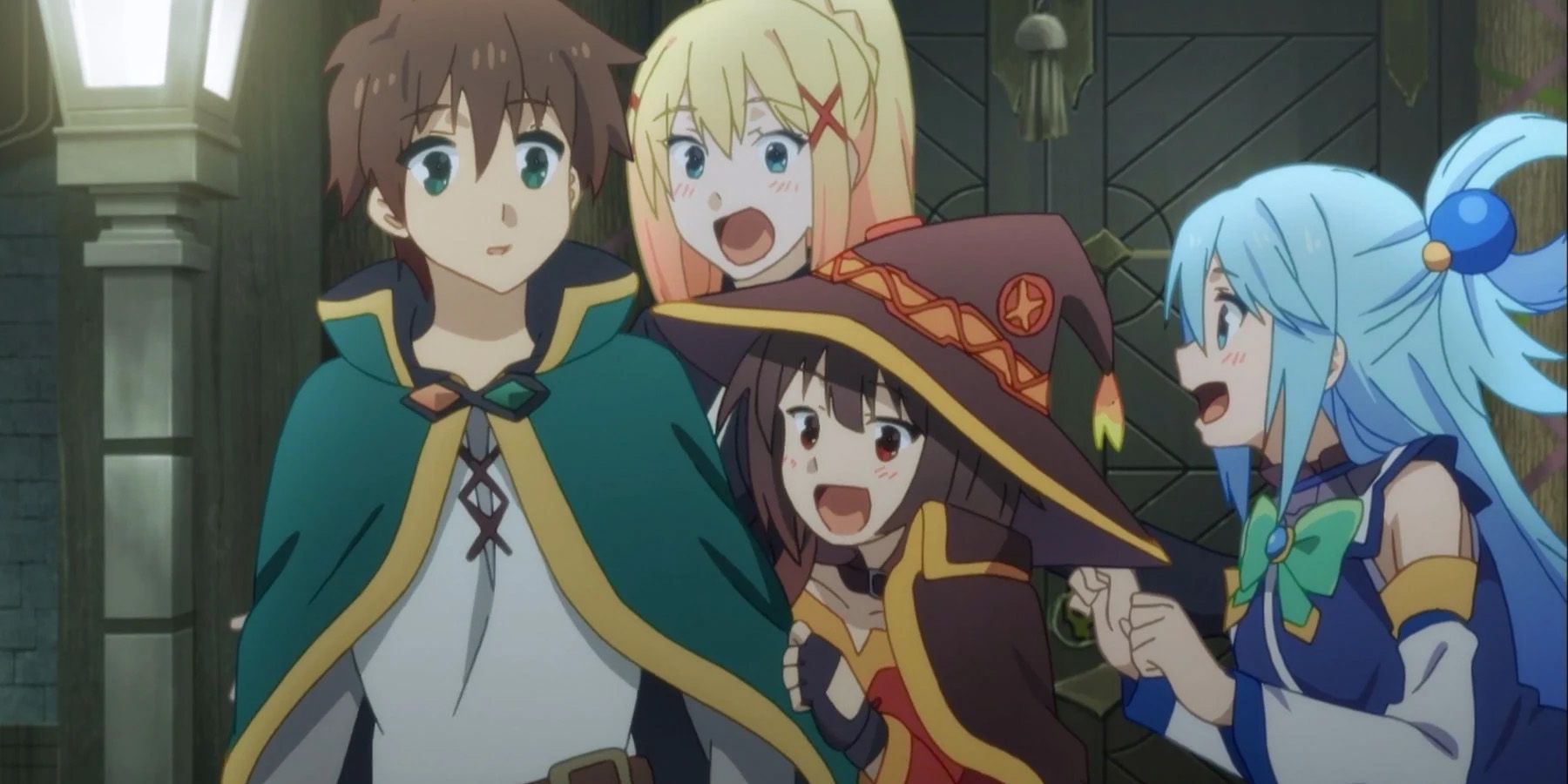 Isekai's rise in popularity naturally gave way to shows that parody its conventions, and KonoSuba is the most famous example of such a series. Kazuma Satou dies in a "heroic" fashion and is sent to another world by a "divine" goddess named Aqua. When he is allowed to take anything with him, Kazuma picks Aqua, a decision that quickly backfires when it becomes apparent that the goddess can be more of a hindrance than an ally.
Before long Kazuma puts together the most dysfunctional party in anime history, and they set out on an adventure to defeat the Demon King and, hopefully, not accidentally kill each other in the process.
Log Horizon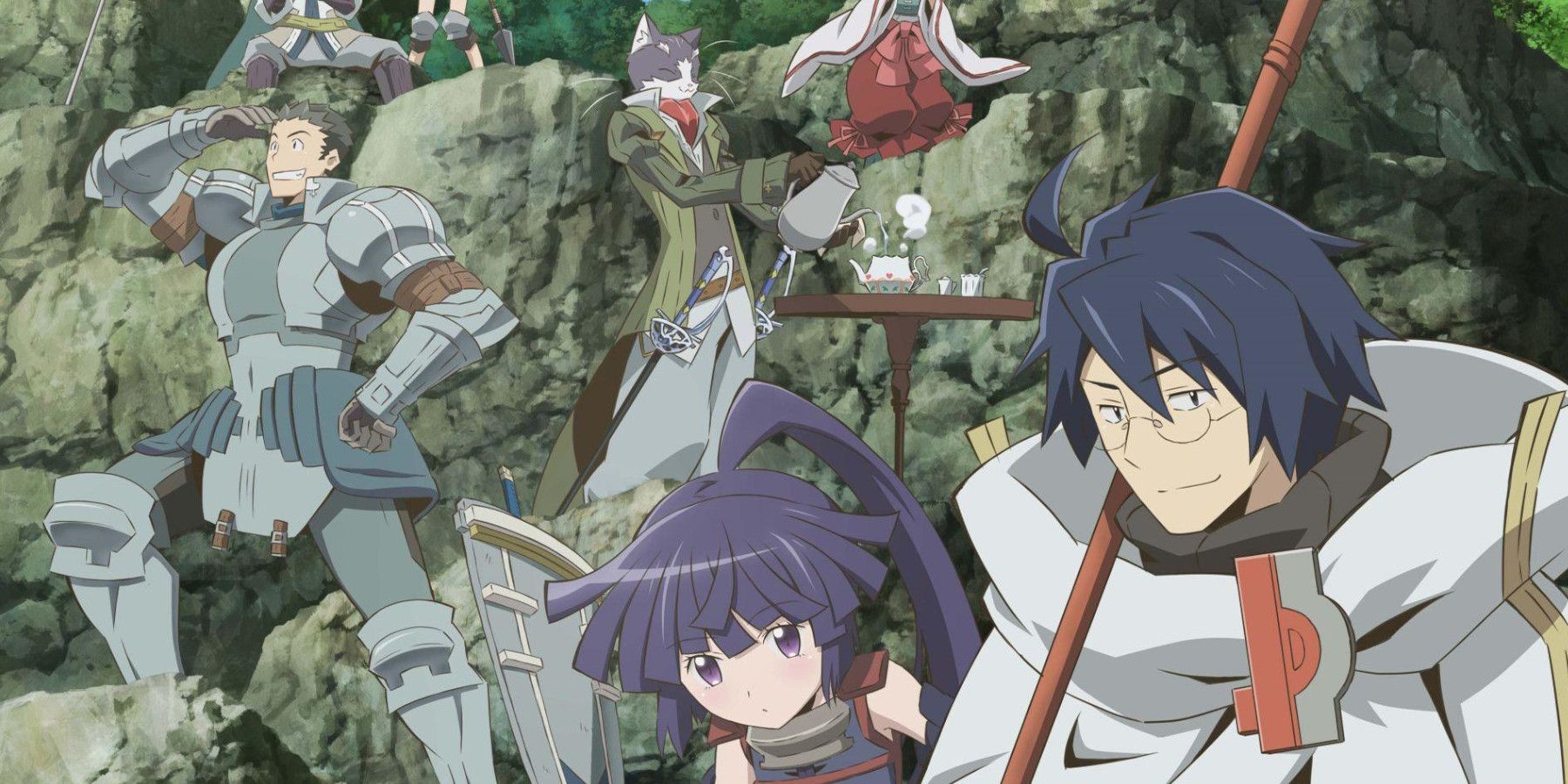 | | |
| --- | --- |
| Japanese Title | Log Horizon |
| Studios | Satelight, Studio Deen |
| Number of Episodes | 62 |
While not the first or most famous show about humans stuck in an MMORPG, Log Horizon might have delivered the definitive iteration of this concept, at least in its first season. When thousands of people find themselves unable to log out of Elder Tale, they suddenly have to learn how to not only co-exist with each other but also with the NPCs who populate this realm.
Log Horizon excels at world-building, and the anime prioritizes diplomacy and social development above action (which there is still a lot of). Filled with well-written characters and intriguing concepts, this isekai anime is a must-watch, even if the sequels fail to live up to their predecessor.
Other Recommended Isekai Anime On Crunchyroll:
Best Mecha Anime On Crunchyroll
Gundam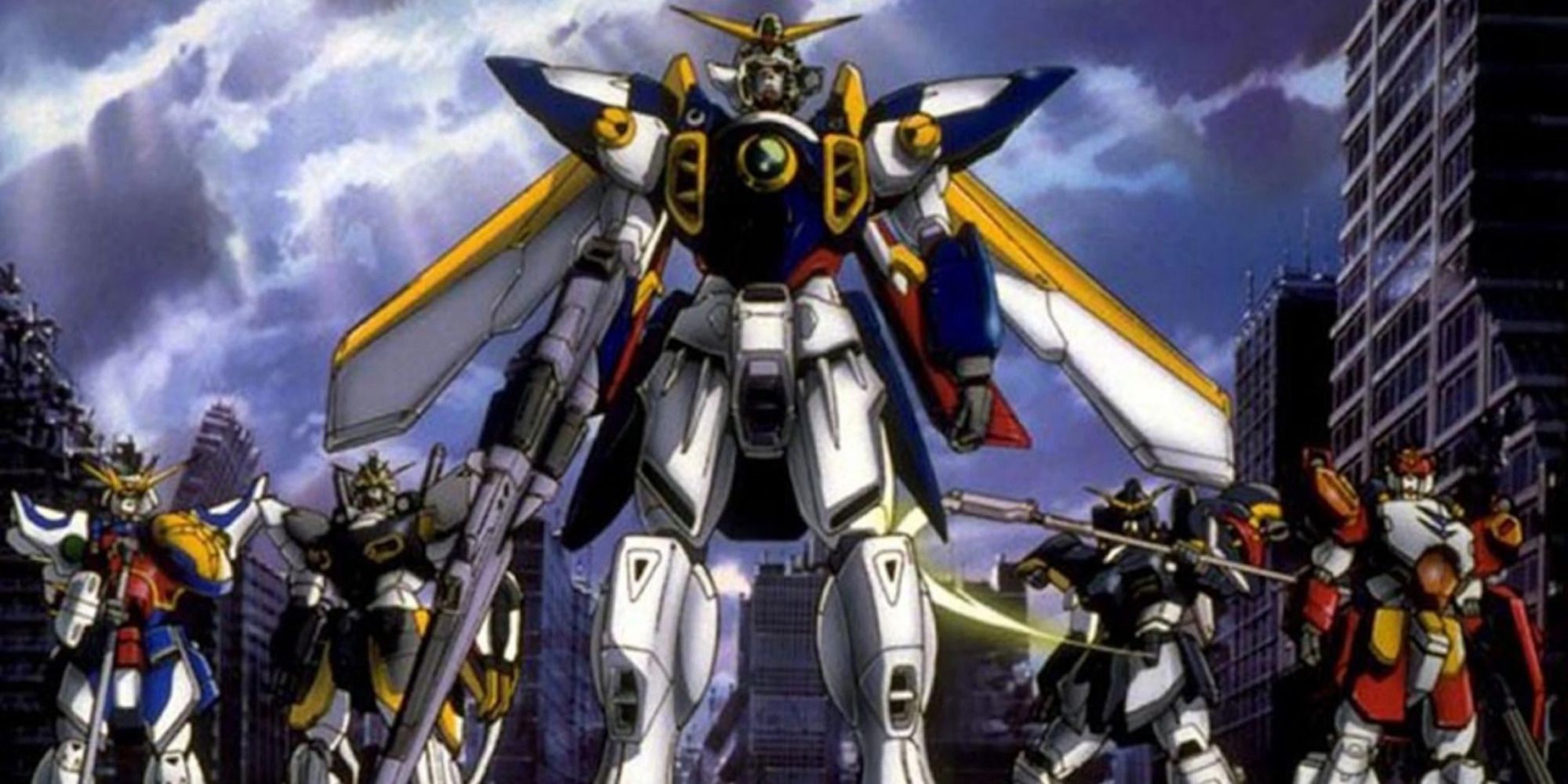 Mobile Suit Gundam is the definitive Mecha franchise, one that has not only shaped the genre's development but also people's understanding of it. Crunchyroll does not have every Gundam series in existence, but it has a solid selection taken from across the franchise's storied history. Here are a couple of seasons to take note of:
Mobile Suit Gundam: Aside from the dated visuals and slow pacing compared to modern shows, the original series still holds up pretty well from a story perspective. This is plainly a great war anime.
Mobile Fighter G Gundam: More of a traditional action series, this 1994 release mostly pushes the political elements to the side to focus on glorious over-the-top action. It is a solid pick for newcomers to the series as it stands on its own pretty well.
Mobile Suit Gundam: Iron-Blooded Orphans: Arguably the best entry-level modern series in the franchise, Iron-Blooded Orphans boasts fantastic animation, a mature storyline, and brilliant action.
SSSS.Gridman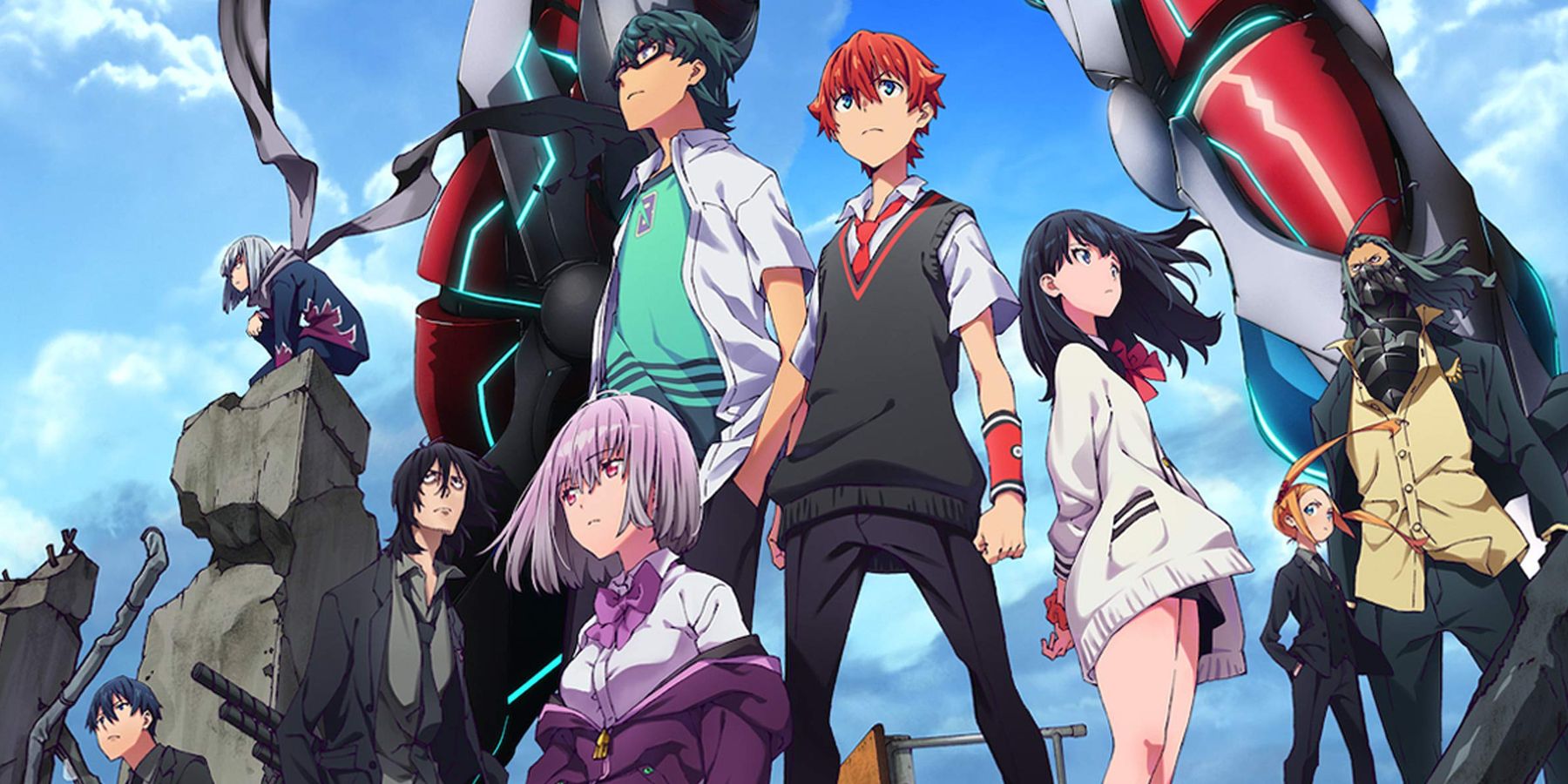 | | |
| --- | --- |
| Japanese Title | SSSS.GRIDMAN |
| Studio | Trigger |
| Number of Episodes | 12 |
SSSS.Gridman is a trip that tends to divide audiences: people seem to either love or hate it. Based on the live-action Gridman the Hyper Agent series from the '90s, the anime's plot could be loosely described as a giant hero battles against an array of kaiju, however, there is a lot more going on here than a Power Rangers episode. The action sequences are as spectacular as one might expect from a Trigger production; in fact, the animation is splendid throughout.
SSSS.Gridman also devotes a great deal of time to its characters, with one of the main antagonists, Akane, receiving a lot of attention and development. The exception is the protagonist, Yuta Hibiki, who is mostly presented as an avatar for Gridman.
Code Geass: Lelouch Of The Rebellion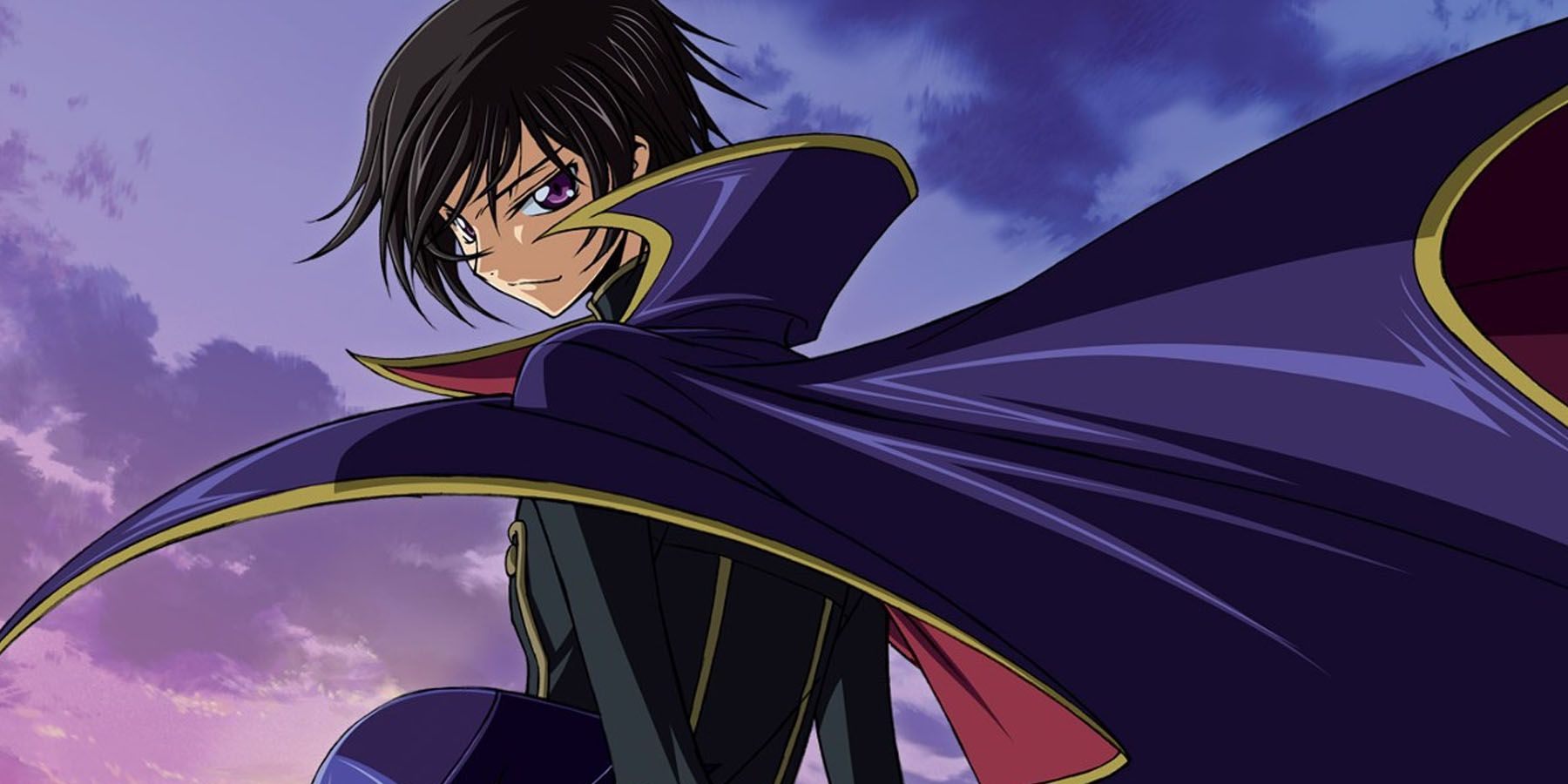 In 2006, anime had a thing for empowering manipulative geniuses with a desire to shape the world in their image. Code Geass envisions an alternate reality where Japan fell at the hands of the Britannian Empire; while a resistance group does exist, they are barely more than a small nuisance for the country's rulers. At least, that was the case until a new hero, Zero, rose up to protect the Japanese people from the discriminating Empire.
Zero's real identity is Lelouch, and his actions are not quite as noble as they might seem to the public. The rebel fighter also has the power to force someone to follow one order, an ability Lelouch uses to good and horrifying effect. Combining mind games and mecha battles, Code Geass is a highly entertaining show with barely a dull moment to be found.
Other Recommended Mecha Anime On Crunchyroll:
Best Romance Anime On Crunchyroll
Fruits Basket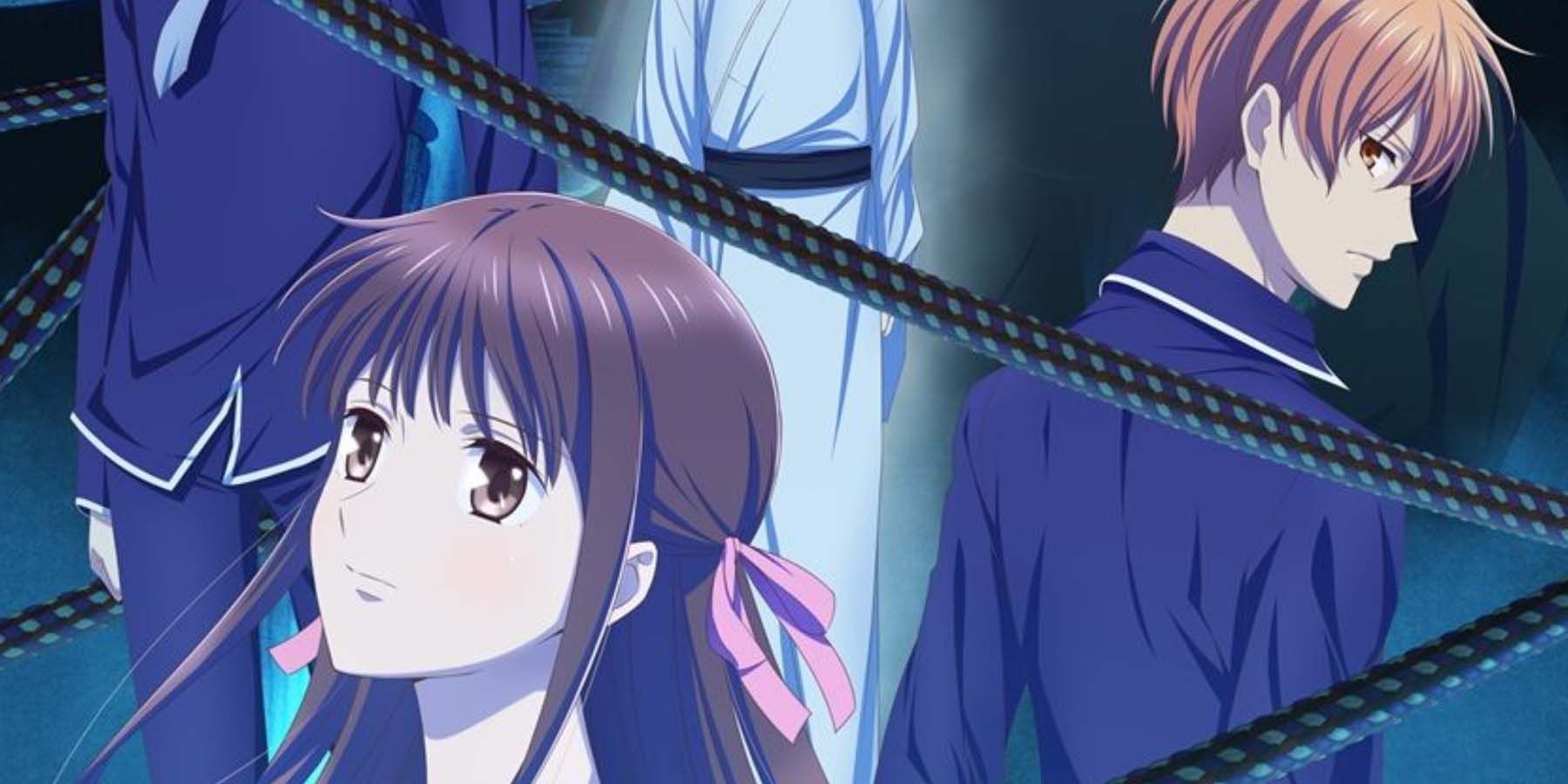 | | |
| --- | --- |
| Japanese Title | Fruits Basket |
| Studio | TMS Entertainment |
| Number of Episodes | 63 |
TMS Entertainment's adaptation of Natsuki Takaya's Fruits Basket manga is a work of art that tells a brilliant story that covers a wide spectrum of genres and, more importantly, does justice to each one of them. At points, Fruits Basket can be a hilarious comedy, an intense drama, or a devastating romance.
RELATED: The Greatest Romance Anime Of All Time
The show's romantic element largely revolves around Toru, Yuki, and Kyou, and Fruits Basket has arguably the best love triangle in anime. Even if romance tends to be an acquired taste, Fruits Basket's appeal is universal. This is one of the absolute best anime on Crunchyroll.
Kaguya-sama: Love Is War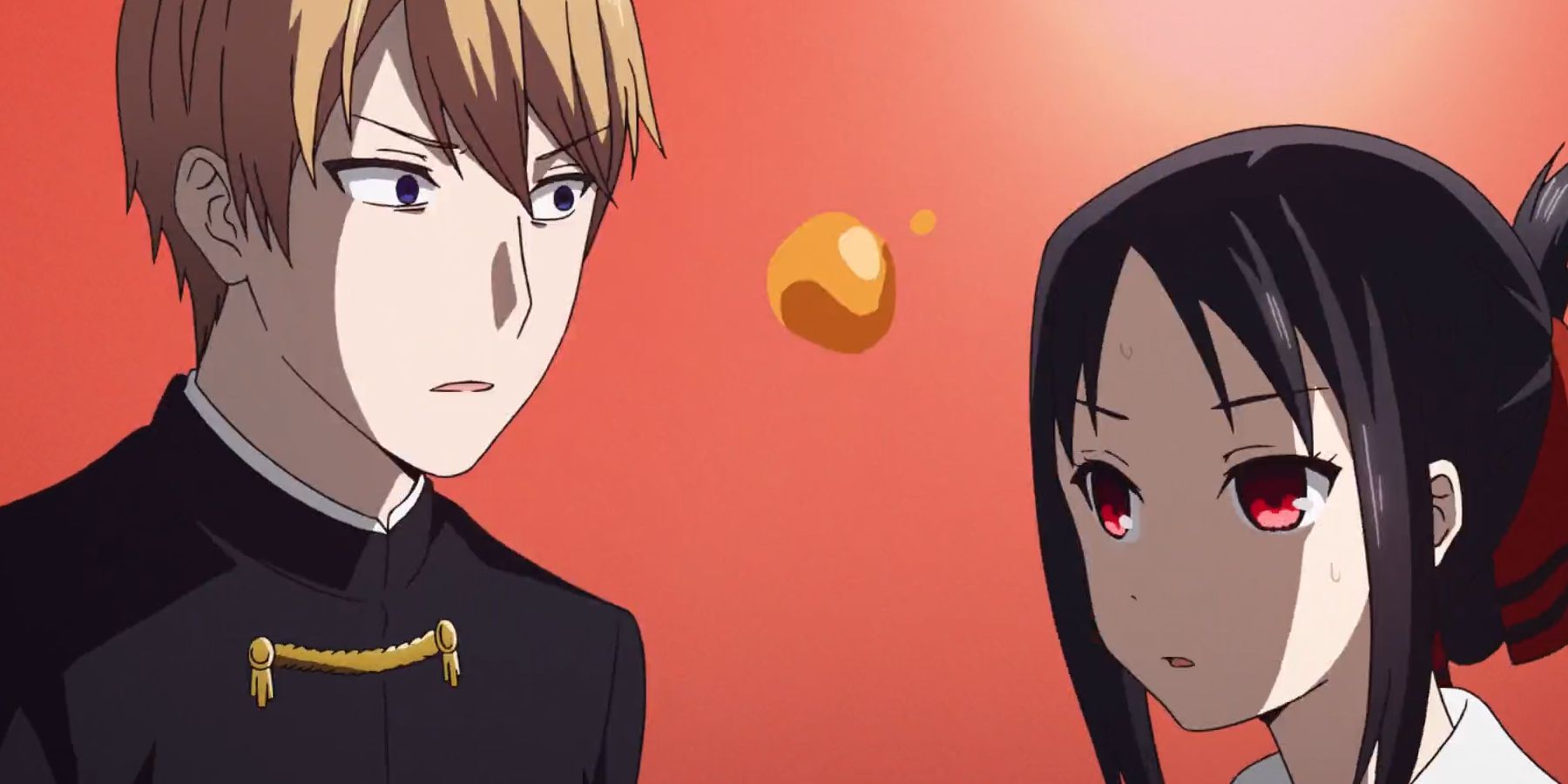 Shuchiin Academy's Student Council is run by Miyuki Shirogane and Kaguya Shinomiya, who both like each other but are anxious to admit it. Coming from vastly different backgrounds and suspicious of each other's intentions, Miyuki and Kaguya take part in battles to see who will be tricked into announcing their feelings first.
Kaguya-sama: Love is War starts out as an over-the-top comedy, one that almost parodies romance anime. However, the series steadily begins to properly explore its core relationships, allowing its characters to change and grow along the way. The Ultra Romantic season aired in the Spring of 2022, and Kaguya-sama went from strength to strength. While comedy plays a major role, the show is constantly pushing forward its relationships and producing heart-pounding romantic moments.
Your Lie In April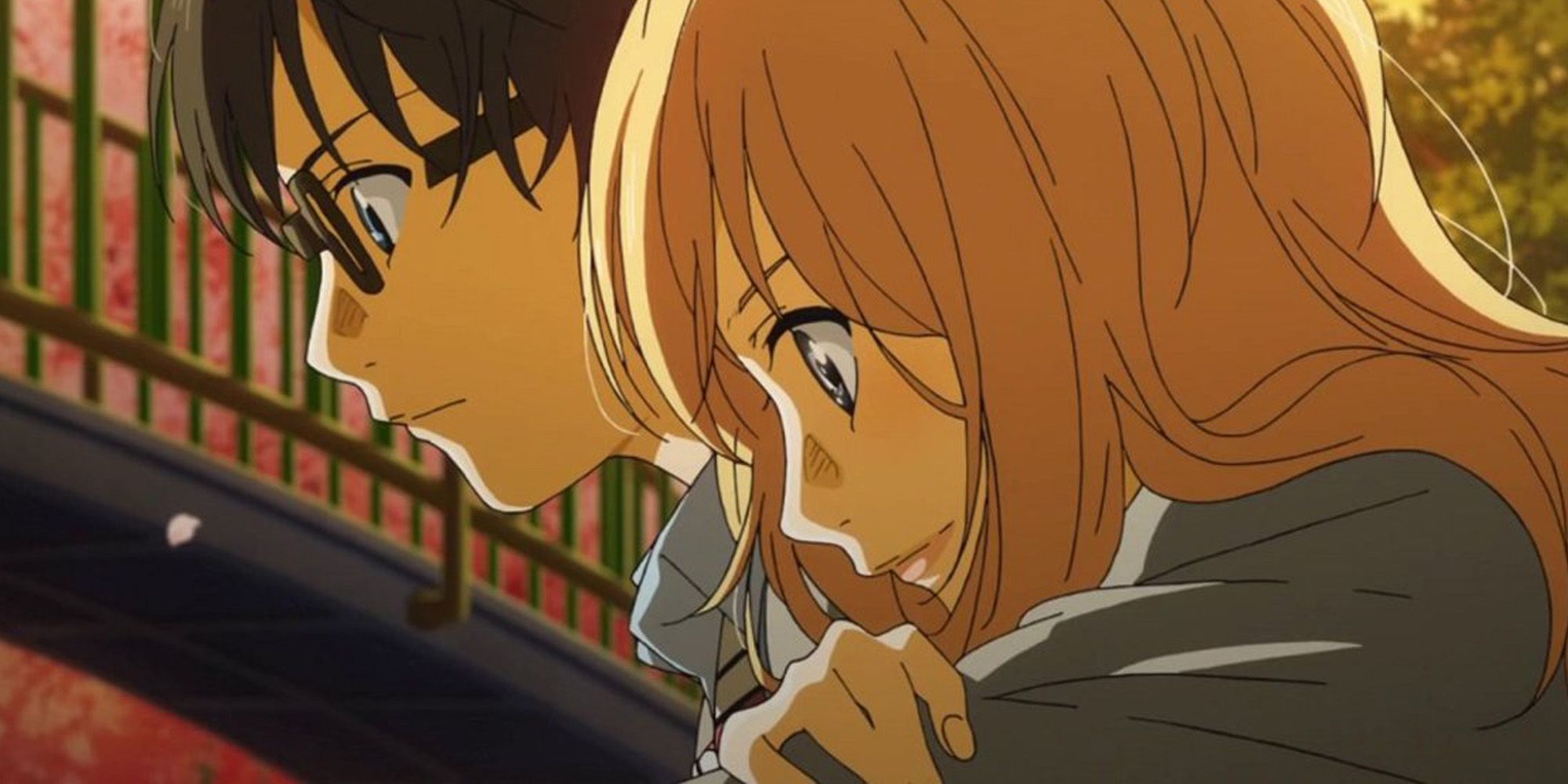 Your Lie in April has become a cornerstone of the romance genre. The beloved manga led to an anime adaptation, along with a light novel extension and a live-action movie. For the most part, each iteration of the story or addition to the franchise is, at the minimum, pretty good. At their best, they are fantastic, and the anime falls within the latter category.
Music serves as this tale's beating heart. Not only does it bring together the main characters, but it fuels their passion, growth, and trauma. Following a personal tragedy, the young Kosei has struggled to play the piano, letting his talent go to waste. One day, he meets Kaori, an exceptional violinist who embraces life with every fiber of her being. Kosei is drawn to Kaori, and vice-versa.
Other Recommended Romance Anime On Crunchyroll:
Best Boys Love Anime On Crunchyroll
Given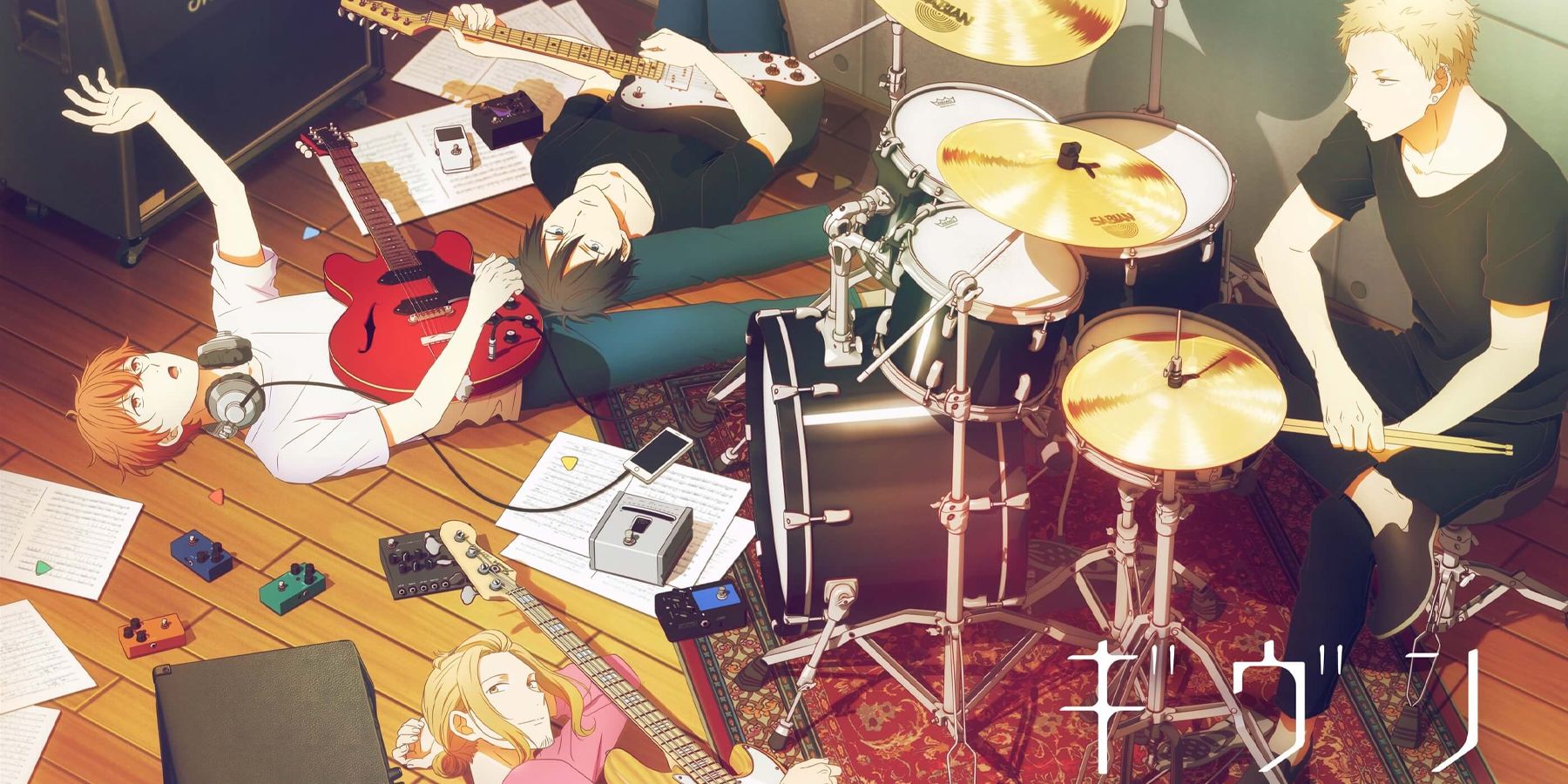 | | |
| --- | --- |
| Japanese Title | Given |
| Studio | Lerche |
| Number of Episodes | 11 |
Romance anime are an acquired taste, and boys love stories take that to the next level. While reasonably popular in the grand scheme of things, the shounen-ai genre is also rather insulated and might seem impenetrable to the uninitiated. Ultimately, these are simply romance shows featuring two male leads. If someone is unsure where to start, then they can hardly do any better than Given​​​​​​.
The anime focuses on four band members, two of whom are in high school while the others are college students. Even though each character is well-written and gets their time to shine, the series primarily revolves around Mafuyu and Ritsuka, the high schoolers. The former is the latest addition to the band, and while he is not that accustomed to music, he is passionate about learning.
Given treats its leads as individuals rather than couples in the making. They all come with baggage that defines the way they act both in and out of romantic situations. Mafuyu's history drives most of the first season as his backstory is gradually revealed to his bandmates and the audience. The payoff is unforgettable.
Sasaki And Miyano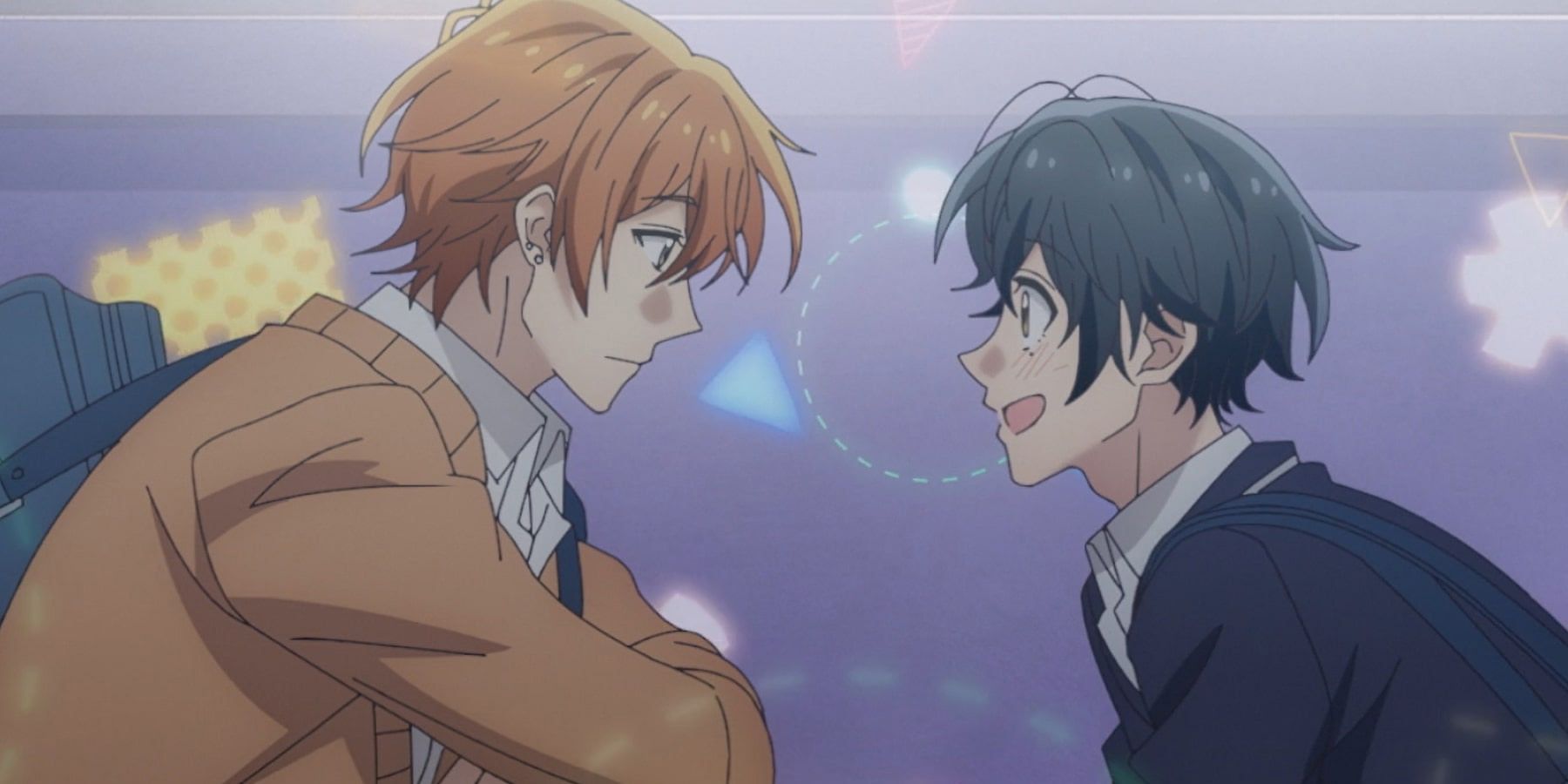 Boys love anime have a reputation for veering into scandalous and taboo territory, which can make some of the genre's most well-known stories difficult to recommend to newcomers. Sasaki and Miyano seems to exist to satisfy this blind spot, acting as an easy-going and wholesome option in a genre that does not have all that many of them.
RELATED: BL Anime To Watch If You Love Sasaki And Miyano
Miyano loves consuming shounen-ai media, but he is too embarrassed to broadcast this fact to the larger world. One day, he meets an upperclassman named Sasaki who shows an interest in boys love manga. Before long, the two high school students find themselves discussing these stories while slowly growing closer. Miyano and Sasaki are not only adorable together, but they are also positive influences in each other's lives. As their friendship is believable, their eventual romance also comes across as authentic and endearing.
Other Recommended Boys Love Anime On Crunchyroll:
Best Magical Girl Anime On Crunchyroll
Cardcaptor Sakura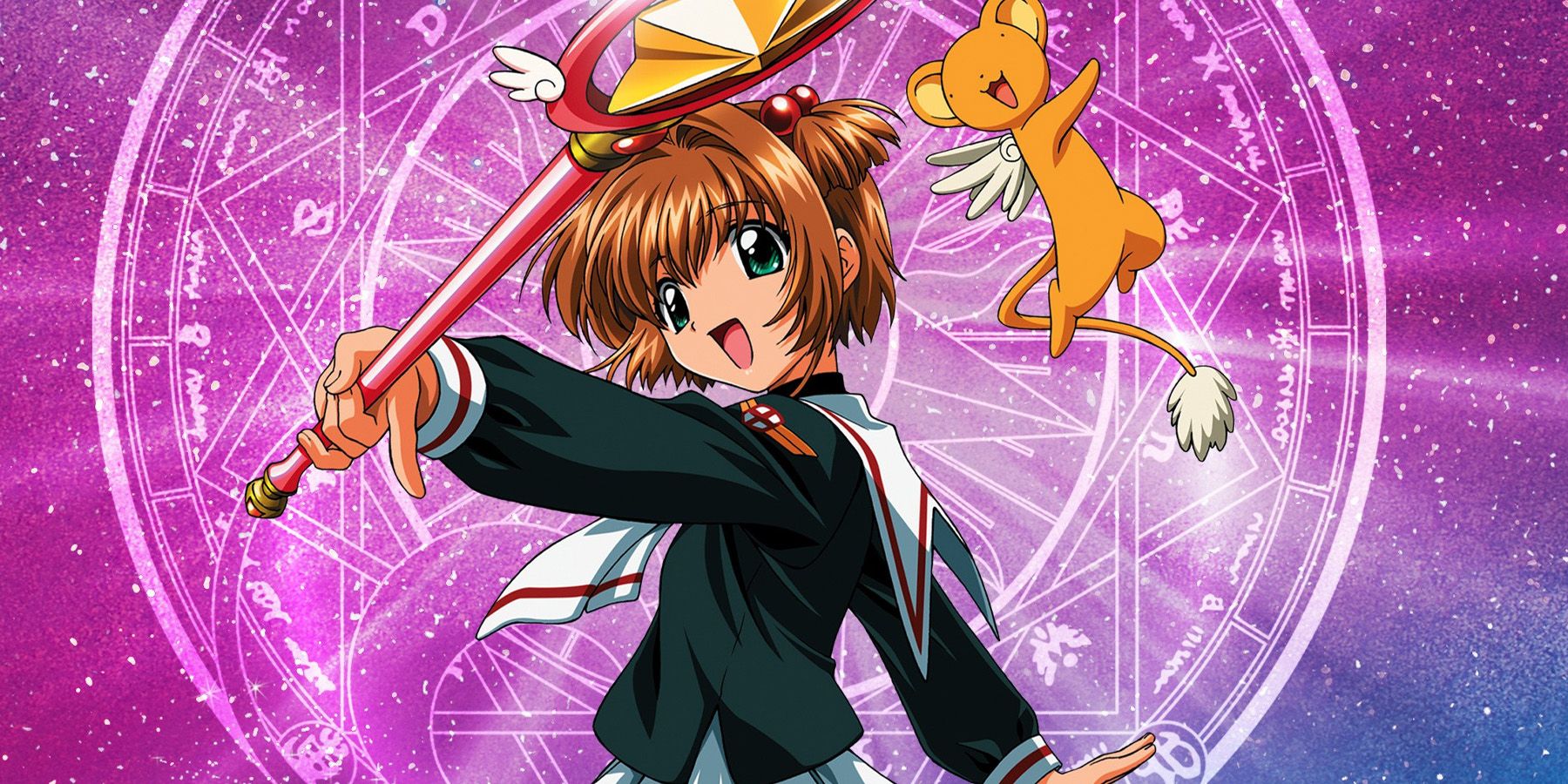 Except for Sailor Moon, Cardcaptor Sakura probably introduced most people to magical girl anime, at least for those who watched Japanese animation during the early 2000s. Developed by Madhouse, this series told the timeless tale of a young girl who suddenly finds herself with magical powers, and she goes on a quest to collect missing cards.
Cardcaptor Sakura's brilliance lies in its balance. The anime handles action, comedy, romance, and suspense well, blending them together to craft an experience that feels complete. Although generally acceptable for younger viewers, the series also has its share of dark moments that provide something a little heavier for older fans.
Revolutionary Girl Utena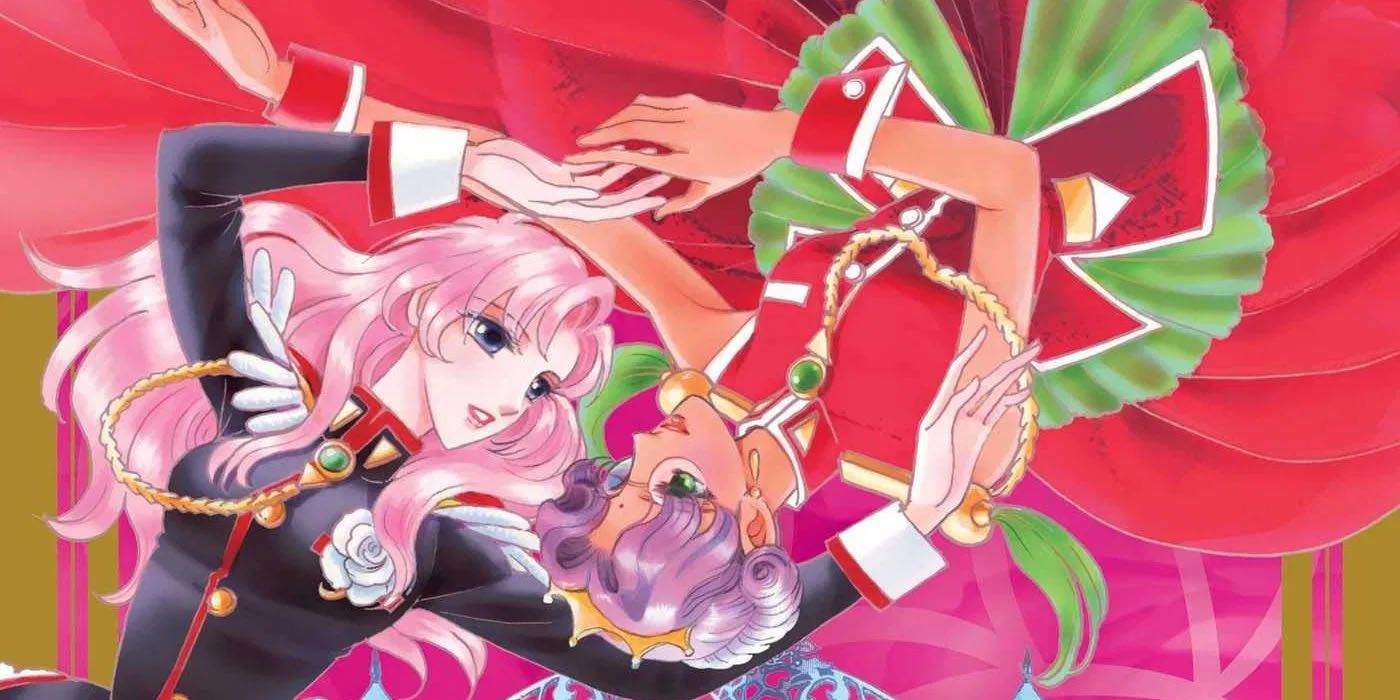 An anime classic that falls within the Magical Girl genre without being a prototypical example, Revolutionary Girl Utena is a surreal masterpiece overflowing with symbolism. Yearning to be a prince, Utena enrolls at Ootori Academy and becomes involved in a battle to determine who will basically own Anthy, the Rose Bride. As the two become close friends, Utena acts as Anthy's protector as she takes part in countless bizarre fights that do not pay too much attention to internal logic, at least when it comes to the academy's structure.
RELATED: Best Anime For Fans Of Revolutionary Girl Utena
Revolutionary Girl Utena is an anime that yearns to be analyzed and to inspire discussion. Released in 1997, the anime has aged exceptionally well, and the series should be watched before trying out 1999's Revolutionary Girl Utena: The Adolescence of Utena movie.
Puella Magi Madoka Magica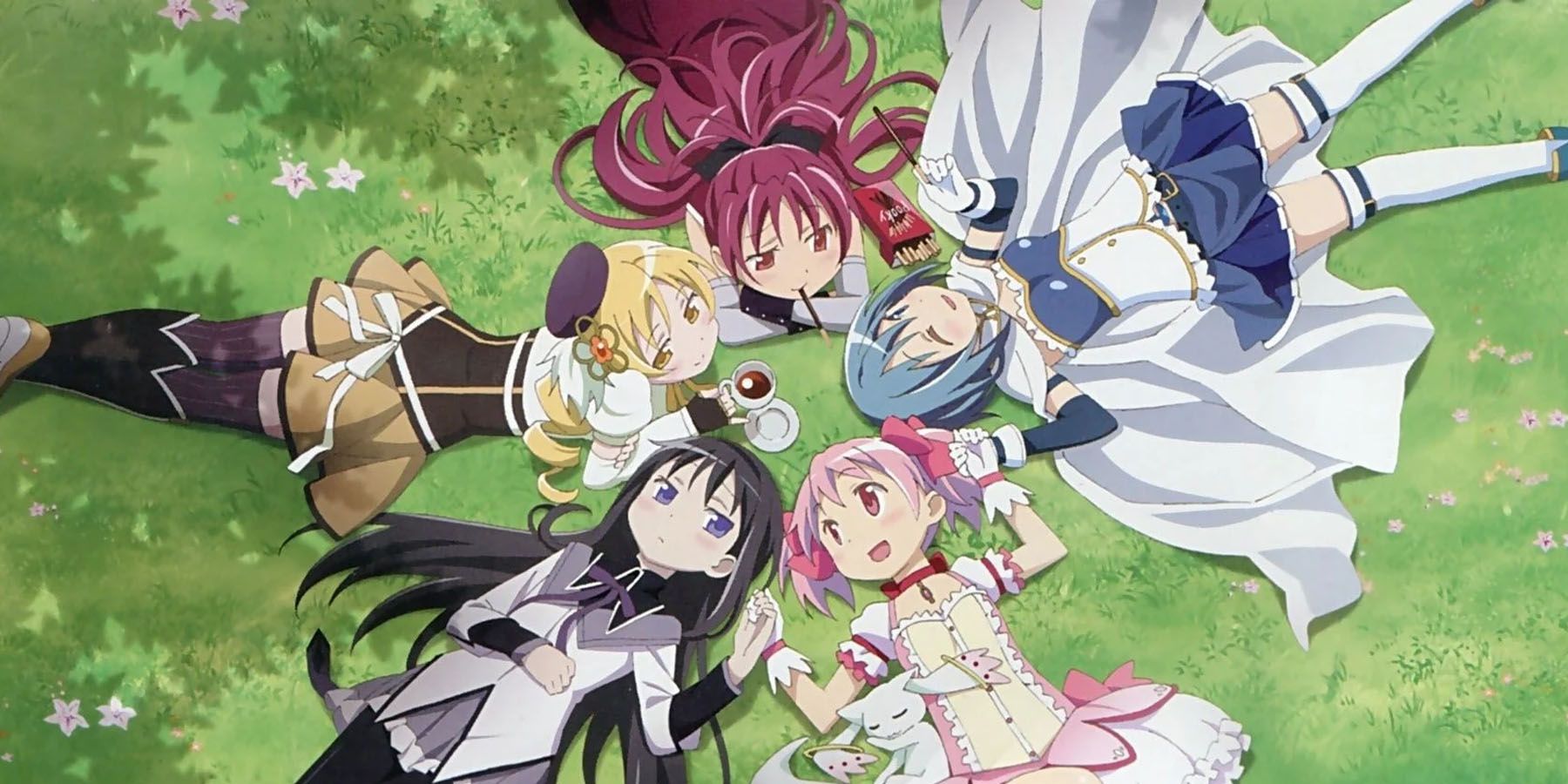 Puella Magi Madoka Magica might be the most famous magical girl anime of the last two decades, at least with hardcore fans of the medium. The show's reputation precedes it; in fact, the anime's twist has become so well-known that it can inadvertently lessen the story's impact or shock factor. Even with the twist spoiled, Puella Magi Madoka Magica still has fantastic writing, unforgettable characters, and some of the creepiest designs in anime to fall back on. Shaft's show is one of the best anime on Crunchyroll regardless of genre, so watch it eventually. That said, newcomers to magical girls looking for a traditional example of the genre should not start with Puella Magi Madoka Magica since the series is very much its own entity.
Other Recommended Magical Girl Anime On Crunchyroll:
Best Shojo Anime On Crunchyroll
This section includes shojo anime that do not fall neatly under romance (Fruits Basket), magical girl (Revolutionary Girl Utena), or any other genre.
Yona Of The Dawn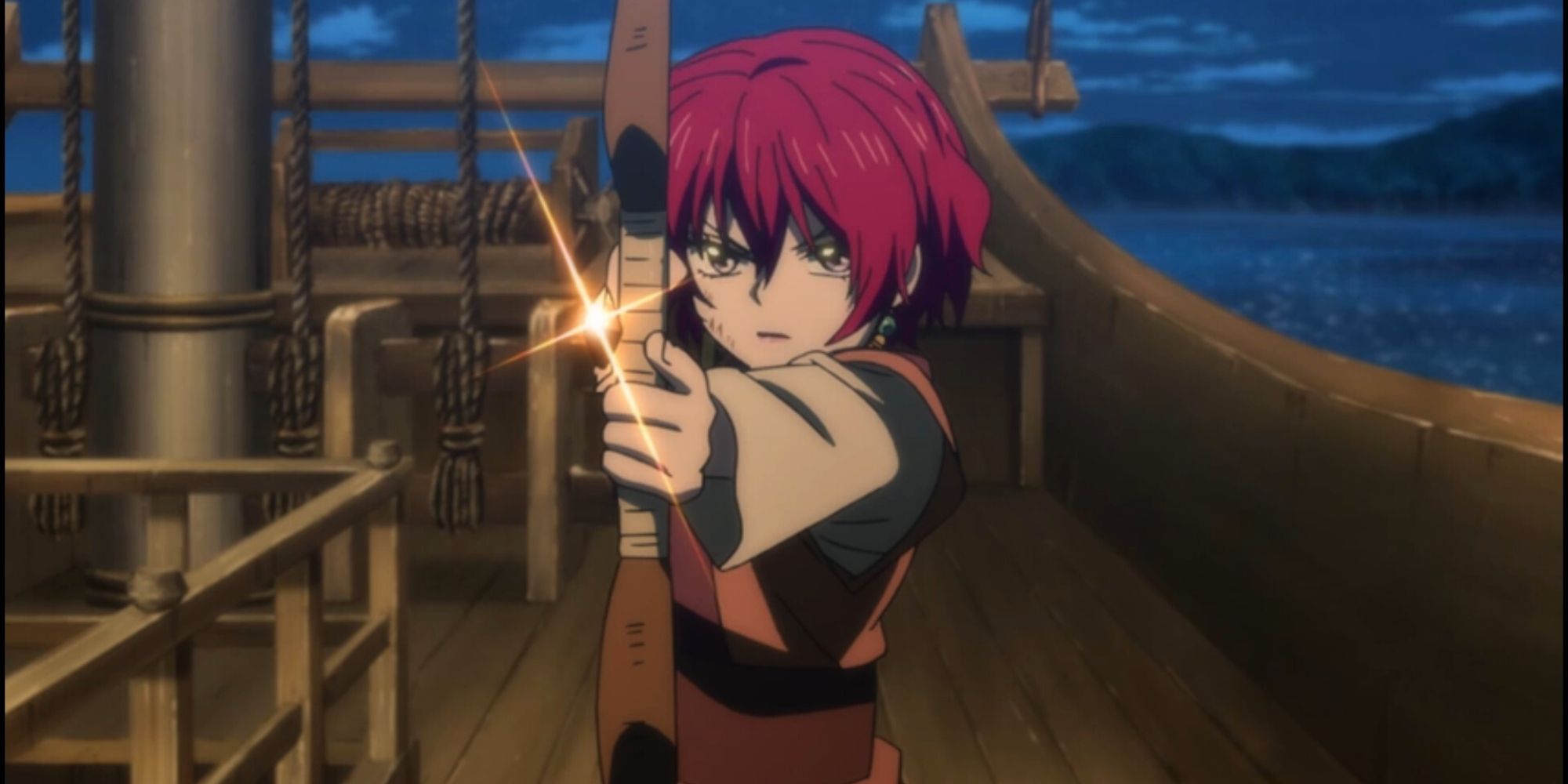 Based on Mizuho Kusanagi's highly regarded manga, Yona of the Dawn is a fantasy epic that chronicles the titular character's growth from a naive princess to a hardened warrior. The anime only lasted for one season, and while the episodes are of impeccable quality, they merely scratch the surface of the source material. Consequently, Pierrot's anime should be regarded as a teaser for the manga, which is definitely worth seeking out.
Leading a peaceful and fantastical life in the kingdom of Kouka's palace, Yona has little to no experience with the world at large. One day, the king is killed by Su-won, Yona's childhood friend, and the protagonist finds herself on the run with only her bodyguard as a companion. Stripped of everything she has ever known or owned, the princess goes on a punishing journey of self-discovery as she seeks to take down Su-won.
Natsume's Book of Friends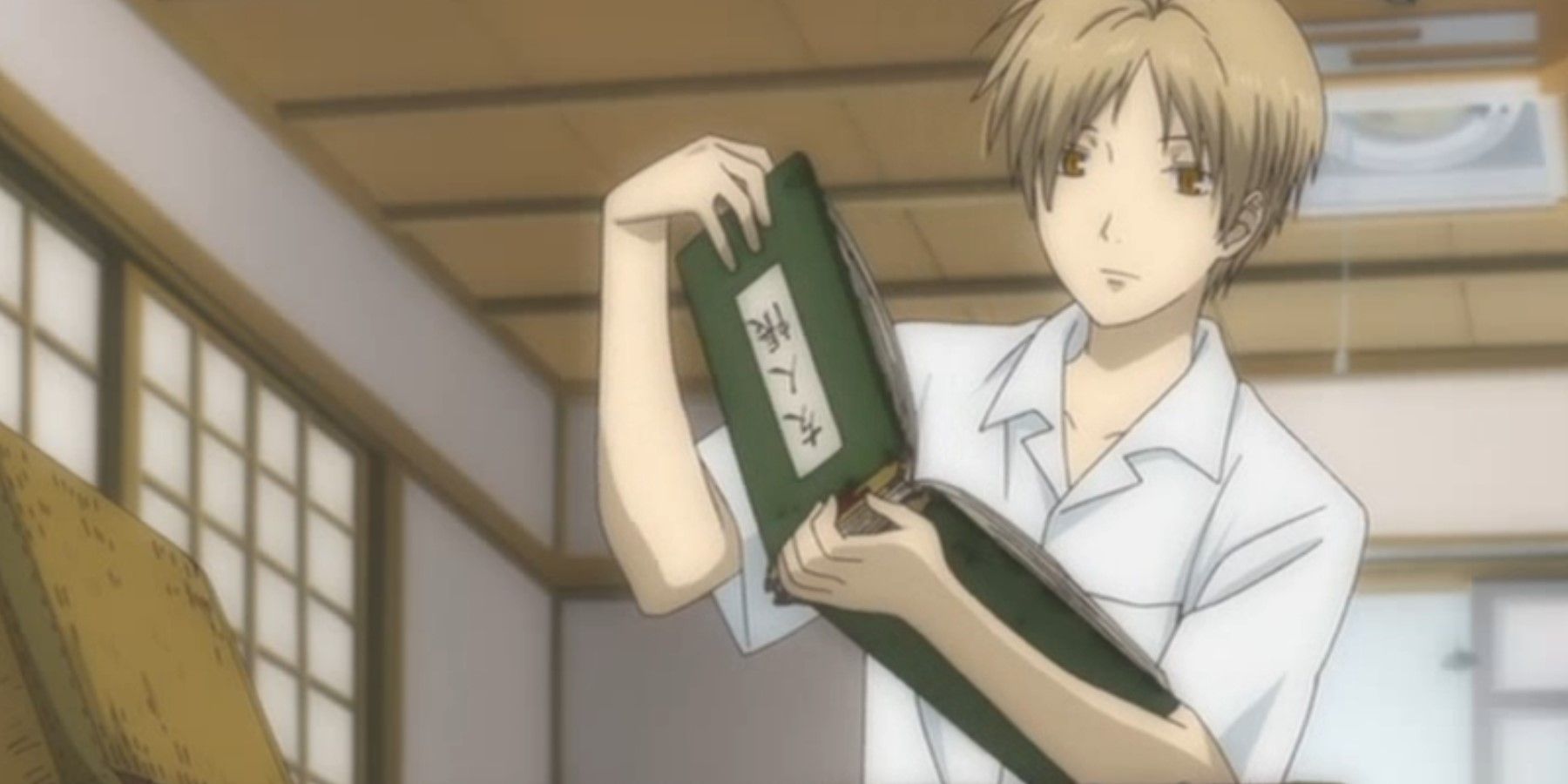 Ever since he was a child, Takashi Natsume has been able to see yokai, an ability he inherited from his grandmother. The teenager also received something else from his grandparent: a book containing the names of different spirits. This gives the notepad's owner authority over these yokai, making Natsume a target for all sorts of entities.
This premise seems made for a supernatural action series, but Natsume's Book of Friends takes things in another direction. Rather than vicious battles, Natsume only wants to return each name, freeing the yokai from the book's control. This journey is a generally peaceful one.
Kaleido Star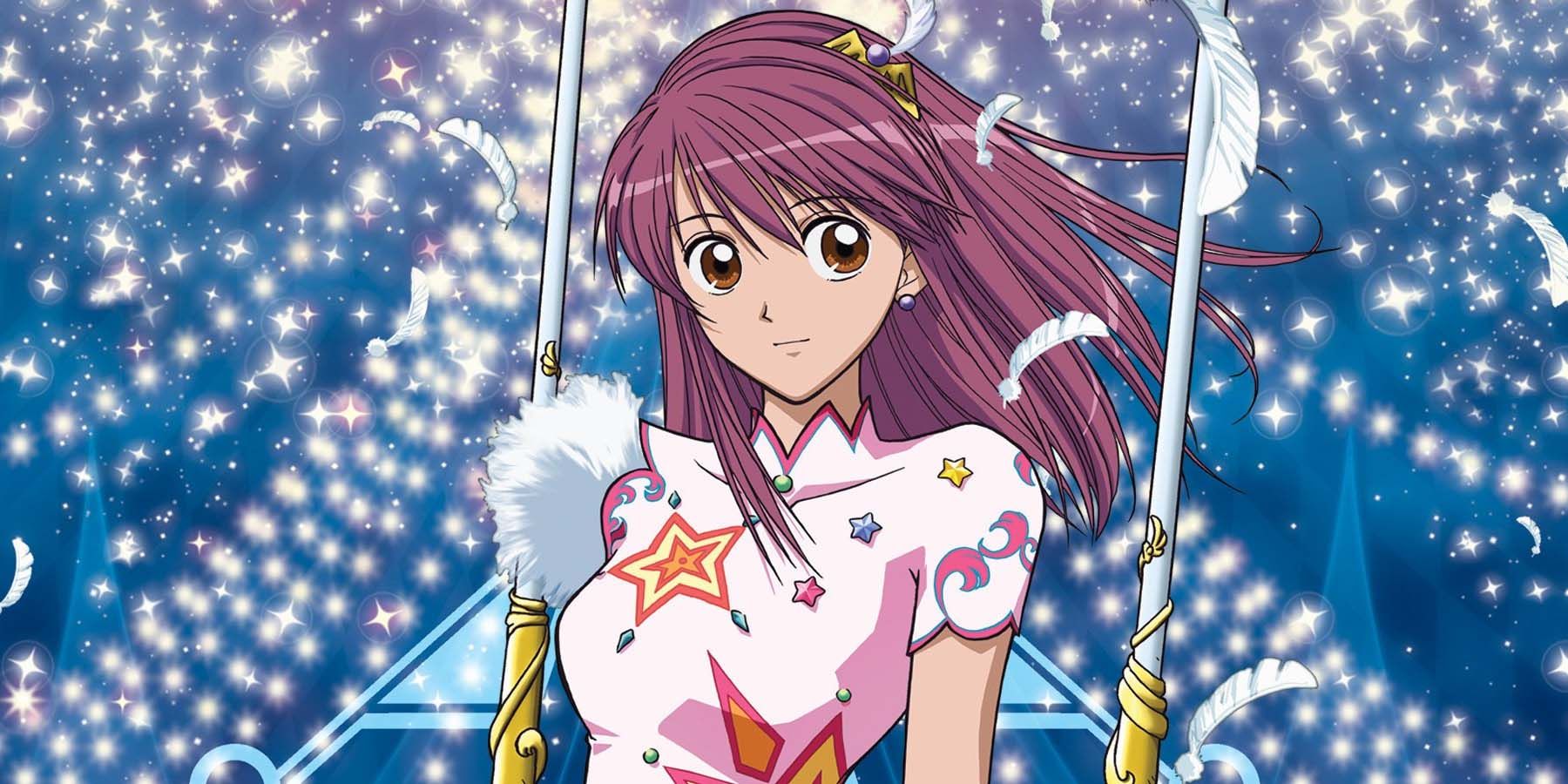 | | |
| --- | --- |
| Japanese Title | Kaleido Star |
| Studios | Gonzo |
| Number of Episodes | 52 |
Directed by Junichi Sato, whose resume includes Sailor Moon, Kaleido Star is a strange anime that walks the line between realism and fantasy. Sora, a Japanese acrobat, dreams of performing as part of Kaleido Star, a circus renowned for excellence. Accepted for an audition, Sora eventually joins the troupe, although the process proves to be anything but straightforward.
Focusing on the cutthroat entertainment business, Kaleido Star does not sugarcoat how difficult the life of a performer is. Sora can be a touch too innocent at first, but she does undergo a fair amount of development as the show progresses. Unsurprisingly, Gonzo's anime has great animation and art, particularly during the story's stage performance. Season 2 tends to be divisive when compared to its predecessor, but it is still very watchable.
Other Recommended Shojo Anime On Crunchyroll:
Best Idol Anime On Crunchyroll
Zombie Land Saga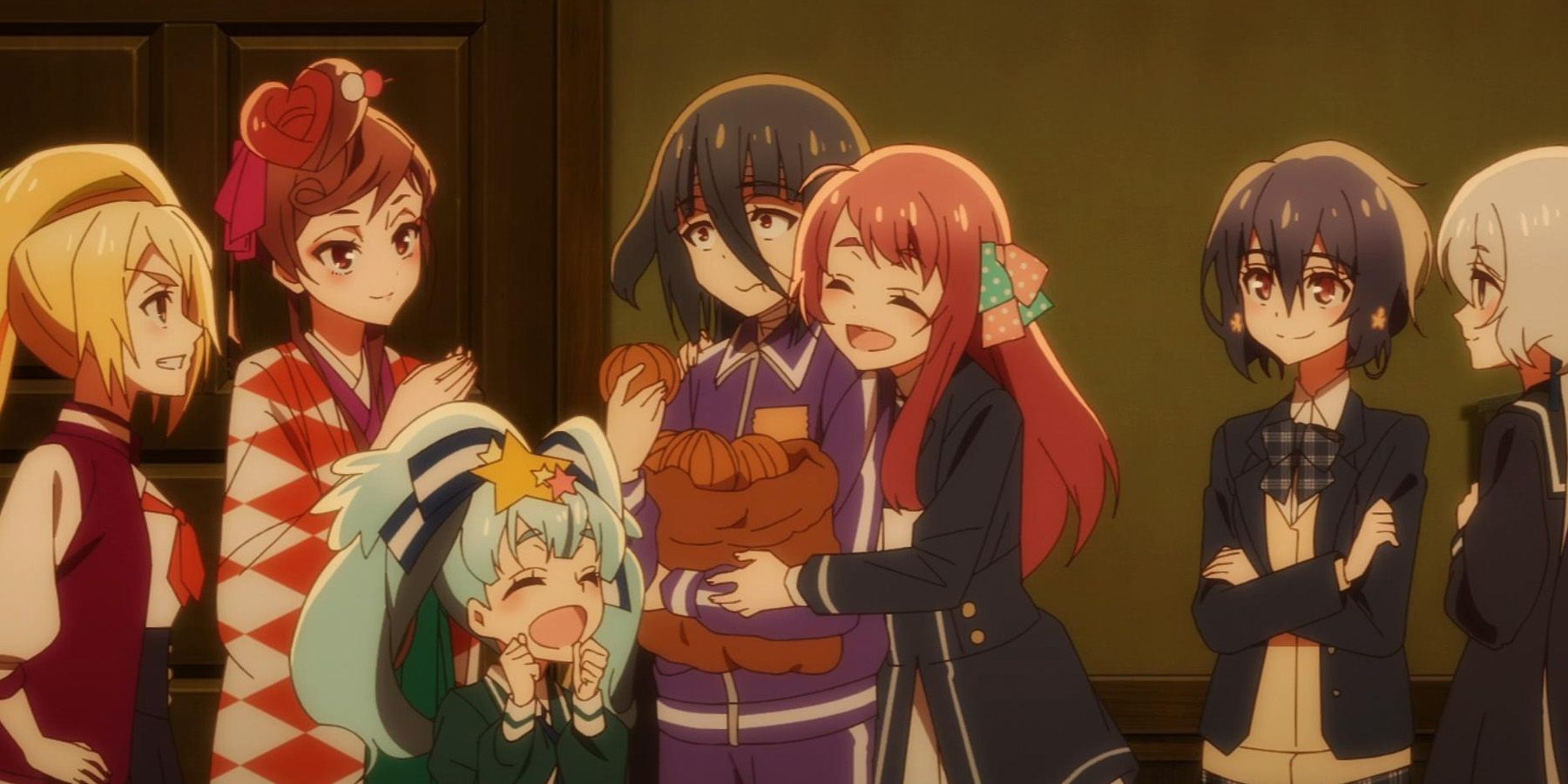 Some of the most popular anime of the last decade fall within the idol genre, but these shows are the definition of an acquired taste. Similar to mecha shows, idol anime can be a tough sell to people who are not immediately enamored with the idea, particularly franchises like The Idolmaster and IDOLiSH7.
This is where Zombie Land Saga comes in. Do not be misled by the undead protagonists, this is an idol anime through and through, and a great one at that. Kotaro Tatsumi revives a bunch of girls to form Franchouchou, an idol group set within the Saga Prefecture. While most of the girls have no experience performing in front of a crowd and come from wildly different backgrounds, they slowly come together to take the industry by storm.
First and foremost, Zombie Land Saga is a comedy, albeit one that is character-driven rather than split into sketches. All the girls are given an opportunity to shine, and while Kotaro is mostly a comedic foil, he also has some depth to him. Both seasons are strong, but the sequel is a touch superior as it features better animation during Franchouchou's performances.
Love Live! Nijigasaki High School Idol Club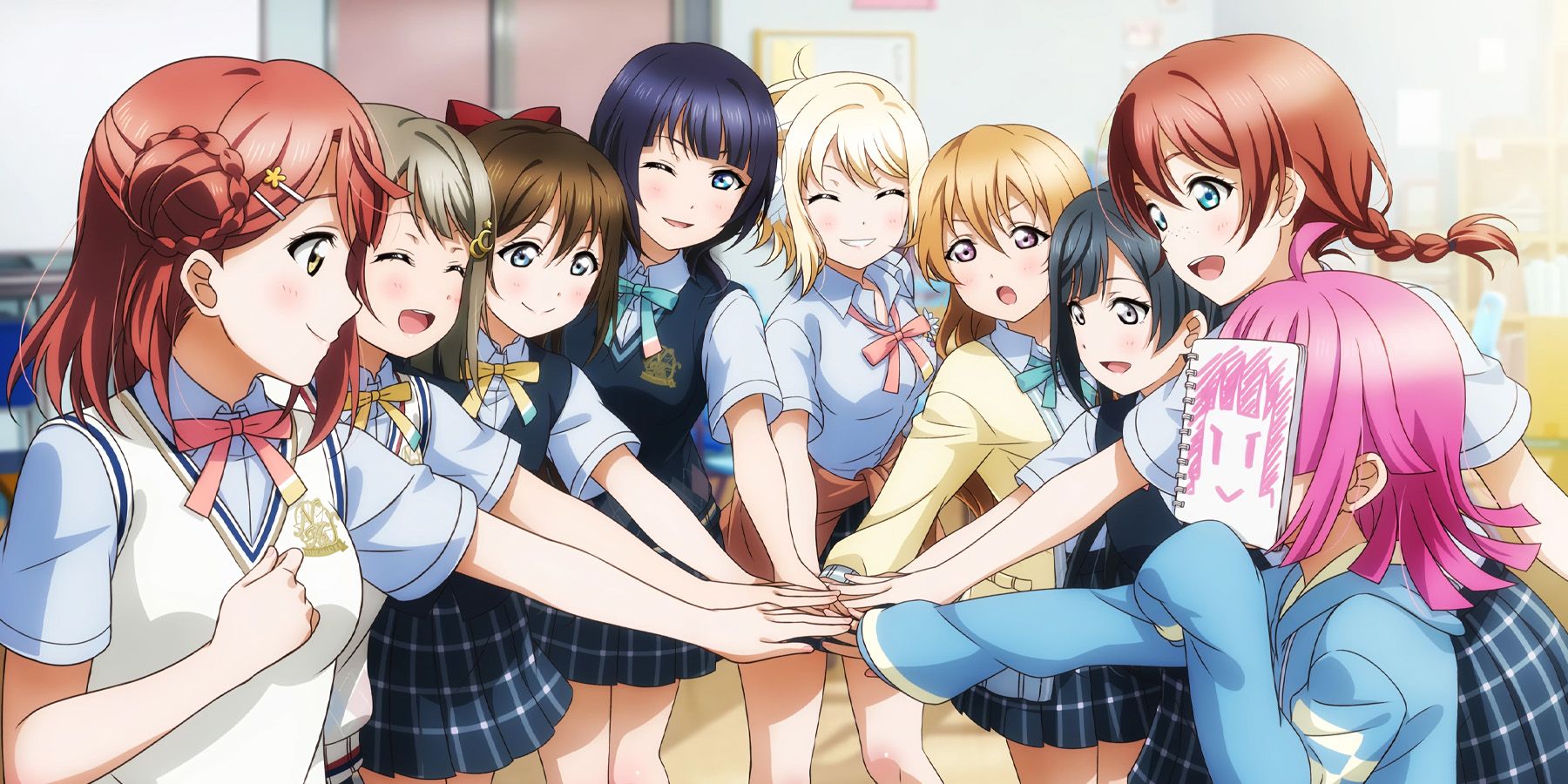 It really cannot be understated how massive of a franchise Love Live! is. The license has produced five incarnations, starting with 2010's School Idol Project and culminating with Summer 2022's Superstar!!. Just to be clear, there is no indication that the franchise will be slowing down anytime soon. Across its lifespan, Love Live! has produced games, movies, and anime shows, the latter of which has some representation on Crunchyroll.
RELATED: Greatest Idol Anime Of All Time
In terms of quality, Love Live! is quite consistent, which each era producing its sharing of lovable characters and memorable tunes. The most recent anime, Superstar!!, is shaping up to be the franchise's best season; however, in terms of completed stories, Nijigasaki High School Idol Club is a great place to start.
Other Recommended Idol Anime On Crunchyroll:
Best Harem Anime On Crunchyroll
The Quintessential Quintuplets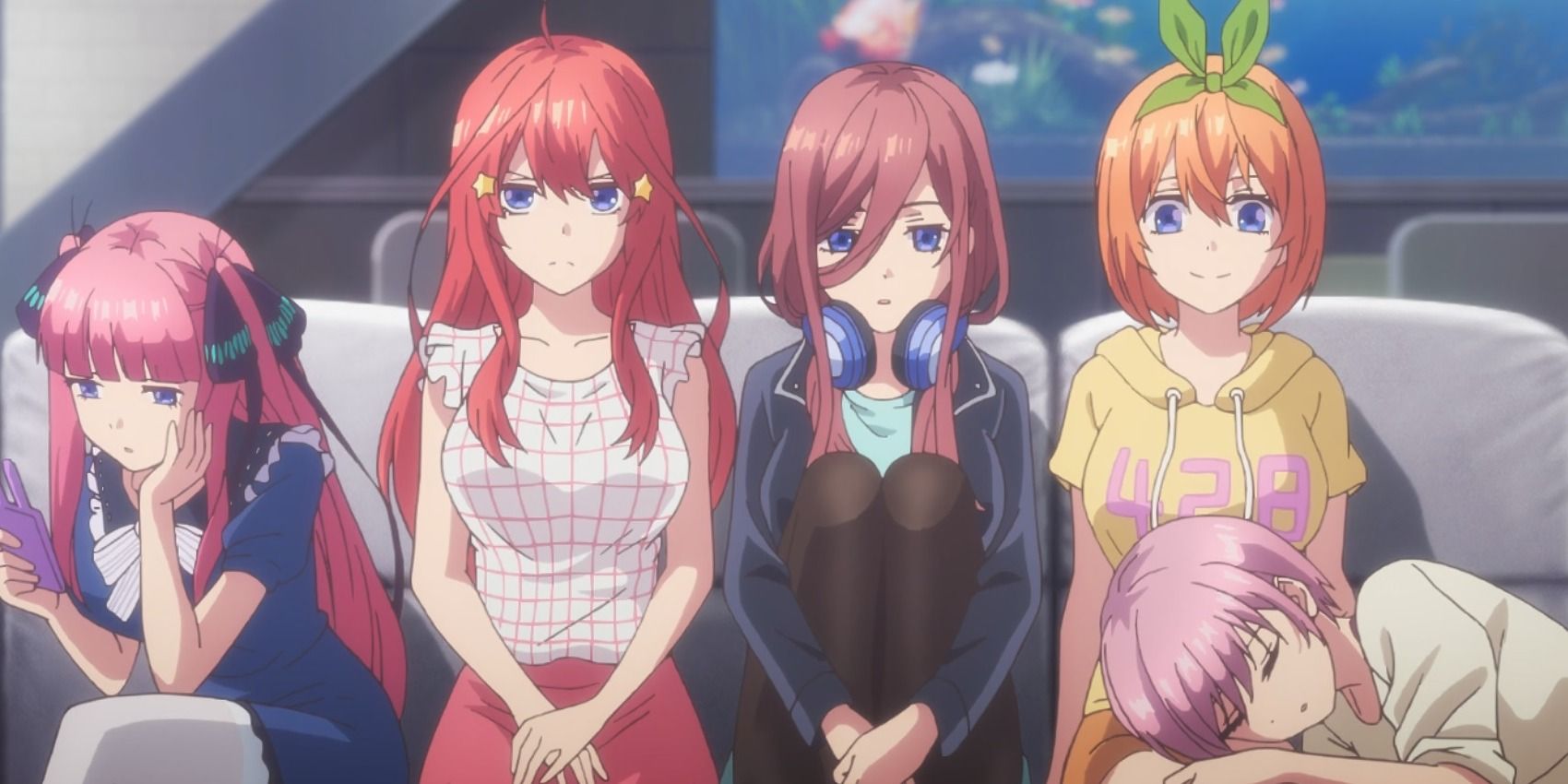 If someone is craving a traditional harem anime, The Quintessential Quintuplets is arguably among the genre's greatest representatives. The story sets up its key participants straight away as Futaro Uesugi accepts a job tutoring five sisters who are all struggling at school. Rather than instantly throwing out potential romances, The Quintessential Quintuplets devotes most of its early episodes to establishing each character as an individual with distinct dreams, quirks, and insecurities. Consequently, the story becomes about six people growing and maturing together rather than just a standard "who will win" dynamic, although the latter is still part of the experience.
The Quintessential Quintuplets is funny, heartwarming, and occasionally quite sad. While they do not get equal time with Futaro Uesugi, the sisters' relationships with each other are also central to the narrative, allowing for each of them to shine regardless of whether they are genuine love interests.
The Fruit Of Grisaia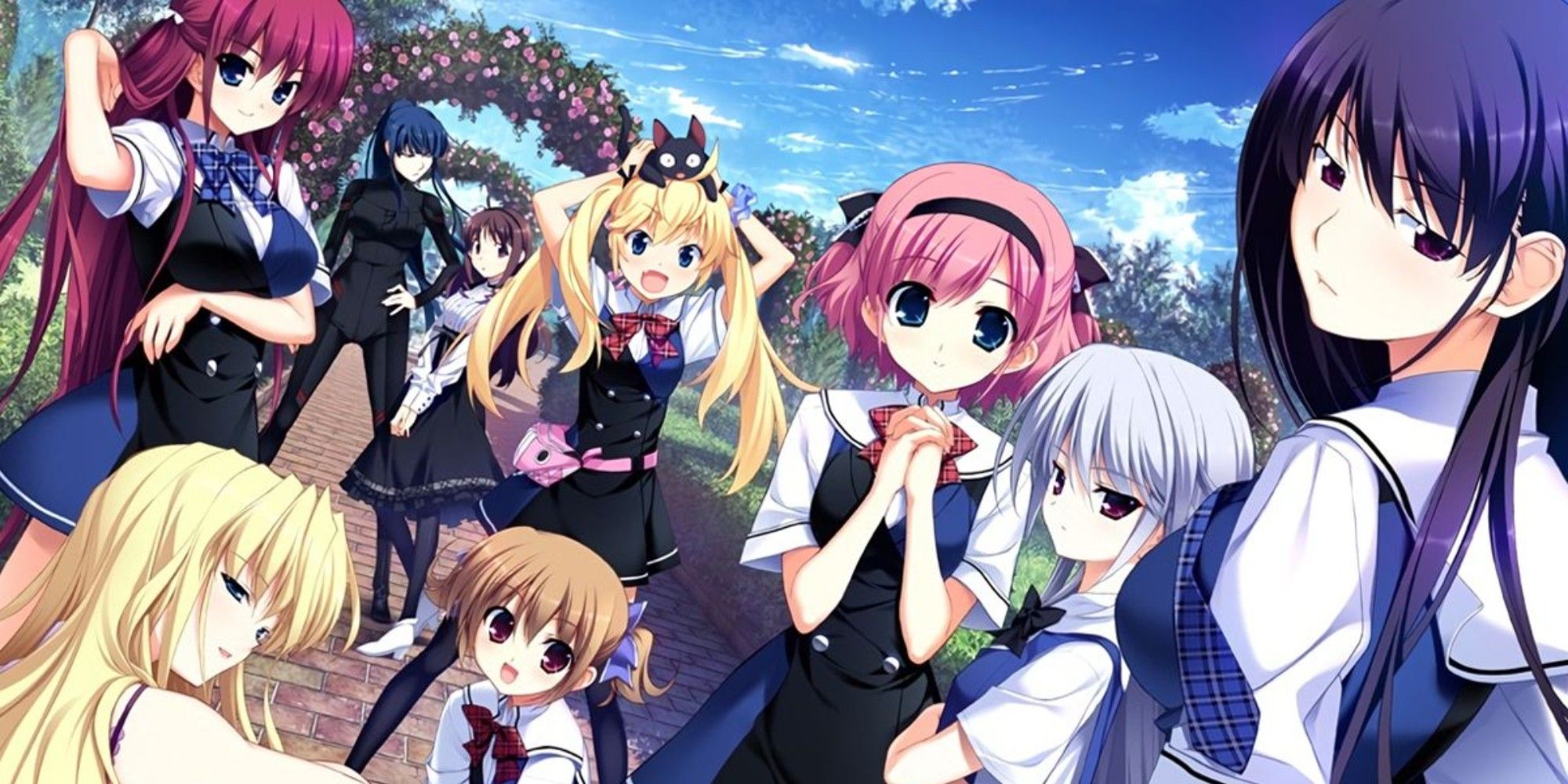 Looking for a harem anime with a twist? Well, The Fruit of Grisaia is way darker than the genre's typical offerings, while still retaining a lot of elements that should appeal to fans. Yuji Kazami joins a school that only has a few girls in attendance, and they are not allowed to leave of their own accord. Stoic and direct, Yuji's background is anything but typical, and it is explored in great detail in The Labyrinth of Grisaia, a sequel short movie that is also available on Crunchyroll.
RELATED: Best Harem Anime Of All Time
The Fruit of Grisaia deals with mature themes and explores the psyches of all the main characters, be they Yuji or the girls. The anime handles these challenging storylines well, earning its shocking moments through strong characterization and unapologetic writing. For a harem anime, romance does not play that big of a part in the story, although it is still present.
Kiss Him, Not Me!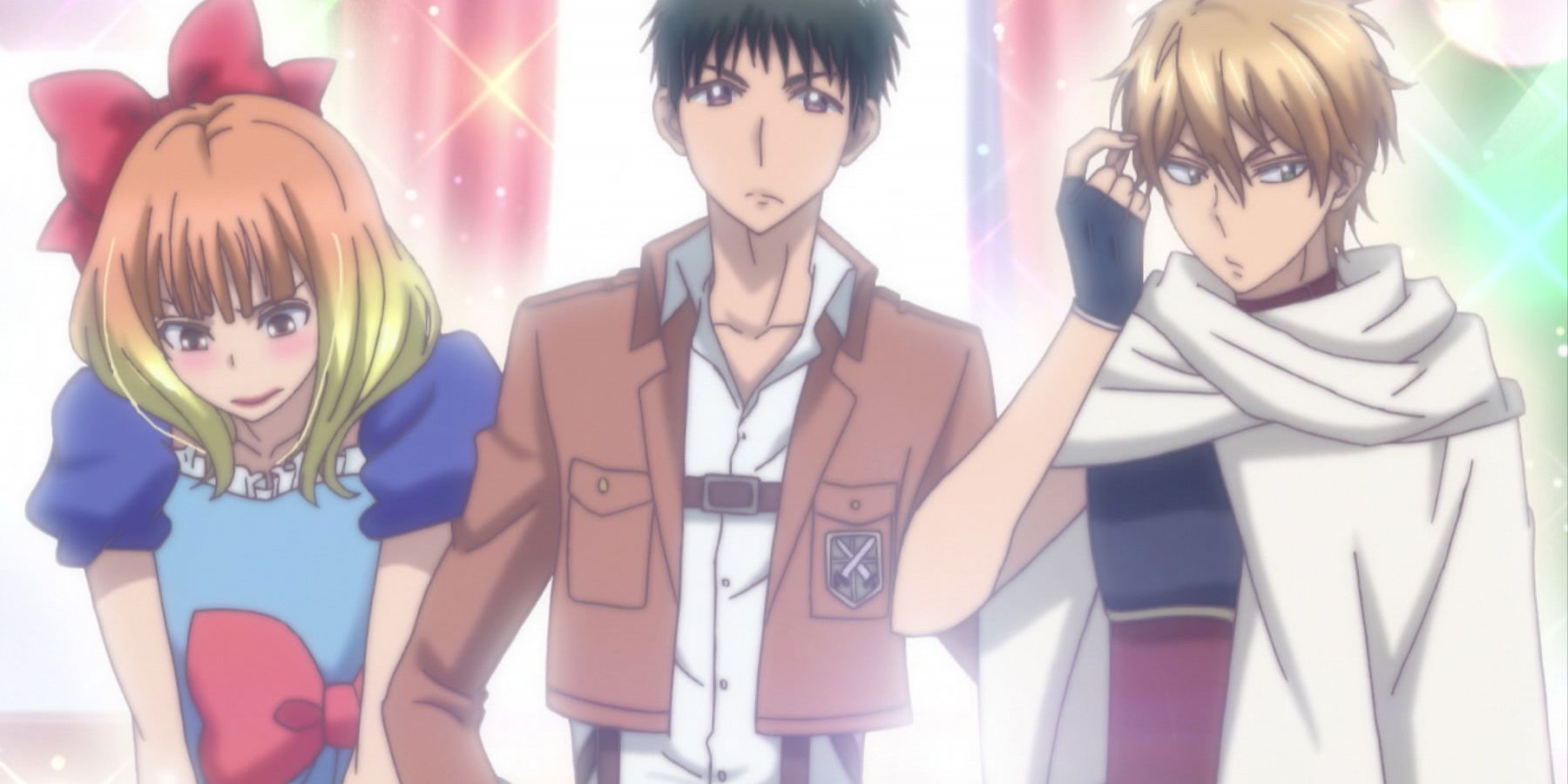 Harems are not just for men. Kiss Him, Not Me! follows Kae Serinuma, a girl with an appreciation for Boy's Love stories. Following a makeover, she begins to attract the attention of her male classmates, although she would rather push the guys together rather than pursue them as partners.
Kiss Him, Not Me! does not take itself seriously at all, and that is its most endearing trait. The anime devotes its energy to establishing the personalities of Kae's partners, and the series largely sticks to a slice of life format. As an introduction to the manga or the reverse harem anime genre in general, this show does its job.
Other Recommended Harem Anime On Crunchyroll:
Best "Other" Anime On Crunchyroll: Monogatari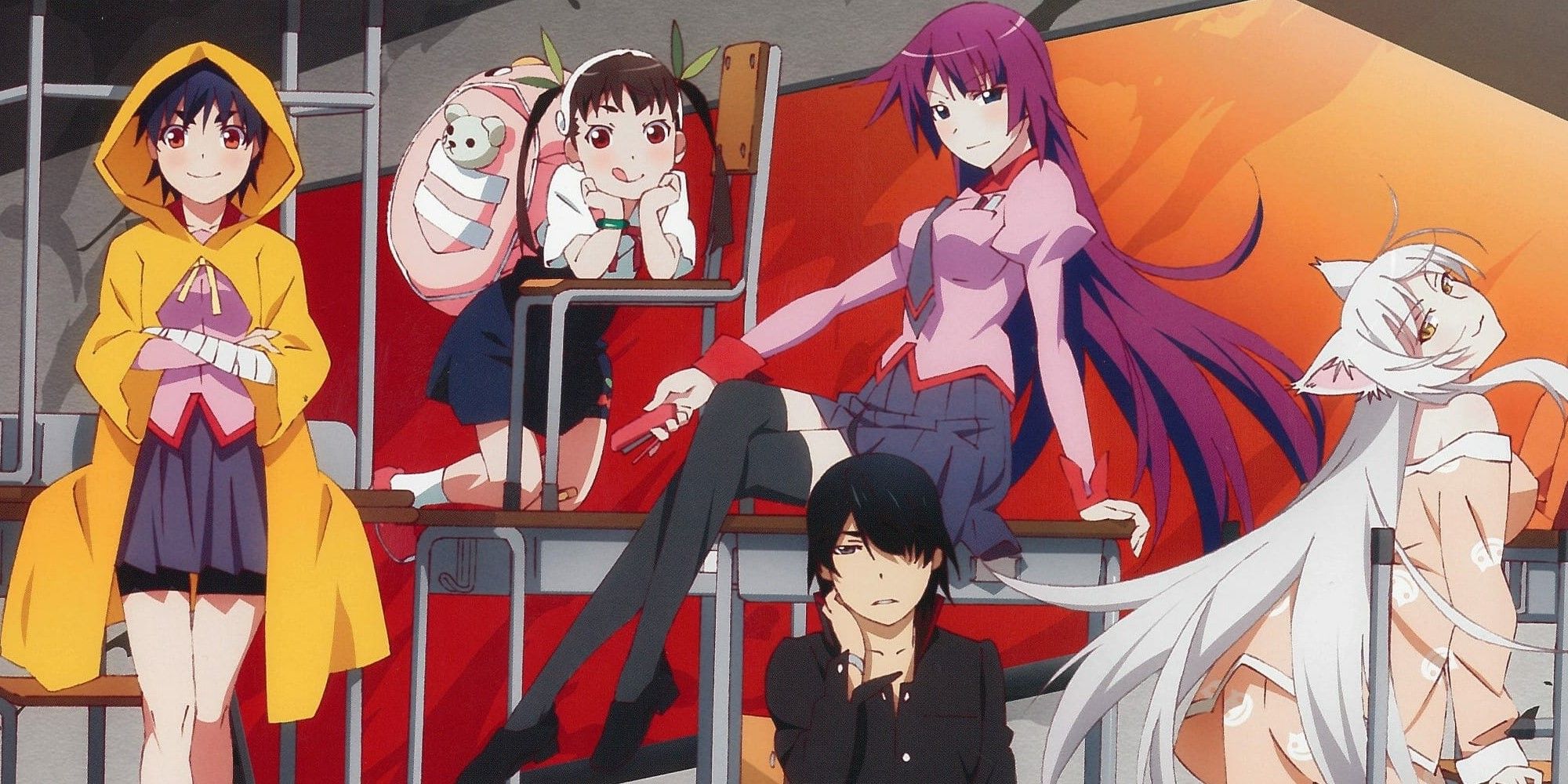 Some anime defy classification or incorporate so many genres that they become something utterly unique. These shows are often acquired tastes, but they can also be quite spectacular.
Even though it takes elements from the psychological, slice of life, and supernatural genres, Monogatari very much fits into its own bracket of anime. The only other show that is remotely comparable is Rascal Does Not Dream Of Bunny Girl Senpai, and even then, any similarities are surface-level. An adaptation of Nisio Isin's light novels, Monogatari is essentially about a guy who becomes sort of a vampire and winds up helping a group of girls suffering from supernatural afflictions.
RELATED: A Beginner's Guide To The Monogatari Series
That might be the show's premise, but Monogatari is far more than just that. It is a dialogue-heavy drama packed with philosophical musings and the capacity to occasionally dish out a bloody battle. At the same time, this is an anime that is willing to craft extensive scenes revolving entirely around adolescent humor, frequently concluding on a juvenile punchline that seems to work in spite of itself. Monogatari is a visual masterpiece and a contender for Shaft's greatest work, even if this same art style can be off-putting and overwhelming.
Basically, Monogatari is worth trying simply because there is nothing else like it.
MORE: Best Anime Series On HIDIVE