There is no doubt about one thing: American consumers love SUVs just as much as Europeans love station wagons. With that in mind, it's no wonder that the fully electric SUV market is growing by the day. Things have evolved a lot since 2015 when Elon Musk launched the world's first modern all-electric SUV, the Tesla Model X, and now we can talk about electric SUVs in every segment of the market. From compact to mid-sized, full-sized, and even luxury, there is at least one choice for everybody.
But, when we are talking about such an abundance of full-electric SUVs, which one is the best to get? Well, in all honesty, it all depends on your budget, your driving needs, and what you expect from your future EV. Here's a list of what we think to be the best electric SUVs currently on sale, starting with the affordable Volkswagen ID.4 and going all the way up to the EQS SUV – which may be one of your best options in terms of luxury SUVs.
Related: The Best Electric Cars, Ranked
1
Kia EV6: The Newest And Fairly Affordable Electric SUV
Front and side view of a 2023 Kia EV6 GT
Even if it's only been on sale for just one year, the Kia EV6 is one of the top entrants to the growing EV crossover segment. For the 2023 model year, the EV6 is offered in three trim levels: Wind, GT-Line, and GT with prices ranging from $48,700 to $61,600. Depending on the trim level the output ranges from 225 horses and 258 pound-feet of torque to 576 horsepower and 545 pound-feet of torque. Range varies between 206 and 310 miles, and the EV6 also benefits from quick charging capabilities – it needs only 18 minutes to recharge from 10 to 80 percent. The EV6 GT is also a very fast crossover, as it needs only 3.4 seconds to hit 60 mph. But, the EV6 does not only deliver great performance figures and good range, it has also been equipped for the best driving experience. The cabin offers high-quality materials and lots of cool tech features. There are two, curved, 12.3-inch-wide screens that can be customized according to the driver's personal wishes and preferences. Safety is also very important, and the EV6 offers a comprehensive list of 20 standard active Advanced Driver Assistance Systems – something that cements its place on this list.
2
Hyundai Ioniq 5: Cheaper Than The Kia EV6, But Just As Good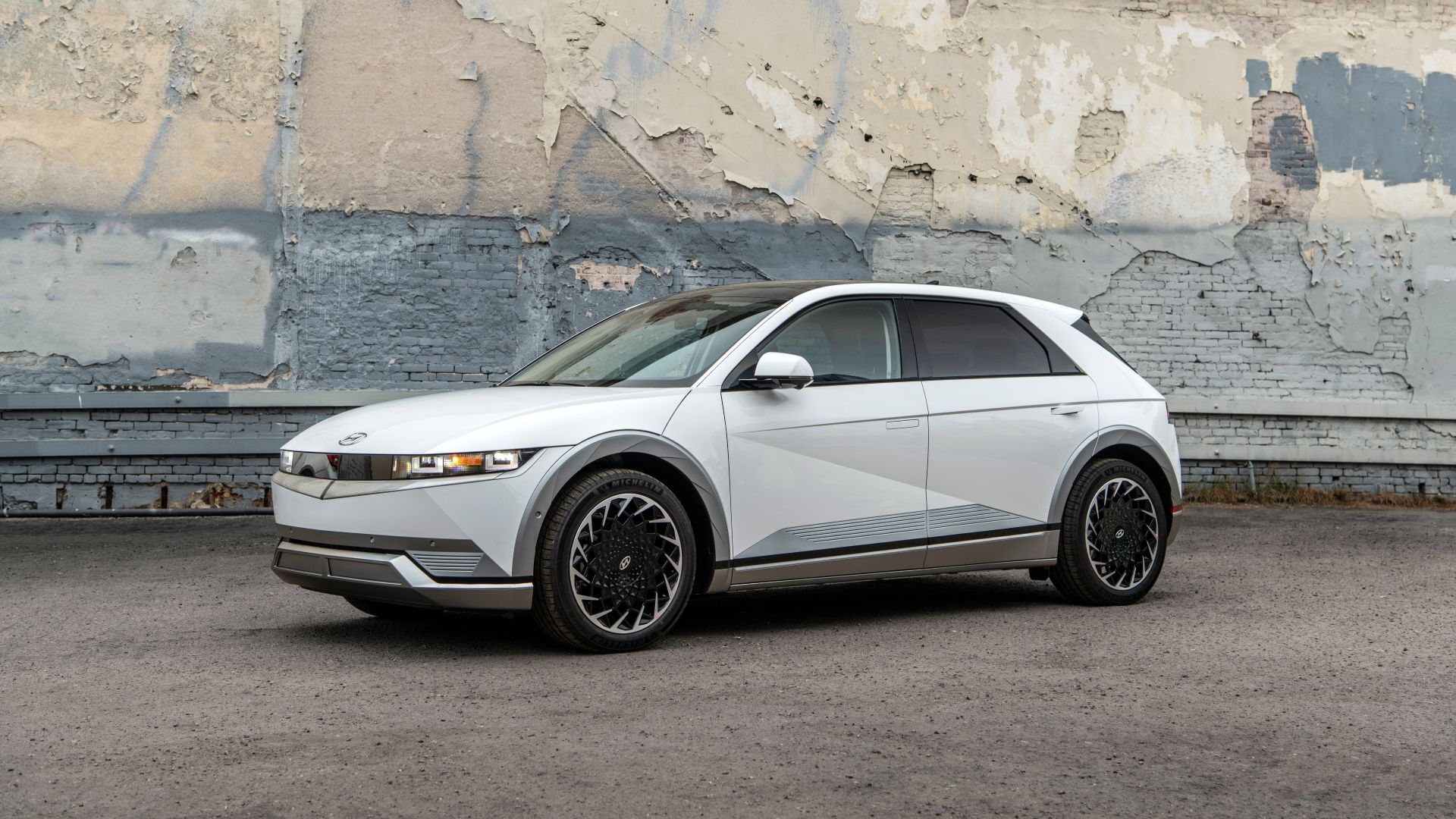 Front three-quarters shot of a parked Hyundai Ioniq 5
The Kia EV6 and the Hyundai Ioniq 5 go hand in hand: they are built on the same platform, share the same electric powertrain, and have the same technological features. Still, there are enough features to differentiate the two and to make both of them equally impressive. The Ioniq 5 does not offer the powerful GT trim, but it is still one of the best all-electric SUVs you can get in 2023. Customers can choose between three trims, with power ranging from 225 to 320 horsepower, and prices going from $41,450 to $56,500. The range is also anywhere between 220 and 303 miles, but you can recharge from 10 to 80 percent in just 18 minutes. The compact SUV sports one of the most interesting designs we have seen lately and has a very comfortable ride. The cabin is very practical, with enough room in the back even for taller passengers, and with up to 59.3 cubic feet of storage space. One of the best features of the Ioniq 5 is the "Universal Island" center console that moves back and forth 5.5 inches which allows both driver and the rear passengers to exit both ways.
Related: Top 10 EVs With The Longest Range In 2023
3
BMW iX: Designed Specifically for Beamer Fanboys That Want To Go Electric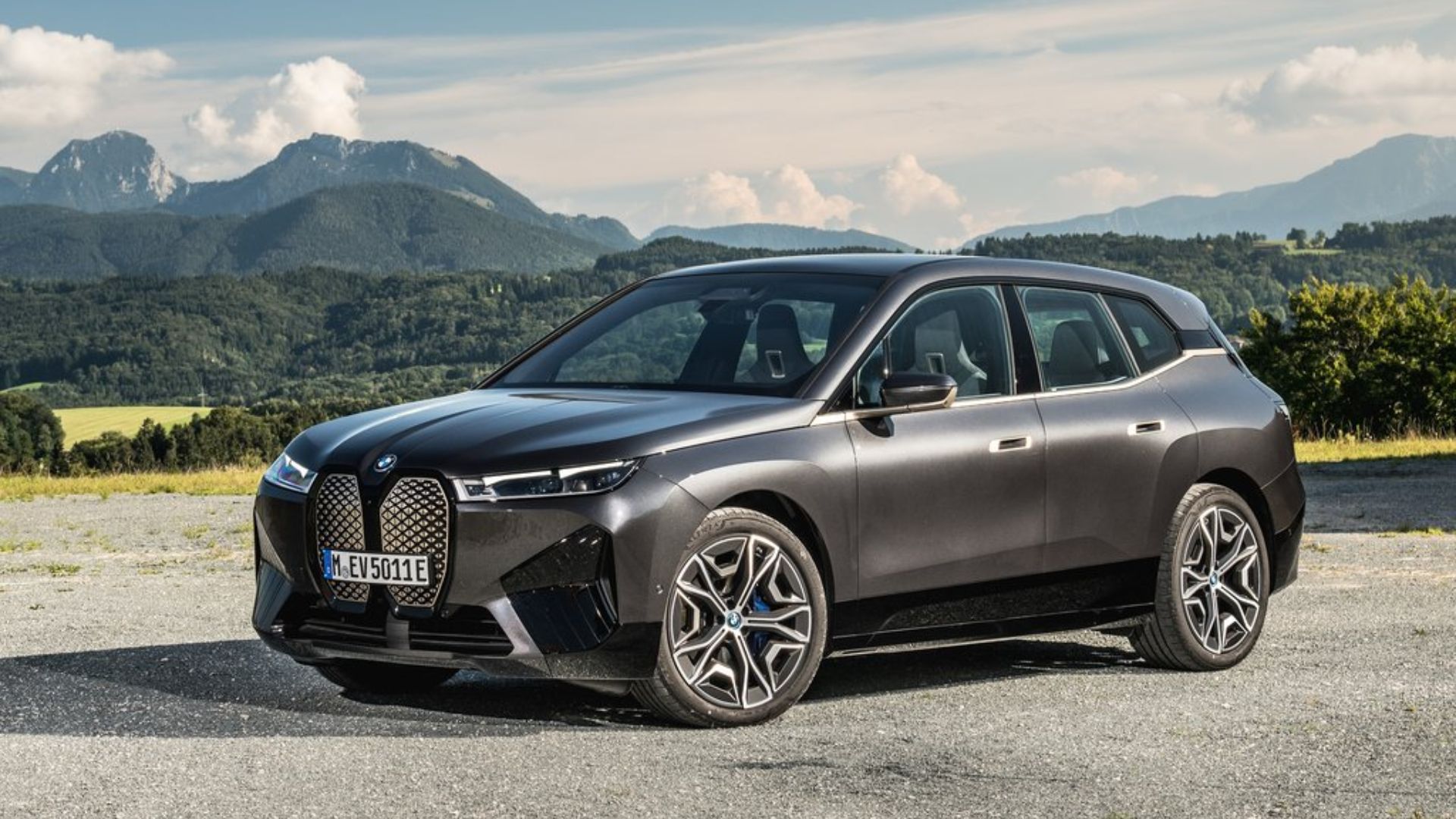 Side Profile Of BMW iX
If you are searching for an all-electric, luxury Sports Utility Vehicle that falls into the midsized category, then the BMW iX is one of the best choices you have. With two trims to choose from, iX xDrive50 and iX M60, power ranging from 516 to 610 horsepower, and a range up to 324 miles, the iX really deserves a second look. The model is priced from $87,100 to $111,500 and delivers impressive performance figures: the M60 can sprint from 0 to 60 mph in just 3.6 seconds! But it's not only the performance figures that make the iX one of the best all-electric SUV money can buy. Its cabin offers that unrivaled luxury you would expect from a BMW, with high-quality materials, curved screens, slim yet comfortable seats, and lots of tech features. The list of standard features is long and includes wireless Apple CarPlay and wired Android Auto, heated front seats and steering wheel, a heat pump, a panoramic glass roof, adaptive air suspension, four-wheel steering, and a parking assistant system. The best feature of the iX is that cool signature kidney grille that features self-healing capabilities.
4
Tesla Model Y: The Best-Selling Electric Crossover In The World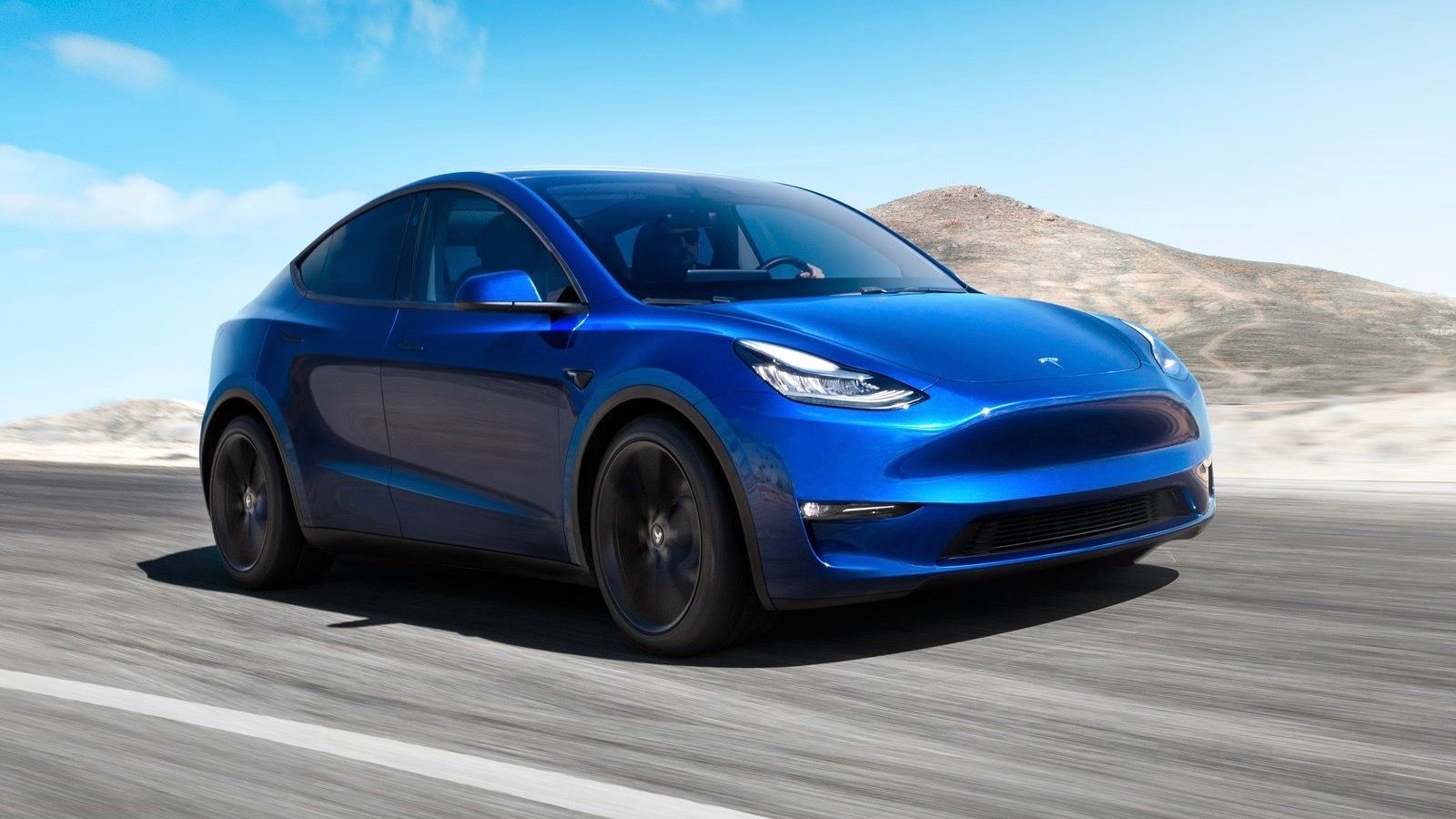 Front 3/4 view of blue Tesla Model Y driving. 
With 252,000 units sold in 2022, the Tesla Model Y is currently the best-sold EV on the market. There are two trims to choose from: Long Range, priced at $54,990, and Performance at $58,990, with power ranging from 384 horsepower and 376 pound-feet of torque to 456 horsepower and 479 pound-feet of torque. The Model Y delivers one of the best ranges in its segment: 303 to 330 miles (122 MPGe in the best configuration), and the Performance model needs only 3.5 seconds to go from 0 to 60 mph. It is no wonder why the Model Y is currently one of the best electric SUVs of 2023. The compact crossover also offers impressive driving dynamics thanks to its AWD system that offers good stability on slick roads and bad weather conditions. The interior may not look as suitable for a $50,000+ car, but it does offer a suite of advanced tech features, including the 15-inch touchscreen display, the Enhanced Autopilot system, and much more. The Model Y is not only the all-electric SUV with the best mileage on the market, but also one of the safest SUVs the money can buy.
Related: The Fastest Electric Sedans, Ranked
5
Genesis GV60: Proof That Luxury Electric SUVs Don't Have To Break The Bank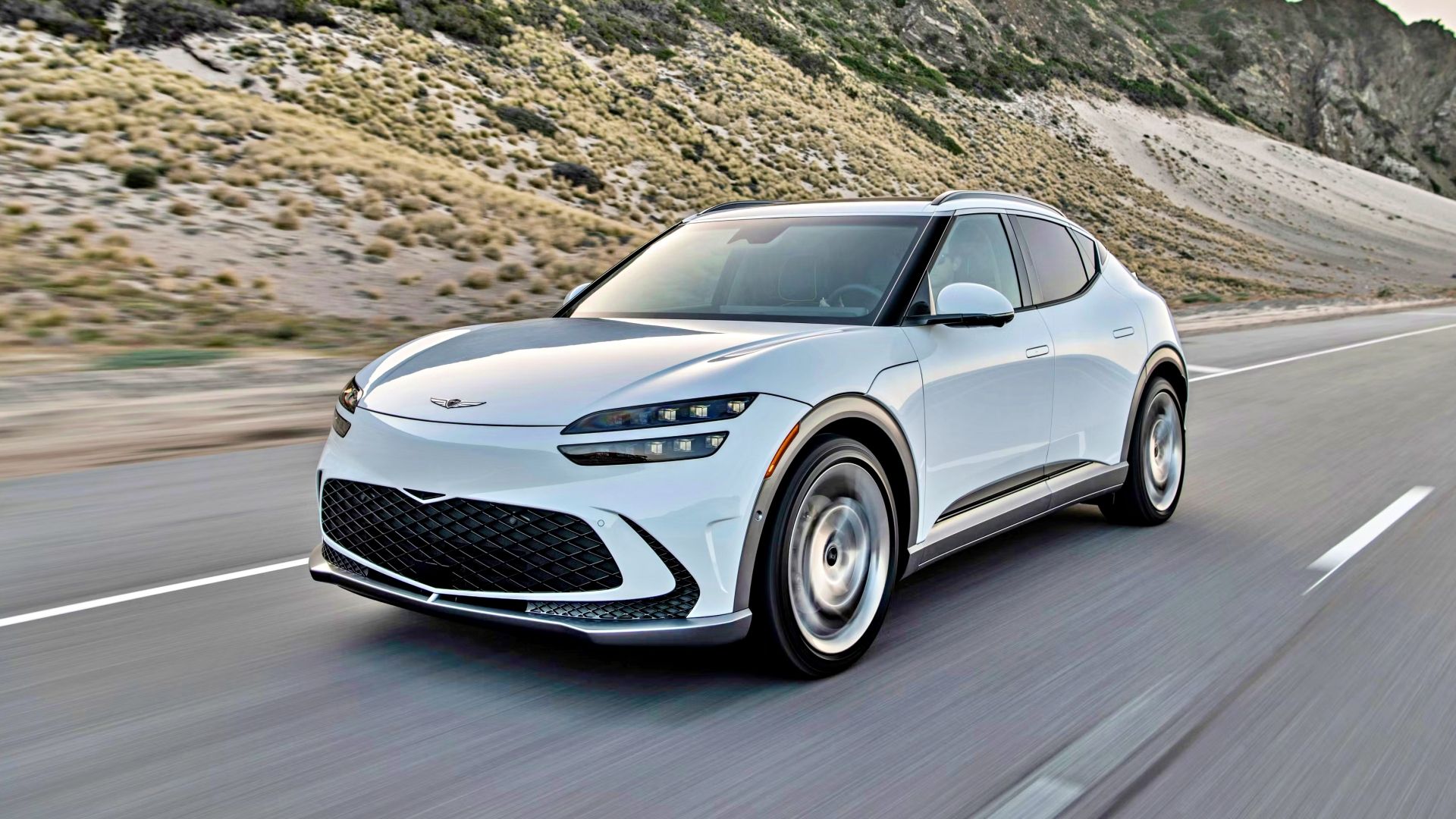 A front 3/4 action shot of a Genesis GV60 driving
The 2023 Genesis GV60 is the Korean brand's first dedicated electric vehicle, and it is one of the best options you have in terms of compact luxury SUVs. Customers have two trims to choose from: Advanced, priced at $60,415, and Performance, priced at $69,415. Power ranges from 314 to 429 horsepower, but the Performance trim offers a Boost function that will increase the output to 483 horsepower. The GV60 has a range of up to 248 miles, and while this may not be impressive enough, you only need 18 minutes to recharge from 10 to 80 percent when using a DC fast charging station. The Performance trim is also very fast and needs only 3.7 seconds to sprint from 0 to 60 mph. The GV60 also features a well-crafted, sleek design, and a cabin that is both luxurious and futuristic. Driving the car, the guys over at Car And Driver have found the GV60 "quiet and refined" and a "convincing luxury vehicle if you drive it calmly."
6
Ford Mustang Mach-E: The Controversially American Electric SUV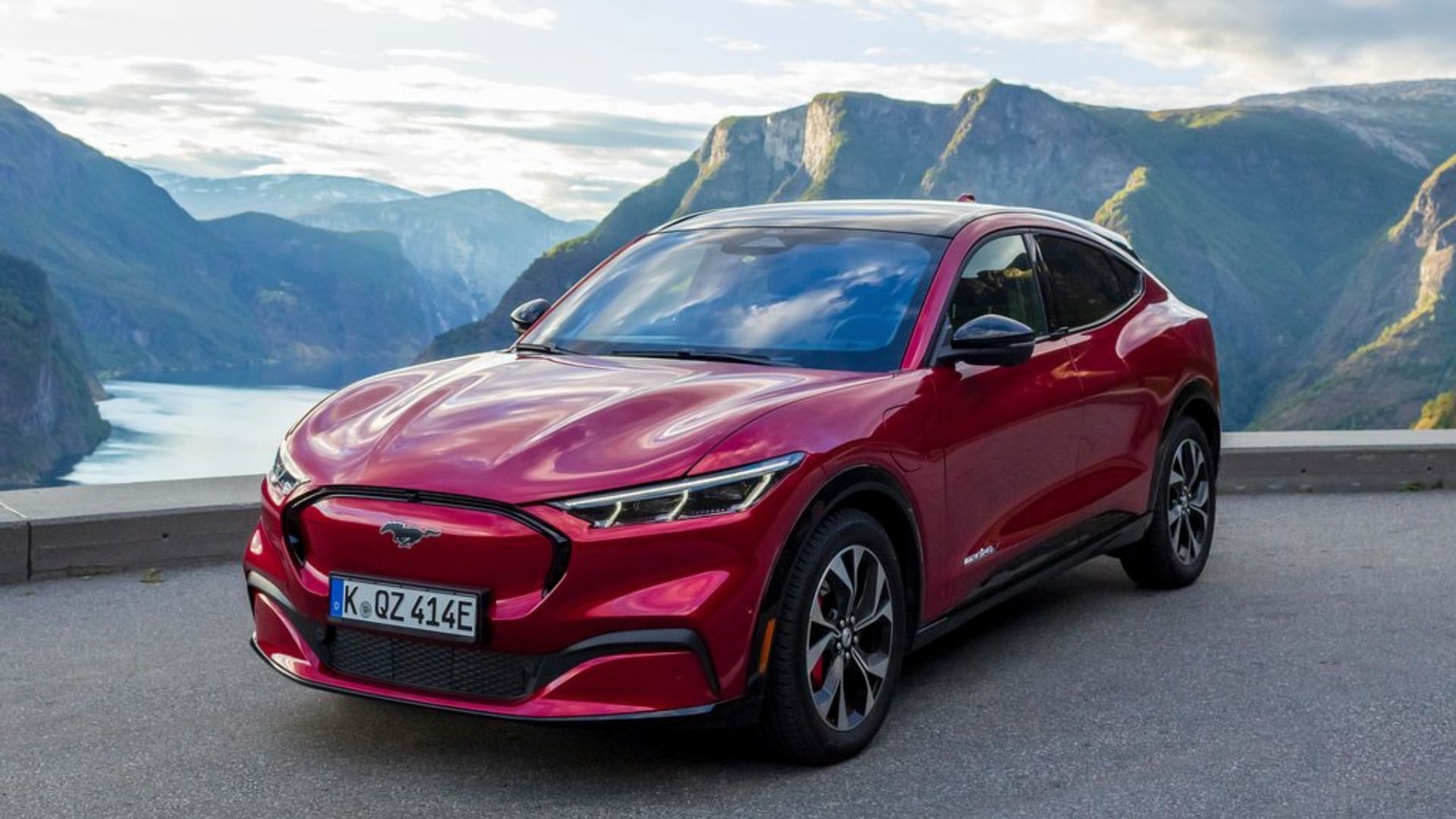 Front And Side Angle Profile Of Red Color Ford-Mustang_Mach-E Parked
If you're looking for a Mustang that can carry around your entire family, the Mach-E is your best option. And yes, it is a crossover, and yes, it is all-electric, but it has proven many times that in essence, it is still a Mustang. It's so good, in fact, that over the course of about two years, Ford already sold more than 150,000 units. With a starting price of $45,995 and a 0 to 60 mph sprint time of just 3.8 seconds, the Mach-E Mustang is the best of both worlds. With power ranging from 266 to 480 horsepower, there is literally a Mach-E for everybody. The only downside could be the 312 miles of range, but using a DC fast-charger you only need 30 minutes to recharge from 10 to 80 percent. The Mach-E is also very practical, with a total cargo space of 59.7 cubic feet and a towing capacity of 3,306 pounds. The cabin is both roomy and very well-equipped, and the list of tech and safety features is quite impressive. According to Edmunds, "in typical driving, the Mach-E delivers a buttery smooth experience."
Related: 10 Most Luxurious Electric Vehicles In 2023
7
Cadillac Lyriq: GM's Answer To The Electric SUV Invasion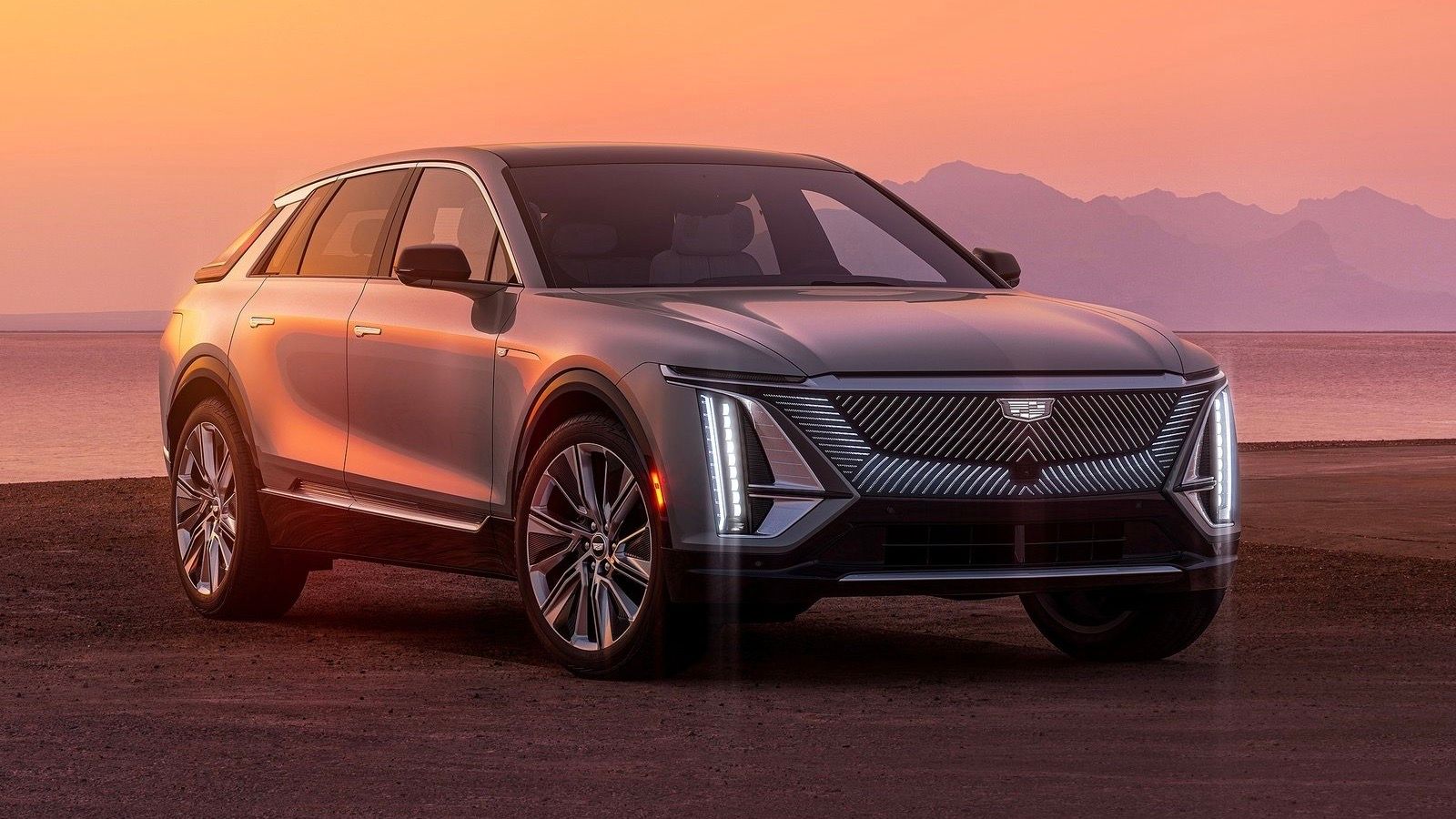 Front 3/4 view of Cadillac Lyriq parked. 
Just like everything segment, the luxury all-electric compact crossover market is expanding by the day, and the choices become unlimited. But, with all the options out there, one of the best luxury all-electric SUVs comes from Cadillac. Built on the same Ultium platform as the GMC Hummer EV, Chevrolet Silverado EV, and Cadillac Celestiq, the 2023 Lyriq delivers between 340 and 500 horsepower and offers a range of up to 308 miles. It also benefits from fast charging features and can add up to 76 miles of range in just 10 minutes. The SUV introduces a new design for Cadillac and has lots of cool features, including a total of 736 lighting patterns that say hello when you approach the car. The cabin is both spacious and luxurious, and it offers the coolest technology portfolio. The Lyriq is also a very safe SUV, and it starts at a relatively low price of $58,590. Customers also get a very long list of packages and options to go for.
8
Mercedes-Benz EQS SUV: The King Of The Fullsize Electric SUVs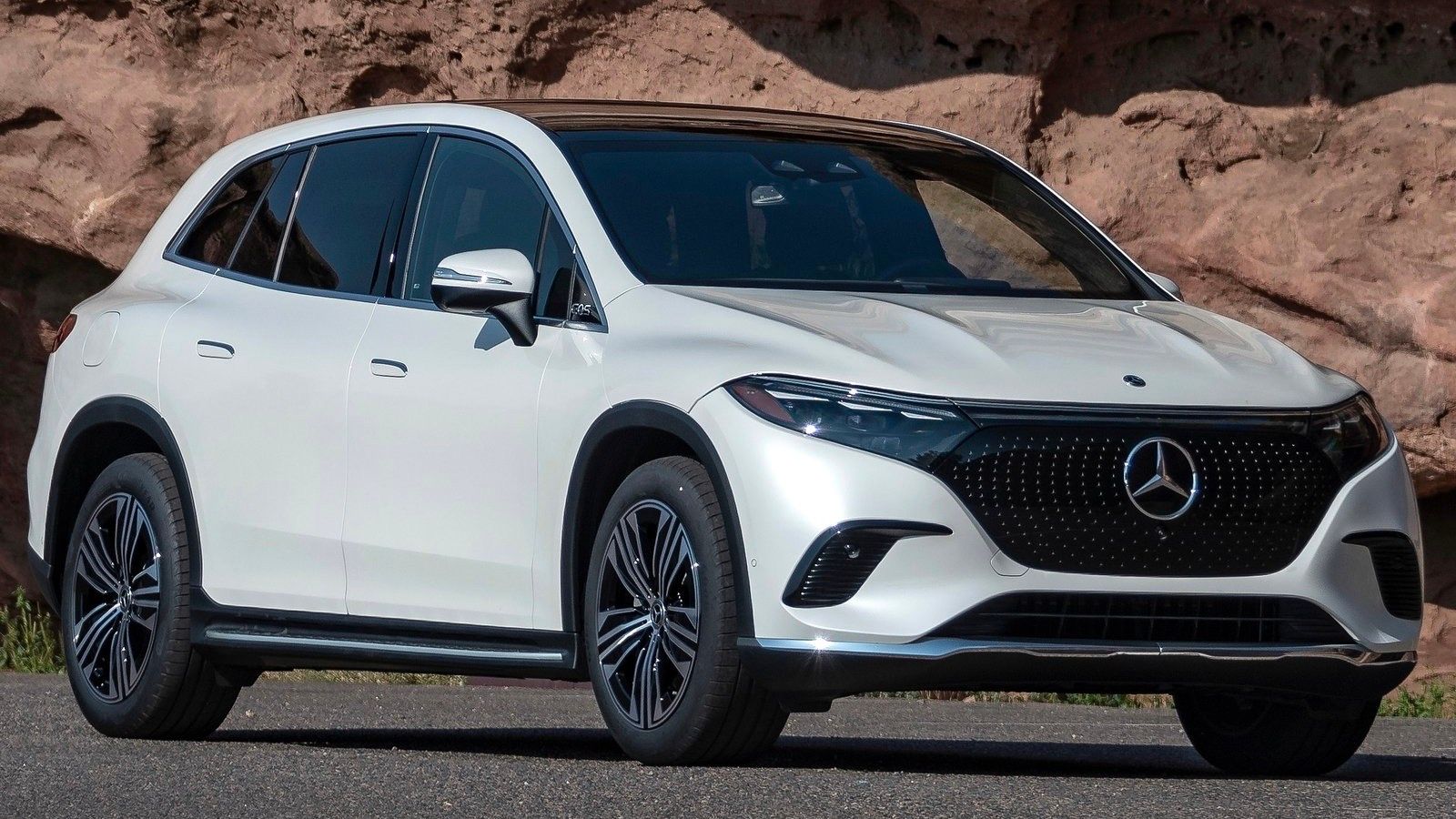 Front 3/4 view of Mercedes-Benz EQS SUV parked. 
The Mercedes-Benz EQS is one of the many full electric SUVs you can get, but in terms of full-size luxury SUVs it is one of the best options you have. The model is, of course, for those willing to pay more than $100,000 for an EV, but it is totally worth the money. The EQS SUV is offered with the choice of two powertrain options, with output ranging from 355 to 536 miles, and the range going up to 305 miles. It offers enough space for up to seven passengers and features a sleek and futuristic design. As you would expect from a Mercedes, the cabin is very luxurious, with that huge 56-inch big Hyperscreen dashboard display among the best features. It can also store up to 74.2 cubic feet of groceries, while the tech and safety features list is beyond incredible.
Related: 10 Electric Cars That Are Beyond Overrated
9
Volkswagen ID.4: The Truly German Way Of Building An All-Electric Crossover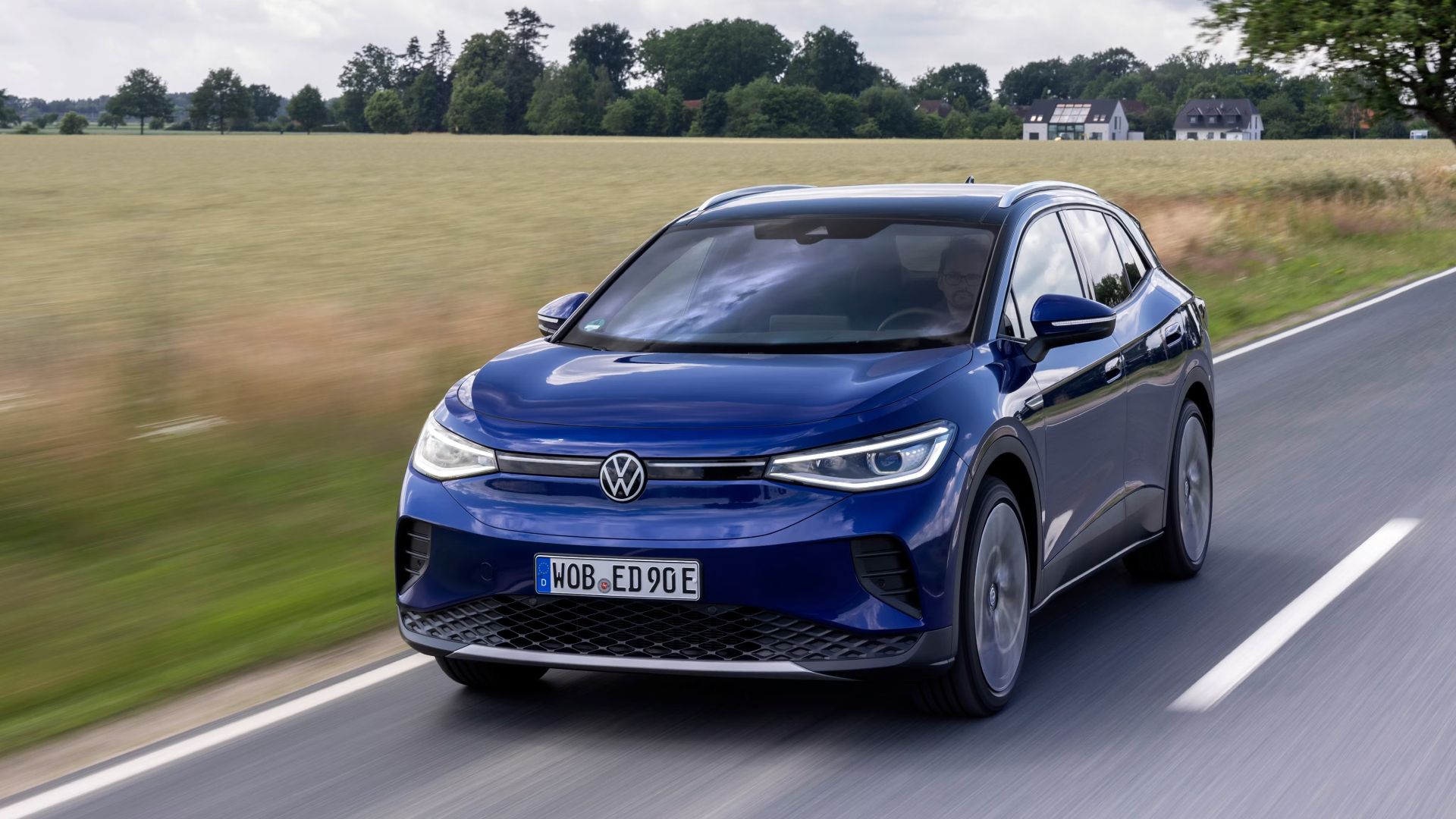 Shot of a blue 2022 Volkswagen ID.4 going down the road
With a starting price of $38,995, the Volkswagen ID.4 is a very decent alternative in the mid-size electric crossover segment, where models like Tesla Model Y or Ford Mustang Mach-E require at least $47,000. The ID.4 delivers as much as 295 horsepower and has a range of up to 275 miles, but it has other features that make it worthy of recommendation. For example, you would be surprised to find out that the base ID.4 offers more standard features than the Model Y, including heated seats and a steering wheel – which are an option in most competing models. It also offers decent cargo space for its size – up to 30.3 cubic feet – and even in the back, the head and knee room is decent with great thigh support. In general, the ID.4 feels more luxurious than the starting price suggests and provides a "smooth, silent driving experience that demands nothing of you."
10
Fisker Ocean: The Next Big Thing To Rock The Electric SUV Segment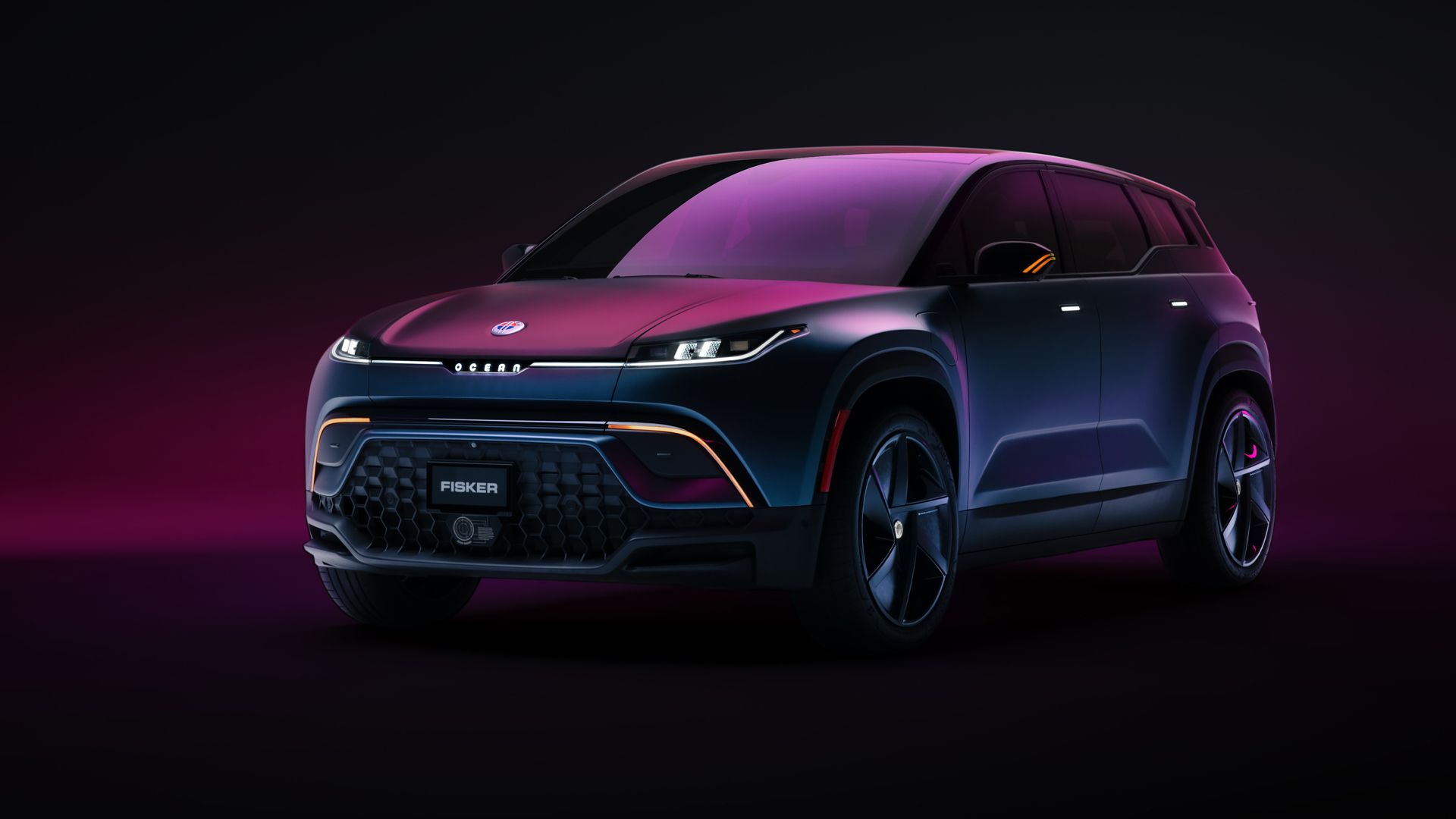 Fisker Ocean
On sale since early 2023, the Fisker Ocean is one of the most awaited SUVs of 2023. There are four trims to choose from Sport, Ultra, Extreme, and One, with prices starting at $37,449 – which will make it a lot more affordable than the competition. The Ocean is offered with either one or two electric motors, with power ranging from 275 to 550 horsepower, while the range can go up to 350 miles in the best-equipped models. The SUV also benefits from fast charging speeds, and it only requires 30 minutes to recharge to 80 percent. Fisker is offering a lot of cool options, including bidirectional charging and a solar sky roof that can add up to 2,000 miles of range a year – under ideal conditions. The Ocean is also equipped with a 17.1-inch Rotating Touch Screen – a first in the industry — while California and Limo modes make it ideal for coastline cruising. While test-driving the Ocean, the guys over at Motor Trend have discovered that "roll, dive, and squat are well controlled, but not at the expense of the rolling ride. Road and wind noise levels are low."