Perks are an essential part of any Call of Duty Zombie game, even the classic ones. Magical drinks such as Juggernog, Speed Cola, Stamin-Up, and many more have been slowly added in with each addition to the franchise, each one giving the player character some brand new power or ability. This, among a few other features, is what really separated Call of Duty's Zombies mode from all other Zombies media.
RELATED: Call Of Duty Warzone 2.0: Best Tips For The Ashika Island Map
So, let's go over all the Perks introduced in the Black Ops line of Zombies games specifically, and rank them all from worst to best.
Updated April 4th, 2023 by Jacob Buchalter: With how much Call of Duty Black Ops: Cold War switched things up with the standard zombies' formula only to have CoD: Vanguard completely ruin everything it had built up, it seemed like an apt time to look back again. Perks in these games are basically the 'superpowers' the player characters gain over the course of a survival attempt, and each one has its own completely unique effects. So, let's take another look through all the ones introduced in the Black Ops games while waiting for Call of Duty 2024 to see if the rankings have changed at all.
14
Who's Who
| Perk Cost | Basic Perk Effect |
| --- | --- |
| 2000 | When downed, players spawn nearby as a 'doppelganger' and must go and revive their bodies to come back up with everything but the Who's Who Perk. |
Who's Who was added exclusively to the Die Rise map in Black Ops 2, and, luckily, that's where it stayed. It was a useful perk, giving the players the ability to revive themselves within a certain time limit. This worked by having players spawn as their very own doppelganger (which has strong Spider-Man pointing at Spider-Man vibes), which was hilarious. However, mechanically it was essentially like having a worse version of Quick Revive.
The developers tried to bring it back in a way with how Tombstone Soda worked in Cold War, but even then fans were less than thrilled with the results, especially while the Perk was un-upgraded.
13
Tombstone Soda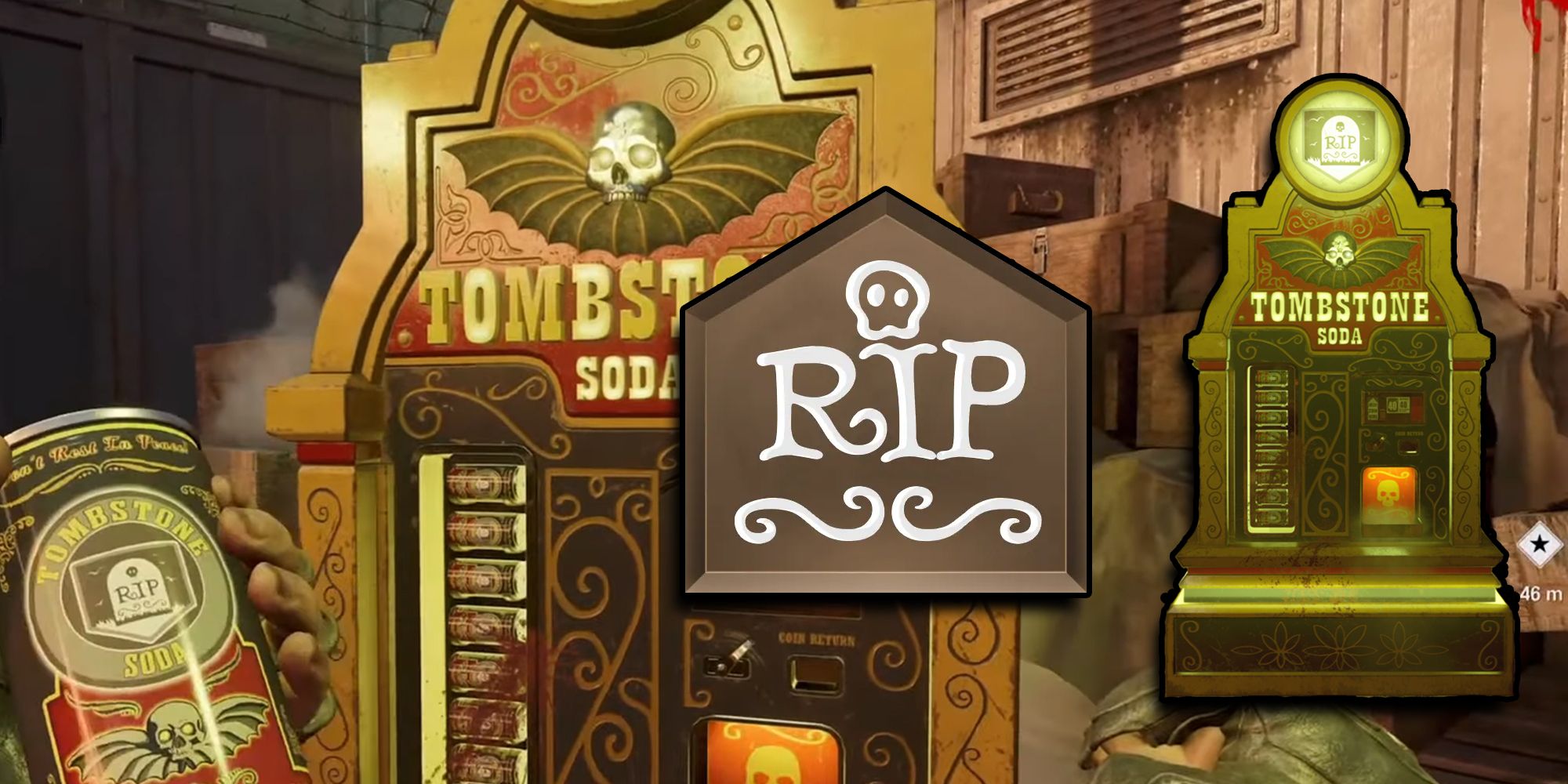 | Game Name | Perk Cost | Basic Perk Effect |
| --- | --- | --- |
| Black Ops II | 2500 Pts | Players could 'die' early and would then have 90 seconds at the start of the next round to return to their death location and grab their tombstone with all their Perks and weapons. |
| Black Ops Cold War | 2500-7000 Pts | Functioned like a mix between Who's Who and Tombstone. Players could choose to instantly respawn when downed as a 'Dark Aether' version of themselves and would then have to make it to where their body was currently downed before it bled out and revive it. |
Tombstone Soda was only featured in the Green Run section of the TranZit map and didn't return again until Cold War, as the Aftertaste Gobblegum did mostly the same thing. In Black Ops II, players could choose to end themselves early while down, they would then 'respawn' the next round and had about 90 seconds to go and interact with their tombstone left at the place they died. If they made it to the tombstone in time, they would get back all their Perks and Weapons from before they went down, except for Tombstone itself. If they didn't make it in time, then the tombstone would dissapear forever.
Tombstone Soda has since been reworked in the new Black Ops Cold War game, among many other things, and is better than it used to be. While still not the most amazing perk, it acts more like Who's Who. When players get downed with this Perk they reappear as an ethereal Dark Aether ghost (don't ask it's confusing) and are able to run over to their body and revive themselves. Thanks to the upgrade system in the new game, players can use Aetherium Crystals to upgrade their Perks up to Tier 5, with each Tier granting new benefits such as increasing the time a player is 'down' or preventing the loss of any Perks except for Tombstone Soda when downed, as long as they had Tombstone Soda activated.
12
Stamin-Up Soda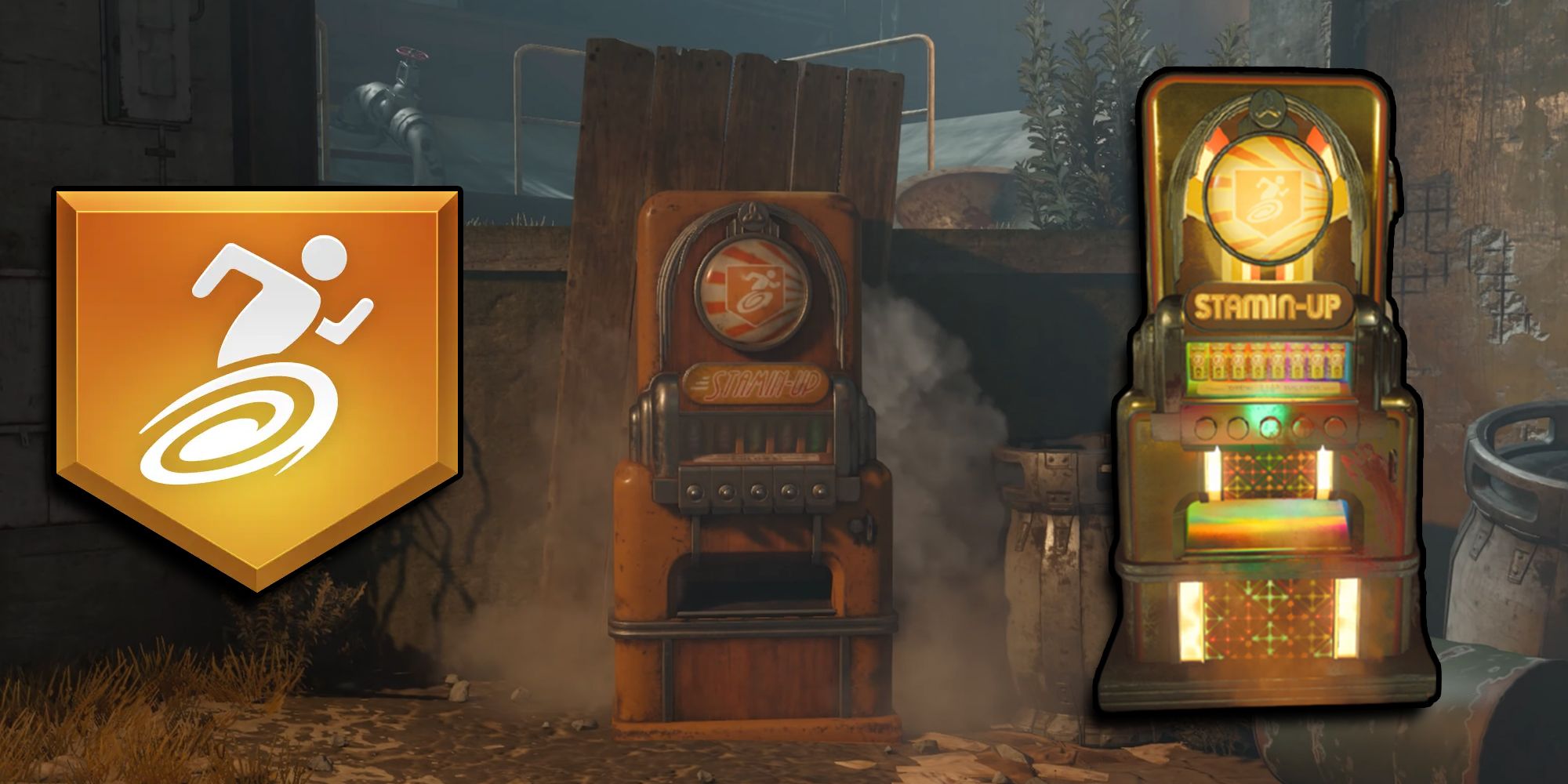 | Game Name | Perk Cost | Basic Perk Effect |
| --- | --- | --- |
| Black Ops – Black Ops III | 2000 Pts | Increases Sprint Endurance and Sprint Speed. Stamina also regenerates faster. |
| Black Ops Cold War | 2500-7000 Pts | At the base level, increases basic run and sprinting speed. Tier upgrades would then increase backpedal speed, give fall damage immunity, faster ADS walking speed, the ability to use Equipment while running, and finally it removes the sprint speed fall off entirely. |
Stamin-Up Soda was first introduced in Ascension in Black Ops and in that game as well as Black Ops II and III, it increases general sprinting endurance as well as the overall sprinting speed. While it didn't provide any offensive benefit, many players loved this Perk since it just made it more enjoyable to use heavy weapons or get around in the first place.
Stamin-Up was then 'upgraded' in Cold War with its introduction of the Tier system. Now, players who fully invest in the Stamin-Up Perk Tiers using Aetherium Crystals will get much more than just a simple running speed buff.
11
Deadshot Daiquiri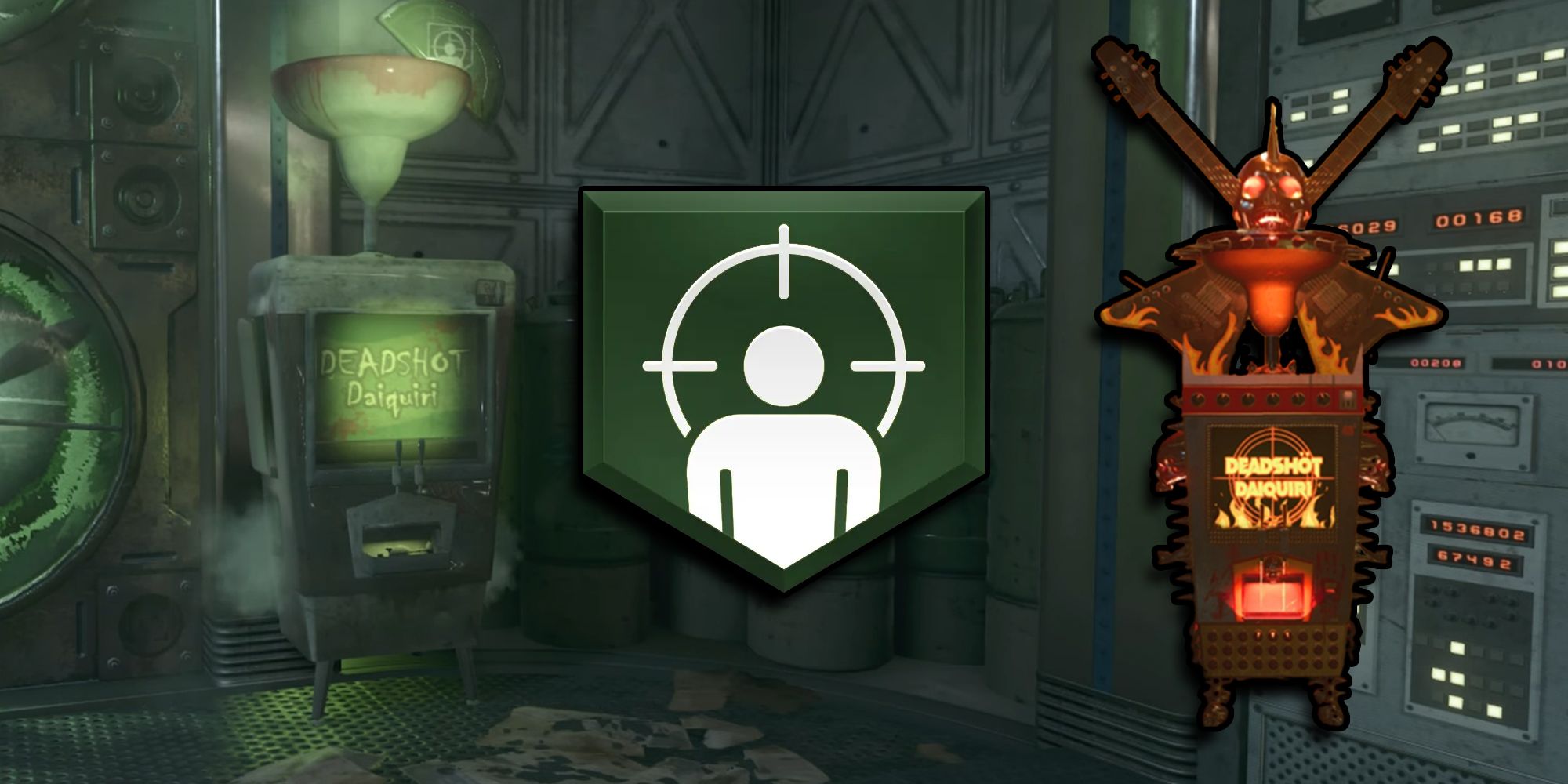 | Game Name | Perk Cost | Basic Perk Effect |
| --- | --- | --- |
| Black Ops – Black Ops III | 1500 Pts (1000 Pts on PC Black Ops) | Removes scope sway as well as reduces recoil and increases hip-fire accuracy. Additionally, this Perk will 'snap' the auto-aim sight to the Zombie's critical areas when ADS'ing rather than their torso. |
| Black Ops Cold War | 2500-7000 Pts | By default, removes scope sway and adds a 'snapping effect' while ADS, making headshots easier. Tier upgrades would then add extra critical damage on full-health enemies, extra armor damage, reduced hip-fire spread, increased critical damage overall, and a ramping buff per consecutive shot hit on the same enemy. |
Deadshot Daiquiri was introduced in the Call of the Dead map in Black Ops and has since found itself in almost every Zombies map thanks to the Wunderfizz machine. Though this perk offers tons of aiming benefits, it doesn't quite live up to the rest of the Perks due to the massive increase in PC-only players over time. The intention with the Perk was to make the 'auto-aim' snap to the Zombie's head instead of their torso and reduce weapon sway, but most players hated having their aiming control ripped away from them.
RELATED: The Best Multiplayer RPGs Of All Time (April 2023)
Deadshot Daquiri received a much-needed upgrade in Cold War. While it still moves the player's sight to the critical spot of an enemy, it has other upgrades that are worthwhile to get. These upgrades range from simply dealing more critical damage against full-health enemies to a 2 percent ramping extra damage buff for every consecutive hit against the same enemy, capping at 20 percent overall. This last effect especially made a big difference in Cold War, at least against some of the more threatening enemies.
10
Vulture Aid Elixir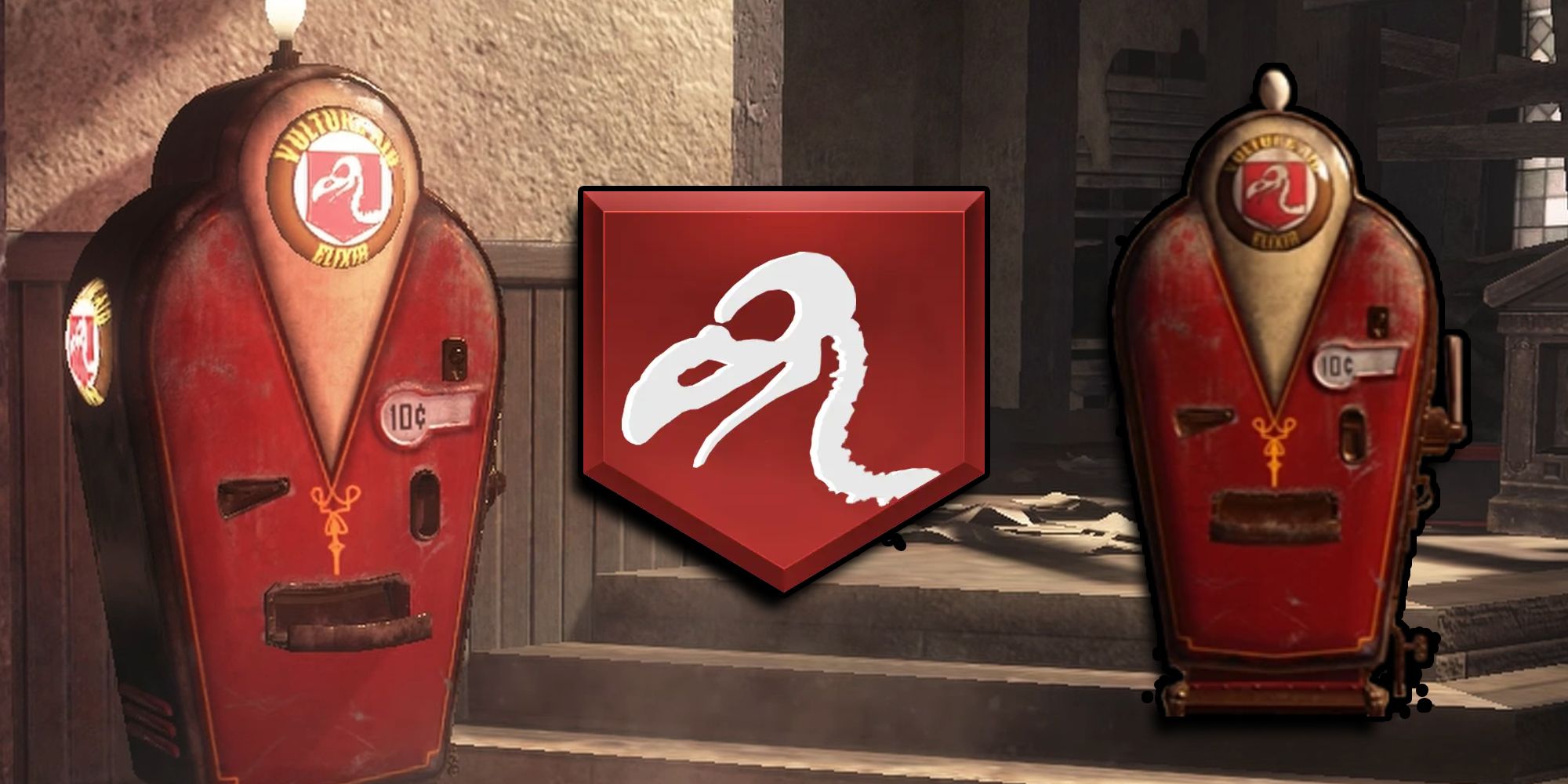 Perk Cost

Basic Perk Effect

3000 Pts

With Vulture Aid active:

Players can see just about every interactable through walls at a short distance (wall buys, Perk Machines, Mystery Box, etc..). All machines, such as the Perk Machines or the Pack-A-Punch, will also have a bright glow around them.
Zombies all have a chance to drop ammo packets on death that gives the player about 10 percent of their ammo back or point packets that give some additional points.
Specific Zombies will release a cloud of green gas on death that causes other Zombies to ignore the player if they stand in the cloud.
Vulture Aid Elixir is one of the few Perks with multiple effects as well as one of the few Perks to only appear in one game, which was Black Ops III (one of the most beloved CoD games out there). The Perk's effects were pretty minimal on their own, but when considered all together, they made Vulture Aid a pretty hard Perk to ignore.
With this Perk, players could see Perk Machines, Wall Weapons, the Pack-a-Punch machine, and the Mystery Box through walls when relatively close to them. Additionally, it added a bunch of new effects to Zombies, such as the chance to drop ammo packs on death and the green gas cloud that appeared from rare Zombie corpses that players could stand in to briefly to gain a short buff that caused Zombies to ignore them.
9
Ph.D. Flopper & Ph.D. Slider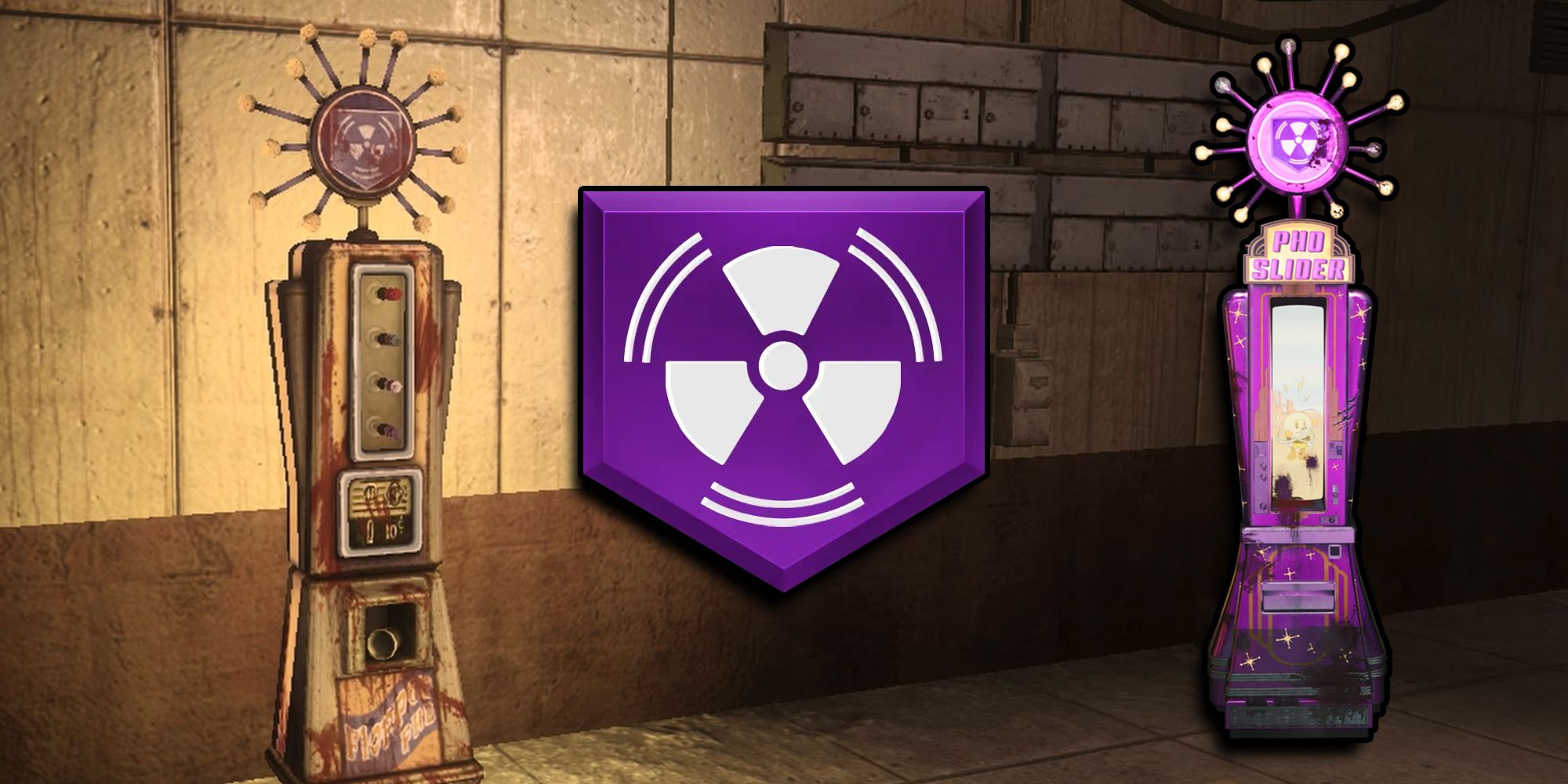 | Game Name | Perk Name | Perk Cost | Basic Perk Effect |
| --- | --- | --- | --- |
| Black Ops-Black Ops II | PhD Flopper | 2000 Pts | Gave players complete immunity to all explosive and falling damage and also gave them an explosive AoE when they performed a 'dolphin dive'. |
| Black Ops Cold War | PhD Slider Soda | 4000 Pts | Sliding into enemies allows the player to create an explosive burst of energy on impact. Black Ops 4 required players to slide and build up this explosive charge, while Cold War did not. |
The PhD Flopper Perk was first introduced alongside the Stamin-Up perk in Black Ops' Ascension map. When bought, PhD Flopper nullified all self-inflicted damage as well as it would create an explosion around the player if they dolphin dove off a height that would normally damage them. And, don't be mistaken in thinking this explosion isn't worth it, as it could deal thousands of damage in its epicenter and was enough to one-shot any Zombies hit by enough of it up until around Round 20.
While a version of it appeared in Black Ops 4 and was given a new name as PhD Slider, the Perk didn't really make a full return until Cold War when it came back in the Season Six content update. In Cold War, PhD Slider would create explosions if the player slid into an enemy with the size and damage being dependent on the distance they slid. With the Tier 1-Tier 5 upgrades, PhD Slider would also grant immunity to environmental damage while sliding, grant a longer slide duration, an immunity to self-inflicted damage, increased slide speed, and would grant the effects of PhD Flopper when falling (minus the dolphin diving aspect).
8
Electric Cherry
| Perk Cost | Basic Perk Effect |
| --- | --- |
| 2000 Pts | Reloading surrounds the player with an electric effect, damaging nearby Zombies and briefly stunning them. Damage and radius are increased the lower the magazine is when reloading. |
Electric Cherry was first introduced in Mob of the Dead, AKA the second Black Ops II DLC pack. This offered a new way for players to protect themselves against the Zombies and made reloading much safer. Basically, at the end of a reload, the player with Electric Cherry expels a radius of electricity that damages and stops nearby Zombies in their tracks. And, players could even actively decide how much damage this would do or how large of a radius it would affect.
This decision simply relied on how low their magazine was when they started the reload, as the lower it was, the higher the damage and radius of the electricity.
7
Double Tap & Double Tap II Root Beer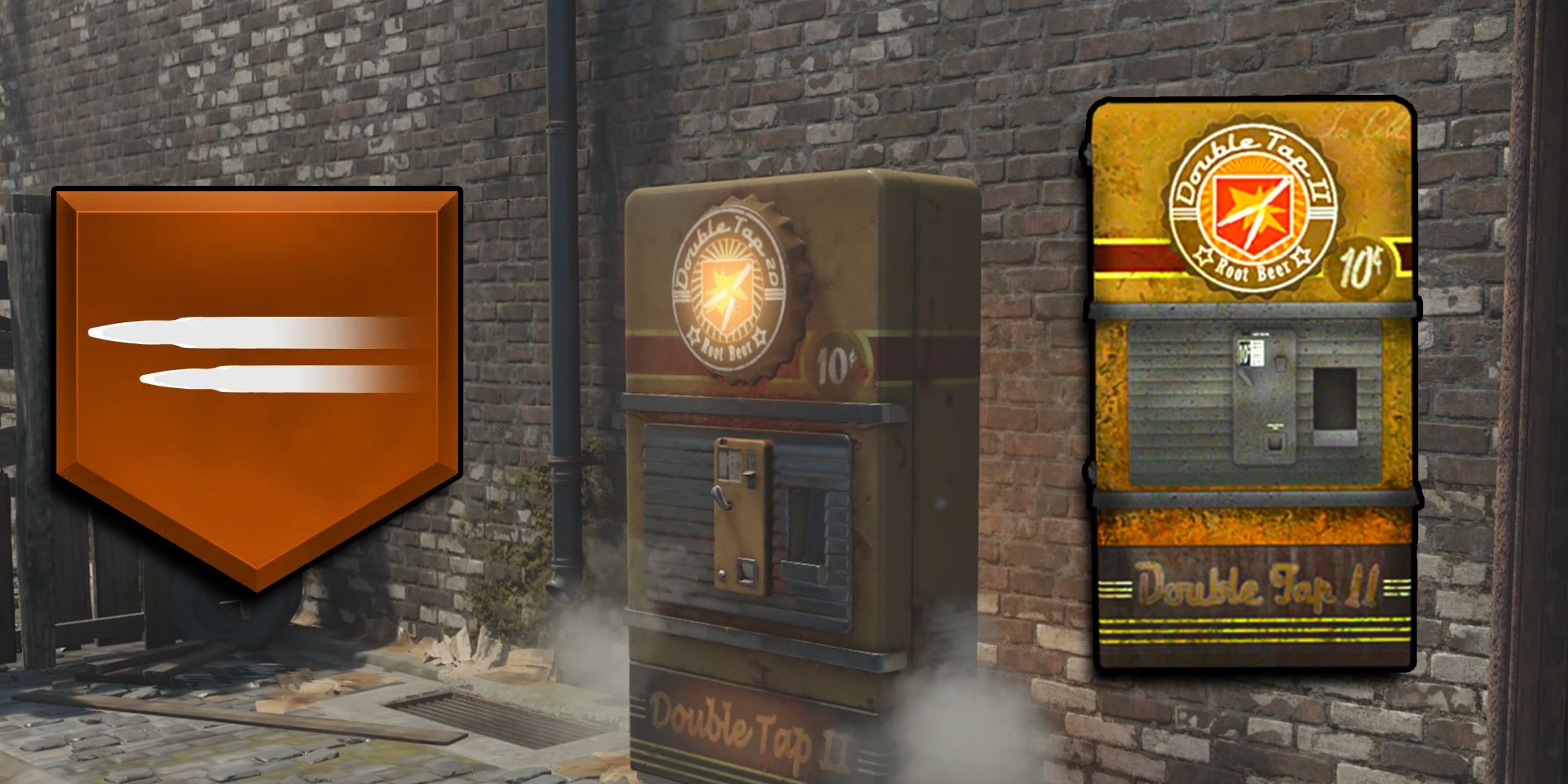 | Game Name | Perk Name | Perk Cost | Basic Perk Effect |
| --- | --- | --- | --- |
| Black Ops | Double Tap Root Beer | 2000 Pts | Increases fire rate of all 'bullet' weapons by 33 percent, as well as Bouncing Betty speed. |
| Black Ops II – Black Ops III | Double Tap Root Beer II | 2000 Pts | Increases the rate of fire but also shoots two bullets for every one round, essentially doubling damage output. This effect only applies to weapons that use bullets, however, so none of the fancy Wonder Weapons benefitted from it. |
Double Tap Root Beer technically has two different versions, the second of which first appeared in Black Ops II. The original version of this, otherwise known as the 1.0 version, was a bit of a double-edged sword. It increased the rate of fire, sure, but the Bouncing Betty speed increase was dangerous, and when weapons were Pack-a-Punched the rate of fire was almost too fast to handle.
Thankfully the Perk was changed from Black Ops II onward, giving it a rate of fire buff as well as the ability to fire two shots for every one round, which made weapons deal double damage if both bullets hit.
6
Quick Revive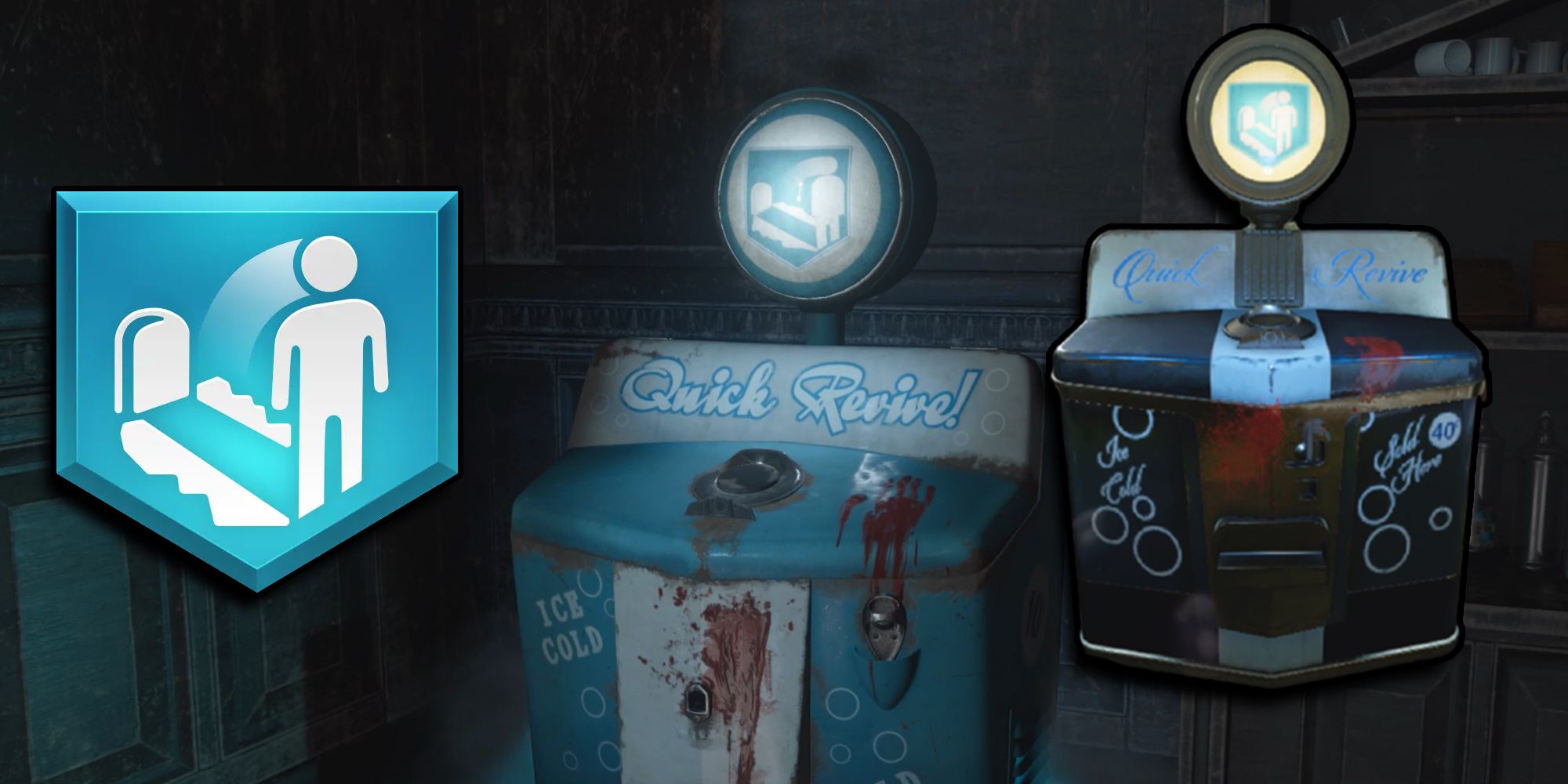 | Game Name | Perk Cost | Basic Perk Effect |
| --- | --- | --- |
| Black Ops – Black Ops III | 1500 Pts | Faster health regeneration rate, less time before health regeneration triggers, and reduces the time required to revive allies. From Black Ops onward, in solo, this Perk can also be purchased before the power is on and allows the player to revive themselves when downed at the expense of losing the Perk. |
| Black Ops Cold War | 2500-7000 Pts | Improved health regen rate and ally revive speed. At Tier 1 it increases downed movement speed, Tier 2 reduces time before health regeneration starts, Tier 3 refills the player's health when they revive an ally, Tier 4 gives both the player and their revived ally a short movement speed buff, and Tier 5 lets players kill an enemy while downed to revive themselves and lose Quick Revive. |
Quick Revive is among the highest of essentials for any solo Zombies player. When playing solo, this perk allows the player to get auto-revived if they go down. This changes depending on the map, though, and it can only be used three times before the machine disappears. When playing multiplayer, this Perk doesn't have the self-revive effect but instead massively increases the speed at which players revive their allies.
RELATED: Dead By Daylight: Every Killer, Ranked
Quick Revive got an upgrade of its own in Cold War and has a whole slew of additional support-like effects based on the Tier level. At max upgrades, Quick Revive increases health regen rate, health regen kicks in faster, allies are revived faster, grants a heal to players that revive allies as well as a movement speed buff to both the player and their ally, and even gives players the ability to kill an enemy to revive themselves at the cost of losing Quick Revive.
5
Elemental Pop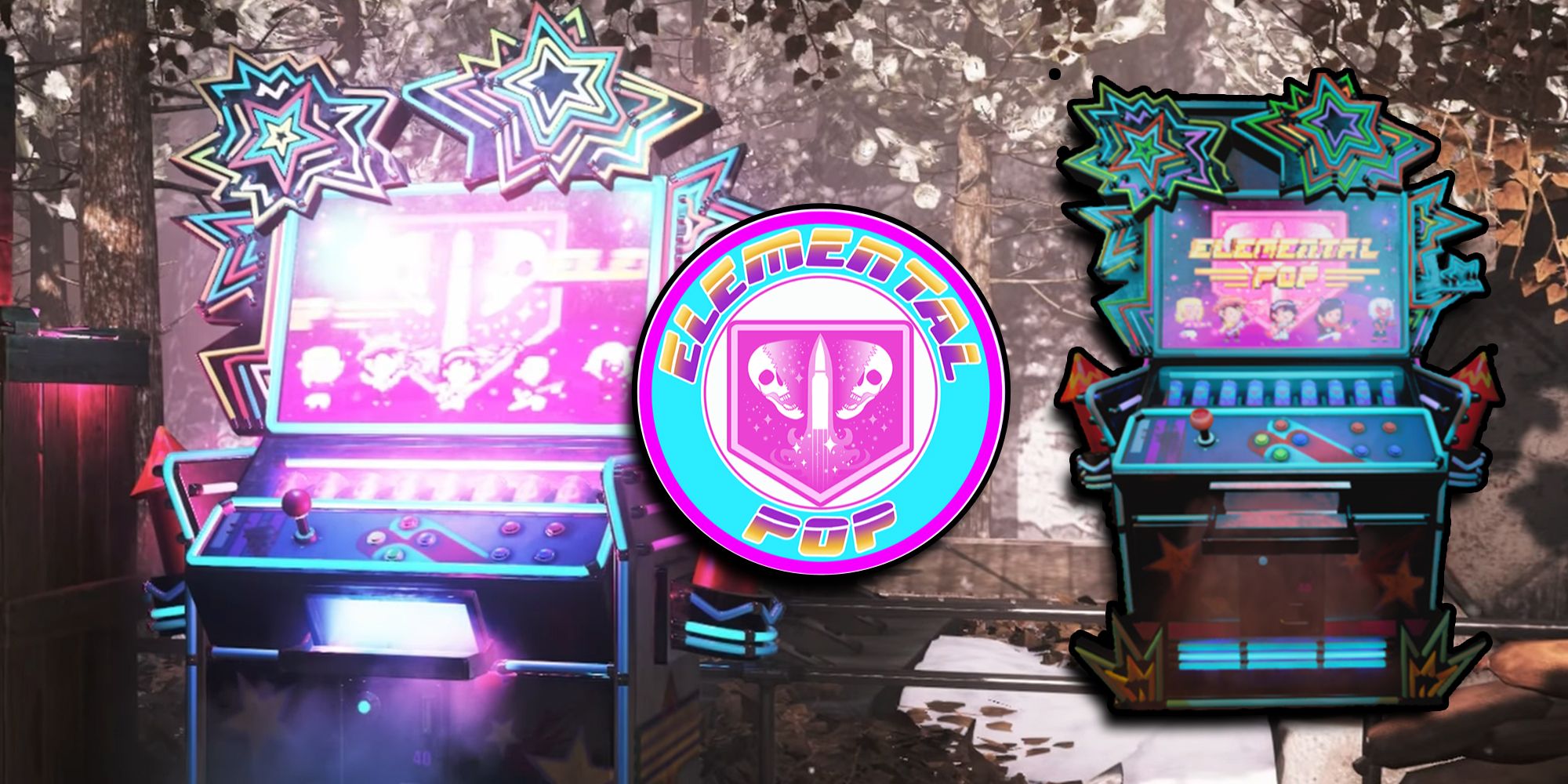 | Perk Cost | Basic Perk Effect |
| --- | --- |
| 2500-7000 Pts | Every bullet fired has a chance to apply a basic Ammo Mod elemental effect, those being Napalm Burst, Dead Wire, Cryofreeze, Brain Rot, or Shatter Blast. Tier 1 Equipment Damage also has this same Ammo Mod application chance, Tier 2 reduces Ammo Mod cooldowns by 20 percent, Tier 3 uses the player's Ammo Mod upgrades when applying the affect, Tier 4 increases enemy elemental weakness by 50 percent, and Tier 5 gives players an effect that perfectly mirrors the effects of Electric Cherry. |
Elemental Pop is the newest perk to grace Black Ops Zombies and is one of the only examples on here of a Perk that debuted in Cold War. At a base level, this Perk just gives a player's bullets the chance to apply basic Ammo Mod effects on-hit.
And, for anyone familiar with the Ammo Mod effects in Cold War, this can range from making enemies explode to turning them against each other. When fully upgraded, both bullets and Equipment have this Ammo Mod application chance, Ammo Mods cooldown quicker, the player's upgrade levels for their Ammo Mods are applied to these effects, enemies are weaker to elemental effects, and players also get Electric Cherry (though it isn't a separate perk).
4
Widow's Wine
Perk Cost

Basic Perk Effect(s)

4000 Pts

This Perk has 4 overall 'effects':

Turns grenades into sticky grenades that web up zombies in explosion AoE, slowing them.
Releases a burst of webbing when the player is hit, which also uses a grenade charge.
Gives the knife a chance to slow zombies when they're hit with it.
Increases the damage of the knife overall.
Widow's Wine is one of the most essential Perks in Black Ops III, as it drastically increases a player's chances of survival. Plus, it's the only game in which this Perk appears. When obtained, this Perk changes the grenades a player is carrying into sticky grenades that shoot out webs, which slow zombies down. It also protects the player with the same effect.
Assuming the player has enough grenades in reserve, an attacking zombie will be immobilized by a sudden burst of webs. Like the grenades, this effect slows the zombies down and gives the player more time to escape. Not only that, but this Perk also increases the damage of the knife as well as gives it a chance to apply this webbed effect to enemies on-hit. Sadly, it only ever appeared in one game and was one of the rare Perks that didn't show up in Black Ops Cold War.
3
Mule Kick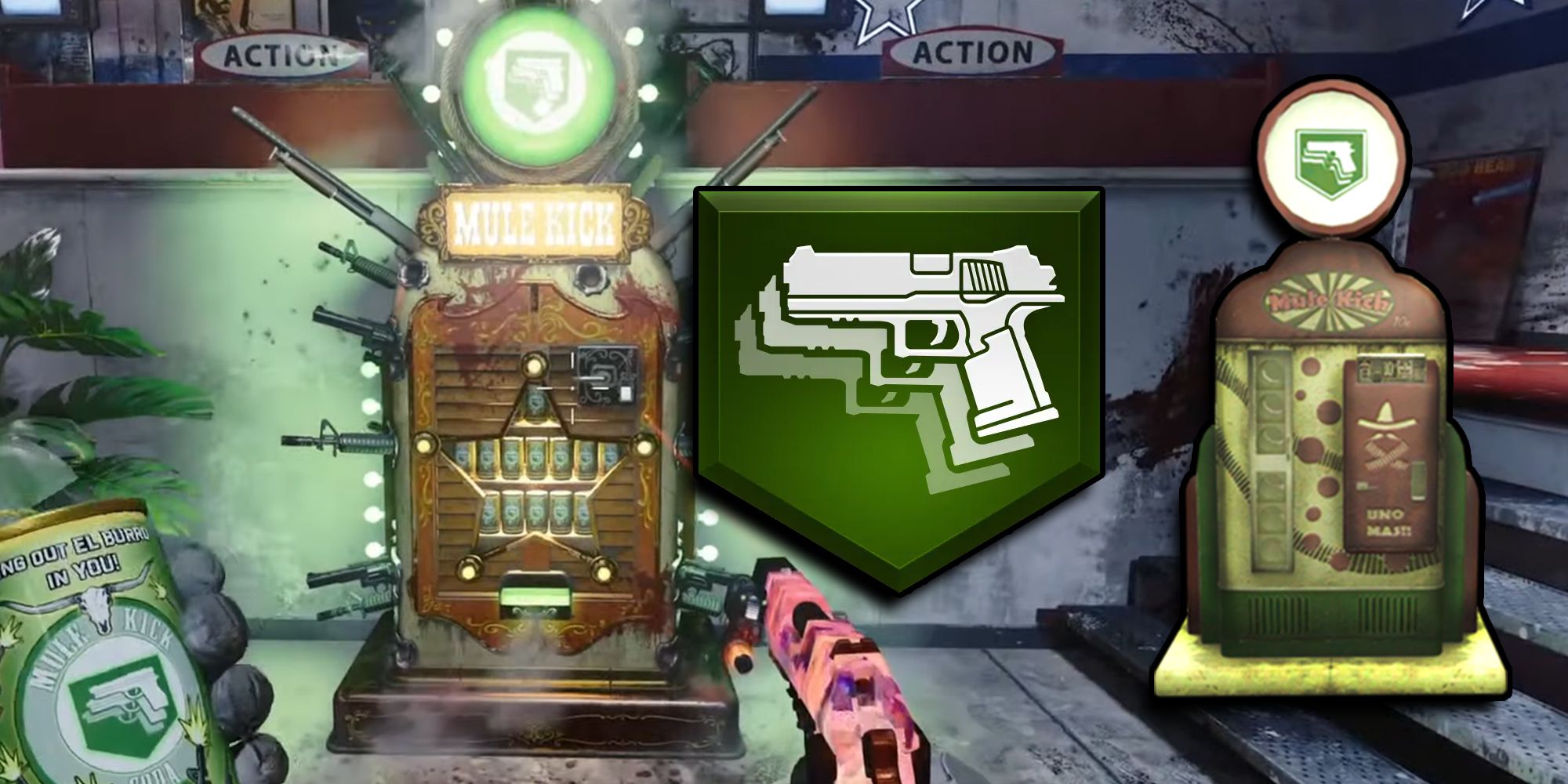 | Game Name | Perk Cost | Basic Perk Effect |
| --- | --- | --- |
| Black Ops – Black Ops III | 4000 Pts | Allows an additional weapon to be carried, for a total of three. The most recently purchased weapon will be lost when downed. |
| Black Ops Cold War | 2500-7000 Pts | At the base level, players can now carry a third weapon. Afterward, Tier 1 gives more Equipment when it's crafted, Tier 2 gives all enemies a chance to drop ammo on death, Tier 3 passively reloads stowed weapons, Tier 4 grants a 25 percent chance to not 'consume' Equipment when used, and Tier 5 allows players to re-obtain their lost third weapon if they re-buy Mule Kick. |
Mule Kick was another welcome addition to the Zombies mode when it was introduced in Moon in the original Black Ops. It became so popular among the fans that Treyarch featured it in all maps after Moon, and included it in the Zombies Chronicles DLC for Black Ops 3. This Perk is simple, it increases the number of weapons a player can carry by one. Adding the ability to carry another weapon is a must-have for players hoping to make it to high rounds, in which ammo can often run dry very quickly.
In Cold War, Mule Kick pretty much functions the same, but every Tier upgrade adds additional 'extra' benefits. With it fully upgraded, players will have a third weapon slot, more crafted Equipment, a chance to get ammo from Zombie corpses, a passive stowed weapon reloading ability, a chance for extra Equipment uses, and the ability to get back weapons that were lost when Mule Kick was lost.
2
Speed Cola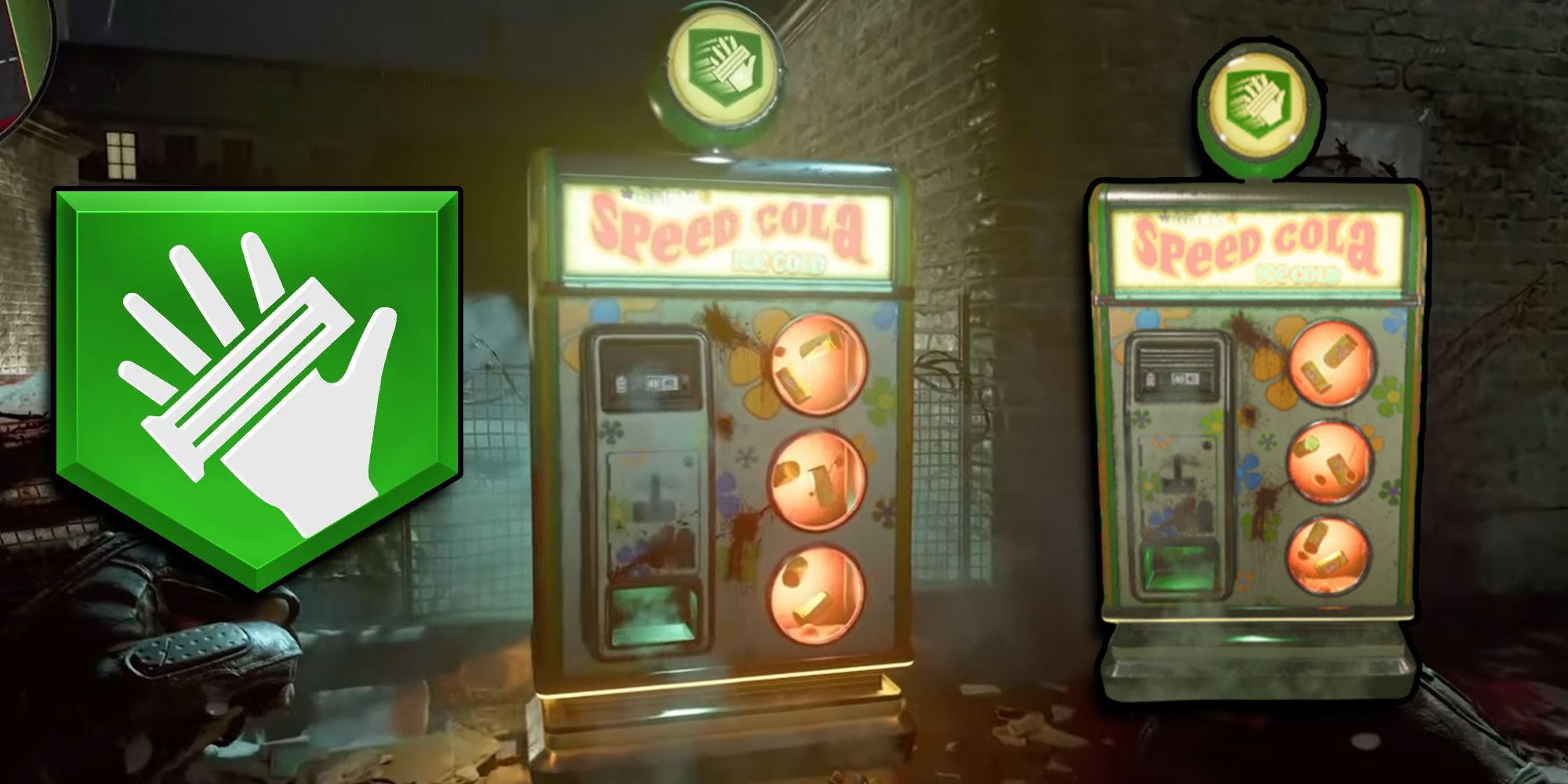 | Game Name | Perk Cost | Basic Perk Effect |
| --- | --- | --- |
| Black Ops – Black Ops III | 3000 Pts | Increases reload speed by 50 percent and massively increases the speed at which players can rebuild barriers. |
| Black Ops Cold War | 2500-7000 Pts | By default, Speed Cola increases reload speed by 15 percent. Tier 1's upgrade gives it the benefit of increasing weapon swap speed, Tier 2 increases Field Upgrade recharge rate by 20 percent, and Tier 3 reload speed is buffed by 30 percent. For the final two upgrades, Tier 4 gives the barrier repair speed buff while also making the Mystery Box settle on a weapon faster, and Tier 5 can both fire and reload while sprinting. |
Speed Cola is another perk that is hard to imagine a Zombie game without. Another of the original perks included in World at War, it has since been included in just about every Treyarch-developed Zombies map. For its effect, Speed Cola simply speeds up reload and barrier-repair speeds.
And, as with all the other Perks of Cold War, Speed Cola works a bit differently. The initial reload speed buff is noticeable but not nearly as good, and it isn't until players get the Perk to Tier 3 that it really starts to shine again. With all upgrades, Speed Cola buffs reload speeds, barrier repair speeds, Field Upgrade recharge speeds, weapon swap speeds, Mystery Box speeds, and gives players the ability to fire and reload while sprinting.
1
Juggernog
| Game Name | Perk Cost | Basic Perk Effect |
| --- | --- | --- |
| Black Ops – Black Ops III | 2500 Pts | Increases player health, which allows them to take more hits from zombies before getting 'downed'. |
| Black Ops Cold War | 2500-7000 Pts | By default, increases player health by 50. With upgrades, Tier 1 adds a status effect reduction buff, Tier 2 increases how much Armor the Armor Plates replenish, Tier 3 increases Health by another 100, Tier 4 gives the player 25 percent more Armor durability, and Tier 5 players will survive a lethal hit with 1 HP and 0 Armor. |
Juggernog has been the lifeline for many players in their Zombies careers, and that influence won't stop anytime soon. This is the most useful Perk, hands-down, and one of the originals in nearly every Zombies map out there, This perk doubles the number of hits a player can take before going down. No player would be caught dead without this perk — or, to rephrase, if they don't have the perk, they probably will be caught dead.
In Cold War, Juggernog isn't quite as strong right off the bat, due to the upgrade system this game introduces. But, with even the first Tier 1 upgrade, it becomes so much better. And, at Tier 5, Juggernog somehow becomes even more useful than it already has always been.
MORE: Games About World War 3 (& How It Happens)