Smart homes have become much more affordable over time thanks to more competition, better products, and more innovation in the industry. As a result, one can start their smart home journey with as little as a simple smart speaker that can control other smart devices in your house with ease.
Here are some of our top picks for budget smart home devices that would get you started on your journey to have a more connected home.
Note: We have focused on devices that work with Amazon's Alexa voice assistant as a minimum benchmark for selection to ensure all our picks work with each another where applicable.
Wyze Cam v3

The Best Budget Smart Home Security Camera

Echo Dot 5th Generation Smart Speaker

The Best Budget Smart Speaker

TP-Link Kasa Smart Wi-Fi Plug Slim 4-Pack

The Best Budget Smart Plug

Govee Smart Light Bulbs WiFI and Bluetooth

The Best Budget Smart Bulbs

Amazon Eero Mesh WiFi System

The Best Budget Smart Wi-Fi Router

Amazon Fire TV 50″ 4-Series 4K TV

The Best Budget Smart TV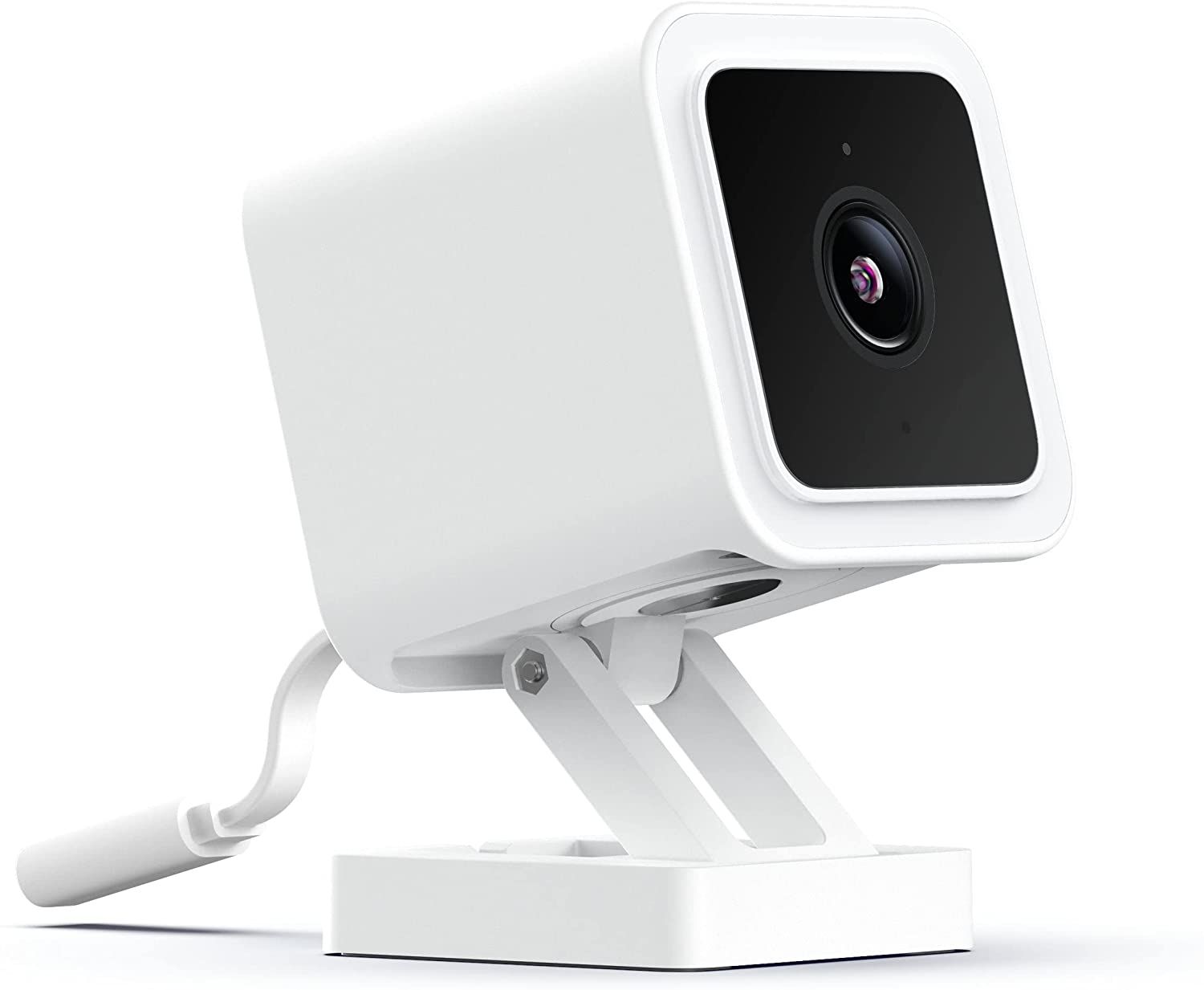 Wyze Cam v3
The Best Budget Smart Home Security Camera
Security 'Wyzens' Up
$37 $42 Save $5
The Wyze Cam V3 is an excellent indoor/outdoor security camera that, in its 3rd iteration, aims to make further inroads in a competitive security camera market at a low price. With excellent durability, cloud and local storage options and motion detection built-in on top of an optional subscription for cloud storage and AI detection, the Wyze Cam V3 is set to capture a large portion of the budget security camera market.
Brand

Wyze

Resolution

1920 x 1080

Connectivity

Wi-Fi 2.4GHz

App Compatibility

Works with Android and iOS based devices

Night Vision

Yes

Internal or External

Internal/External

Power Source

5W power adapter

Integrations

Google Assistant; Amazon Alexa

Hub Required

No

Power

5W

Audio

2 way audio + Siren

Local Storage

Yes, SD Card

Weather resistance

IP65 Weather Resistant

Image sensor

CMOS Starlight

Two-way speaker

Yes

Motion detection

Yes

Subscription required?

Optional cloud
Pros
Has excellent daytime and nighttime vision thanks to its excellent CMOS Starlight sensor
Works with a wide berth of Android and iOS devices, in addition to supporting for Amazon Alexa and Google Assistant
Highly Durable: Is rated IP65 Weather resistant
Inexpensive: Costs as little as $35 per camera, making it an excellent cost-conscious choice
Cons
There are no battery options. The only way to use this is with the bundled 5W power adapter.
The Wyze Cam V3 is an excellent smart home security camera that doesn't break the bank for people adopting it as their daily driver for basic home security. Wyze has taken the market by storm since its inception in 2017. This is primarily due to the price point. It delivers cameras with features that used to be associated with much more expensive smart home solutions previously.
The Cam V3 is no different; it comes with vastly improved night vision compared to its predecessor, an excellent resolution, motion detection support, and local storage for those of us looking to save data without buying a cloud subscription. With its IP65 certification, the camera pretty much has all-weather support in addition to durability that allows it to be used both indoors and outdoors.
Some people might have a gripe about the fact that the Wyze Cam V3 has no battery options and must be wired at all times to get the job done. While this is an issue when compared to more premium options, we also feel that for the price, the camera does splendidly and as a result, you do not need to worry about battery life down the line, even if it adds some installation time initially.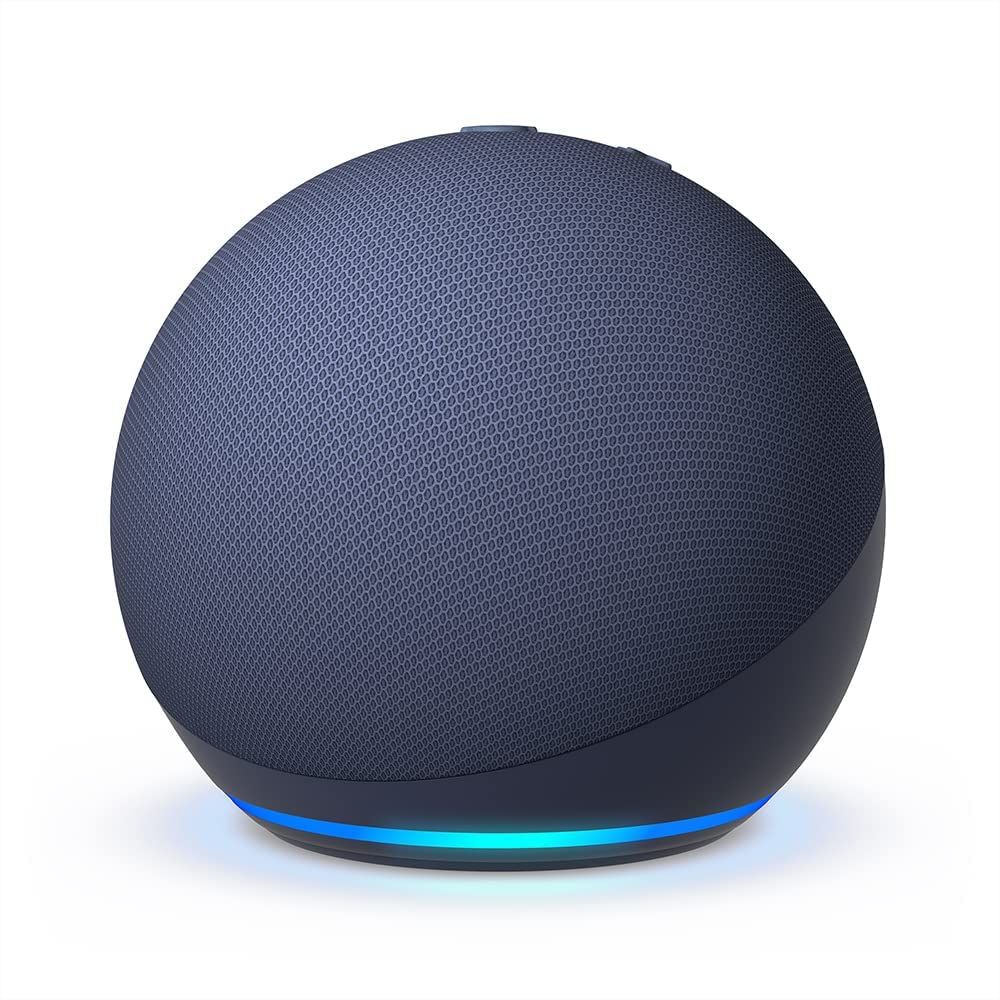 Echo Dot 5th Generation Smart Speaker
The Best Budget Smart Speaker
Your Smart Speaker Leveled Up
The Amazon Echo Dot is even better in its 5th iteration with an added temperature and motion sensor built into the smart speaker. It also throws in an accelerometer that allows it to control more of your interactions with Alexa such as changing the music with a simple tap. With a larger 1.73 inch speaker that can double as part of an EERO mesh network, this is an excellent purchase and a core part of any smart home worth its salt.
Bluetooth Connectivity?

Yes

Input Type

Voice Commands

Dimensions

3.9" W x 3.9"D x 1.7"H

Brand

Amazon Echo

Audio

1.73 inch speaker

Power

15W

Connectivity

Blueooth, Wi-Fi

Voice Assistant

Alexa

Colors

Deep Sea Blue, Charcoal, Glacier White

Buttons

Microphone Off Button, Volume buttons, Action Button

Battery

N/A
Pros
Priced at an excellent price point for a capable smart speaker
Comes loaded with tech; features a new temperature sensor, motion sensor, and an accelerometer that allow it more fine-grained control and responses to people in the room
Excellent voice control that is quite accurate
Blends in easily in any room you would like to place it
Cons
Still does not have an official battery version. 3rd party solutions cost as much as the Echo Dot itself
The Amazon Echo Dot in its 5th generation is an even better version of the acclaimed 4th generation Echo Dot. While the base version skips the clock that a pricier version offers for $10 more, it does pack in an impressive amount of tech while retaining the same form factor as its predecessor. The Echo Dot is an Amazon product and therefore is built around the excellent Alexa voice assistant that also upped its game over time making this a good experience to have overall.
With a bigger speaker this generation and a plethora of sensors added to make your smart speaker even 'smarter' in terms of what it can do versus the competition and its own last-generation offerings, the Echo Dot pulls no punches as it aims to become the center of your living room, and if possible as many rooms as desired thanks to its ability to double as an excellent Wi-Fi mesh network via Amazon's EERO offerings.
All in all, the Echo Dot is a crucial part of any smart home on a budget and a potentially essential one of those looking for more premium options too. It is a reliable smart speaker that doesn't cost too much and provides a refined experience built on nearly a decade's worth of expertise from Amazon.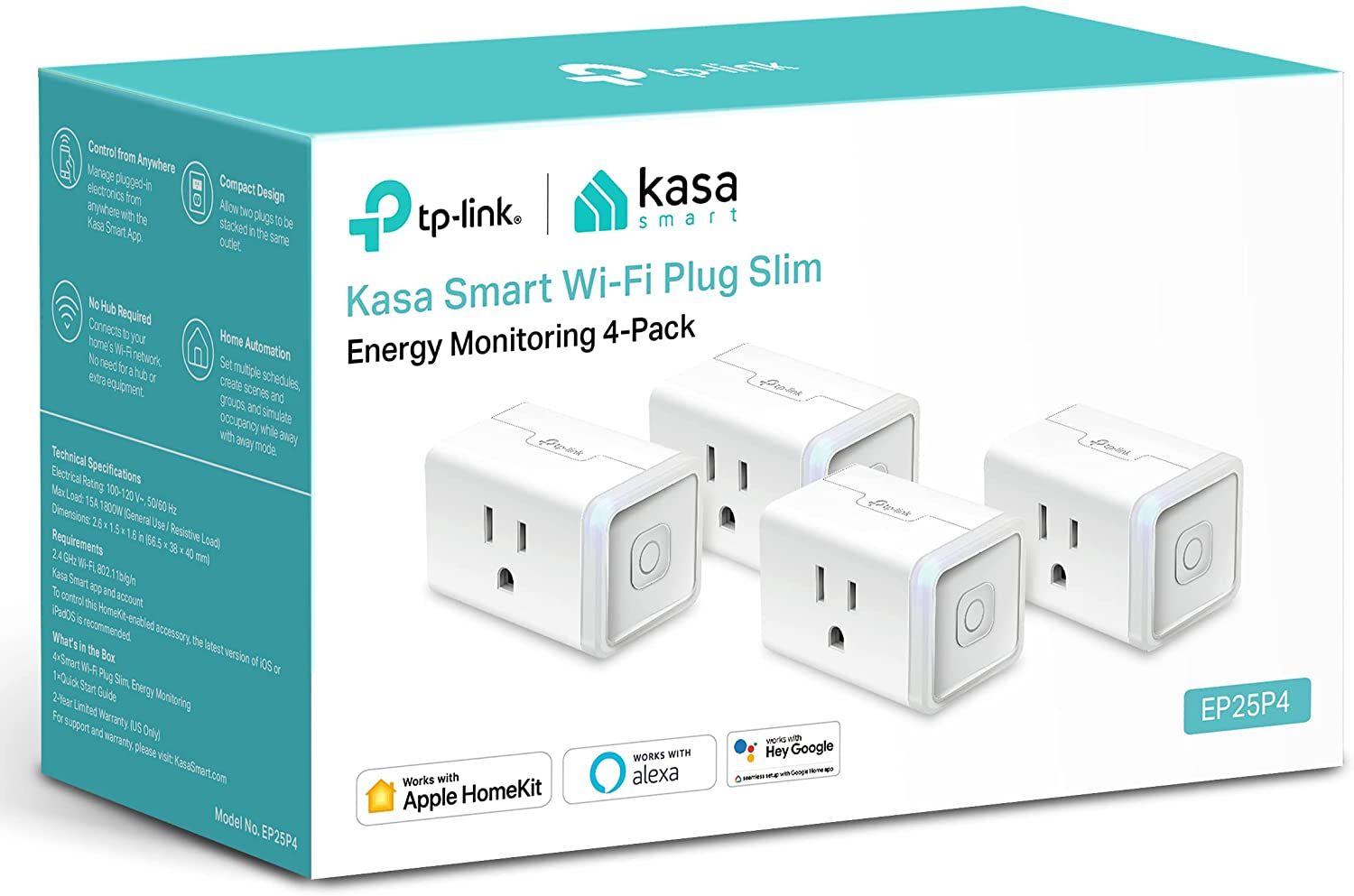 TP-Link Kasa Smart Wi-Fi Plug Slim 4-Pack
The Best Budget Smart Plug
Widely Compatible Hub-less Wi-FI Smart Plugs
$40 $50 Save $10
The TP-Link Kasa Smart Wi-Fi Plug Slim 4-Pack is an excellent smart plug that is also known as the Kasa Smart Wi-Fi Plug Mini. It connects via Wi-Fi to any available 2.4GHz network and can be set up using QR codes with potential integration down the line for multiple voice assistants that allow you to monitor use, power draw and even schedule timings for certain events happening while allowing refined 'group' control of various plugs in an inexpensive package.
Brand

TP-Link Kasa

Connectivity

Wi-Fi

Integrations

Siri, Alexa, Google Assistant, Samsung Smart things

Schedules

Supported

Current Rating

15A

Electrical rating

1800 Watt Maximum

Dimensions

2.61 x 1.49 x 1.57 in.

Weight

90.7 g

Hub Required

No

Dedicated app required

No, optional for day to day use

Built-in surge protection

No

Rated Voltage

110-120 VAC
Pros
Can handle an impressive 15A/1800W of power which should be able to handle most, if not all power needs from a single socket
Supports a large band of Wi-Fi Networks
Is compatible with pretty much every major virtual assistant in the market
Has comprehensive control and scheduling available as part of its value proposition
Cons
The app still needs some work. Some integrations work better than others.
Limited to Wi-Fi 2.4GHz only
The TP-Link Kasa Smart Wi-Fi Plug Slim 4-Pack is an excellent budget option for Wi-Fi smart plugs that offers the desired amount fo control over a smart plug without complicating it or getting too bulky as a result. It delivers power of up to 1800W per adapter and works with a wide variety of Wi-Fi networks making compatibility a non-issue. With 4 of these in a pack, that works out at about $10 a pop, making these surprisingly affordable compared to some of their competitors while offering excellent, refined control over your appliances that works with just about every major virtual assistant in the market currently.
There are concerns about the TP-Link Kasa's futureproofing given that it supports only 2.4GHz bands currently which could potentially become an issue for users using 5GHz routers only. However, given the nature of said devices, it is unlikely that we will see a paradigm shift by most router manufacturers to eliminate 2.4GHz as a basic band given the longer range supporting routers provide and the reduced bandwidth doesn't really factor in for the Kasa which uses a very small amount of bandwidth to handle its day to day tasks.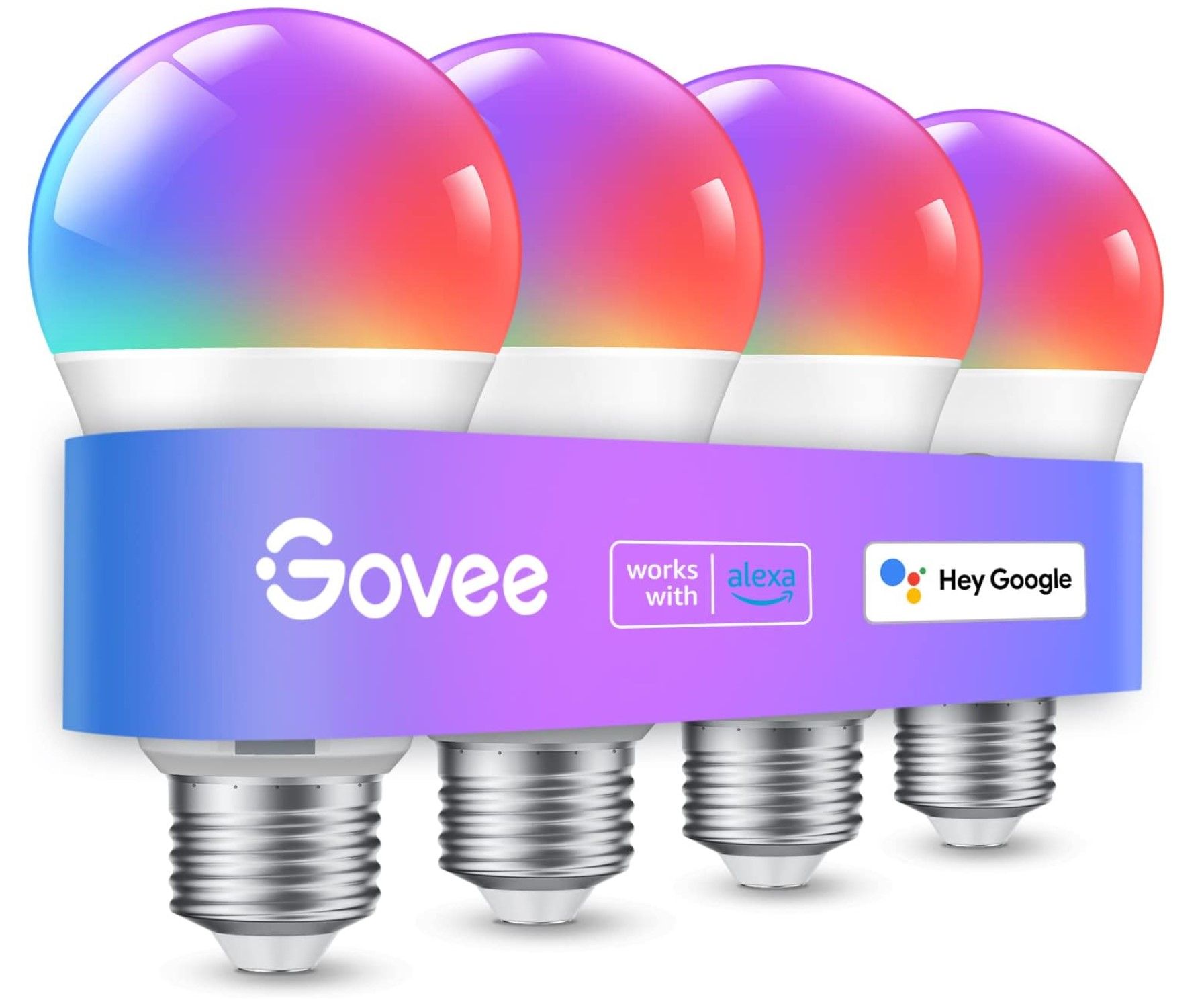 Govee Smart Light Bulbs WiFI and Bluetooth
The Best Budget Smart Bulbs
Lighting Just Got Smarter
$30 $40 Save $10
The Govee Smart Light Bulbs are the foundation for any gaming room lighting configuration. With over 16 million colors and an estimated lifespan of 50,000 hours, these RGB lights thrive during everyday use. 54 preset lighting schemes are available in the Govee Home app and the lights can also be controlled by Google Home or Amazon Alexa voice commands. The Govee Smart Light Bulbs work over Bluetooth and/or WiFi connections and feature a dimmable brightness from 0 to 100%. 
Brand

Govee

Integrations

Google Home, Amazon Alexa

Hub Required

No

Music Reactive

Yes

Multicolor Capable

Yes

Service Life

50,000 hours

Voltage

120

Wattage

9W=60W

Working Temperature

2700~6500K
Pros
Work with both, Wi-Fi 2.4GHz and Bluetooth out of the box
The bundle offers considerable savings; smart bulbs cost less than $10 a pop pro-rated
Allows integration with Amazon's Alexa & Google's Assistant out of the box
Comes with free phone support from Amazon for up to 90 days to assist with setup
Does not need a hub to function unlike some of its more expensive competitors
Cons
Has no support for Apple's Homekit
Govee's app requires some polish that competing platforms like the more expensive Philips HUE offer from the get-go
A smart home would not deserve to be called one without having the somewhat mandatory smart lighting that fleshes it all out. The Govee Smart Light Bulbs are your answer to the question of what good budget smart bulbs look like. With support for both Bluetooth & Wi-Fi 2.4GHz in play, these A19-shaped bulbs can breathe new life into your quest for a smarter home at a price that makes it a no-brainer for both first-timers and smart homeowners looking to stock up on spares.
At the current sale price, the 4-pack roughly costs half of what a single unit would, making it an essential buy-one-get-one deal, an offer we feel is too good to pass up for some of the most capable smart lights in the market. The bundled Govee Home App offers excellent control: you can set up timings and schedule different colors for different times of the day, group bulbs together or handle each individually and even work with music-based lighting with a small caveat: It uses your smartphone's mic to capture sound for this effect.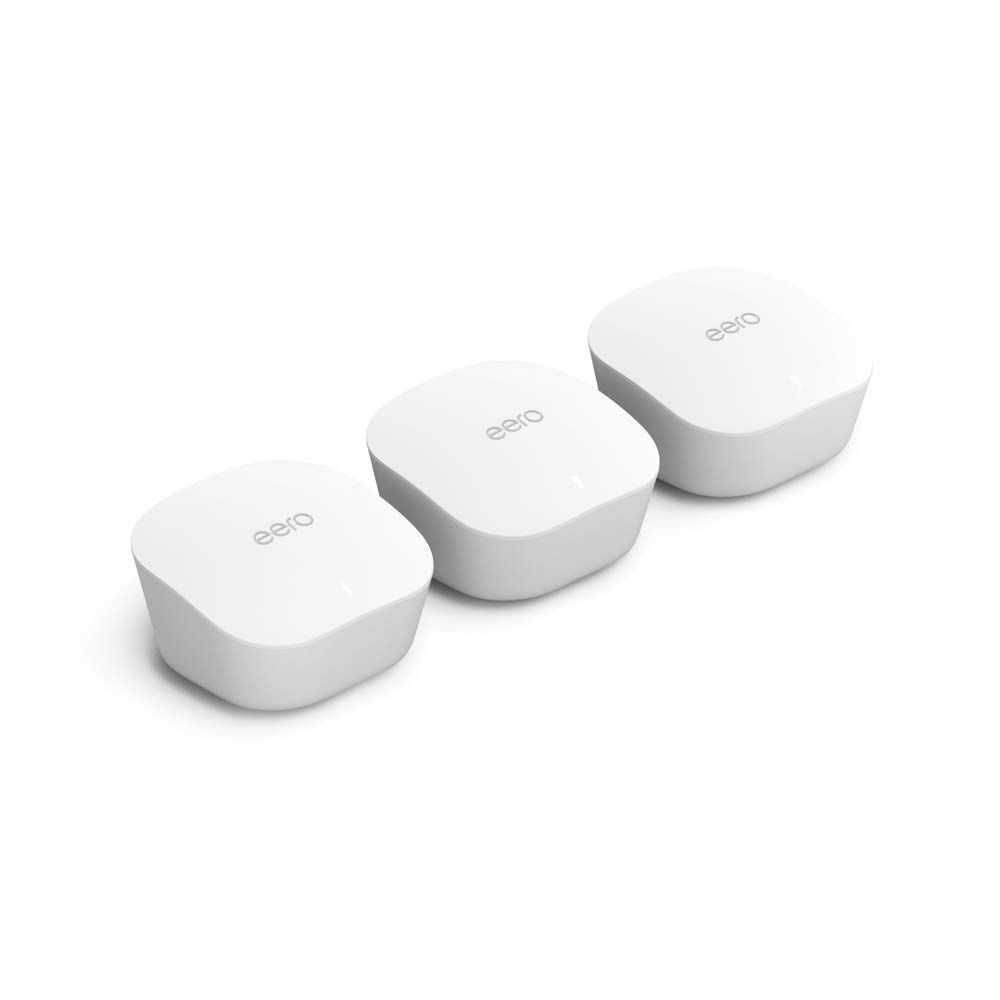 Amazon Eero Mesh WiFi System
The Best Budget Smart Wi-Fi Router
Mesh Network Galore
$130 $170 Save $40
Amazon's Eero Mesh Wi-Fi router is an entry-level Wi-Fi router that isn't the fastest in the market but makes up for it with consistent software updates, the ability to control it via Alexa and Apple's HomeKit and the ability to use the newest Echo Dots as compatible extensions of its mesh network.
Brand

Amazon Eero

Range

4,500 sq. ft.

Wi-Fi Bands

Dual-band 2.4GHz and 5GHz

Ethernet Ports

2 x Gigabit (Autosensing)

USB Ports

No

MU-MIMO

2×2 MU-MIMO

Mesh Network Compatible

Yes

Supported standards

802.11a/b/g/n/ac

Speeds

Recommended for speeds upto 350mbps

Security

WPA2 (Default), WPA3

Chipset/memory

700MHz Quad Core CPU, 512MB Ram

Ports

2 Ethernet
Pros
Modular mesh design allows you to add more routers down the line interchangeably with the more expensive Eero Pro units too
Has one of the best setup experiences that we have personally experienced with a Wi-Fi router
Has an auto-sensing Ethernet port which makes setup easier and more versatile
Excellent range with upto 1500 SQFT per unit, if configured properly, should offer coverage across the entire house with ease
Cons
Somewhat slower internet speeds than most of its competition
Some software control is paywalled behind a premium subscription
The Amazon Eero Mesh Wi-Fi router is an excellent entry-level router that offers an outstanding level of range for its price with support for numerous network devices and an easy-to-extend Wi-Fi mesh network. Its unique selling point is its ability to easily harness existing smart Echo Dot speakers as part of its mesh network as a Wi-Fi extender, allowing far better coverage using existing smart devices in your house to extend its range without giving up more real estate or spending extra sums of money to get the job done.
With a powerful 700MHz quad-core CPU with 512 MB of Ram, the Eero is no slouch and while it does take a hit in the performance department because faster routers are available in its price range, it is versatile enough to negate that end by offering excellent integration with Alexa to control the router as well as fine-grained control of bandwidth, internet policies and adding or removing devices from the network, all with the use of your voice (and a compatible Alexa device for voice commands).
If you do need more power, however, you can also consider the Amazon Eero Pro 6E Mesh Wi-Fi router which offers Tri-Band connectivity, Wi-Fi 6 support, and much faster internet transmission speeds allowing you to max out your ISP's provided internet connection better.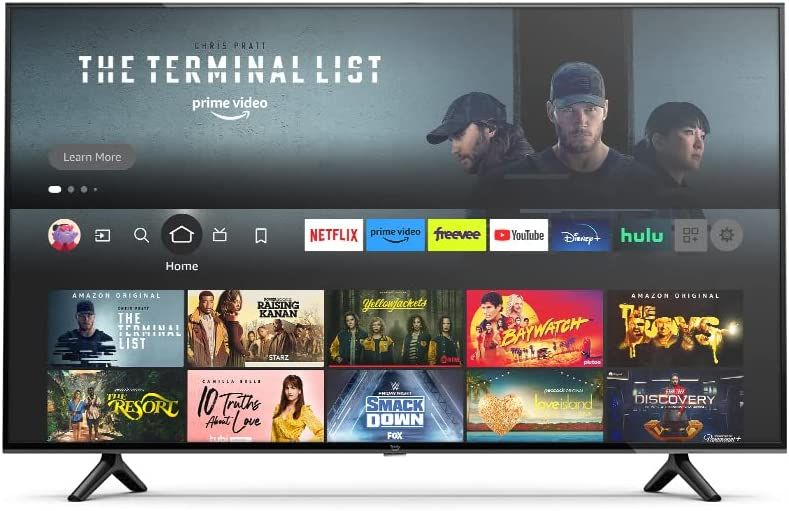 Amazon Fire TV 50″ 4-Series 4K TV
The Best Budget Smart TV
Alexa On the Big Screen
$280 $470 Save $190
This 50-inch 4-Series Fire TV from Amazon features a high-resolution display that supports 4K Ultra HD, HDR 10, HLG, and Dolby Digital Plus. Thanks to the Fire TV platform, the TV has access to all the popular apps and streaming services with a catalog of over a million movies and TV show episodes from the likes of Netflix, Prime Video, Disney+, and more.
The TV comes with 3 HDMI inputs that allow the connection of cable, satellite, and video game consoles, among other thins. The HDMI eARC lets the user attach more powerful audio equipment to improve the sound.
Brand

Amazon Fire TV

Screen Size

50′

Panel Type

VA

Resolution

3840 x 2160

Connectivity

Wi-Fi, Ethernet, Bluetooth, 3 x HDMI 2.0, 1 x HDMI eARC 2.1

Refresh rate

60 Hz

Weight

20.6 lb
Pros
Has excellent integration with Amazon's Alexa voice assistant and supporting hardware
Has a wide array of connectivity options for an entry-level TV
Excellent Value for money. While not the cheapest TV in the market, it does offer tighter smart feature integration and supports a wide array of streaming services out of the box
Cons
Is a VA panel. These have somewhat mediocre viewing angles and color reproduction compared to the technically superior IPS panels that are currently market standard for higher-end units
The Amazon Fire TV 50′ 4-Series 4K TV is excellent value for money coupled with tight Alexa integration that is currently a hallmark of both the Fire and Echo device offerings of late. It comes with plenty of wired and wireless connectivity options and 4 HDMI ports, which is plenty for an entry-level TV, including an HDMI 2.1 port with eARC support out of the box. Its Fire OS does have its quirks but works snappily for the most part and gets the job done with ease for most smart home living room TV requirements, even if there is no hands-free voice control; that part can be remedied by adding an Amazon echo in the same room.
The VA panel here shows that the TV is a tradeoff by Amazon to offer a better price while compromising on both, brightness and color reproduction in addition to viewing angles, all of which some of its competitors do somewhat better than the Fire TV.
While it isn't the best TV money can buy under $500, it doesn't profess to be one either. The Amazon Fire TV is designed for people looking for a decent smart TV experience without breaking the bank and given the price point, we can't really find fault with the TV's tradeoffs that allow it to be offered at a bargain while the current sale lasts.
FAQ:
Q: What does a smart home setup cost?
A: As much as you wish to spend on it. The beauty of a smart home setup is that every user's needs are different and you can build it up in chunks instead of spending it all in one go. You can simply start with something as small as an Echo Dot or smart bulbs and work your way up to a truly smart home.
Q: What are the most popular smart home devices?
A: The most popular smart home devices would be smart speakers followed by smart lighting, both of which are excellent starting points for setting up a smart home over time.