While Ravenswatch, the latest punishing roguelike from developers behind Curse of the Dead Gods, is very early in its full development, there's still a ton of depth to the game.
RELATED: Turn-Based Tactics Games That Are Perfect For Newcomers To The Genre
Across each of the 6 playable characters in Ravenswatch, there are a multitude of Upgrade options that can appear as they level up, each one greatly changing how certain playstyles or abilities work. With that in mind, which ones seem to be the strongest so far for each character?
6
Scarlet, The Red Hood
Little Red Riding Hood, better known in this game as Scarlet, is obviously the rogue-type character of Ravenswatch. Her abilities are all centered around quick slashes, critical hits, and stealth…at least until the sun goes down. The overall 'vibe' of this setting absolutely gives off some Dark Souls vibes, and the Day/Night cycle helps with this tone even more.
A ton of her potential upgrade options are based around letting her pump out even more absurd bursts of damage or improving upon her default playstyle, which is great. Though to be fair, this also means that many of her Upgrade options don't exactly 'change' the way she's played, which is either a pro or a con depending on the player.
| Upgrade Name | Rank Unlocked | Upgrade Description | Reasoning |
| --- | --- | --- | --- |
| Slash Flurry | Default | The next Attack after using Power ability will be a flurry of 5 slashes that are 20 percent more powerful. | The Attack to Power loop is standard for Scarlet, and this Upgrade just makes it faster and easier to get back to a full Combo Point Power Attack. |
| Short Wick | Default | Scarlet's Human Form Special will no longer affect her, the bomb explodes on contact, and both her Human and Wolf Special abilities recharge 20 percent faster. | Actually makes her Human Special usable as players had to really lead the bomb throw before. Plus, it decreases Special Cooldown by 20 percent for both Human and Wolf Form. |
| Murder Intent | Default | Scarlet's Defense ability instantly fills all Combo Points and the ability lasts one extra second. | Probably one of her best Upgrades overall, just makes it so that using Defense into Power will melt most if not all enemies in the game. |
| Shadow Strikes | Rank 2 | Quest: Players must use Attack or Power ability during Defense ability 25 times, each one earning them a +1 percent to Crit Chance. Additionally, once completed, the reward is a full 20 percent bonus to Crit DMG overall. | A very easy Quest Upgrade to complete that rewards the player with a whopping 20 percent Crit DMG. And, with how hard Scarlet hits, that's a big increase. |
| Wide Attacks | Rank 4 | Scarlet's Attack has 40 percent more range and will deal 20 percent more DMG per hit. | An obviously overpowered buff for Scarlet. Even the 40 percent attack range would be enough but the 20 percent DMG increase is absurdly good. |
5
Pied Piper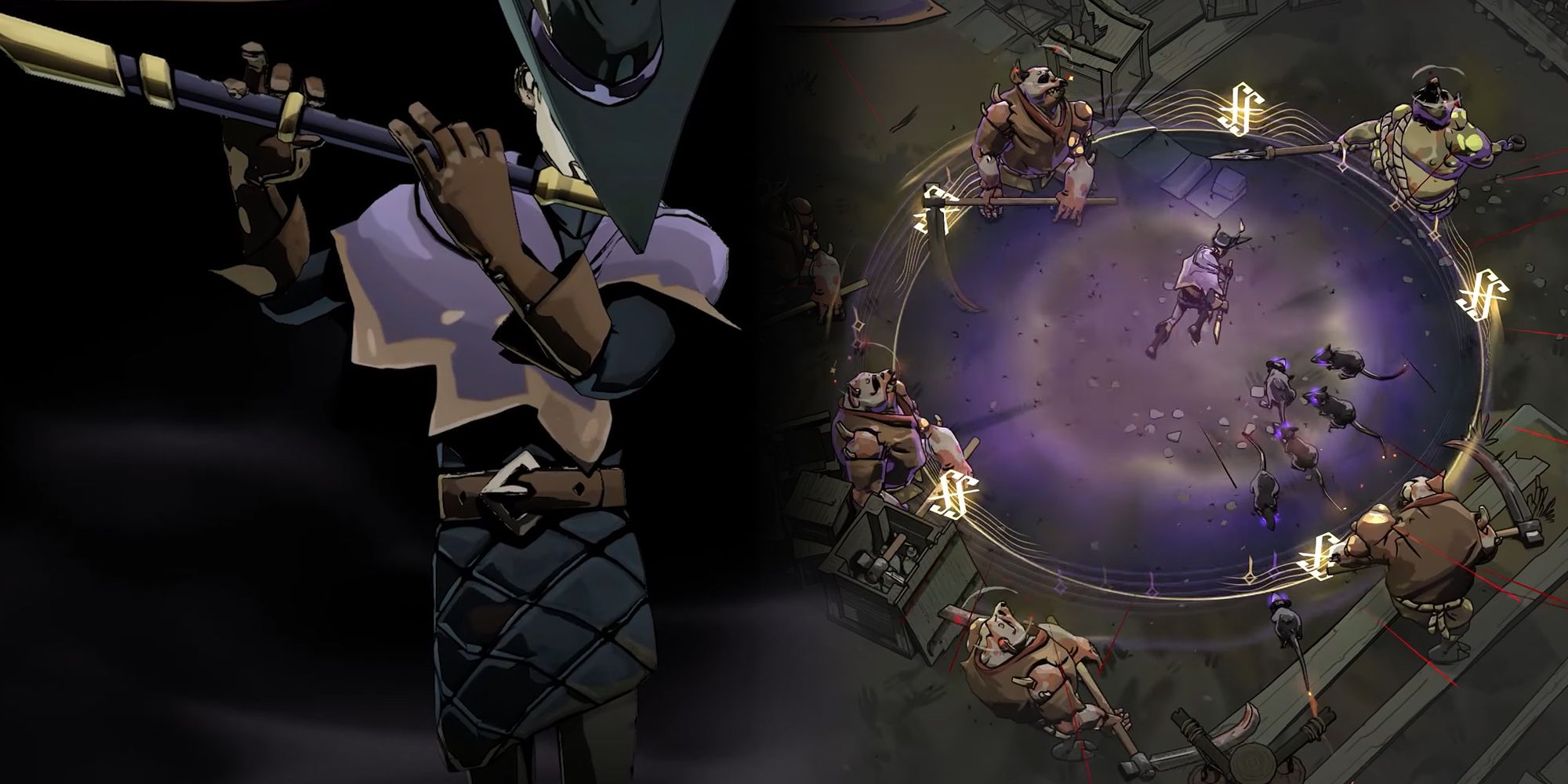 It feels odd to say that the man with the rats (who've been quite popular lately) and flute is the 'gunner' of the group, but it really is true with the Pied Piper. He's the only character in Ravenswatch whose attack feels like it's pulled right out of a twin-stick shooter instead of a more typical roguelike.
RELATED: The Best Games Under 5 Hours Long
Because of this, there are very few Upgrades that focus on improving his basic attack, most of them just add more functionality to his other abilities or make them even more fun to use.
| Upgrade Name | Rank Unlocked | Upgrade Description | Reasoning |
| --- | --- | --- | --- |
| Sniper | Default | Both Attack and Power have a longer range and will deal 20 percent more DMG if they hit the enemy past the 'halfway point' of said range. | Most players already hit from after halfway to max range anyway, so this is just a flat DMG buff, while the range buff is a nice little bonus. |
| Grand Finale | Default | When Pied Piper's Special ability ends, the zone explodes and deals DMG to anything that was around it. | This actually makes Special usable as its default state is pretty difficult to set up and use currently. |
| Giant Rats | Rank 3 | Rats will now Weaken enemies while attacking them and also deal 20 percent more DMG. | The Weaken aspect of this is barely noticeable if players don't take little hits often, but the 20 percent increase is huge because that's per Rat, not overall. |
| Perfect Harmony | Rank 4 | Defense will now restore Health to both Pied Piper and nearby allies depending on the number of enemies hit by the ability. | Gives Pied Piper some support options in Multiplayer or some survivability in Solo. |
| Low Notes | Rank 5 | The notes from Piper's Attack are now much bigger and deal 100 percent more DMG, but fire at a 50 percent reduced rate. | Most Rank 5 Upgrades are just amazing overall, though the 50 percent reduced frequency is a bit rough. |
4
Beowulf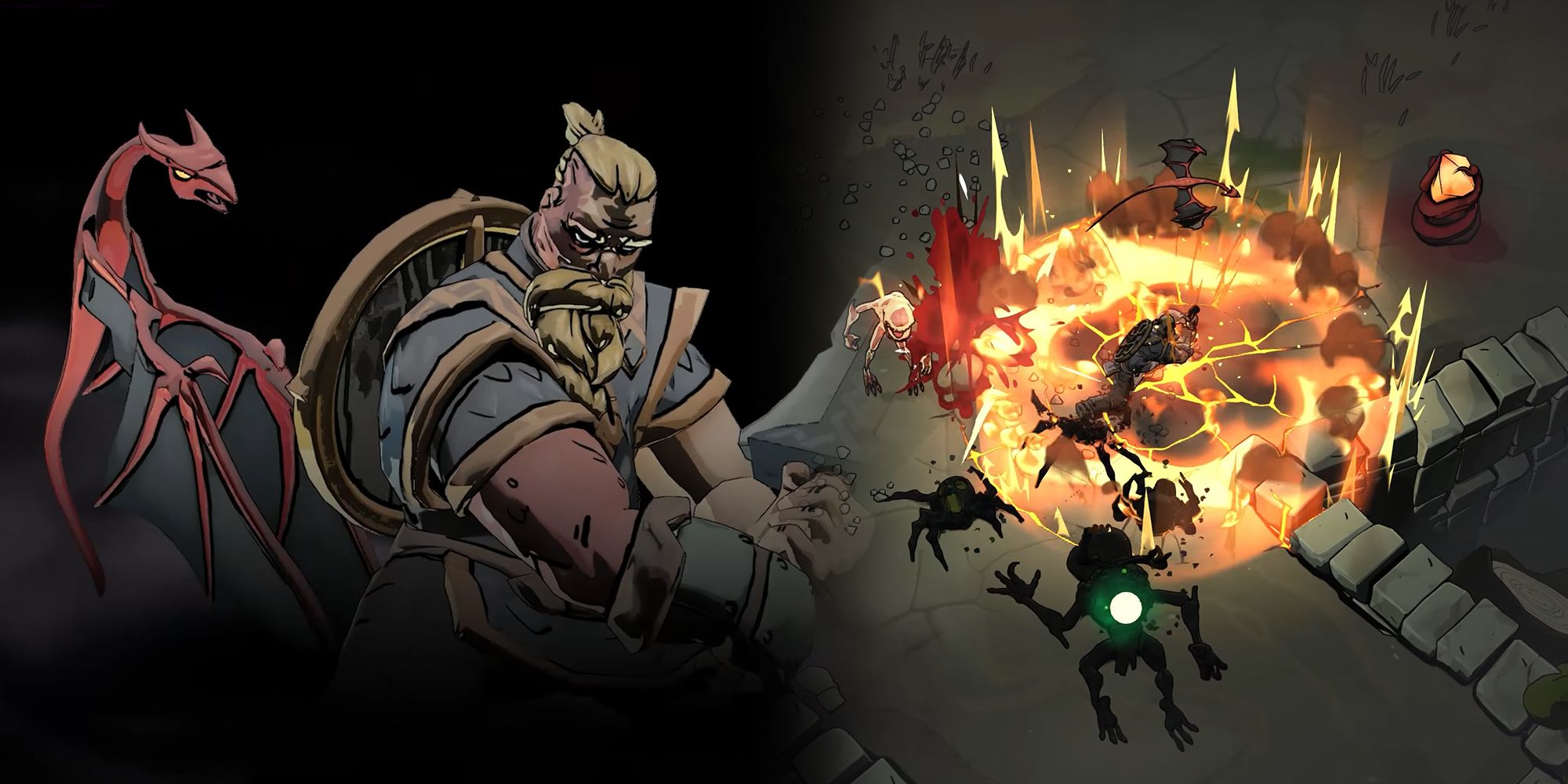 Beowulf, while the most 'simple' character in the game to play, is also one of the better options and also a character that fits this game's art style almost perfectly. The raw damage this character can put out when needed is staggering, and that's not even including his Wyrm-enhanced versions.
Currently in the Early Access state of this game, Ignite stack damage scales of the attack stat, which makes almost all of his Ignite-based Upgrades a must-have. Just keep in mind that there are other great options and that Ignite's scaling will very likely change over the course of the game's development.
| Upgrade Name | Rank Unlocked | Upgrade Description | Reasoning |
| --- | --- | --- | --- |
| Explosive Fire | Default | When Ignited enemies die, they explode and can spread this Ignite Ailment to other nearby enemies. | In groups of enemies this can ping pong across all of them and melt hordes in a few seconds. |
| Blademaster | Default | First, Beowulf gains a 10 percent Attack Speed buff. Second, after every Trait activation, Beowulf's next 3 Attacks are guaranteed crits. | Very good when combined with Heavy Swings, but even without it the 3 guaranteed Crits after a Trait activation is a big plus to Beowulf's overall damage output. |
| Furnace | Default | Ignite deals 20 percent more DMG and lasts two seconds longer | Ignite is currently overpowered so it lasting longer and doing even more damage is an obvious grab. |
| Eruption | Rank 3 | The shockwave from Beowulf's Power ability now explodes after it reaches the end of its range and this explosion deals 100 percent more DMG to anyone nearby. | A huge damage increase to Beowulf's Power ability and, if players can aim the end of it well, a fantastic elite enemy shredder. |
| Fire Wings | Rank 5 | Whenever Beowulf triggers a Trait activation, he'll deal DMG to nearby enemies and Ignite them. | Players should and will be activating their Trait all the time, so adding an Ignite AoE and damage ability to this activation is a no-brainer. |
3
The Snow Queen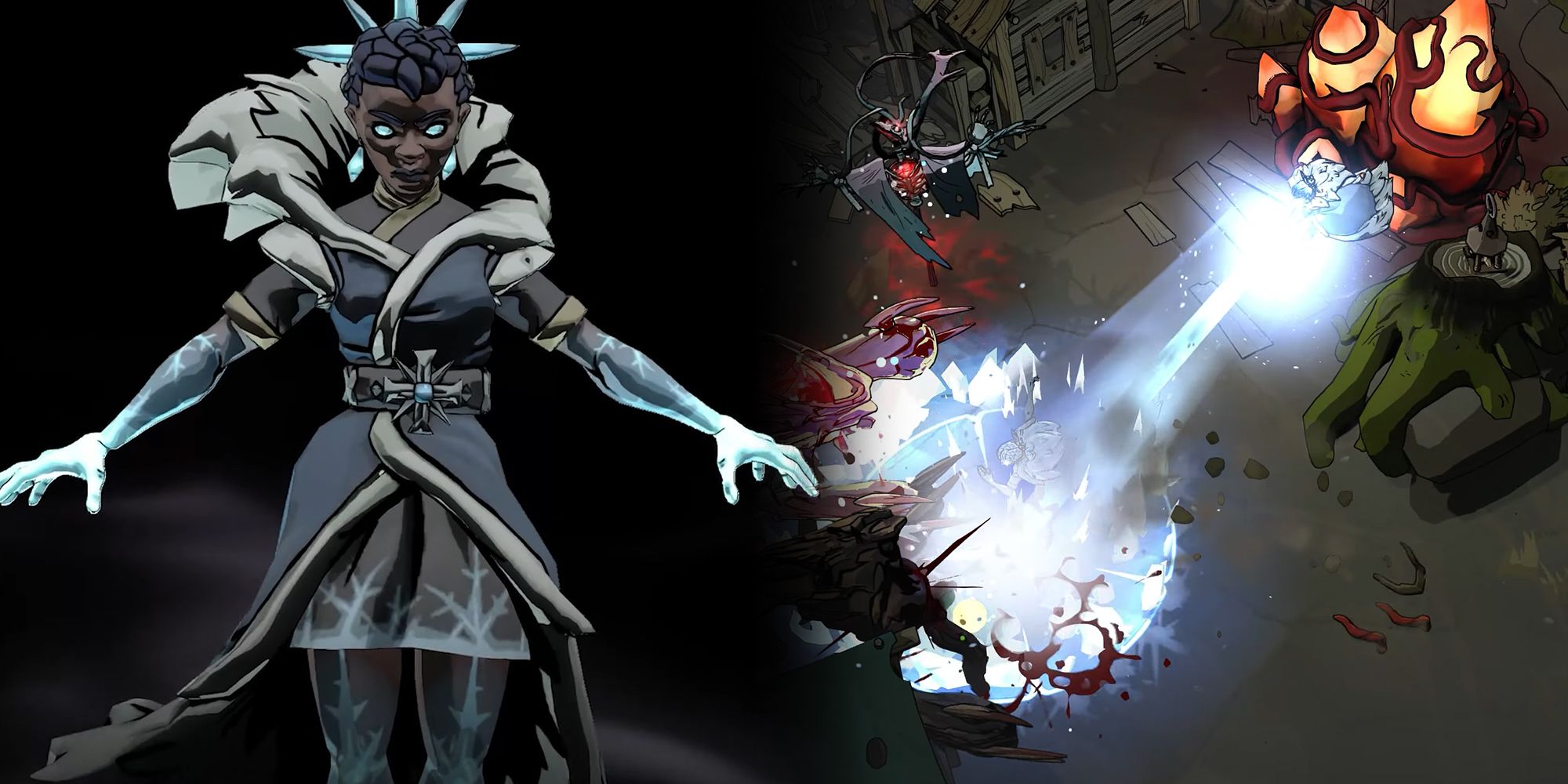 Calling the Snow Queen the 'mage' character of Ravenswatch might seem appropriate at first glance, but it's not entirely accurate. Almost all of her Icy abilities require her to get up close and personal with her enemies, and she's much more centered around the Chilled Ailment than raw spell damage.
RELATED:
As a result of this, most of her best Upgrades are centered around making Chilled even better or acting on Chilled enemies even more punishing.
| Upgrade Name | Rank Unlocked | Upgrade Description | Reasoning |
| --- | --- | --- | --- |
| Ice Clone | Default | Using Snow Queen's Trait will leave behind an Ice Clone that has 40 percent of her Max HP and auto-attracts nearby enemies. The Clone will melt after about 20 seconds and only one Clone may be active at a time. | Not a damage buff per se, but a very useful way to kite enemies into a small area to Chill and Shatter them all together. |
| Biting Gust | Default | Her Defense ability now deals DMG over its entire casting animation. | Turns Snow Queen's Defense into a pretty decent damage ability. |
| Frost Surge | Rank 3 | Snow Queen's Power ability can now be held to 'charge' up to three levels. The effect of the charge depends on the time of day. Day = +20 DMG per Charge level. Night = +20 Ability Radius per Charge level. | The Day version of this is incredible against stronger enemies while the Night version is an amazing horde clearer. Synergizes very well with a lot of other Upgrades too. |
| Shattering Blast | Rank 4 | Power ability now also triggers Shatter on Chilled enemies and Shatter DMG, in general, gets a +20 percent DMG buff. | Gives the Power attack the ability to Shatter enemies too, making it easier to play the character overall. |
| Frost Queen | Rank 5 | Snow Queen's Power ability, Frost Blast, gets a 40 percent DMG buff to Day's Frost Blast and Night's Frost Blast lasts 3 additional seconds. | Just an absurd buff like most Rank 5's tend to be, whether it's the day or night buff. |
2
Aladdin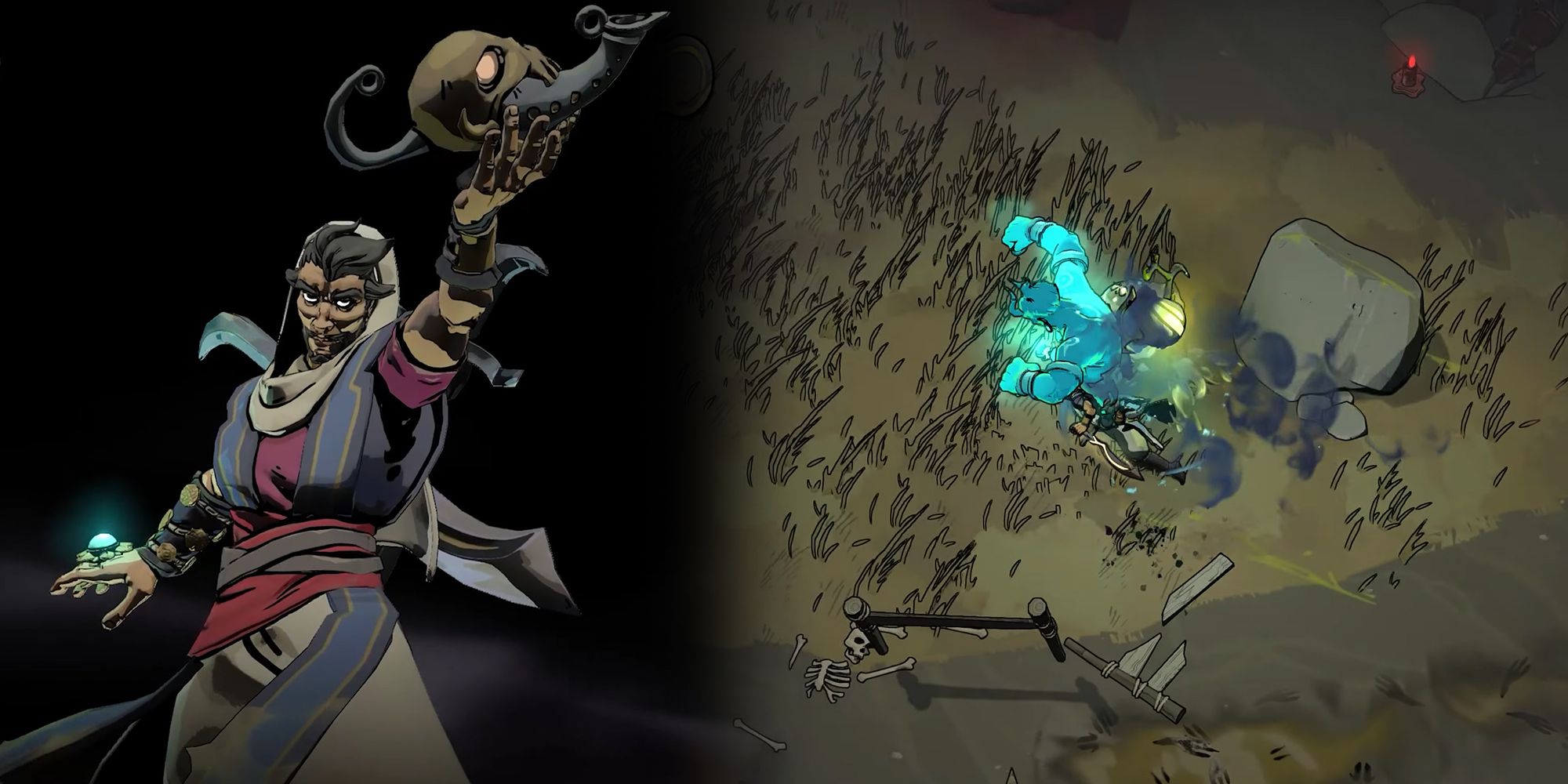 Let's be frank here, Aladdin is pretty broken in terms of power with the current state of Ravenswatch. The sheer ability to instantly spawn multiple Magical Objects and tons of Dream Shards right as the game starts (especially if it's a multiplayer lobby) is beyond overpowered. So, any of his Upgrades that give him more Wishes or are related to them in any way are worth grabbing. Still, the rest of Aladdiin's kit is also good, and the other Upgrade recommendations are mostly based on capitalizing on his maneuverability and the instant DPS of his Power ability.
| Upgrade Name | Rank Unlocked | Upgrade Description | Reasoning |
| --- | --- | --- | --- |
| Slide Attack | Default | Pressing the Attack input while the blades of Aladdin's Special are still flying will have Aladdin slide toward the blades, dealing 300 percent Attack DMG to anyone he passes through. | Gives Aladdin an actual attack option while Special is in effect, and a great attack option at that. |
| Dive | Rank 3 | Pressing Attack while in the air during Aladdin's Defense ability will cause him to dive into the ground, dealing 400 percent Attack DMG in a small AoE where he lands. | Hard to use at first, but once players get the hang of it this is an elite killer. |
| Spinning Strikes | Rank 4 | After regaining the blades from Aladdin's Special, the next Attack used within two seconds will spin between 2 and 4 more times (depending on Enchantment), with each spin dealing 80 percent of the regular amount. | Works incredibly well with any other Upgrade that makes it faster/easier to generate Enchantment, but is also great on its own. |
| Jinniya's Gift | Rank 5 | Immediately after selecting this Upgrade Aladdin receives another Trait Charge. Additionally, all future Upgrades in this run have a +20 percent chance to be of Rare rank or higher. | +1 Trait Charge means 4 Wishes total and the increased chance of Rare or higher Upgrades is also just hilariously strong. |
| Swordjinn | Rank 5 | If Aladdin uses the Jinn summoned during his Power ability to 'catch' the Special abilities blades out of the area, he'll do 80 percent of the standard DMG in a large area around the spot the blades were caught. | Another Upgrade that takes a bit of getting used to, mechanically, but is one of the most inventive Upgrade options in the game. |
1
Melusine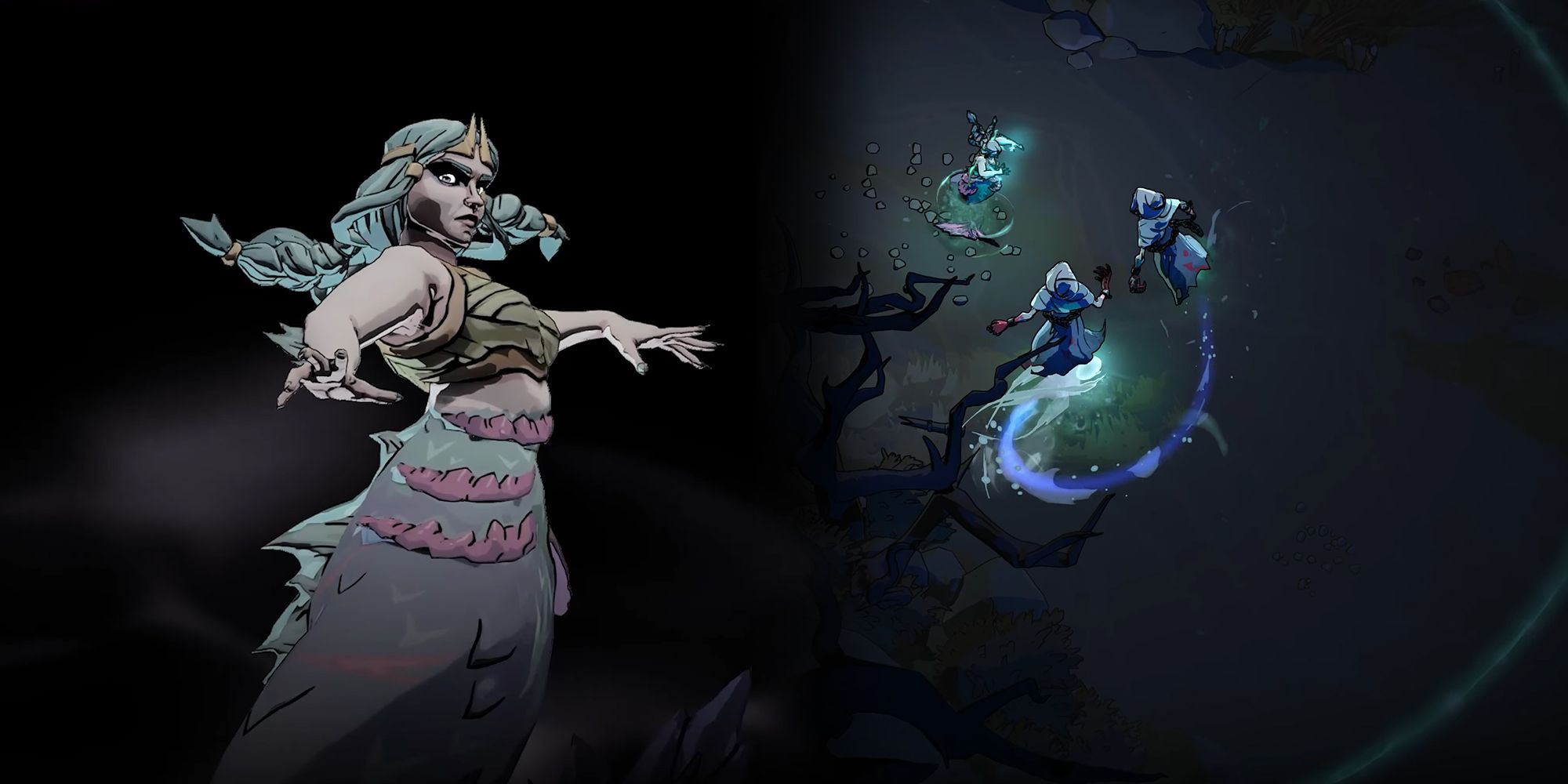 And finally, there's the last unlockable character (for now), Melusine. Melusine is by far the most unique character in terms of play style, as her whole kit is built around this sort of 'move, bunker down, deal damage, move again, repeat' loop. So, a lot of her best Upgrades tend to utilize this play style in some way. Additionally, there are a few upgrades for Melusine that, when taken, make her by far the best support option in Multiplayer, so those are a must-have as well when possible.
| Upgrade Name | Rank Unlocked | Upgrade Description | Reasoning |
| --- | --- | --- | --- |
| Bewitching Song | Default | Melusine applies Weak to all enemies in the area of effect for three seconds when entering Sing Stance. | Players will be going in and out of Sing Stance constantly, so this Upgrade will be triggered more often than any other. |
| Protective Flow | Default | Any Heroes (including Mulsive) that Melusine crosses with her Attack in Sing Stace will gain a Shield for the next six seconds. | Turns Melusine into the world's best Support in multiplayer, as a great Melusine player will basically make their team unkillable. |
| Geyser | Rank 4 | The Power ability now deals 50 percent more DMG at its center | Taking this means players will have to aim and time their Power activation a bit more precisely, but the DMG increase is absolutely worth it. |
| Water Communion | Rank 5 | Using Defense refreshes the cooldown of Melusine's Special and also increases the Special's DMG by 40 percent if it's used in the next 3 seconds. | Straight up Broken when used in combination with Spring Water, but also just massively increases Melusine's overall DMG output. |
| Spring Water | Rank 5 | Every 'wave' of Melusine's Special that hits an enemy restores health to both Melusine and her allies nearby. | Turns Melusine into the world's best Healer in multiplayer, especially if they take other Upgrades that buff her Special. |
Ravenswatch is now available in Early Access on PC only. PS4 & PS5 releases are confirmed by devs to be coming sometime in 2024.
MORE: The Best Fast-Paced Games To Get Your Heart Racing